Samsung Galaxy Chromebook specs
Price: $999 (starting) $1,299 (as tested)
CPU: 10th Gen Intel Core i5
Graphics: Integrated Intel UHD
RAM: 8GB
Storage: 256GB
Display: 13.3-inch, 4K AMOLED
Battery: 5:55 (tested)
Size: 11.9 x 8 x 0.4 inches
Weight: 2.3 pounds
The Samsung Galaxy Chromebook is a beautiful 2-in-1 laptop that pushes the premium Chromebook category to exciting new heights.
What if a Chromebook looked just as good, if not better, than any other PC laptop around? Could it be one of the best laptops, purely on its industrial design and a luxurious 4K screen? The Galaxy Chromebook answers many of those questions with a resounding "yes," but there are some caveats.
While you're busy gawking at how surprisingly thin the Galaxy Chromebook is, you might not notice some of its interesting tricks. For example, Samsung's S-Pen is docked in the side, and there's a camera in the keyboard deck.
Unfortunately, the Galaxy Chromebook is beset by an elephant in the room: frustratingly low battery life. While that might not be a huge problem if you're spending a lot of time at home, this drawback keeps Samsung's premium Chromebook from topping the competition. Still, as this Samsung Galaxy Chromebook review explains, those looking for a Chromebook with great performance and style to spare will find a lot to like about this convertible.
At CES 2021, Samsung announced the Galaxy Chromebook 2, which looks to improve battery life with a lower-resolution display.
Samsung Galaxy Chromebook review: Price and configurations
Samsung is currently offering massive sales pricing on the Galaxy Chromebook. On Samsung.com it's $699 — down $300 from $999 There is one configuration of the Galaxy Chromebook. It's got a 10th Gen Intel Core i5 CPU, Integrated Intel UHD graphics, 8GB of RAM and a 256GB SSD.
The only customization option you can pick is either ordering the Mercury Gray Galaxy Chromebook, which currently ships in under a week, or waiting a few more weeks for the Fiesta Red colorway — which is worth the wait.
The Samsung Galaxy Chromebook came out on April 6, 2020.
Samsung Galaxy Chromebook review: Design
I don't like saying that technology is sexy, but the Samsung Galaxy Chromebook is a stunningly attractive 2-in-1 notebook. We tested a Galaxy Chromebook painted with a hue that Samsung calls Fiesta Red (Samsung also makes a less exciting gray version) that proves how much a simple coat of paint can do. It makes most premium laptops look tame by comparison.
Looking at the Galaxy Chromebook under my desk lamp, I love how the light catches it and creates a sparkling range of shades. The red also balances nicely against the silver trim that runs around the laptop's edges.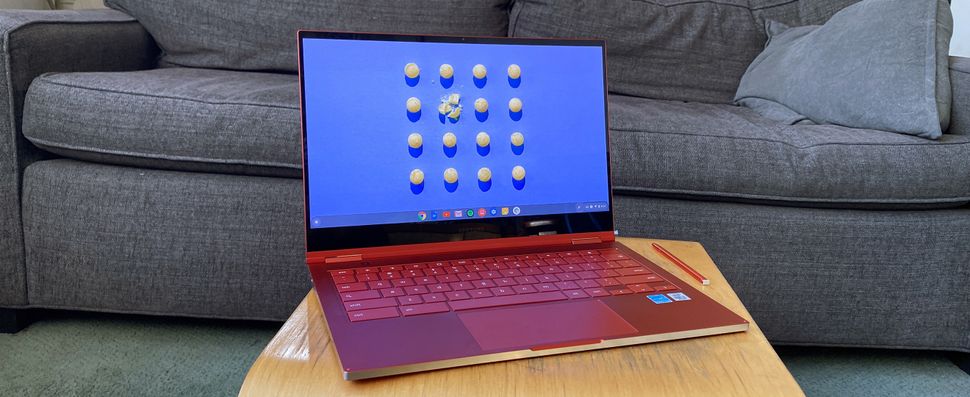 Once you get past how vibrant the red machined aluminum chassis is, you'll notice the amazingly thin bezels on the top and left and right sides of the display, which have the same 0.15 to 0.2 inch width as the Dell XPS 13's InfinityEdge bezels. Its bottom bezel is thicker at around 0.8 inches, but this slender screen puts the larger bezels on the MacBook Air 2020 to shame.
The Galaxy Chromebook is smaller and lighter than any 13-inch laptop I've ever seen, at 11.9 x 8 x 0.4 inches and 2.3 pounds. Not only does that beat the Google PixelBook Go (12.2 x 8.1 x 0.5 inches, 2.3 pounds) by a hair, it's also thinner and lighter than the MacBook Air) (11.9 x 8.4 x 0.6 inches, 2.8 pounds). The Dell XPS 13 is also thicker and heavier (11.6 x 7.8 x 0.6 inches, 2.6 to 2.8 pounds).
Because it's a convertible 2-in-1, you can rotate the Samsung Galaxy Chromebook's display up to 360 degrees to use it as a tablet or prop it up in display or tent mode. This is where I discovered that the Galaxy Chromebook's hinge could be a bit stronger, as it wobbles when you tap.
Samsung Galaxy Chromebook review: Ports and S-Pen
Samsung split the Galaxy Chromebook's dual USB-C ports (both can be used as a power input) on the left and right sides of the laptop. The headphone jack and volume switch are also on the left, while the Chromebook's microSD slot and power button are on the right.
At first, you might not even realize what the small rectangular button on the right side of the Galaxy Chromebook is. But after you click down, and the rear of the S-Pen stylus pops out, you'll probably smile at Samsung's ingenuity.
Another small touch you might not notice? There's a fingerprint reader for unlocking the Galaxy Chromebook in the top right corner of the keyboard.
While you could use the S-Pen's screen capture, laser-pointer and magnifying glass tricks in laptop mode, I'd advise against it. As I said earlier, the Galaxy Chromebook's hinge isn't strong enough to stand still while you poke and prod with a finger or the S-Pen. I didn't think this was a big issue until I noticed how my penmanship became a bit unstable. Even when the display is rotated all the way around to lie against the Chromebook's rear side in tablet mode, the screen still moves a little as you apply pressure.
I don't know how often I'd use the S-Pen (I barely use the iPad Pro's 2nd Gen Apple Pencil) but I've got to give Samsung credit for integrating it so well into the Galaxy Chromebook's shell. This makes it hard to lose the small stylus, and sets a standard that other companies should take note of.
Samsung Galaxy Chromebook review: Display
With bright, colorful picture quality and super thin bezels, the Samsung Galaxy Chromebook's 13.3-inch 4K AMOLED panel is everything you could ask for in a premium laptop. Watching UHD nature videos on YouTube, I noticed insanely vibrant blues as the camera followed a school of fish underwater and excellently inky black tones when spores flew away against a dark background.
A quick side note: Chromebooks still need more 4K video. Options are extremely limited right now outside of nature videos, which makes it hard to argue for people to buy 4K Chromebooks, especially with the battery trade-offs. YouTube offers some 4K content, but hopefully Disney Plus and Netflix add UHD support for Chrome soon.
According to our colorimeter, the Samsung Galaxy Chromebook produces 224% of the sRGB color spectrum, a rate that towers over the 108% we got from the Pixelbook Go, the 113% from the MacBook Air and the 108% from the XPS 13. This isn't too surprising, as Samsung screens -- especially those of the company's smartphones -- have extremely-high color saturation.
OLED screens can prove a bit difficult to measure for brightness, so we measured the Galaxy Chromebook's AMOLED panel in two different ways. Its average brightness (light gun readings from all four corners, plus the center) came out to 357 nits.That's similar to the 368-nit Pixelbook Go, but lower than the 386-nit MacBook Air. The XPS 13's 4K panel rated for 301 nits while its 1080p version proved the brightest of the bunch at 417 nits.
Our OLED display brightness test — measuring the maximum brightness in the center of the display in a single window — gave the Galaxy Chromebook a 536-nit score that outshines the competition.
Samsung Galaxy Chromebook review: Audio and cameras
As the Samsung Galaxy Chromebook filled my living room with Run The Jewels' "Ooh La La," I admired how such a small notebook could deliver loud enough sound that I could hear it in adjacent rooms. While its sound stayed clear at maximum volume, I did notice that the bass was a bit slight, which continued as I pulled up Jay-Z's "S. Carter" and Daft Punk's "Instant Crush."
The Galaxy Chromebook has two cameras, with its basic 1-megapixel webcam producing image quality that's best described as functional. Your colleagues will be able to see you on Zoom calls, but photos I captured of myself looked blurry and lackluster.
A sharper 8-megapixel sensor is positioned in the top left corner of the keyboard deck. Designed for those who want to take photos with the 2-in-1 in tablet mode, this camera shot crisper photos than the webcam, but they were still not as good as the cameras in my iPhone 11 Pro Max, or even the last couple of iPhones. Plus, holding a 13-inch tablet as a camera felt very awkward.
Samsung Galaxy Chromebook review: Keyboard, touchpad and touchscreen
The Galaxy Chromebook's clicky keys proved serviceable, but I'm not really in love with them. For starters, this keyboard reminds me a lot of the shallowButterfly-switch keyboard that Apple is thankfully phasing out of its MacBooks. When I took it out for a spin on the 10fastfingers.com typing test, I hit a rate of 69 words per minute, which is a little ways away from my 80 wpm average.
The Galaxy Chromebook's 4.6 x 2.3-inch touchpad enables smooth and responsive navigations. The frosted-red rectangle (which offsets the cherry red keyboard deck) speedily registered my two-finger scrolling and three-finger gestures in Chrome.
Similarly, the Galaxy Chromebook's 13.3-inch touchscreen provided accurate responses to my taps as I navigated the internet and pulled up the app drawer on the bottom of the screen. As I dragged web pages up and down, I saw pages scroll just as smooth as when I used the touchpad.
Samsung Galaxy Chromebook review: Performance
Strong PC speed in a Chromebook shell is the kind of proposition I love, and the Galaxy Chromebook's Intel Core i5-10210U CPU and 8GB of RAM proved enough for speedy multitasking. It shredded through my standard test of using split-screen mode with a 1080p YouTube video and a dozen Chrome tabs open. I got so cocky that I layered two more 1080p YouTube videos on top, and I could hear each individual video play on top of the other without any stutters.
However, when it comes to playing with the big boys, the Galaxy Chromebook's comparative benchmark scores don't do much to convince anyone to switch to Chrome OS. It netted a 2,232 on the Geekbench 5 general performance test, which is much lower than the 4,847 from the Dell XPS 13 (Core i7-1065G7 U-series CPU, 16GB of memory), and even the Y-Series Intel chip-powered MacBook Air (Core i5-1030NG7, 8GB of RAM) netted a higher number, scoring 2,738. At least the Galaxy Chromebook beat the 1,356 from the Pixelbook Go (Intel Core i5-8200Y CPU, 8GB of RAM).
The Galaxy Chromebook beat the Pixelbook Go on the Jetstream 2.0 test (which measures JavaScript and other web app performance), with a score of 91.9 that tops the Go's 85.9.
Samsung Galaxy Chromebook review: Chrome OS and Android
Android app emulation still provides welcome bonuses for Chromebooks, as I saw Spotify and the racing game Asphalt 9 run smoothly on the Galaxy Chromebook. When I played Asphalt 9, I saw smooth rendering as a Mitsubishi Lancer Evolution raced around San Francisco.
That being said, most apps still need to be optimized out for the widescreen Chrome experience. That includes Slack, which requires adjustment when you try and use it as a floating window, and only shows you your current active message. Similarly, Spotify has a ton of wasted space. Further, re-adjusting Android apps shows the seams in the emulation, as they take more time to re-render.
Samsung Galaxy Chromebook review: Battery life
Unfortunately, the Samsung Galaxy Chromebook's high-resolution screen comes at acost: battery life. As we see with most 4K laptops, our web-surfing based battery test (which sets the display at 150 nits of brightness) drained the Galaxy Chromebook of a charge in a disappointing 5 hours and 55 minutes.
In contrast, the 1080p Pixelbook Go made it 11 hours and 29 minutes on the same test, lasting nearly twice as long as Samsung's Chromebook. We also saw longer times from the 2,560 x 1,600-pixel MacBook Air (9:31) and the Dell XPS 13 (12:39 with 1080p screen, 8:14 with 4K screen). Since Chromebooks are known for their exceptional battery life, it's disappointing to see a PC laptop with comparable screen last so much longer.
Samsung Galaxy Chromebook review: Heat
While I'm OK with a laptop heating up a little bit, you might not be as forgiving. As I tested the Galaxy Chromebook in my lap for an afternoon, I noticed it got a little warm. On its underside and on the back of the display, our heat gun picked up temperatures between 103.8 to 106 degrees Fahrenheit, which are a bit above our 95-degree comfort threshold.
Samsung Galaxy Chromebook review: Verdict
As I wrote this Samsung Galaxy Chromebook review, I realized it's the first convertible laptop that truly reminds me of a sports car. From the fun Fiesta Red colorway to its solid speed and tight chassis, this Chromebook screams luxury. If only its battery life didn't remind me of a gas guzzler, hitting empty far sooner than I'd like.
If you want a Chromebook with more endurance and a cheaper price (but less speed and looks), go check out the Google Pixelbook Go. If you could stand to rock Windows 10, the 1080p Dell XPS 13 has tons of battery life and excellent performance. Still, those looking for a Chrome OS laptop with a gorgeous screen should take the Samsung Galaxy Chromebook for a test drive.