I really need to stop buying new keyboard cases for my iPad Pro 2021 (12.9-inch). We're only halfway through the year and I've already purchased two boards for one of the best tablets around. Such splurging needs to stop.
I don't regret buying my latest iPad Pro keyboard case in the least, though. It's so good, it's revitalized my love for typing on my tablet.
For the last couple of months, I was using the Dracool Magnetic Keyboard Case. Spoiler: it's not terribly good. While it's a perfectly functioning keyboard/case combo, it's too heavy, it suffers from Bluetooth-related connection lag, and certain keys started to stick not long after I bought it. So yeah, not my finest purchase.
Stupidly, I also chose to buy the white version, and after just a few weeks of light usage, the case's plastic material started to stain. Despite my best efforts to clean it, my poor iPad accessory quickly looked a bit grubby.
My growing displeasure at using this peripheral directly impacted how much I was using my iPad Pro. My screen time figures dropped sharply over the past month, and that's all on the Dracool case.
There was no getting around it: I needed to upgrade a keyboard case I'd owned for a measly three months.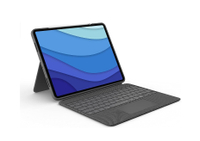 Logitech Combo Touch for iPad Pro 12.9-inch: was $229 now $208
This slick keyboard and case combo makes for a great partner to the 12.9-inch iPad Pro. It's significantly cheaper than Apple's Magic Keyboard yet offers a comfy typing experience, adjustable kickstand and large trackpad.
Logitech Combo Touch: Touch of class
Enter the Logitech Combo Touch ($208 / £198 on Amazon). Not only does this fantastic case and detachable keyboard double act run circles around Dracool's effort, it's reignited my passion for using my iPad Pro.
This is a quality and cheaper alternative to Apple's official iPad Pro Magic Keyboard, which costs a wallet-pummeling $349 / £379.
Logitech's Combo Touch is just so well designed. The fabric of the case feels premium, it's pleasingly lightweight and I absolutely love its keys and touchpad.
Don't get me wrong, I'm a fan of the Magic Keyboard… or at least I was until I split a drink on it and ruined half of its keys. Even after just a few days of use though, I can already say I prefer typing on the Combo Touch.
As they have short travel, the keys feel fantastically "clicky" — not exactly a detailed piece of tech analysis, I'll grant you. I'm loving the keys on the Combo Touch so much, I've actually started writing my articles for Tom's Guide on it, rather than my work laptop or gaming desktop.
Track or treat
And that trackpad? Yowsa. It's super responsive to the point where I'm touching my iPad Pro's screen with my greasy mitts less and less thanks to its speedily accurate pointer.
In essence, Logitech's accessory has turned my iPad Pro into a brilliant laptop alternative when it comes to completing work tasks. With my previous board, I'd have rather eaten week-old sardines than type a 500-word feature on its unresponsive keys.
And I've not even mentioned the Logitech Combo Touch's best party trick. You can detach its magnetic keyboard any time and the iPad Pro will happily stay upright thanks to a handy (and reliable) kickstand. As someone who watches way too many of the best Netflix shows in bed, being able to detach the keyboard saves me valuable mattress space.
It just goes to show that buying a new accessory for one of your favorite devices can rekindle your love for said gizmo; be that the best iPad cases or the best laptop accessories for college students.
Provided my stupid sausage fingers don't spill anymore beverages on my iPad Pro, I can see the Logitech Combo Touch lasting me for years.
More from Tom's Guide