Siri, meet Spotify. The iOS 14.5 beta might not let iPhone users set a default music app, but you can teach Siri your preferred apps for music and podcast playback over time. This should let you start songs via voice commands without needing to specific a music service each time.
This isn't quite the same thing as choosing a permanent, default app, and because it's based on Siri learning your usage behavior it might seem like you have start over if you suddenly change which apps you use. But until Apple adds a true default app option, like it did for browers and mail apps in iOS 14, it's the next best thing.
iOS 14.5 is a beta for now and will likely have its public release in a few weeks. Another major new feature included in iOS 14.5 allows FaceID to work while you're wearing a face mask.
This new music app feature was first spotted by users on Reddit, then highlighted by MacRumors. The first time you ask Siri to play music while using iOS 14.5, a prompt appears with a list of streaming apps. Once you select an option and allow Siri to access that app's data, the voice assistant will begin to learn that you like using that app for music. This led many to believe that choosing an app from the initial prompt would set it as a permanent default, but Applie clarified that wasn't the case.
Some beta users noted that if you don't have Apple Music installed, Siri will automatically play through whatever streaming app you use most often (which could be Spotify, YouTube or something else). And of course, this feature is still in beta, so it may be a bit buggy.
How to use the music service selection feature in iOS 14.5
1. Sign up for Apple's Beta Software Program.
2. Install the iOS 14.5 beta software on your iPhone.
3. Ask Siri to play a song, album or artist.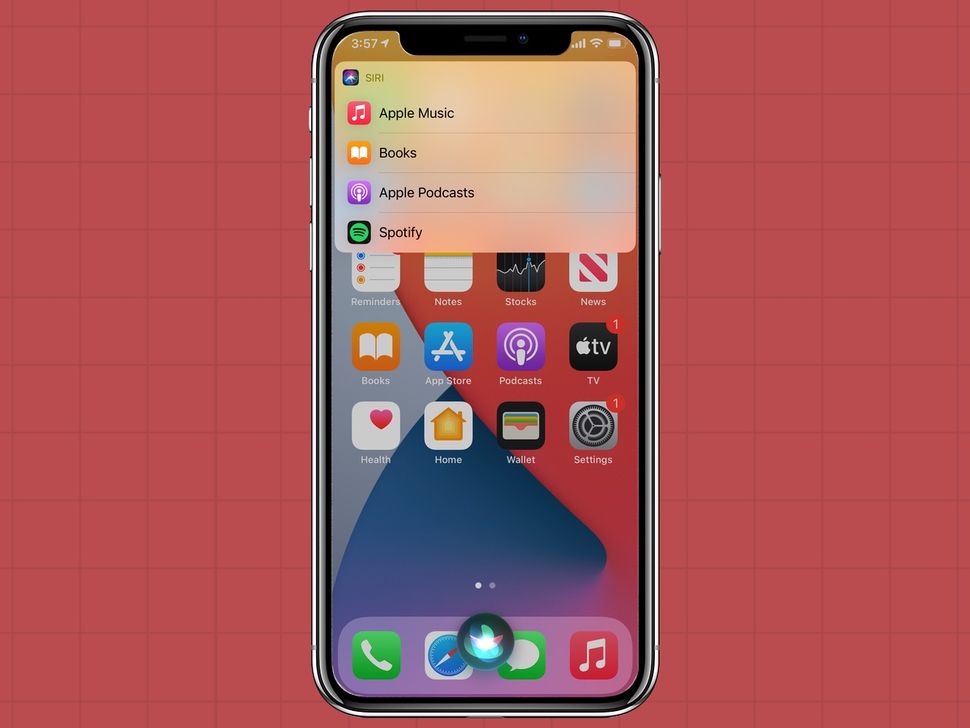 4. Choose the app you want to use from the list of available apps. For the sake of example, we're using Spotify.
5. Tap "Yes" to allow Siri access to your Spotify data.
The music should begin playing. Again, this won't make Spotify (or whatever you chose) the default music app — there's still no way of doing that on iOS.
But it will inform Siri that you prefer that app for music, so might not ask you to choose an app the next time to ask Siri to play a song. Just remember that if you manually launch a different music app to the one you previously selected, Siri might ask you again, as it will effectively be checking to see if your preferences have changed.