The bedroom is one of the key spaces in the home where we spend most of our time relaxing in. But if you have a small bedroom, it can often feel cramped, uncomfortable, or even cluttered. What's more, this can affect our overall mental health and well-being if there is insufficient space for your needs.
Luckily, there are some space-saving hacks to make a small bedroom look bigger, giving the illusion of more room. These can help to maximize your space, and make your bedroom more cozy and tranquil. In addition, making the effort to master how to declutter your bedroom can make all the difference in making a small room look bigger.
So, if you want to create a more spacious and relaxing boudoir, here are 7 space-saving hacks to make a small bedroom look bigger. Plus, if you want to declutter your closet, here are 7 ways to organize your wardrobe.
1. Floating bedside tables and shelves
If you lack the space for bedside tables on either side of the bed, why not try floating tables instead? When you wall-mount tables or shelves, this will free up valuable floor space, and visually looks bigger. As long as your floating nightstand has sufficient space for a lamp, alarm clock or phone, it's far more practical and stylish than a bulky table.
Depending on how strong your walls are, you can also install floating wall shelves, bedroom storage units, or even televisions to maximise your space. According to experts, placing things higher up can also create a better energy flow, alongside these 9 Feng Shui bedroom tips to get a better night's sleep.
2. Wall light sconces or hanging pendants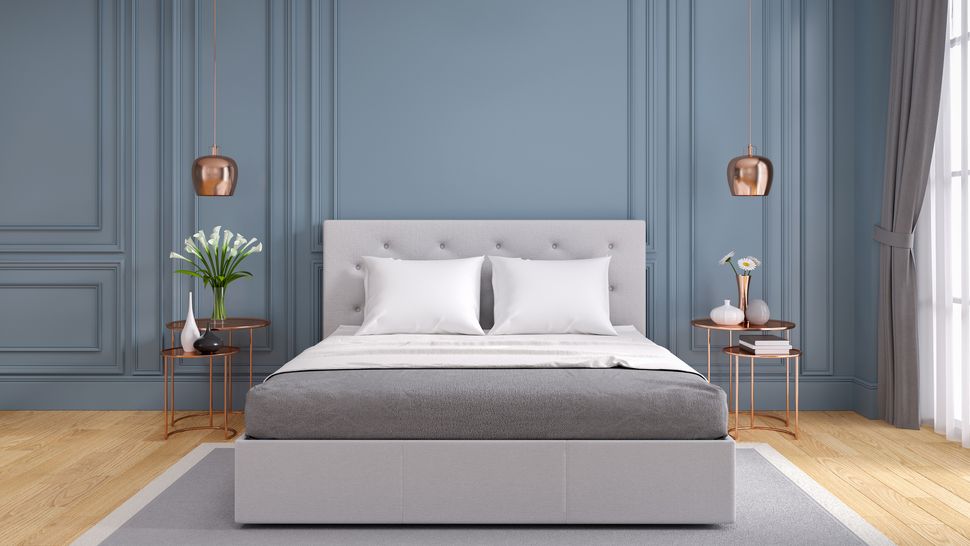 Similarly, if you don't have sufficient surface for your table or standing lamps, use wall scones or hanging pendant lights to illuminate your space. By mounting bedside lighting, this will allow more space, making your room look bigger. It's also advisable to install wall sconces above and to the side of your headboard. This works well to draw the eye upward.
Typically, wall sconces are easy to install, and you can opt for either hard-wired or cordless, USB types like these Indoor LED Wall Lamp with Touch Switch ($52, Amazon). You can also find ones that are adjustable and dimmable to suit your bed style, and nighttime routine.
3. Embrace mirrors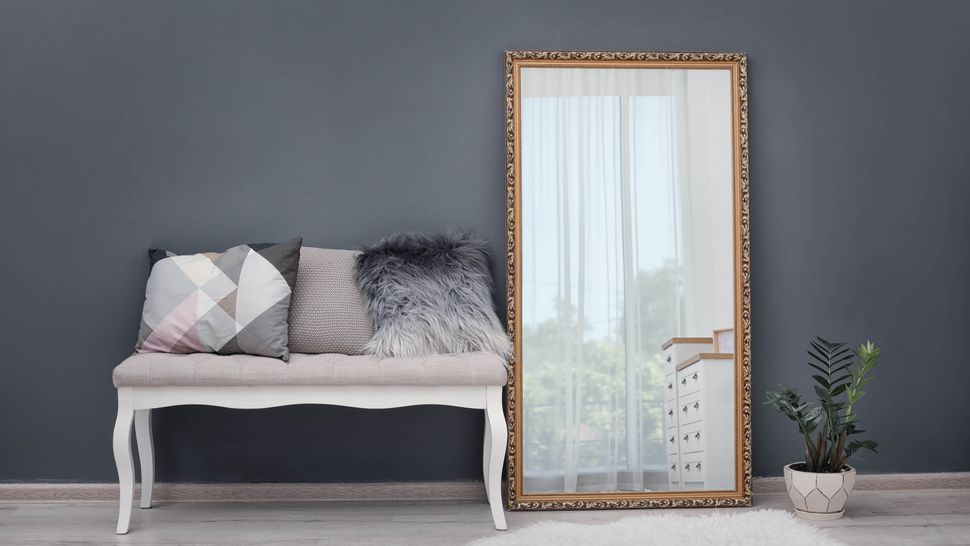 Another space-saving trick is the clever use of large mirrors, and glass closet doors to reflect light. In fact, mirrors can instantly make your tiny space feel open and airy, especially when positioned opposite a window for the natural light to bounce off it.
Experts suggest choosing mirrors that go from floor to ceiling in small spaces. However, if you don't have a mirror, any reflective surface such as stainless steel, glass tables, and metallic decor accessories will do the job. In addition, if you don't have sufficient space for a mirror, you can opt for door-mounted ones like this NeuType Full Length Door Mirror Over The Door ($49, Amazon), that are sturdy and adjustable to fit any door frame.
4. Downsize your bed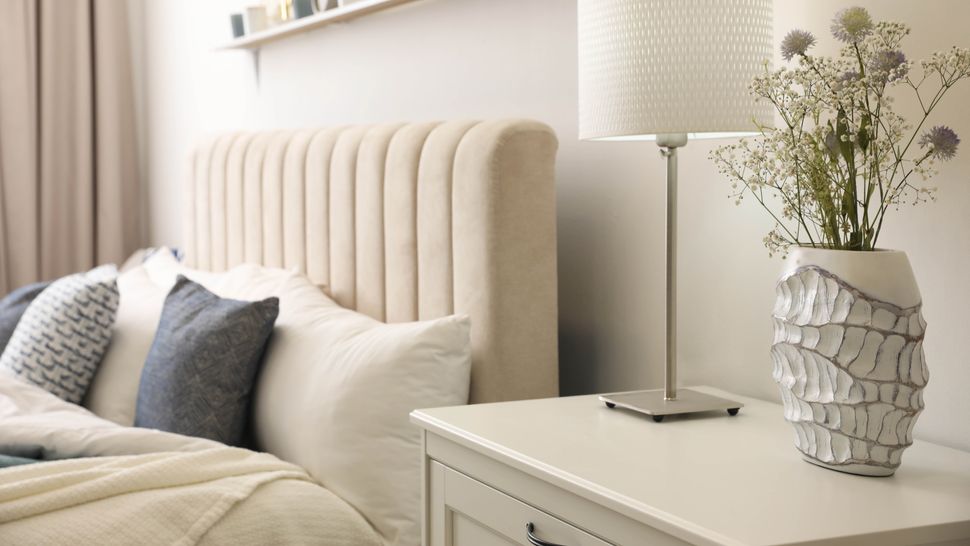 The bed takes centre stage in any bedroom, and experts recommend investing in a low-slung bed/frame to instantly make the room look and feel bigger. Ideally, choose a sleek bed frame with tapered legs or a subtle, wrought iron bed. These options will allow the light to flow through, and create an airy, open feel. The same applies for any bedroom furniture you buy, so avoid large, looming pieces of furniture that can overcrowd the room.
Alternatively, if you don't wish to invest in one of the best bed frames anytime soon, you can opt to downsize your headboard. More often, heavy headboards can dominate a compact room. Instead, swap out your huge, clunky headboard for a smaller, lighter or taller size. Not only does a taller headboard make great use of vertical space, drawing the eye upwards, but can make a small bedroom look bigger. Plus, there are so many different designs available to add character and style to your space.
What's more, Feng Shui believes that headboards provide a feeling of support in life and relationships. And choosing a soft, fabric headboard with soft edges if possible, will promote harmony. It's a win-win!
5. Streamline your bedding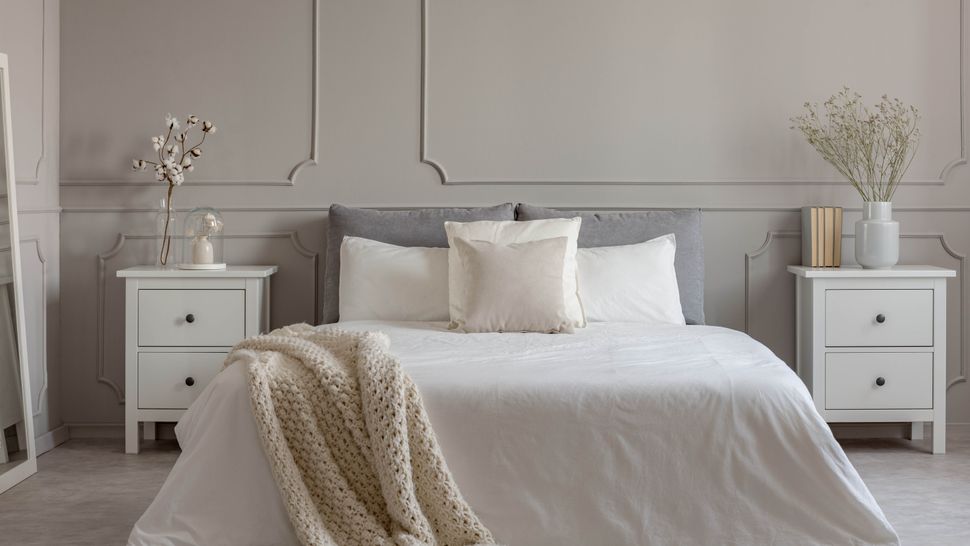 Similarly, layers of bedding, such as comforters, throws, and selection of plump pillows can easily overwhelm the room. It's always best to keep it simple for small bedrooms. Instead, opt for lighter fabrics such as linen or cotton to suit your bed frame. Avoid using thick quilts or multiple layers that can look and feel 'heavy'.
Also, try not to pile up your bed with extra pillows, or go for slimmer sizes, styles or even different shapes. These can make all the difference to making your bedroom look bigger and luxurious, yet still feel warm and cozy!
6. Get rid of heavy curtains/drapes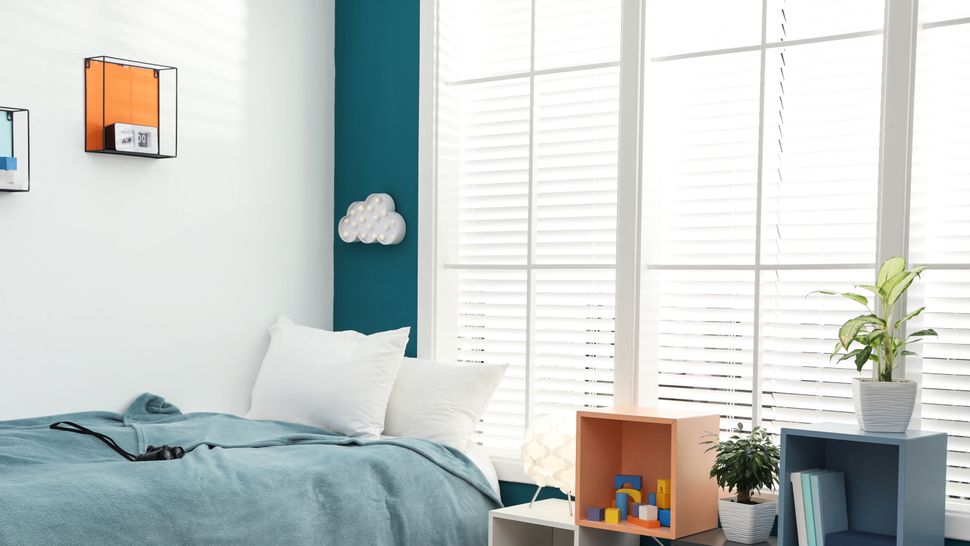 Natural light can really brighten up a dark room, and make a small bedroom look bigger. The key is to avoid using heavy or long drapes to cover your windows, blocking the light from coming through. Instead, opt for sheer or lighter curtains, or consider Roman shades instead of curtain panels These will allow you more control over how much light you need, and blackout blinds are available to help you sleep better.
If you are stuck however check out blinds vs curtains: which is better? To help you decide.
7. Furniture without handles or doors
If you want to create a more sleek, streamlined look, opt for furniture without handles or doors. Believe it or not, the absence of handles and doors can make a small bedroom look bigger, offering clean lines, and the illusion of more space.
Whether it's drawers, bookcases or storage units, opt for doors that could either be pushed to open and close, pull out from the top or have no doors at all.
Plus, always remember proportion when buying new furniture as you want it to be suitable and functional for small spaces. So avoid buying oversized or undersized pieces for your room. What's more, this sleek style will make bedrooms look more contemporary, especially if you ever want to make your guestroom feel like a hotel.
What color bedding makes a small room look bigger?
The color scheme of our bedding can also make a small bedroom look bigger. Typically, white, grey, blue and green are cool colours that work well to extend a room and make it feel airy. Alternatively, you can add these cooler colours on the walls and floor (a nice rug!) to maximize your space. Just avoid these paint colors that make your home look cheap!
---
f you're rearranging your bedroom, try to avoid these 5 mistakes when rearranging furniture. Plus, when revamping your home, you might want to know what things are making your home look cheap, or the 7 things that are making your home look outdated right now.