TV trends are pretty easy to predict: Resolutions get higher, colors get more vivid and brightness, well, that only goes up with each passing generation.
Thanks to the advent of HDR, we've seen TVs push the boundaries of brightness year after year, and it's led to some truly incredible 4K screens like the Samsung S95C OLED, Sony A95K, Hisense U8K and now the TCL QM8 Mini-LED TV.
We've taken the latter to the test bench and the results are surprising — with nearly 2,900 nits in a 25% window, it's the brightest TV we've ever tested here at Tom's Guide. (Stay tuned for our full rated review soon.)
Looking for a TV bright enough to stand up to the toughest glare? This is the TV you're going to want to buy, especially while it's still on sale for $500 off the regular price at Best Buy.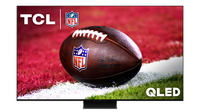 TCL 65" QM8 Mini-LED TV (2023): was $1,699 now $1,199 @ Best Buy
It's not every day that you see a brand-new TV on sale for 30% off, but that's exactly what's happening with the TCL QM8 that launched just last month. This Mini-LED TV is one of the brightest TVs we've ever tested, making it a great choice for movies and gaming. If you're ready to watch your favorite shows and films in a whole new light, we definitely recommend getting this while it's on sale.
TCL QM8 Mini-LED TV test results
Swipe to scroll horizontally
| | | | |
| --- | --- | --- | --- |
| Row 0 - Cell 0 | TCL QM8 Mini-LED TV | TCL 6-Series R655 (2022) | Samsung QN95B QLED |
| Price (65-inch) | $1,199 sale / $1,699 regularly | $949 sale / $999 regularly | $1,599 sale / $2,599 regularly |
| SDR Brightness (10%, in nits) | 1802.282 | 815.543 | 1456.180 |
| Delta-E (lower is better) | 2.744 | 4.037 | 1.172 |
| Rec. 709 Gamut Coverage | 99.96% | 99.92% | 99.97% |
| HDR Brightness (25%, in nits) | 2888.586 | 1389.011 | 1192.004 |
| UHDA-P3 Gamut Coverage | 97.26% | 96.75% | 94.19% |
| Rec. 2020 Gamut Coverage | 76.58% | 76.93% | 74.92% |
For an example of just how bright the TCL QM8 is, I stacked it against the older-but-still-beloved TCL 6-Series (R655) and the Samsung QN95B QLED, Samsung's top of the line QLED TV from last year. It's a pretty one-sided matchup.
For a TV reviewer like myself, those brightness numbers are off the charts. Over 1,800 nits in SDR tests? That's wild considering that most SDR looks perfectly fine with just around 500 nits of brightness. HDR content is usually mastered for 1,000 nits brightness. The QM8 can reach nearly triple that number.
The only thing that's not as good with the QM8 is its color accuracy, which is an area that Samsung still holds the crown in with its Delta-E score of 1.172. (Lower is better in this case.)
None of that means the TCL QM8 is an objectively better TV than the Samsung QN95B — you still need to consider factors like motion interpolation, upscaling and smart TV performance — but it's winning in a lot of important places. We'll have more to say about it when we publish our full review in the next week or so.
Why is brightness so important?
Here's the most eloquent way I can explain it: Brightness is to a TV as oxygen is to the human body — it only matters when you're not getting enough.
You really only need a lot of brightness in some extreme situations — like direct sunlight in the area where you want to put your TV — but you're going to need some level of brightness all the time to make for a good experience.
How much brightness you'll need depends on a lot of factors including location and eye comfort level. If you walk into places like Best Buy, your eyes will always be drawn to the brightest screen on the wall — because with bright overhead lights,most screens look desaturated and dim. But bring those same TVs home and they might be bad for your space.
My advice to folks is always to buy for the environment — if there's a lot of ambient light in the room or you've had issues with glare or reflectivity in the past, choose a brighter screen. If you have a space that's light-controlled like a home theater, you won't need a super-bright TV as that's just going to hurt your eyes.
Based on the QM8's test results, it's definitely more suited for folks suffering from the most extreme issues with light in their rooms.
Will the extra brightness give it that 'wow' factor right out of the box? Oh, absolutely. But in the long run it's how the brightness is used that matters more.
For those results, you'll just have to wait for our full review.
More from Tom's Guide