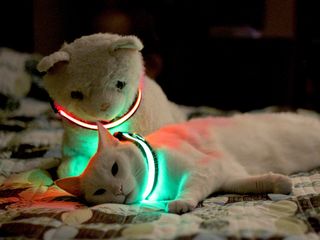 Halo Mini LED Dog Collar
If your pet likes to "go" outside between dusk and dawn, you'll want to take a look at the Halo Mini LED Dog Collar. Your dog will look très chic on the catwalk in this lightweight, neon-colored collar. It's the perfect blend of safety gadget plus high-fashion accessory. The blue, red or green LED lights ensure that your pet can be seen from afar as a ghostly, albeit fuzzy, apparition. The candy-colored glow comes from fiber optics powered by a battery that you can recharge via USB.
The Halo Mini collar weighs less than 6 ounces, and comes in three sizes to fit necks from 13.8 to 21.7 inches in circumference, be they cats or dogs.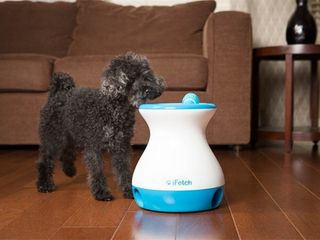 iFetch Frenzy Dog Ball Launcher
You love your dog so much that you take her to work with you. But there are times when Queenie has more energy than you have time for. (Like, say, when you're trying to write an article about pet gadgets.) That's where the iFetch Frenzy comes to the rescue, dog. It's a gravity-driven gizmo that your furry friend can use by herself to play fetch. Drop in one of the balls at the top of the toy and it will come shooting out the bottom, rolling along the floor at a good clip, enticing your dog to give chase. Just like that windmill hole on the neighborhood mini golf course.
It comes with three special mini tennis-type balls (1.6 inches in diameter), which you can store underneath the iFetch Frenzy when they're not in use. It's only 11 inches tall, so even small dogs can learn to drop in a ball for themselves. It doesn't require batteries or electricity.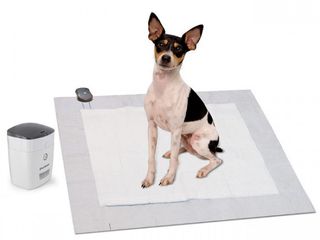 Train 'n Praise Potty Training System
Got a new puppy? While you're housetraining him, he's bound to have a few accidents. Instead of mopping the floors daily (or worse, cleaning the carpets), the Train 'n Praise helps you teach your puppy to pee on an absorbent pad — even when you're not at home.
The system consists of specially designed puppy pads, a moisture sensor and a treat dispenser. When the sensors detect a visit from the potty fairy, the pad sends a wireless signal to the treat dispenser. The dispenser then issues your dog some "noms" as a reward.
Later in his life, you can use it when your dog is having trouble regulating his "go" time. Or you can use the remote and treat dispenser to teach your dog tricks through positive reinforcement.
The Train 'n Praise comes with 10 special potty pads, but you can fill the dispenser with any type of treats that are up to 0.5 inches in size.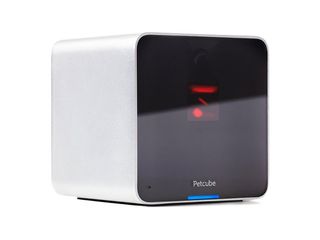 Petcube Camera
A former Kickstarter darling, the Petcube Camera system is now ready for prime face time. The Petcube sports a 720-pixel HD camera with a 138-degree, wide-angle lens. It's equipped with a speaker and a mic, so you can not only talk to your pet, you can also hear your furry child bark, meow or squawk back at you.
The Petcube has a 2.4-GHz Wi-Fi connection and apps for both iOS and Android. It even uses encryption and SSL to keep your pet-parental conversations private. The snazziest feature, though, is a built-in laser that you can control via the app to play with your pet.
The brushed-aluminum camera comes in different colors: matte silver, carbon black and even rose gold to match your iPhone. It weighs 1.3 pounds and comes with an AC adapter and a USB adapter.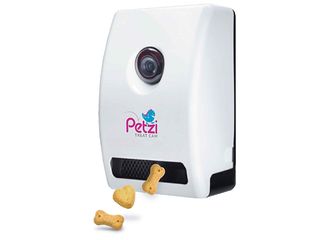 Petzi Treat Cam
While movies may try to convince pet parents that the secret lives of our fuzzy ones involve heavy metal music and fridge raids, those of us with fur kids want to know the real scoop about what's going on at home when we're away.
If you're not content with talking, listening to or playing with your pet remotely, then maybe the Petzi Treat Cam is for you. The Treat Cam has all these features plus TREATS. (Sorry, my cat pressed the caps lock button while I was typing his favorite word.) With just a tap on the iOS or Android app, the Petzi Treat Launcher will propel treats through a dispenser, sprinkling your pet with tummy-based hugs. You can fill the Treat Launcher with any crunchy treat smaller than 1 inch.
The Treat Cam has a wide-angle lens with night vision so you'll know right away if your pet is secretly a member of SEAL Team Six. You can share snapshots on social sites and via the company's own network, Petzi Social. The Petzi Treat Cam is a little over 13 inches tall and weighs 3.6 pounds.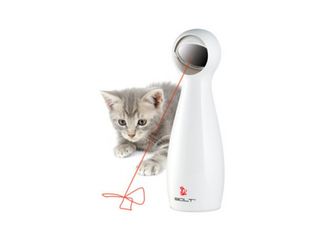 FroliCat Bolt Interactive Laser Toy
For playtime with your cat, nothing beats a good laser chase. The FroliCat Bolt looks like a sleek vase, but don't let its elegant look deceive you: It's packing heat. When you turn on the Bolt, it emits a laser that moves around on surfaces — sometimes quickly, sometimes slowly and sometimes stopping altogether. The Bolt's movement pattern is random, so your cat won't get bored by the toy's predictability. The adjustable mirror aims the laser so that you can also point it to scamper across walls or furniture.
The Bolt encourages your Simba wannabe to pounce and prance like the Mighty Hunter it is his destiny to become (it works with dogs, too).
The FroliCat Bolt is powered by four AA batteries. It's 8.5 inches tall, weighs just under 9 ounces and will automatically shut down after 15 minutes of laser fun.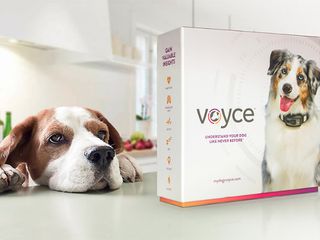 Voyce Health Monitor and Wellness Tracking System
Taking your dog to the vet can be expensive and stressful for everyone involved. The Voyce Health Monitor and Wellness Tracking System dog collar aims to change all that. To better predict what health problems your dog might have, some VSPs (Very Smart People) at Cornell found a way to put a vet into your dog's collar, and they called it Voyce. The collar keeps track of stats such as your dog's resting and active heart rates, distance traveled, exercise intensity, calories burned, and it even measures the quality of your dog's sleep. The Voyce can send your dog's health updates to your vet on a weekly basis, helping to spot troubles like pain, heart disease or anxiety before you may even notice them.
The Voyce collar fits dogs with necks between 12 to 32 inches in circumference. It's waterproof and Wi-Fi-enabled, weighing only 6 ounces. Rather than using a specialized app, you can pull up your dog's health report on a web-based, responsive dashboard that works with most desktop, tablet or smartphone browsers. It comes with a rechargeable battery that lasts for seven days.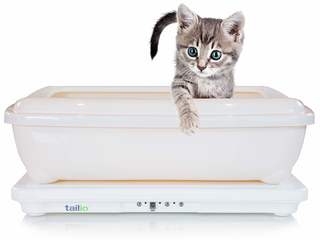 Tailio Smart Health Monitor for Cats
Ah, the litter box. Bane of sensitive schnozzes everywhere, and one of the few drawbacks of being a cat parent. But what if your cat's litter box could talk? It would be called the Tailio Smart Health Monitor.
Tailio is a flat, plastic device that's 18 x 12 x 2 inches that sits under your cat's litter box and tracks your pet's health by spying on your furry friend's daily "business." It can detect signs of serious illnesses — like cancer, hyperthyroidism and urinary tract problems — before you're aware that your kitty's in trouble.
Connected to the web via your home Wi-Fi, Tailio uses cloud analytics to analyze changes in your cat's health. Each time your cat steps into the litter box, Tailio measures your pet's weight and elimination patterns. It's even smart enough to recognize the difference between multiple cats.
Tailio will send you alerts for weight fluctuations or behavior changes, and it can generate a PDF report for your vet. It's controlled via iOS and Android apps and comes with four AA rechargeable batteries and a power adapter.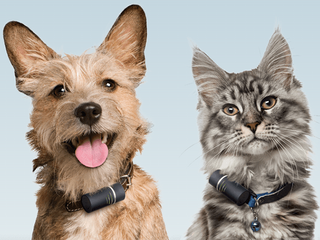 Pod Trackers
If Rover tends to rove too far away from the ranch, you can attach a Pod Tracker to his collar to find out what he's up to. The Pod Tracker is a small cylinder that hangs off your pet's collar, kind of like a tiny St. Bernard dog's barrel.
The Pod Tracker uses 2G mobile communication or GPS positioning to keep track of where your dog or cat roams. It will alert you when your pet gets too far outside your self-defined "Safe Zone" by syncing your dog's location to the web every 5 minutes. The Pod Tracker also has an Adventure Mode, which will show you the complete path of your cat's journey around the neighborhood last night.
The Pod Tracker is about 2 inches long and less than 1 inch in diameter, and can be attached to any collar or harness you already use. The iOS and Android apps can sync the Pod Tracker with your phone via Bluetooth or home Wi-Fi. It weighs only 1 ounce, so it should be light enough for most pets. The Pod Tracker comes with USB-rechargable batteries that last five days.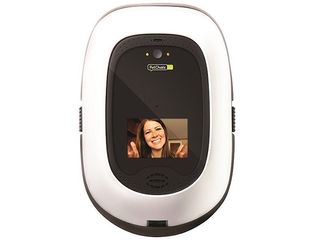 PetChatz HD with PawCall
You've been there, done that with the monitoring and playing, and you've even sent treats to your pet remotely. That's great, but it's all on your terms, isn't it? What about your dog's desires? What if he wanted to call you?
Say hello to PetChatz with PawCall, the two-way HD pet-monitoring system that lets your dog or cat call you. All he needs to do is tap the PawCall remote, and he can reach you via the iOS app or browser-based mobile site on your phone. (The Android app is in development.) PetChatz also features sound- and motion-detection alerts, and it's Wi-Fi- and Bluetooth-enabled. To make the sensory experience complete, you can also send calming aromas to your pet through the PetChatz Scentz dispenser.
So, what would your dog say if he could call you? He'd say, "Don't forget to pick up snackies after work."