Sexiest and Wildest Gaming PCs
Sexiest and Wildest Gaming PCs
Gaming PCs aren't just getting more powerful; they have also managed to become crazier-looking by the day. PC makers are constantly pushing the limits of gaming rig aesthetics, from a powerful computer the size of a coffee pot to a massive custom build inspired by Star Wars spaceships. Some of these stunning desktops and laptops are available now, while others are concepts we can only dream of owning. One thing they all have in common? You'll want all of them in your command center by the time you're done reading this.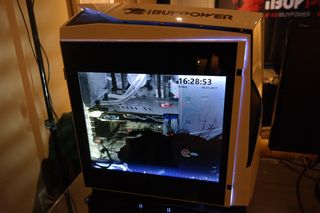 iBuyPower Snowblind (est. $1,800)
Plenty of gaming PCs have alluring glass panels, but the one
Razer Project Valerie (concept)
Do not adjust your screen -- you are in fact looking at a
CyberPower Luxe (est. $4,000)
CyberPower constantly pushes the limit of what a gaming PC
Acer Predator 21X ($8,999)
The Acer Predator 21X is about as absurd as it gets for
CyberPower Hyperliquid (est. $6,000)
The Hyperliquid is an evolution of CyberPower's Pro Streamer
Acer Predator G6 ($1,499 starting)
Some will say it looks like a piece of alien technology; others might call it a monster truck tire. Either way, there's no denying that Acer's huge, scaly Predator G6 is one of the most stunningly designed gaming desktops available. Plus, with a handy headset stand, easy-access hard drive bays, and support for the most powerful CPUs and graphics cards, the Predator has plenty of substance to back up its distinct sense of style.
Star Wars Star Destroyer (concept)
This is the gaming PC you're looking for. Sander van der Velden's staggering Star Destroyer case surrounds a fully functioning gaming PC, allowing you to play games while pretending to command one of the Empire's most deadly vehicles. The amount of attention to detail here is staggering, from the glowing lights on the side to the intricately cutout patterns on the top panel. You can't buy this wild PC, but you can find out exactly how it was built right here.
CyberPower Fang Trinity ($899 starting)
Do not adjust your eyeballs — CyberPower's three-pronged Fang Trinity PC is the real deal. This jaw-dropping machine has three "blades" that separate the PC's graphics card, processor and storage. Not only does this look awesome, but it also makes it awfully easy to access ports and swap out components once it's time to upgrade.
iBuyPower Revolt 2 ($899 starting)
It may be tiny, but iBuyPower's Revolt 2 is guaranteed to make you stop and stare. This one-of-a-kind PC's transparent top panel showcases your graphics card in all its glory, thanks in part to the 16 million colors you can use to customize the machine's backlighting. The Revolt 2's compact chassis and easy SSD swapping are optimized for e-sports tournaments, and you can even trick out the side panels with your favorite team's logo.
Alienware Area 51 ($1,599 starting)
Alienware's Area 51 is appropriately named, because this gargantuan desktop does not look like it was conceived on this planet. The Area 51's LED-lit triangular design is as practical as it is pretty, providing optimal airflow, easy-access panels and handles that make lugging this monstrous frame to the next room easy.
7 Gamers, 1 Tower ($30,000 Concept PC)
Have $30,000 lying around? Then you too may be able to build the ridiculous rig crafted by popular YouTuber LinusTechTips. This massive wonderbox houses enough power to run seven cranked-up games at once, thanks to a ridiculously intricate configuration of graphics cards and storage drives that would require a whole ton of time and just about your entire life savings to build.
Asus ROG GT51 (Price TBD)
If Iron Man were shopping for a gaming rig, we're pretty sure he'd pick up the Asus ROG GT51. This monolith of a PC sports all of the flashy red lights and see-through panels you'd expect from a high-end computer, but stands out thanks to a glowing circle in the front that brings to mind Tony Stark's arc reactor. The GT51 even ships with its own wearable that lets you overclock the machine and access hidden drives using quick gestures.
MSI Vortex ($1,999 starting)
No, it's not the coffee pot of the future; the MSI Vortex is just a really slick gaming PC. Despite its compact, strikingly cylindrical design, the Vortex supports up to two Nvidia GTX 980 Ti graphics cards, making it more than ready for 4K and VR gaming. If you want your gaming PC to turn heads in the living room rather than hide under your desk, this is the one to get.