NAMM: 17 New Musician-Friendly Gadgets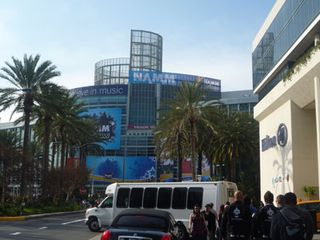 Music and Tech Converge with Apps and Devices
The National Association of Music Merchants convention (NAMM), is like CES for musicians. Just imagine a lot more hair, tattoos and piercings. The men are even worse. This show is monstrously huge. It attracted 95,000 people on January 19-22, almost as many as CES, to a convention hall better suited for more modest events like Blizzcon (a convention for World of Warcraft devotees). At each event we've ever attended at the Anaheim Convention Center previously, the bottom floor was designated for exhibits and the upper floors were set aside for sessions and chats. Not here. The show floor extended to the third floor of the building. The last time we sent a reporter to NAMM, the iPad wasn't even announced yet. Two years later and there are iPad-related announcements coming out of both ends of the Anaheim Convention Center. That's not too surprising given how popular Apple products are among musicians. Still, it wasn't an all-Apple show, as you will see.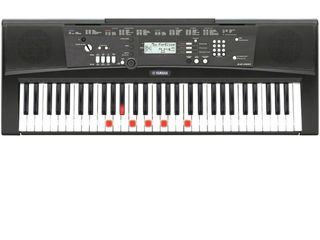 Yamaha EZ-220 keyboard
This entry-level keyboard makes piano lessons as easy as possible thanks to an interactive keyboard that lights up, telling you where to place your fingers for the notes in a song. It has a USB controller so it can be connected to a computer or iPad, plus wireless connectivity to the free Page Turner iPad app with sheet music on it. There are 100 preset songs with digital scores to learn, along with 392 built-in Voices to let you create the sounds of strings, guitars, brass, synthesizers, drums, and more. Pricing will be announced when it ships this spring.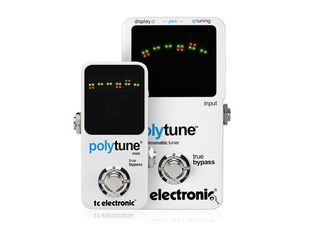 TC PolyTune Mini
For guitarists who have not developed perfect pitch, there are electronic tuners that you plug your guitar (or bass guitar) into instead of an amp, and pick each string one at a time until you get all of them in tune. TC Electronic's PolyTune Mini cuts that down by letting you strum all six strings at once and displaying how out of tune each one is, individually. You then adjust accordingly and check again with another strum. The PolyTune Mini will fit on any pedal board so you can always check your tuning. TC Electronics did not give a price or release date.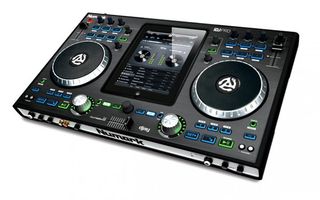 Numark iDJ Pro
MacBooks are popular with DJs for their versatility, but iPads are catching up thanks to introductions like this. Numark's iDJ Pro is a professional DJ controller that integrates the iPad into the controller casing. Look closely at the image and you'll see an iPad is sitting in the middle of it. It combines the design of Numark DJ controllers with the iPad and Algoriddim's djay app (one of the most popular DJ apps for iOS). You can instantly access just about any song, download tracks to the iPad and mix them with the Numark controls. It also supports AirPlay. Numark didn't announce a release date or price for the iDJ Pro.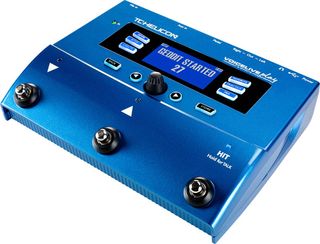 VoiceLive Play
Normally, for a fun karaoke experience you need karaoke versions of songs (the ones with the vocals removed) in order to sing along to a song. The $249 VoiceLive Play from TC Helicon will let you plug any MP3 player in and sing along with your favorite artist using your standard MP3s. You plug in a microphone and play the song on your media player and VoiceLive Play replaces the vocal track with your own. It can add vocal effects such as reverb, auto-tune and harmony.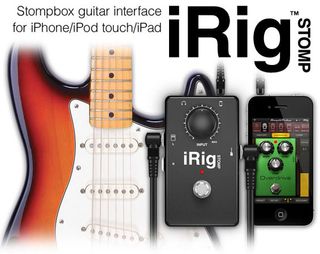 iRig Stomp
The iRig Stomp from IK Multimedia turns your iPod/iPad/iPhone into an effects box--the kind on-stage guitarists have stomped on for years. Clearly, you don't stomp on your $200 phone, you tap on it. The iPod/iPad/iPhone connects to the iRig Stomp device, so you have one device and not the cluster of pedals guitarists often use to get effects like reverb, fuzz and delay. It's due out in March with an SRP of 59.99.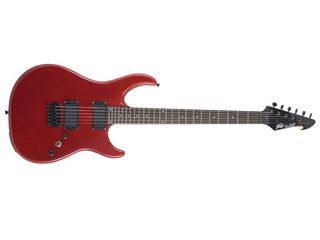 Peavey Self-Tuning AT-200 Guitar
Many people consider AutoTune to be the incarnation of evil for allowing tone deaf "singers" to get away with sounding like they can actually sing. So what better move than to come out with one for the guitar? Guitar maker Peavy Electronics teamed with Antares Audio Technology, maker of AutoTune, to create the AT-200, a guitar that will sound like you are in perfect tune even if your strings are not. It even lets you choose from a variety of tunes so you always sound like you have perfect pitch, even if you don't. The $499 guitar will ship in September.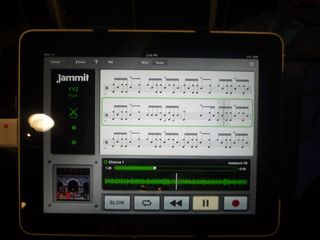 Jammit App
Jammit is a music tutor for the iPad that has licensed music from artists and separates out the instruments. Want to learn how to play Rush's "YYZ?" Jammit has the song with isolated guitar, bass and drum tracks, so you can listen to nothing but one instrument and follow along to the part as well as the sheet music (you CAN read sheet music, right?). You can also loop portions of songs and slow them down to try and get it right through practice. The Jammit app is a free download to your iOS device. Songs, however, are sold for $3.99 a piece.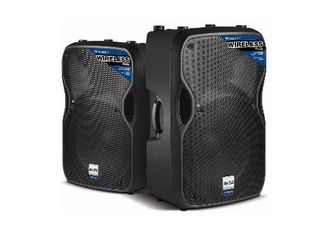 Alto Professional TrueSonic Wireless speakers
We have enough wires to untangle. Alto Professional has come up with wireless speakers to spare us any more tangled cords. The Truesonic Wireless TS112W and TS115W are powered speakers for musicians and live sound engineers that provide 800 watts of Class D power and an SPL of 125 dB for the TS112W and 126 dB for the TS115W. Translation: they are really powerful and very loud, and they maintain fidelity even via Bluetooth. The speakers will be available through professional audio and live sound retailers in the second quarter of 2012 at an MSRP of $549 for the TS115W and $499 for the TS112W.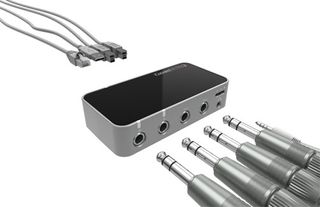 iConnectivity iConnect Muse
iConnectMUSE is a small, personal mini-mixer with six stereo inputs and six stereo outputs, each with its own unique mix, that lets you connect a multitude of devices and instruments to one iOS device (or Mac OS device). So, you can connect two guitars and a bass to this gadget, mix them, and record it all on your MacBook or iPad. iConnectMUSE will ship in the second quarter of 2012, for $229.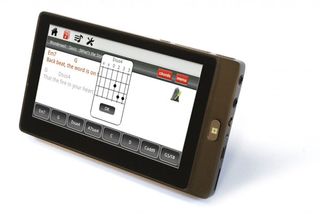 itab v5 Android Pro
Yes you read that right, the Android device platform was represented at NAMM. It took a while to find, but find it we did. The i-tab v5 Android Pro is compact smartphone-sized device that attaches to a guitar, either by the strings or by the headstock, and lets you store tabs, lyrics, tempo or backing tracks. You can build and save setlists and themes for different types of gigs.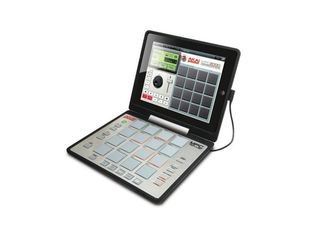 Akai MPC Fly
One of Akai's biggest brands is its Music Production Center (MPC) controllers that are very popular with DJs--particularly hip-hop DJs. Thus far, all of these dedicated devices plugged into a stereo, but with the MPC Fly, Akai has built one for the iPad 2. The case design is that of a laptop, so when you close it the iPad is protected. This is the first MPC designed specifically for iPad 2. Price and availability were not disclosed.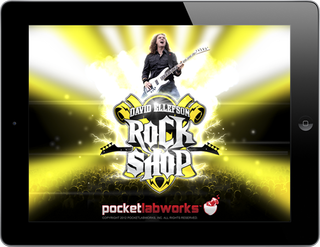 David Ellefson's Rock Shop App
Of all the hotshot guitarists at this show, it was a bassist who stepped forward to put his name on a product. Then again, David "Junior" Ellefson (Megadeth, anyone?) has been doing his Rock Shop tutorials online for a while, offering Webisodes on all kinds of advice for professional musicians. He developed this app in partnership with Pocketlabworks for use with its iRiffPort Digital Audio Guitar Connection. You connect the iRiffPort connector to your iPad or iPhone and it quickly sets up the tuning for you. It also integrates with iTunes and lets you play along to songs, loop them, and slow them down. Pricing and availability will be announced soon.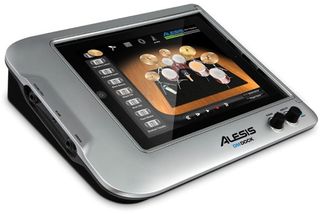 Alesis DM Dock
Time to give the drummers some love. Alesis introduced two docks for the iPad, one for the guitar (AmpDock) and one for drummers. The DM Dock turns your iPad into a MIDI drum module, capable of putting out all kinds of rhythms and synthesized drum sounds. Like the MPC Fly, you slide the iPad into the dock and it adds all kinds of output controls and ports. Just tap on a drum kit on the screen and record your drum parts for playback. It will ship in the second quarter of 2012, for $249.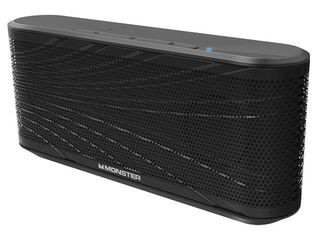 Monster ClarityHD Micro Speaker
Monster, the masters of overpriced cables, introduced a neat little speaker called the ClarityHD Micro, and it isn't just for musicians. ClarityHD Micro is a Bluetooth-enabled speaker/speakerphone that gives you much better audio quality for cell phone calls or music playback than the tiny, tinny speakers found in a typical iPhone or Android phone. The Voice Command and Control function lets users make and answer phone calls, play music, and perform Bluetooth pairing by voice command. It will ship in March at an SRP of $219.95.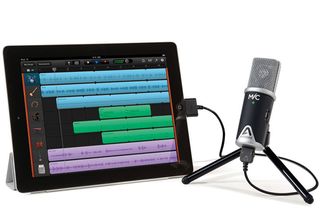 Apogee Digital MiC
Apogee already sells Jam, an adapter that records guitar parts on the iPad using GarageBand and allows editing the tracks directly on-screen. MiC is its companion for the other parts, like vocals. It comes with a studio-quality microphone for iPad, iPhone or Mac, which can record anything from vocals to wind instruments. You can then build a track right on your iPad with GarageBand. It will be available in February for $199.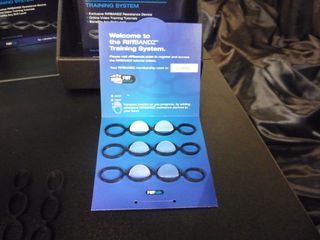 Rifftek Riffbandz
This was just a treat: a low-tech but funny gadget. The fine art of shredding means ripping out 32nd notes at extreme speed, which means you need some fast fingers. Well, just as boxers punch with weights to strengthen their punches, Rifftek makes a set of latex bands that go over your four fret fingers while you play and strengthen them, so you can get faster and shred like Nevermore lead guitarist Jeff Loomis. Maybe.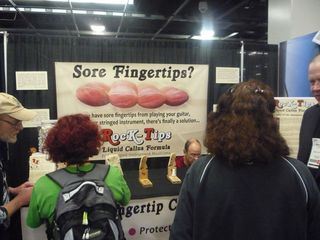 Rock-Tips
Aspiring guitarists can relate to this: when you are still learning the instrument, or if you have been away for a while, the tips of your fingers will get torn up from running them over what is, essentially, razor wire. The folks at Rock-Tips have come up with a spray-on callous for your fingertips to spare you any bleeding (and bleeding does happen).