In Pictures: IndieCade 2011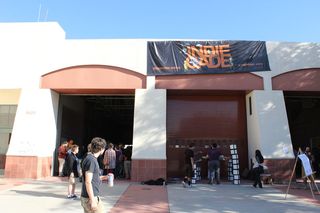 Welcome to IndieCade!
We sure do love our Triple-A video game releases, but we've always had a soft spot for independent games, too. That's why we went to IndieCade...which was being held right next door to our office in Culver City.This might be the most convenient festival we've ever covered.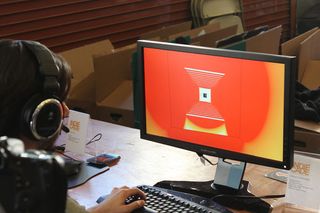 Antichamber
Antichamber is a first person title (not so much a shooter, however) in which "...space can change, nothing is as it seems, and the puzzles abound with non-traditional mechanics." It's a trip to watch someone play Antichamber, as the color schemes make it look like the end of 2001: A Space Odyssey.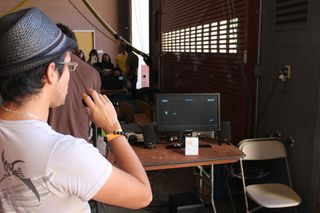 PewPewPewPewPewPew
PewPewPew (we're not sure how many "pews" are in the title) is an incredibly simple sidescroller (think R-Type) that relies on sound for control. One person talks into/manipulates the mic to move the ship up and down, while player 2 does the same to fire. Teamwork is the key here, as is making funny "pew pew" noises when you fire.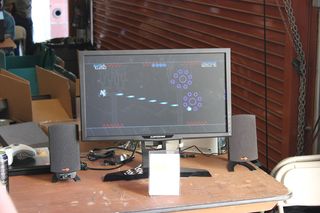 PewPewPew (continued)
More PewPewPew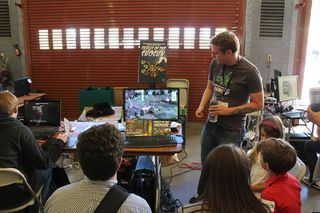 Skulls of the Shogun
Skulls of the Shogun combines two of my favorite things: samurai and the undead. It's rooted in traditional turn-based strategy, but the graphics are pretty slick, in a fun way (almost like Castle Crashers). Multiplayer is also a major component, as local and network options will be available.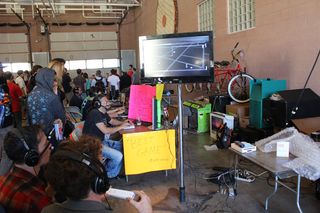 Bit Trip Flux
You might have heard of the BIT.TRIP collection of games, and Flux is one of the latest editions to the series. Flux is like a fresh take on Pong, and you use a Wii Remote to slide your paddle north to south to deflect whatever comes your way. It gets a little more...intense than that Nolan Bushnell classic.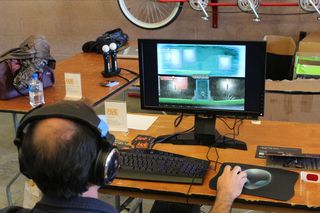 Way
Way is all about cooperation, as you and a partner (playing on a PC on the other side of the room) must use non-verbal communication within the game to solve puzzles. You can manipulate your avatar (feet, arms, etc) to interact and communicate, but that's about it.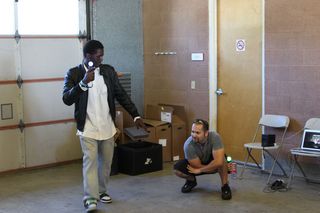 Joust
Joust is a bit difficult to describe in one image, but it's all about protecting your motion-sensitive PS Move controller. Disturb another players wand, and the ball glows a different color. This game started with about ten people.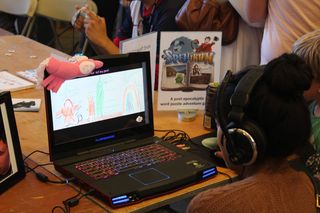 Sissy's Magical Ponycorn Adventure
A game designed and crafted by a five-year-old (with some limited help from her father), SMPA is a point and click adventure that makes whatever you did as a kindergartener pretty insignificant.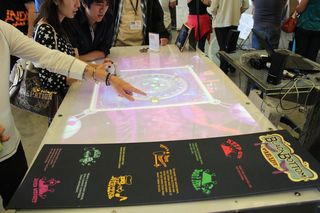 BlackBottom Parade
BlackBottom Parade was easily the most ambitious game at IndieCade this year. Cobbled together using IKEA furniture and plexiglass, BBP is one of the first games I've seen that uses a hacked PS Move camera. The game runs on a laptop, which sends the game to a short-throw projector. The image is bounced from a mirror to the plexiglass, while the PS Move focuses on the mirror image. IR plays a big role as well, as you use emitters to control characters on the oft-unbalanced table (the table within the game, not the plexiglass structure).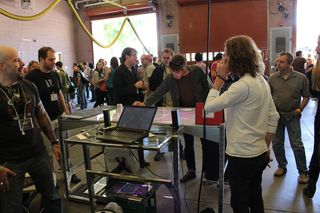 BlackBottom Parade (continued)
The complete BlackBottom Parade setup.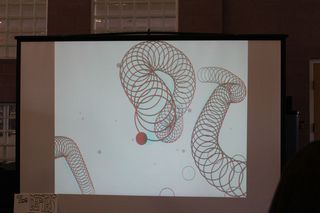 The Depths to which I Sink
See the ball, and move said ball through obstacles. It's a bit like Snake, but The Depths To Which I Sink is also a 3D title. The prototype on display used old school red-blue 3D for the effect, but the final product will likely use active shutter via Nvidia 3D Vision.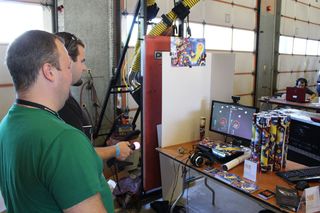 StarDrome
StarDrome looks like a pinwheel simulator of sorts. Using a PS Move controller (side note: there were a ton of PS Move games at IndieCade this year), you control a ship that spins around various central points, which allows you to collect gems and power-ups while avoiding enemies (and making them crash).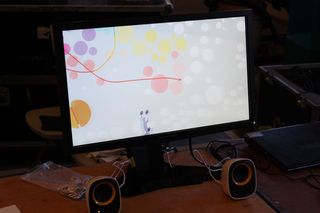 Hohokum
"In the enchanting world of Hohokum, players control a colorful space worm, winding through a city under attack to rescue its innocent citizens on its back." If there was an award for "Game that Sounds like an Acid Trip," this might take the cake.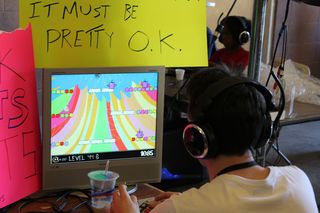 Deepak Fights Robots
Deepak Fights Robots is just that! You play Deepak, who is thrust into a world where he must collect power-ups in order to defeat evil robots plaguing the land.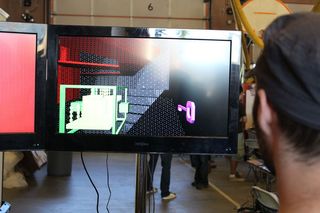 At A Distance
One of the more unusual-looking games, At A Distance is a first person puzzle game of sorts, "designed to be played with people coming and going throughout the game, and is a strong example of design focused on evoking emotion in interactive experience."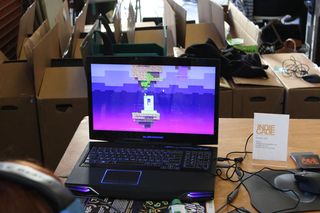 FEZ
FEZ was the highest-profile title at IndieCade this year. It looks like a 2D platformer, but the world can be rotated 90 degrees at a time, giving you access to new angles that older Mario titles would be jealous of.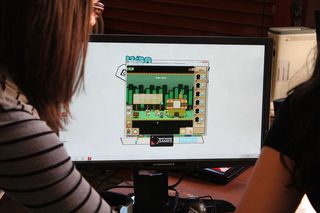 Hero Generations
Most games have you focus on one hero, during one of his or her campaigns. But what if time became a factor? Hero Generations wants you to create a legacy of heroes, each with his or her own unique features but they're all part of the same family.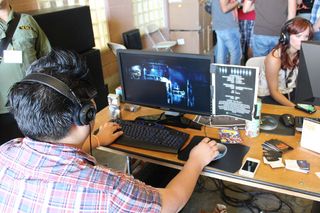 The Swapper
The Swapper is all about creating clones and transferring your consciousness to them. This seems like the primary movement mechanic, but it's also an integral story component, of course.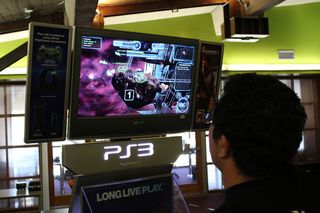 PlayStation Home
Playstation Home hasn't gotten much love lately, but the online service will be offering more and more indie games as time goes on.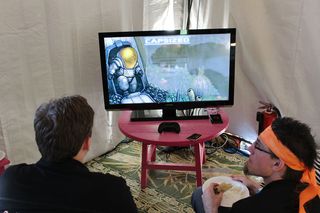 OnLive
OnLive is also getting its indie groove on, as the service will be adding a handful of indie titles, like Capsized (pictured) over the next few months.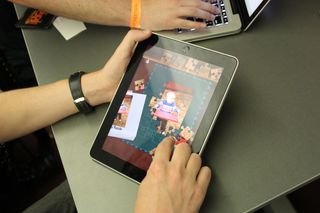 Puzzle Mansion 2
Simply put, Puzzle Mansion 2 takes your photos and transforms them into puzzles. The completed puzzles are then displayed in your gallery, so you can show off those baby pictures and your puzzle prowess at the same time.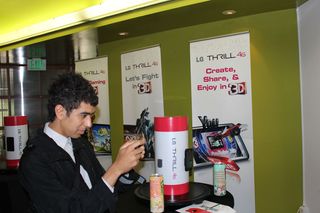 Mobile Indie Gaming
This young man is playing some sort of FPS on a 3D phone. The mobile space has always been a great environment for indie games, as distribution is incredibly easy.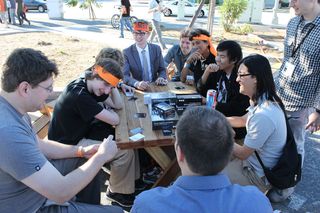 Indie Games IRL
Yes, there are indie games that aren't video games at IndieCade. Cards Against Humanity is all about being "despicable and awkward"; Read a question from a black card, and your friends use their funniest white cards to answer. You can buy the cards on Amazon for $25, or make your own for free.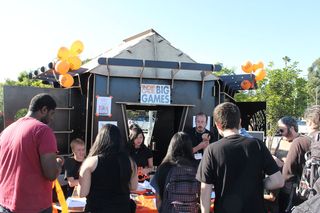 Zombies!
Other "real world" games were available, too, including Zombies vs Humans. Someone starts as a zombie (with a bandana that says as much) and they infect the humans by touch. It works like flag football, but with zombies instead of, you know, the pigskin.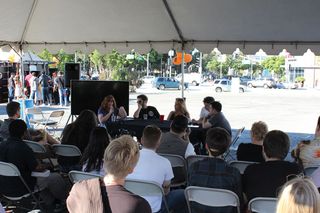 The Panels
Like any con or festival, there were several panels open to attendees. Topics included the future of "art games," programming, and "big" games that aren't played on a screen.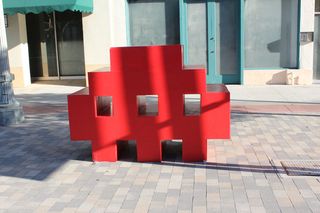 Fin
IndieCade (to which this piece of Space Invaders-ish street art is related) is unlike any other convention out there. This isn't about cramming as many people as possible into the Los Angeles Convention Center; instead the more-intimate festival takes over downtown Culver City, puts the best that the indie world has on display, and puts having fun at the top of the priority list. You'll find no six hour waiting lines here, like you would at E3. Instead, grab a beer (or energy drink), play some FEZ, and enjoy the beautiful weather.