Snapdragon 855: Here's All the Top Features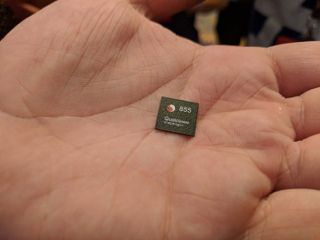 Meet Qualcomm's next big mobile processor
Qualcomm has a new mobile processor, the Snapdragon 855, and we're finally seeing the first phones powered by the new chipset. Samsung just unveiled the Galaxy S10 lineup, with three different phones powered by the Snapdragon 855, and this month's Mobile World Congress will introduce even more devices running on the new chipset.
From 5G connectivity to camera improvements with a new fingerprint sensor thrown in for good measure, here's what the Snapdragon 855 will deliver to this year's leading Android phones. Credit: Tom's Guide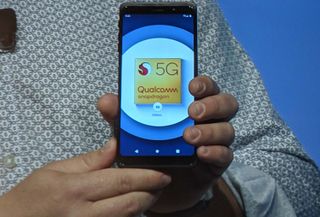 5G connectivity
Easily the most significant thing the Snapdragon 855 brings to the table is 5G compatibility. The new mobile platform ships with Qualcomm's Snapdragon X50 modem, which means it will be able to deliver data at 5G's faster speeds, at least wherever carriers bring 5G networking online. For those areas that still rely on LTE — and there will be a lot of those in 2019 — the Snapdragon 855 also includes Qualcomm's X24 modem, which is capable of delivering multi-gigabit LTE speeds in its own right. (Another 5G modem, the X55, supports both 5G and LTE and will find its way to devices later in 2019.)
The Snapdragon 855 is capable of supporting Wi-Fi 6 as that faster wireless standard becomes more widely adopted, and it supports 802.11ay, too. I got a first-hand look at that latter 60 GHz connectivity standard in a demo at Qualcomm's December 2018 tech summit. I played Asphalt 9 on a Snapdragon 855 reference device equipped with a game controller, as the racing game streamed over Wi-Fi to a nearby TV. There was no lag between when I used the controls on my mobile device and when my car responded on the TV screen, providing me a console-like gaming experience from a device the size of a smartphone.MORE: I Just Tried 5G for the First Time: Here's What It Lets You Do
The bottom line: whether you're connected to a cellular network or a Wi-Fi one, your Snapdragon 855-powered device should be able to push through a lot of data in a short amount of time. Credit: Qualcomm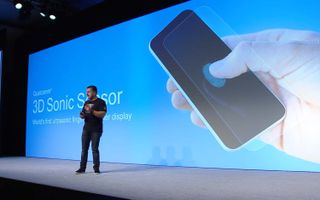 Embedded fingerprint sensor
Fingerprint sensors that fit right underneath a phone's display aren't necessarily new. The OnePlus 6T introduced such a feature last year, and a handful of devices from Chinese phone makers do the same thing. But a lot more phones will move their fingerprint readers to underneath the display thanks to the Qualcomm 3D Sonic Sensor that's included with the Snapdragon 855.The ultrasonic in-display sensor promises to securely scan your fingerprint. It can capture a 3D image of a fingerprint, putting it a step ahead of optical sensors that make less detailed scans. The 3D Sonic Sensor is also capable of reading your fingerprint when your finger is wet or oily — quite a change for anyone who's ever tried to unlock their phone after washing their hands. For those reasons, expect the 3D Sonic Sensor to be a welcome addition for phone makers as they crank out more designs with shrinking bezels and edge-to-edge displays that require new homes for the fingerprint sensor. Credit: Qualcomm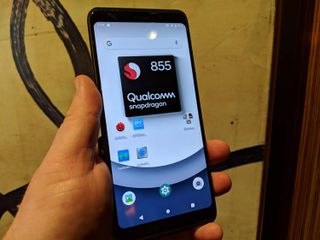 Better performance
It's pretty much accepted that a new mobile processor brings faster performance and better energy efficiency, but the Snapdragon 855's promised improvements are still pretty significant. The Kryo 485 CPU on the new chipset should boost performance by up to 45 percent over the Snapdragon 845, while the Adreno 640 GPU should make graphics up to 20 percent faster. That translates to the biggest performance increase in Snapdragon's history.
And now, we've got the numbers to prove it, after we had the chance to benchmark the Snapdragon 855 using both a reference device and the newly announced Galaxy S10 Plus. The new chipset outperforms last year's Snapdragon 845 — no surprise, there — but it comes very close to matching the pace-setting speed set by Apple's A12 Bionic in the Geekbench 4 test of general performance. The Snapdragon 855 also outperforms the A12 on several graphics benchmarks we ran. While the A12 still outperformed Qualcomm's new chip in a real-world video conversion test we ran, Qualcomm notes that apps you're likely to use on a phone — think Gmail, YouTube, Twitter and Facebook — launch faster on its processor than on other 7-nanometer platforms. Credit: Tom's Guide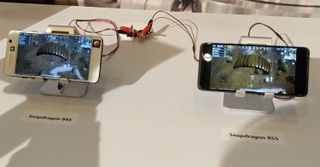 More power efficient
With increased performance comes the possibility that your smartphone battery might drain faster, but Qualcomm is taking steps to make sure that doesn't happen with the Snapdragon 855. Thanks to both the 7-nanometer process used to make the new processor as well as architectural improvements to the 855, Qualcomm's new chipset should run more efficiently than before.
To illustrate that point, Qualcomm set up two reference devices powered by a Snapdragon 845 and 855, respectively, and then had each play PUBG Mobile. Based on the amount of power both devices were consuming, the Snapdragon 855-powered model would have lasted an hour longer than the 845 device, assuming both were being by a 3,000 mAh battery. All told, it looks like a 20 percent power improvement for Qualcomm's newer processor. Credit: Tom's Guide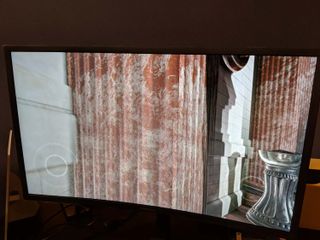 Better gaming experience
The Snapdragon 855 introduces Qualcomm's Elite Gaming platform, the chip maker's acknowledgement that gaming has become an important part of the mobile world. To that end, Qualcomm is promising that games running on Snapdragon 855-powered phones will be able to offer cinematic graphics and audio. Games will benefit from cinematic color grading in HDR — think more colors brightening up your smartphone screen — filmic tone mapping, and physically based rendering.
To demonstrate what HDR gaming will look like on Snapdragon 855 devices, Qualcomm set up a screen showcasing a graphically detailed Roman palace. You could make out different textures on the columns and tiles, flames from the torches lining the room flickered and sunlight cast realistic shadows over the scene. As we looked around the palace, those details remained sharp and vivid.
Besides the better looking graphics, Qualcomm says you see a major reduction in dropped frame rates helped in no small part by the lower latency that 5G has to offer. Credit: Tom's Guide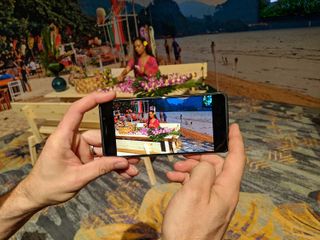 A smarter camera
Phone makers who build more intelligence into their cameras will get a boost from the Snapdragon 855. The chipset's Spectra 380 image signal processor (ISP) adds hardware-accelerated computer vision. As a result, Qualcomm says, your phone's camera will be able to recognize whatever you're shooting as well as the setting you're shooting in. Because those computer vision features are contained within the ISP, your camera will perform faster and more efficiently, too.That's going to enable a lot of new capabilities. For instance, when you capture 4K video at 60 frames per second on a phone with the Spectra ISP on board, you'd be able to replace selected objects or even backgrounds in real-time. That will also let you add portrait mode effects like blurred backgrounds to video. Those video demos weren't on display at Qualcomm's Snapdragon 855 unveiling, but we did see the vibrant colors that HDR10+ support can bring to video recording, along with some of the improved low-light photos and portrait shots that the new ISP can power.
You'll be able to do all this while saving power — Qualcomm says the new ISP offers up to 4x power savings over the previous generation — and have your photos take up less space, thanks to hardware acceleration for the HEIF file format, which will reduce file sizes by 50 percent. HEIF can also store a video along with multiple stills in a single container, and it's storage information includes depth maps, opening up more possibilities for sharing and photo editing. Credit: Tom's Guide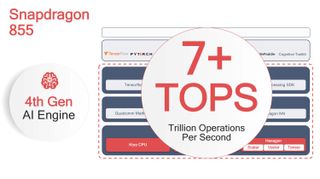 AI improvements
Speaking of smarts, the Snapdragon 855 features the fourth-generation of Qualcomm's AI engine, and the improvements are spread across the chipset. The Hexagon 690 digital signal processor doubles the vector processing found in the Snapdragon 845 while the Adreno GPU gets hardware enhancements for improved AI acceleration. The Kryo 485 CPU also gains new instructions aimed at accelerating AI.
These hardware enhancements mean Qualcomm's AI engine has a capacity of 7 trillion operations per second. It translates to a 3x improvement in AI performance over last year's Qualcomm mobile processor — and Qualcomm says its AI should outperform other 7-nanometer chipsets found in Android phones, a not-so-subtle swipe at Huawei's Kirin 980 processor.
What kind of experiences does this more powerful AI enable? Qualcomm demonstrated an AI-powered noise reduction algorithm that let a man in a noisy bar place a noise-free phone call where the person on the other end of the line only heard his voice instead of the ambient din. AI improvements could help out the digital assistant on your future phone. The Snapdragon 855 features dedicated AI acceleration for echo cancellation and noise suppression, making it easier to talk to your assistant. For instance, while the song "Havana" blasted around me, I tried speaking and the noise suppression feature isolated my voice so that it could be heard by a digital assistant over the music. Credit: Qualcomm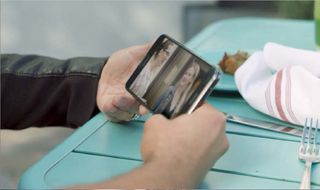 Better movie playback
Watch a movie on a Snapdragon 855-powered device, and you won't have to worry about what will happen first — the movie's dramatic conclusion or your smartphone's battery petering out. The Snapdragon 855 uses hardware-accelerated H.265 and VP9 decoding that should add a 7x improvement in power efficiency when you're streaming shows on the likes of Netflix or YouTube. The Snapdragon 855 also supports HDR10+ playback, the first time that's been available on mobile. Credit: Qualcomm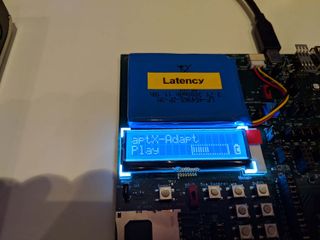 Better wireless audio performance
The Snapdragon 855 includes Qualcomm's aptX Adaptive audio codec, which aims to provide lower latency for wireless audio, so you can continue to enjoy music, games or other multimedia without any drop-off in sound quality. In one demo, a Qualcomm rep showed how just moving your phone to your back pocket can cause a momentary drop-off in sound, due to temporary interference between the phone and wireless headphones.
When the aptX Adative codec was enabled, though, sound quality didn't suffer any glitches, even though a monitor showing the song's bitrate dropped off a little as the phone was moved around. In a mobile world where smartphones are increasingly dropping the 3.5mm headphone jack, forcing some users to turn to wireless headphones, more consistent audio from Qualcomm's codec. sounds like a welcome addition. Credit: Tom's Guide