It's too bad Oculus can't make real components for the Rift in virtual reality. That way, it would have been able to avoid an embarrassing delay that compelled the company to send out letters of apology this past weekend to affected customers.
It's good that Oculus has decided to cover the cost of shipping for these units, but overall, this gaffe is a reminder that Facebook and Oculus didn't pick the right launch window for the highly anticipated headset.
On April 2, I was one of the "lucky" chosen recipients of Oculus' mea culpa email, which blamed a component shortage on an inability to live up to the original shipping estimates.Instead, the company said my order status would be updated by April 12. Note that this doesn't mean the device will ship by then, just that Oculus should have a more specific date nailed down by then.

How could a company backed by Facebook and its $2 billion acquisition allow this to happen? You would think that after all the buildup and all of the hype, Oculus would be ready to get its VR headset into the hands of early adopters, who are critical for spreading good word of mouth about the device and its experiences. Now, this delay isn't Batman v Superman bad for word of mouth, but it certainly won't help.
This is not the way you want to follow up on mixed reviews. In our Oculus Rift Review, we said it generally lived up to the hype, thanks to a quality first wave of games and comfortable design, but we also lamented the fact that you couldn't install games without going to the desktop and criticized its dearth of social experiences. More important, Oculus isn't shipping its Touch Controllers -- which allow you to use your hands in the VR environment -- until later in the year. Other reviews criticized the device's need to be tethered to a desktop PC, the high cost (once you include a powerful enough gaming rig) and an overall sense of isolation.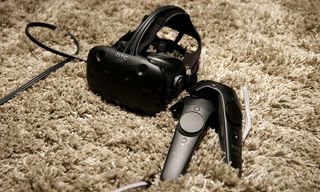 But this delay does help HTC and Valve, which are behind the Vive VR headset. At $799, the Vive costs $200 more than the Rift but is a more complete package out of the gate. The Vive not only comes with controllers but also the ability to move around more in the VR space, thanks to included base stations with room-scaling tech. An integrated camera allows you to see a live view as well, so you don't have to completely shield yourself off from the world.
Oculus and Facebook aren't the only ones suffering through launch woes. Reports have surfaced that several HTC Vive preorders were mysteriously canceled. According to Road to VR, HTC says "a limited number of individuals were affected by auto cancellations due to processing issues with financial institutions. We're actively working to resolve this, and have already reinstated orders for some customers."
I can see why Oculus wanted to be the first to launch. After all, the Kickstarter-backed product debuted way back at CES 2013, and since then has undergone multiple iterations leading up to the final consumer version. To be beaten to the punch after all that time would have been painful, but Oculus and Facebook need to remember that they need to play the long game to win over the masses.
Oculus should have waited until it A) had enough components in hand and B) had its Touch Controllers ready to officially launch, even if it meant being second to the Vive. Now the company needs to prove that the extended wait will be worth it.
Overall, this snafu won't hurt Facebook in the near-term, as mobile VR headsets like the Gear VR are more important for getting virtual reality onto as many faces as possible. But devices like the Rift represent the bleeding edge in terms of performance with the most demanding group of customers, so Oculus and its parent company can't afford more setbacks.