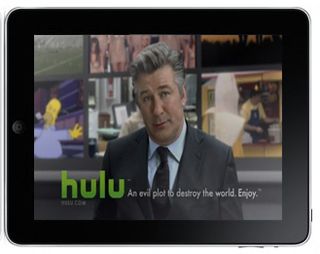 TechCrunch seems to believe that Hulu could work on Apple's upcoming iPad. Currently Apple's iPhone OS doesn't support Flash, and Hulu doesn't offer videos outside the Flash player. So what gives? How' that going to work? Re-design the entire site using HTML5? That might be costly and time consuming, especially when the 3rd-party advertisements are designed to run under Flash.
Apparently there's a rumor that Hulu is working on an iPad-friendly version, perfect for Steve Job's little portable cherub. CEO Jason Kilar even boasted support about mobility, but refused to confirm or deny future iPad support. As Gizmodo points out, the company reportedly already has an iPhone app in the works, however we have yet to see it.
Although Hulu videos are streamed through a Flash player, they're also encoded in H.264, making the media supported by the QuickTime player and Apple's web browser, Safari. Unfortunately, iPhone and iPod Touch users can't access the videos via Safari --they're merely greeted by a message saying that Hulu requires Flash Player 10.0.22. For compatibility, Hulu would need to create a non-Flash player for all three devices to view the content.
Without confirmation, all this is mere speculation. We can see Hulu and the iPad making a perfect match, but there are a few technical and financial hurdles to overcome to make the magic. It's quite possible that the mystery Apple App is waiting on the iPad's release before going live on the iPhone and iPod Touch. The iPad could have been the culprit behind the delay the entire time.