WWDC 2021 live blog recap: iOS 15, macOS 12 and all the biggest Apple news
It's one of the biggest WWDC keynotes in years, as Apple announces a slew of new features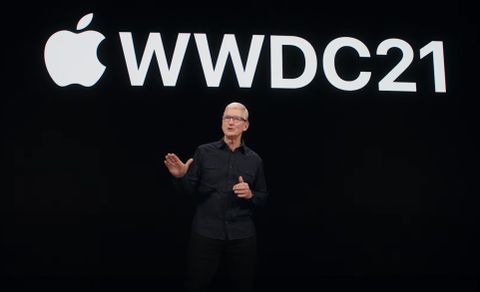 (Image: © Apple)
Apple showed off some pretty significant software changes coming to the iPhone, iPad, Mac and Apple Watch this year as part of its WWDC 2021 kick-off keynote. While there was no new Mac hardware as had been rumored prior to the event, the WWDC keynote wasn't hurting for announcements, as Apple previewed iOS 15, iPadOS 15, macOS 12 and watchOS 8.
Each of the software updates promises their own features and enhancements, but there are a few unifying additions. Apple's looking to make it easier to share things between its devices, and privacy remains very much on the company's mind as it tries to differentiate itself from other big tech companies.
All four of the software updates Apple announced during its keynote are available in beta form for developers right now. Public betas of iOS 15, iPadOS 15, macOS 12 and watchOS 8 will be available in July, with the final releases coming this fall.
Here's what Apple had to say about its different software platforms during its WWDC 2021 keynote.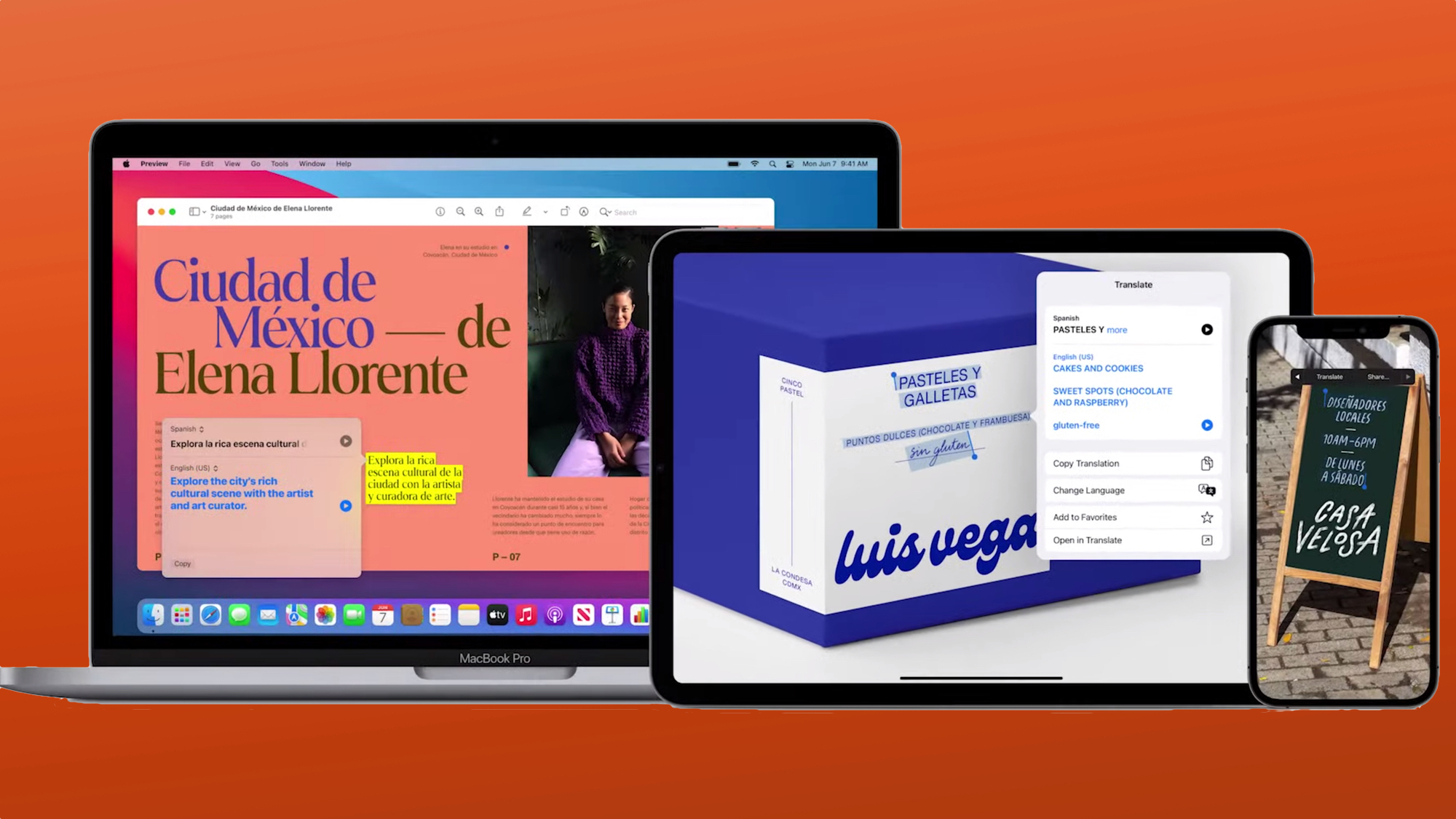 iOS 15: Apple's iPhone software adds a major overhaul of FaceTime, highlighted by SharePlay which will let you listen to music, watch videos and share screens with other people on a video call; other enhancements include spatial audio for more natural sounding calls and a portrait mode to blur the background.
Notifications are getting redesigned in iOS, and a new Focus mode lets you filter out notifications that aren't relevant to the task at hand, whether it's work or relaxation. Wallet, Weather and Maps are all getting significant enhancements, while Apple is adopting some of Google's best features with a Live Text capability that allows you to convert the text that you photograph into actual text for a note.
iPadOS 15: Many of the same features found in iOS 15 will make their way to Apple's tablets, too, but there are some iPad-specific changes, too. Specifically, on-screen widgets are finally appearing on the iPad, and they're customized for the tablet's more ample screen real estate. The Translate app introduced in iOS 14 is coming to the iPad as well.
Multitasking is getting a big upgrade in iPadOS 15, starting with menu buttons for easy access to different multitasking modes. There's also new ways to create split-screen views from your open apps.
macOS 12: Goodbye, Big Sur — hello, macOS Monterey. That's the new name for Apple's Mac software, which is a more modest update compared to last year's release. Still, you'll find features like a version of Shortcuts for Mac that brings the iPhone's automation tool to laptops and desktops. An AirPlay to Mac feature lets you take advantage of your Mac's bigger screen for viewing content, and Universal Control lets you use the same input device across different Apple products, like your Mac and iPad.
Safari sees the biggest change in macOS with a redesigned toolbar and grouped Tabs. In fact, those changes are coming to Safari on the iPad and iPhone, too, with the latter getting an entirely new look tailored to that device's smaller screen.
watchOS 8: The software for Apple's smartwatches adds a Mindfulness app that combines an enhanced version of the existing Breath features with a Reflect tool to encourage meditation. Other features include respiratory rate monitoring when you sleep track, new exercise modes, a Portrait watch face that leverages all those portrait mode photos you have on your phone, and a revamped Photos app.
Apple also has changes planned for its health app that let you share metrics with your doctor and other family members. The Health app will also be able to log how steady you are when you walk.
tvOS 15: The software for Apple TV didn't get much explicit stage time during the WWDC 2021 keynote, but there is a new version of the software coming this fall. It's going to be updated to add support for the SharePlay features Apple is introducing elsewhere, and spatial audio support comes to the set-top box too (when you're using AirPods Pro or AirPods Max). Other features include HomePod integration and an Apple TV update that calls out shareable movies and TV shows.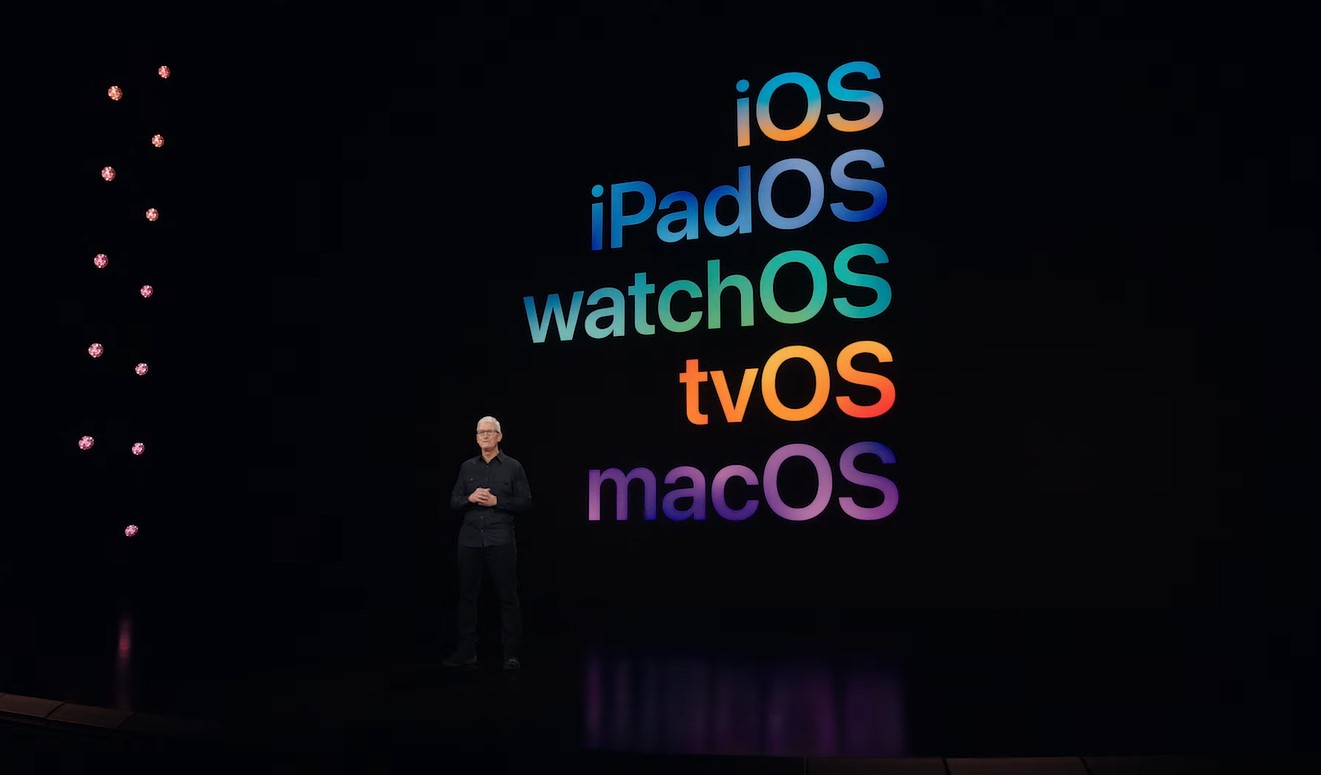 Here's a look at all of Apple's announcements as they unfolded, based on our WWDC 2021 keynote live blog.
Refresh
A leak from developer Khaos Tian (reported by MacRumors) says that the watchOS 8 could be getting a new Mind app, which lines up with previous rumors that suggest that Apple could be starting to focus more on mental health with the Apple Watch.
Looks like someone deployed the new profile for App Store too early? Want to guess what "https://t.co/nhhpJFmZbJ.Mind" is on watchOS? pic.twitter.com/BarzoJtovqJune 5, 2021
In addition, it appears that the Apple Watch may offer more independence from your iPhone, as watchOS 8 is said to also include standalone Contacts and Tips apps.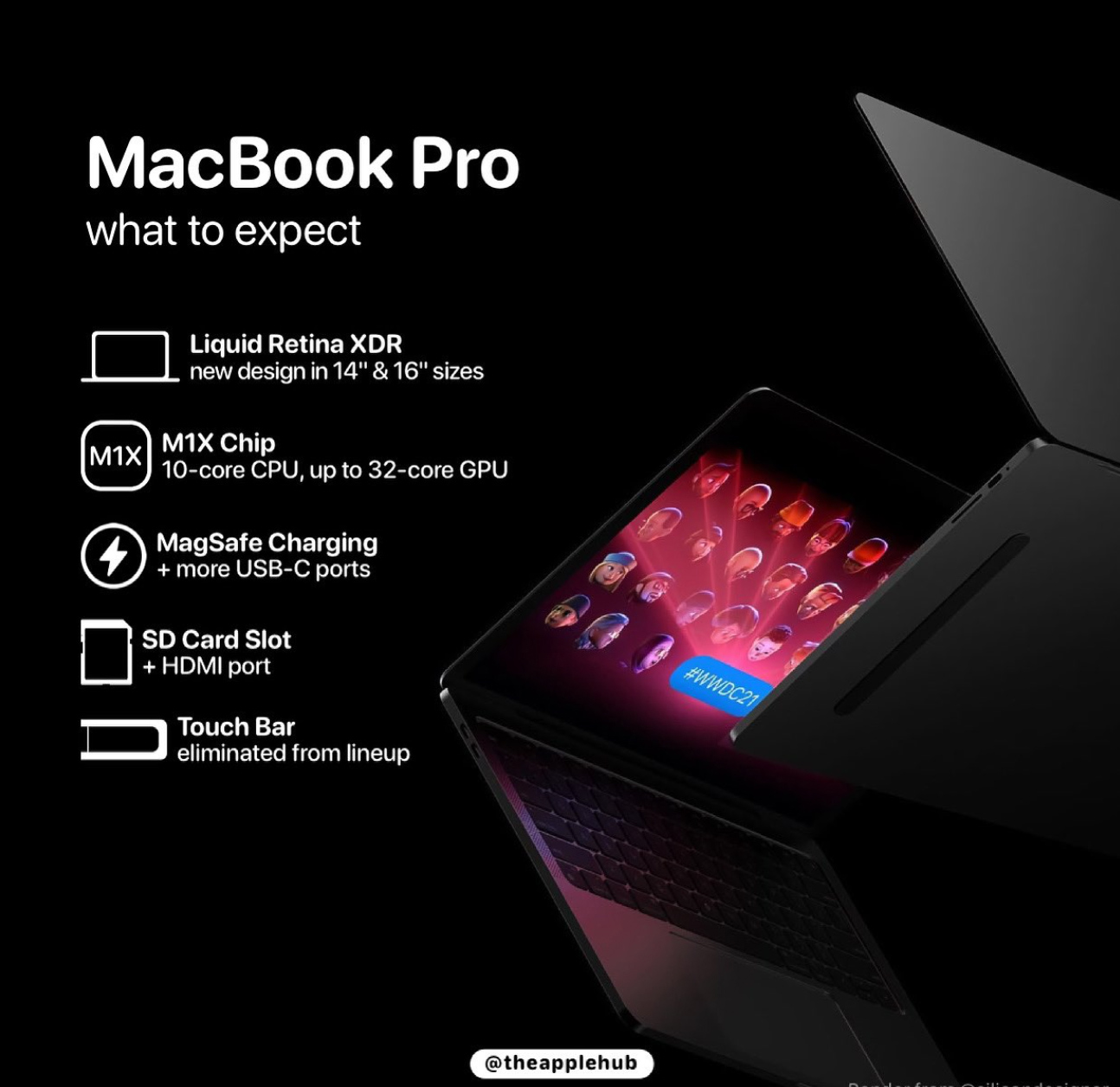 The Apple Hub twitter account has mocked up what to expect from the new MacBook Pro 2021 if it's announced today. That includes a new M1X (or M2 chip), a Liquid Retina XDR display (mini-LED), MagSafe charging and both an SD Card slot and HDMI port.
Apple is also reportedly ditching the Touch Bar on the MacBook Pro.
Following WWDC, Apple could have a separate event that will be all about Apple Music Spatial Audio. Apparently this event was spotted in an Apple Music link but there's no official word about it on the WWDC 2021 website. But according to the now-removed announcement it could take place at 3 p.m. ET / 12 p.m. PT today.
Of course, WWDC is mainly going to be about software. We expect to hear about updates to all the usual suspects like macOS, iOS and iPadOS. But we'd been keen to hear about any new optimizations Apple may have done for the M1 chip, as well as what's next for Apple Silicon.
If you want a lowdown of what to expect at WWDC 2021 and follow it live on other streaming like YouTube checkout our how to watch WWDC 2021 guide.
Looks like Tim Cook has rubbed the sleep out of his eyes and is getting ready for WWDC. No accidental leaks from him, so far....
Today's the day! Who's ready? #WWDC21 pic.twitter.com/oRlL8Z85X8June 7, 2021
Something not likely to be addressed at WWDC is the report that the App Store has an an alarming number of scam apps that get on it.
"Everything about App Store that supposedly makes it easier for developers to reach and sell to customers makes it easier for scams," said Mac and iOS software developer Jeff Johnson. "In fact, it's easier for scams than for honest devs, because the latter won't buy fake ratings, reviews, write misleading descriptions, manipulate keywords, etc."
Not that Apple is going to be quaking in its boots, but it looks like Google is trying to steal a little WWDC keynote thunder by announcing new Pixel phone features, right as Apple executives are warming up to go on stage. The highlight of Google's announced changes is an improvement to the astrophotography feature that lets the Pixel 4 and later capture photo and video of the night sky on the same exposure.
As you may be aware, WWDC 2021 is virtual this year, just like last year's event, so we're watching this one remotely just like you. We're about half-an-hour away from the big event.
If you're watching from home through the Apple TV app, this is what you'll currently see.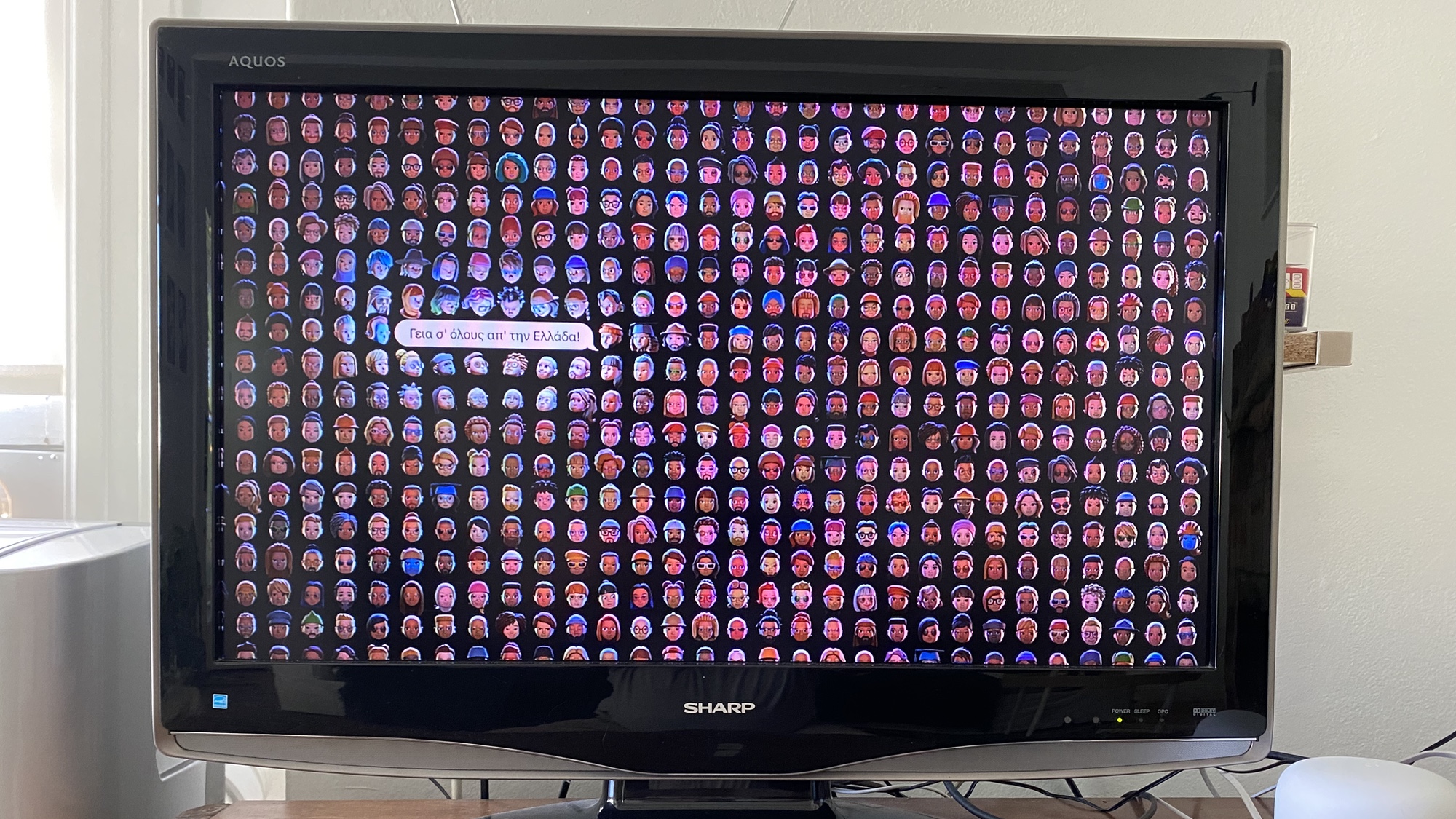 Yes, that's a wall of Memojis, offering greetings from around the world. This probably won't be an all-Memoji keynote, but it's fun to dream.
WWDC tends to be a pretty gimmick-free event, but for our money, nothing can top 2002, when Steve Jobs held a mock-funeral for OS 9 — complete with actual coffin — to announce that all development work would cease on the older operating system.
We imagine Tim Cook isn't planning anything similar this year.
The Memojis are getting very excited on the WWDC live feed. It's almost as if... they keynote is about to begin.
If you were a gambling person, you'd imagine that the use of Memojis suggest that Messages will feature prominently in today's keynote — not really a big logical leap as rumors have suggested as much.
We'll find out very shortly.
We begin with a video of developers talking about how they'd open up a WWDC keynote.
They're software developers, not movie directors, folks.
And now after that amusement, we've got Tim Cook in the Steve Jobs Theatre, speaking to a roomful of Memojis.
The 2020 WWDC was the most inclusive and most watched ever, Tim Cook says. And that's continuing this year with a focus on under-represented people in the developer community.
"We are committed to being a force for change, as we look to make the world a better place," Cook said.
To that end, WWDC is free this year.
Apple's Craig Federighi is here to tell us all about what's new for iOS — that's iOS 15 if you're scoring at home. Apple's goals are:
Staying connecting
Finding focusing
Using intelligence
Exploring the world
Let's start with staying connected — and that means FaceTime, Apple's video communication app.
Apple wants to make FaceTime calls feel more natural, comfortable, and life-like. That starts with spatial audio for FaceTime — voices will be spread out to make it sound like the voices are coming from where people are positioned on the call.
Voice isolation uses machine learning to block out ambient noise and prioritize your voice for clearer audio on FaceTime calls. For when you want every bit of sound to come through, you can switch to wide spectrum, which picks up all the audio around you.
Portrait mode is coming to FaceTime — think blurred backgrounds that put the focus on you. There's a new Grid view with FaceTime too, instead of the floating boxes of youre.
FaceTime is taking a page out of Google Meetings' book by letting you schedule FaceTime calls, right down to the shareable link. That link will be useable by Android and Windows users, too.
SharePlay is coming to FaceTime. You'll be able to listen to music, watch shows together and share your screen. This is clearly Apple responding to some of the video conferencing uses that arose from the coronavirus pandemic.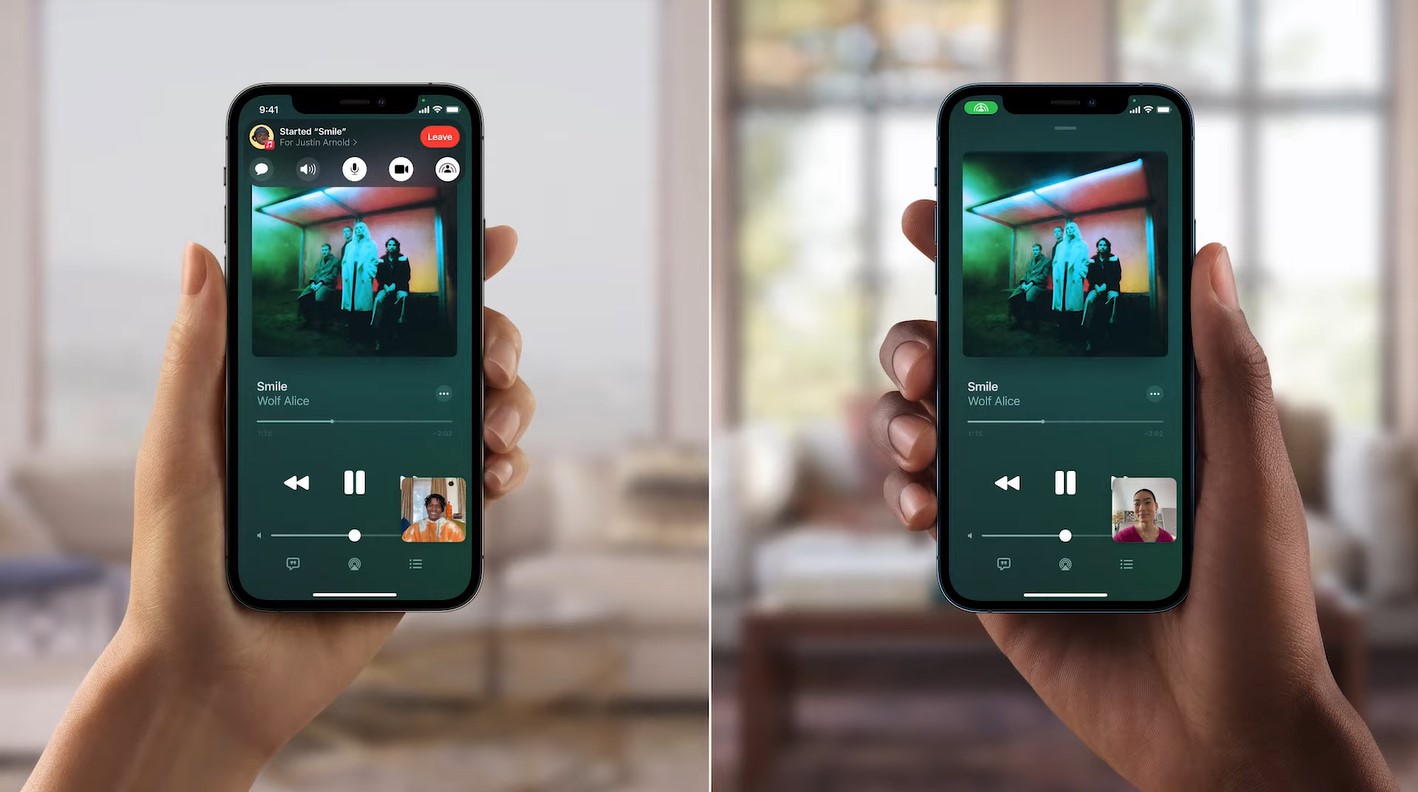 A demo of this feature uses Apple Music, and while the video uses Apple TV programming. Federighi did say that you'll be able to use other streaming apps (presumably once they're updated for iOS 15 using a new SharePlay API). SharePlay will also take advantage of features like picture-in-picture and AirPlay to beam your images to a larger screen.
Apple's lined up some partners with streaming apps like Disney Plus, Hulu, HBO Max and others to use SharePlay.
And now Messages. (See? Told you it was going to be a big part of today.)
A Shared With You feature gathers together the stuff people send you in Messages — news articles, playlists, and the like — and includes info on who shared it with you. You'll also be able to respond from there.
We're now on features to help us focus, and that means changes to notifications. Minor changes include larger icons to make notifications easier to identify.
A more substantive change is Notification Summary. You can schedule when you get a summary of the notifications you've gotten, so they won't pile up in the day. The summary will be ordered by priority, using AI.
Do Not Disturb is getting a refresh too — your DND status will show up in Messages now. And a new Focus feature will let you choose what you're focusing on — work, personal time, etc. That limits who gets to notify you. For example, only work-relevant notifications will get through if you've set Work as your focus; conversely, if you're with your family, you can block out work notifications.
Focus will be cross-device, so your settings will be automatically set on your Mac or iPad.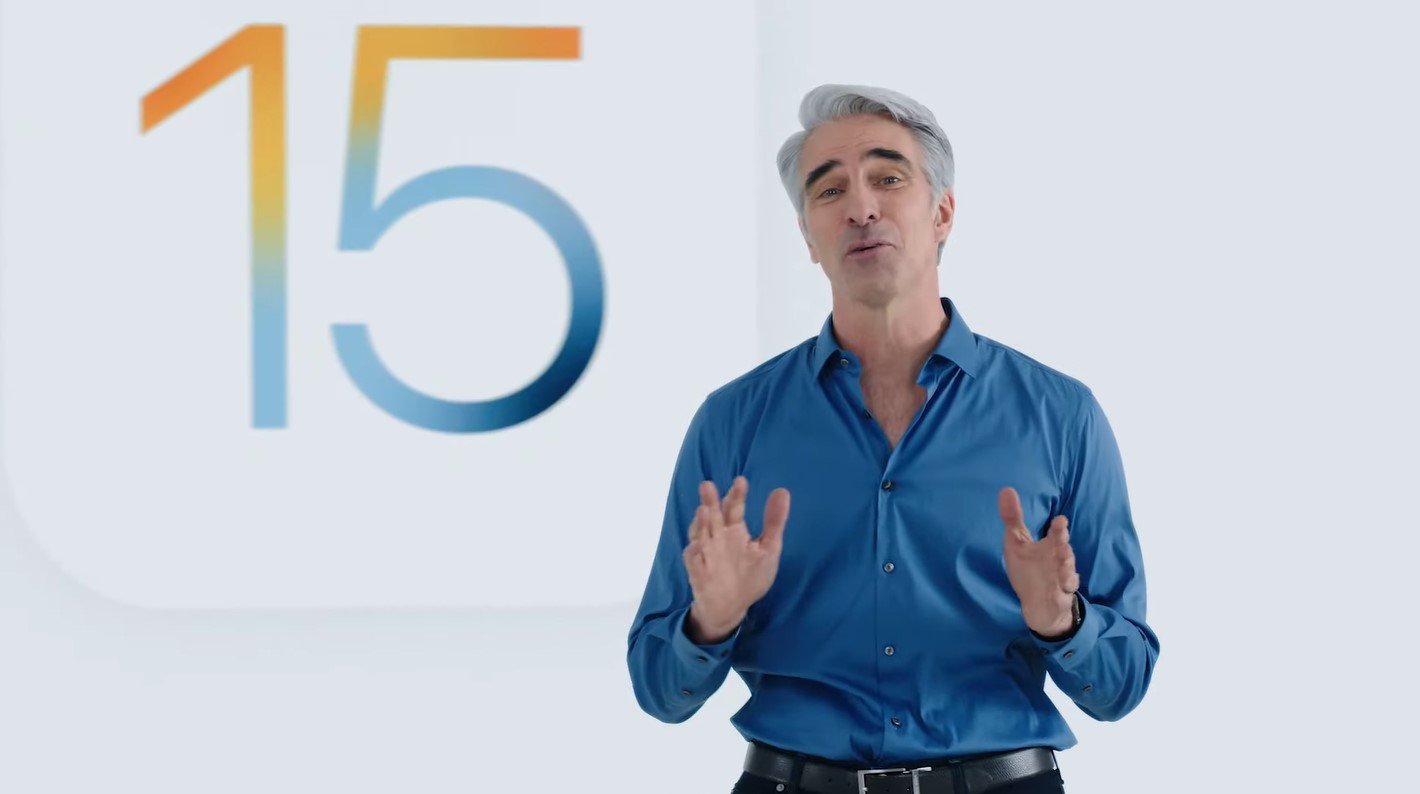 Now we're talking about Live Text, a new camera feature. Think of taking a photo of whiteboard, and being able to select the text. Live Text lets you paste that text into a note or a message instead of forcing you to transcribe things.
Live Text also works with names of businesses, to let you look up things on Maps, and phone numbers, for placing phone calls.
Photos will now be part of Spotlight, making it easier to search for photos on your iPhone without having to fire up the Photos app. And yes, you can search for text in photos, too.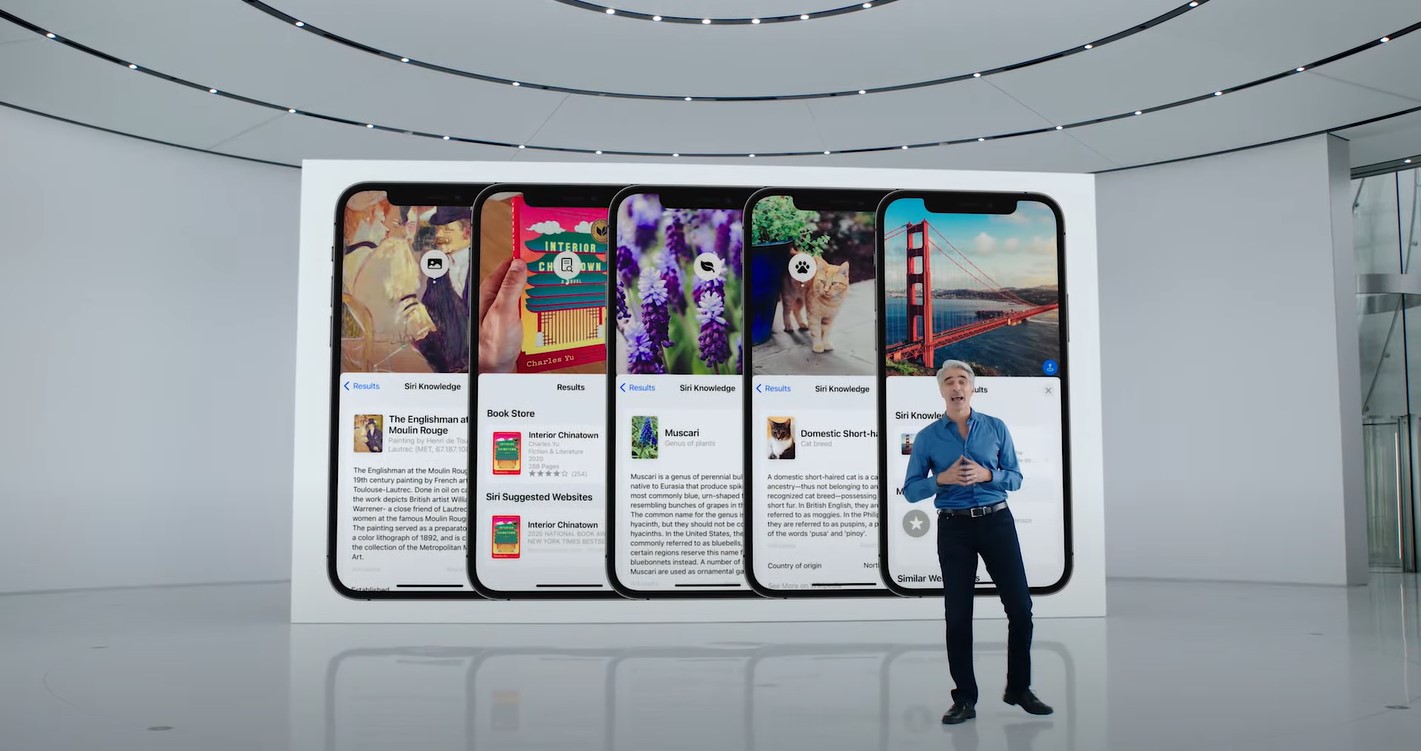 Some other changes are coming to Photos such as tweaks to the Memories feature that add music to albums. There's a tie-in to Apple Music, which expands the number of options for background music.
Wallet, Weather and Maps are getting updates in iOS 15. For Wallet, Apple is adding keys to wallet. It started with car keys that use proximity to unlock your car; now that's expanding to door locks at home, hotel keys when you travel and corporate security badges at work. Hyatt will take advantage of the keys feature at its hotels this fall.
Identity cards are coming to Wallet, too. In participating states, you'll be able to scan and store your driver's license. The TSA is also working to include identification into Wallet.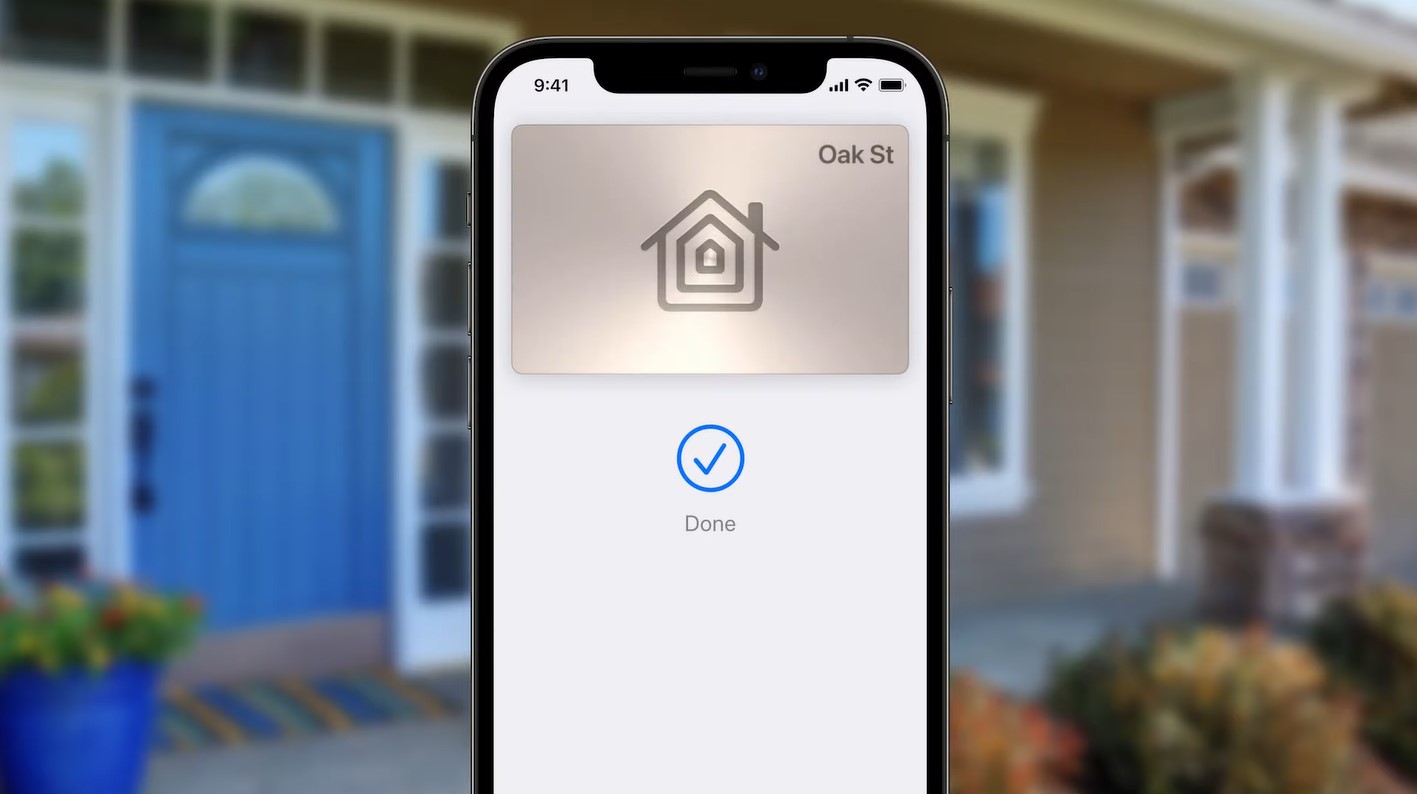 Weather gets a new design with layout that changes base on conditions. Graphics for wind, barometric pressure and other conditions are coming to iOS 15 as well. And animated weather maps will become part of the Weather app, too.
Maps are getting new details in iOS 15 for commercial districts and marinas. You'll also better see elevations and stylized icons for landmarks. A Night view in Maps adds a striking moonlight glow.
When driving and getting directions in Maps, crosswalks and bike lanes are coming to Maps, just as they're now featured in Google Maps. You'll also get overlays of complicated freeway interchanges.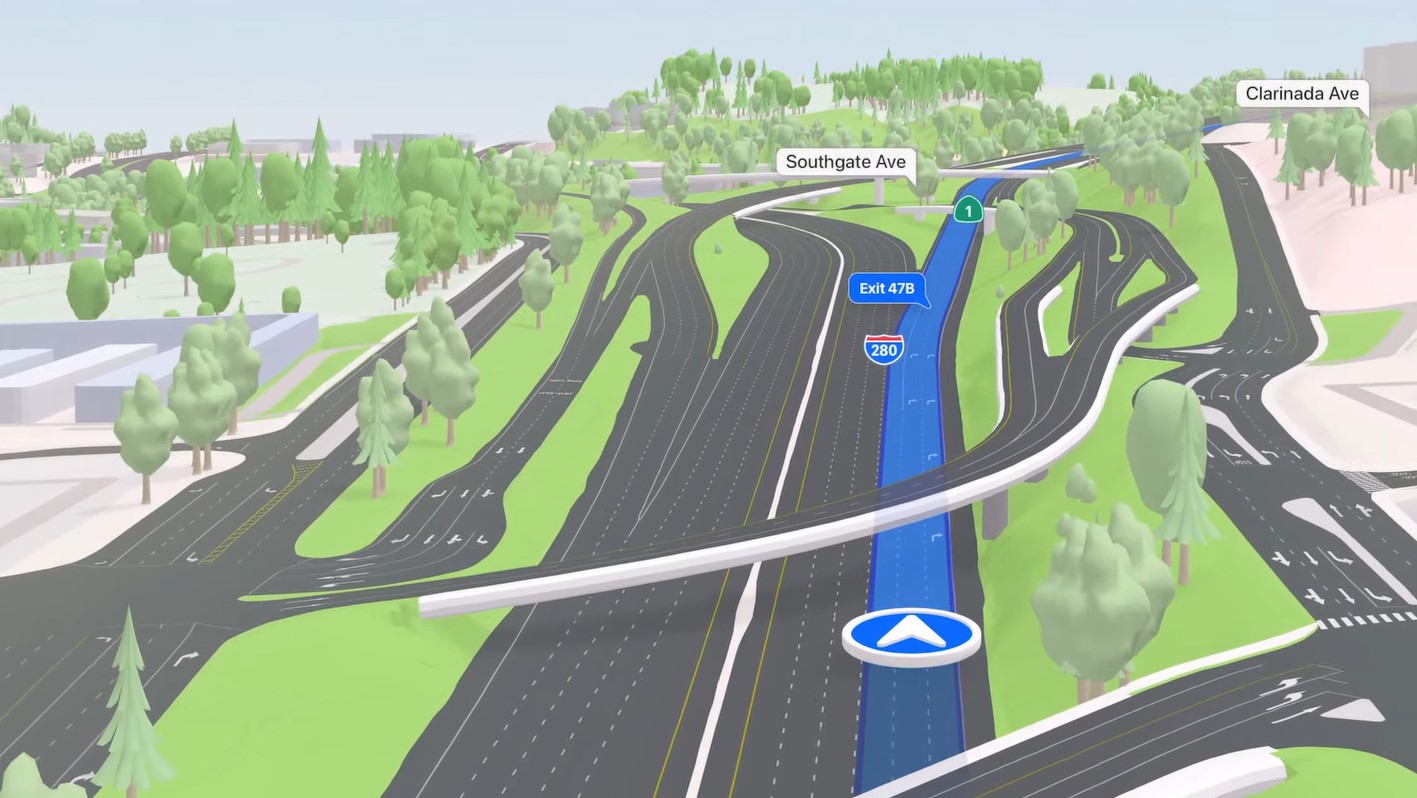 For transit, you can pin schedules. You'll also get notifications when you're coming to your stop, as Maps can track you on your route. 3D experiences are coming to six cities initially for helping you orient yourself once you emerge from a transit station.
Here's a curve ball — Apple is talking about features coming to AirPods with iOS 15. Conversation Boost will work with AirPods boost to focus the audio on the person in front of you, and reducing ambient noise.
An Announce Notifications feature will let Siri read things like shopping lists, upcoming appointments and more. Announce Notifications will work with iOS 15's Focus mode to prioritize notifications.
Spatial audio, already introduced for music, is coming to tvOS.
Now, it's time to talk iPadOS 15, which will likely pick up a lot of the same features Apple just detailed with iOS 15. But there are tablet-specific features as well, starting with widgets.
You'll be able to place widgets on the iPad's home screen in iPadOS 15. That's the same feature phones got with iOS 14 last year, so this is an overdue addition for the iPad.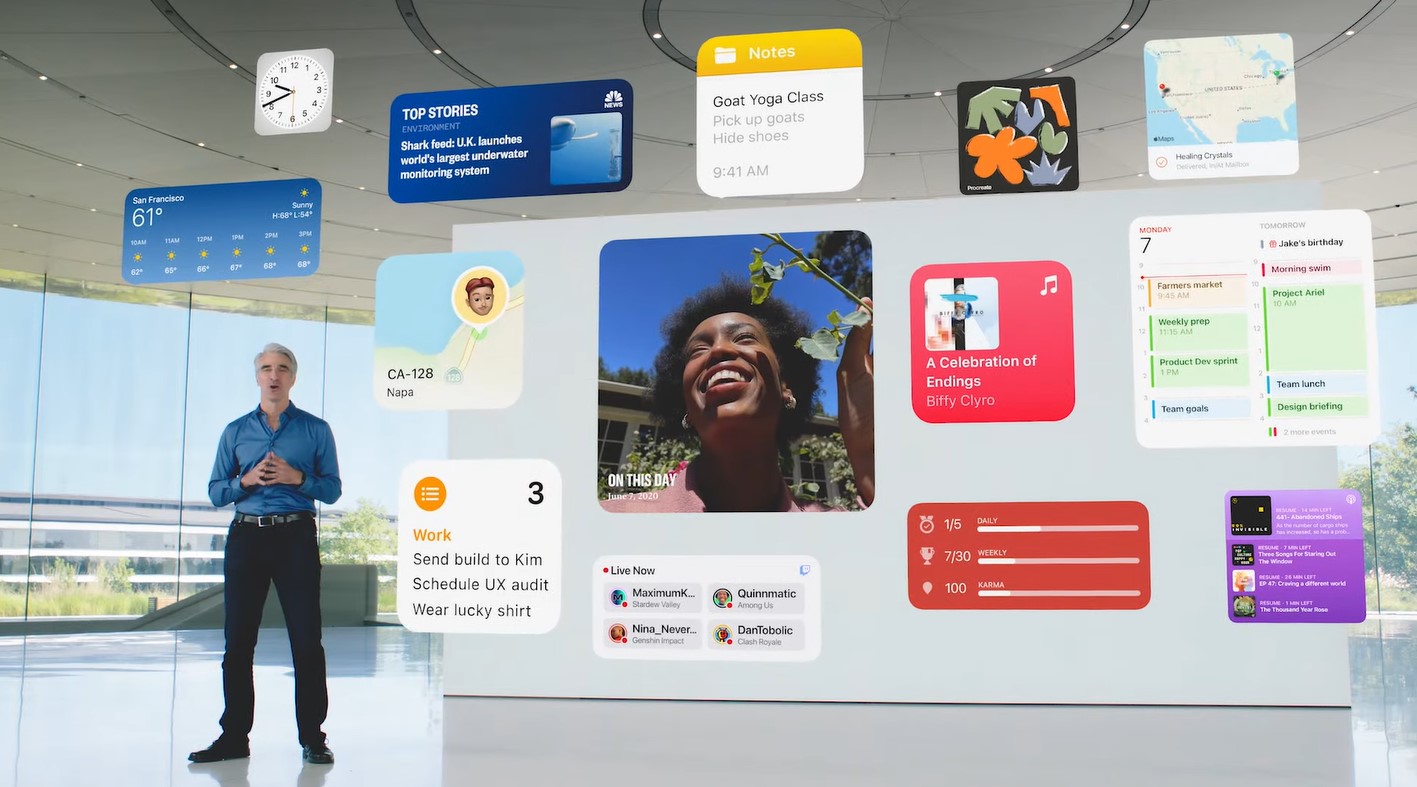 Widgets on the iPad can be bigger, as you might imagine. That's good for things like Photos, which can really fill a large chunk of your tablet's screen.
App Library for organizing apps and hiding home screen pages is on the iPad, too. You can access it from the Dock.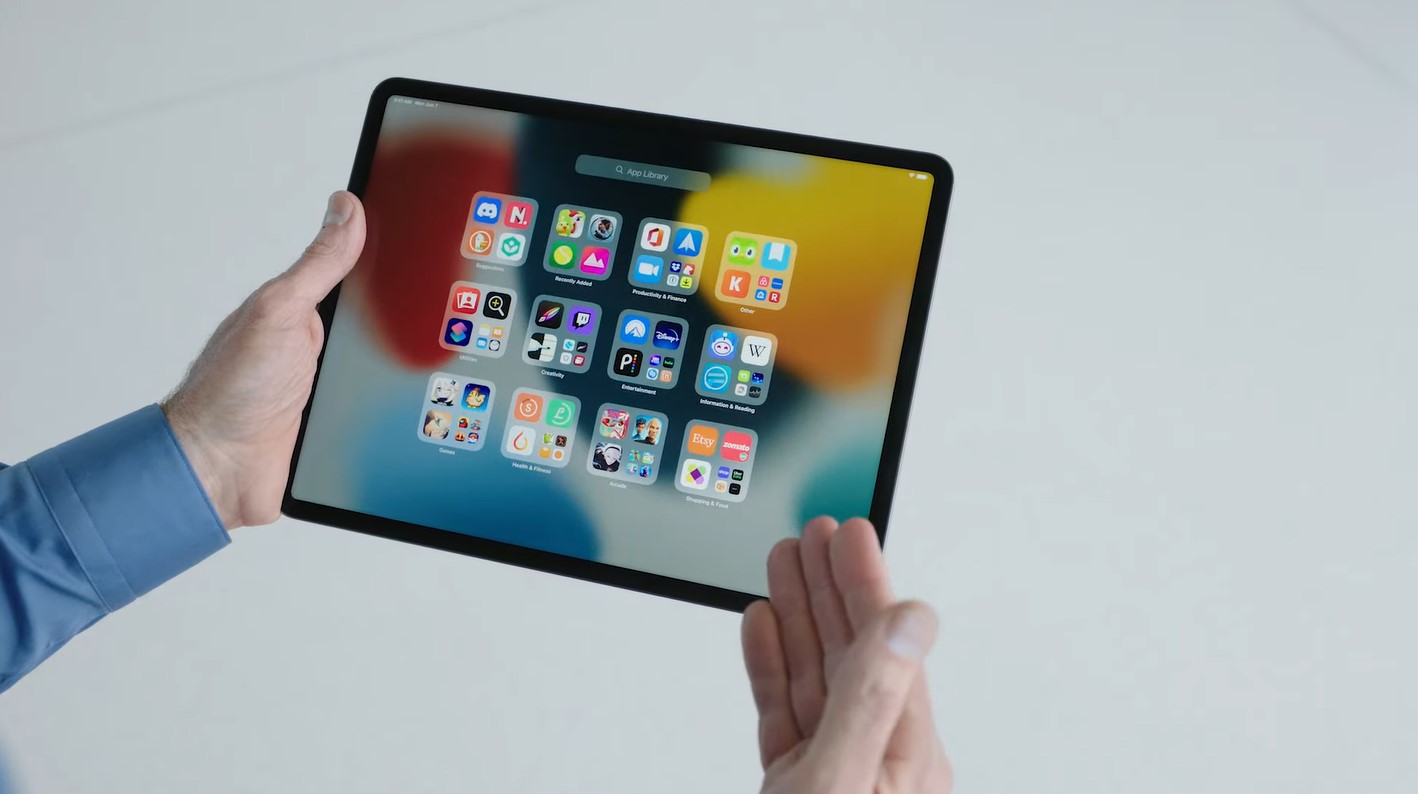 Get ready for new iPad multitasking features in iPadOS 15. A multitasking menu lets you choose split view or slide over views with a tap. It's easy to switch apps in Split View with a downward swipe. You can also create a split view in the app switcher by sliding one app over the other.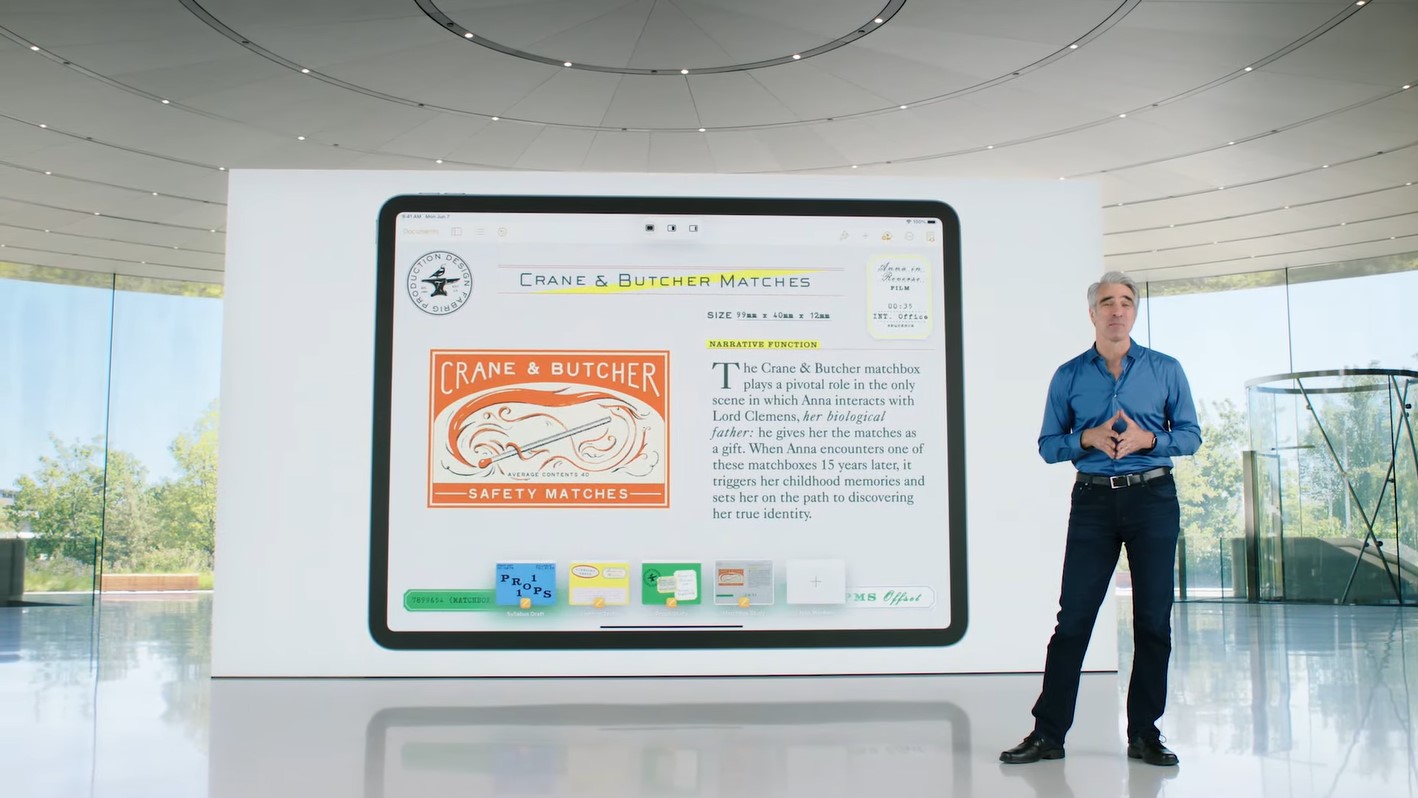 Notes gets an update in iPadOS 15, highlighted by a feature called Quick Notes. Using an Apple Pencil, you can swipe up from the corner to bring up a note field for scribbling down your thoughts. Quick Notes is app-aware — if you're in Safari when you open a note, it's easy to add the URL from the page you're looking at.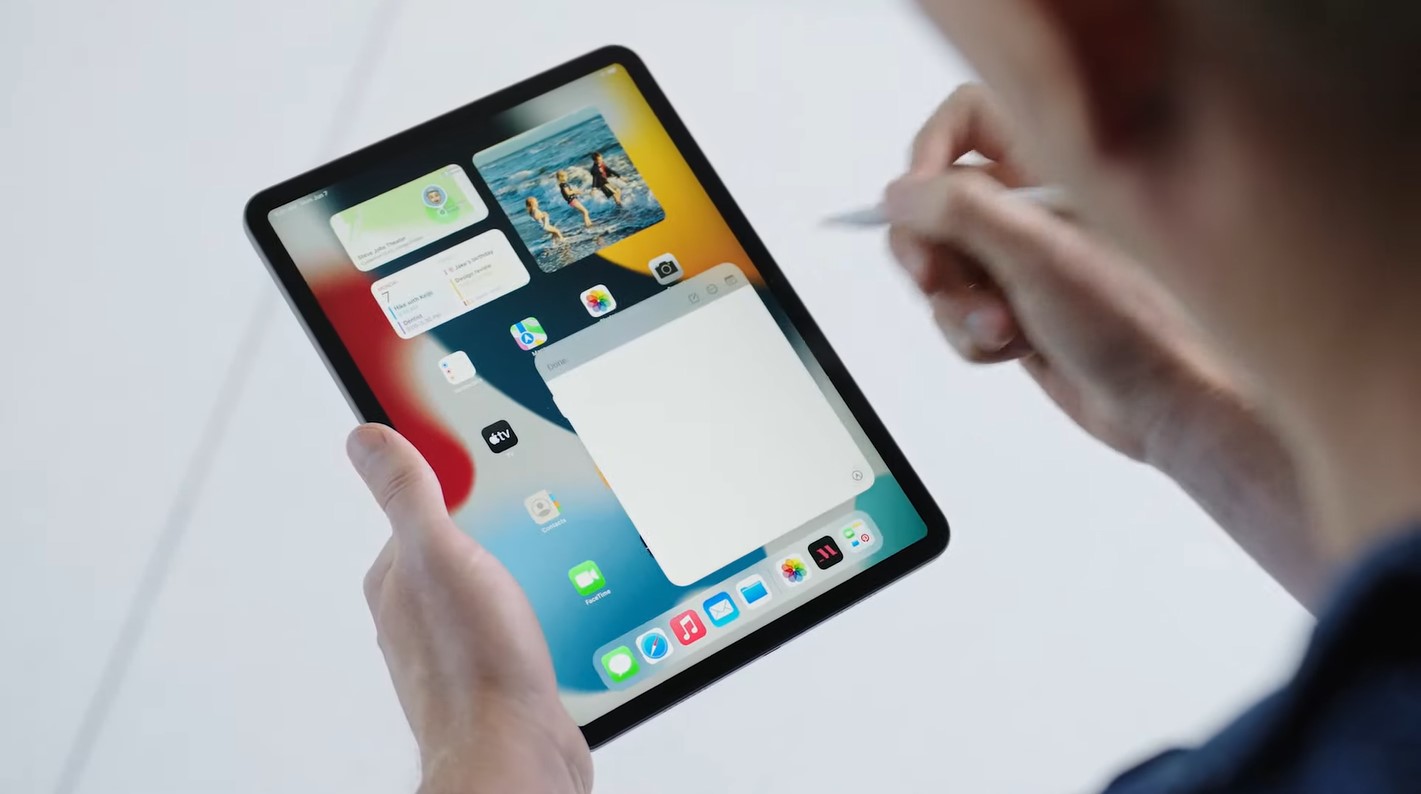 You can create Quick Notes on iPadOS or macOS, and access them later on iOS devices.
Widgets isn't the only iOS 14 feature arriving in iPadOS 15. Translate is making the jump to your tablet too. That includes an auto-translate feature that translates conversations on the fly.
The keynote has moved onto privacy, a feature that Apple is using to set itself apart from other tech titans. "Today privacy is more important than ever," Craig Federighi says at the start of this section of the presentation.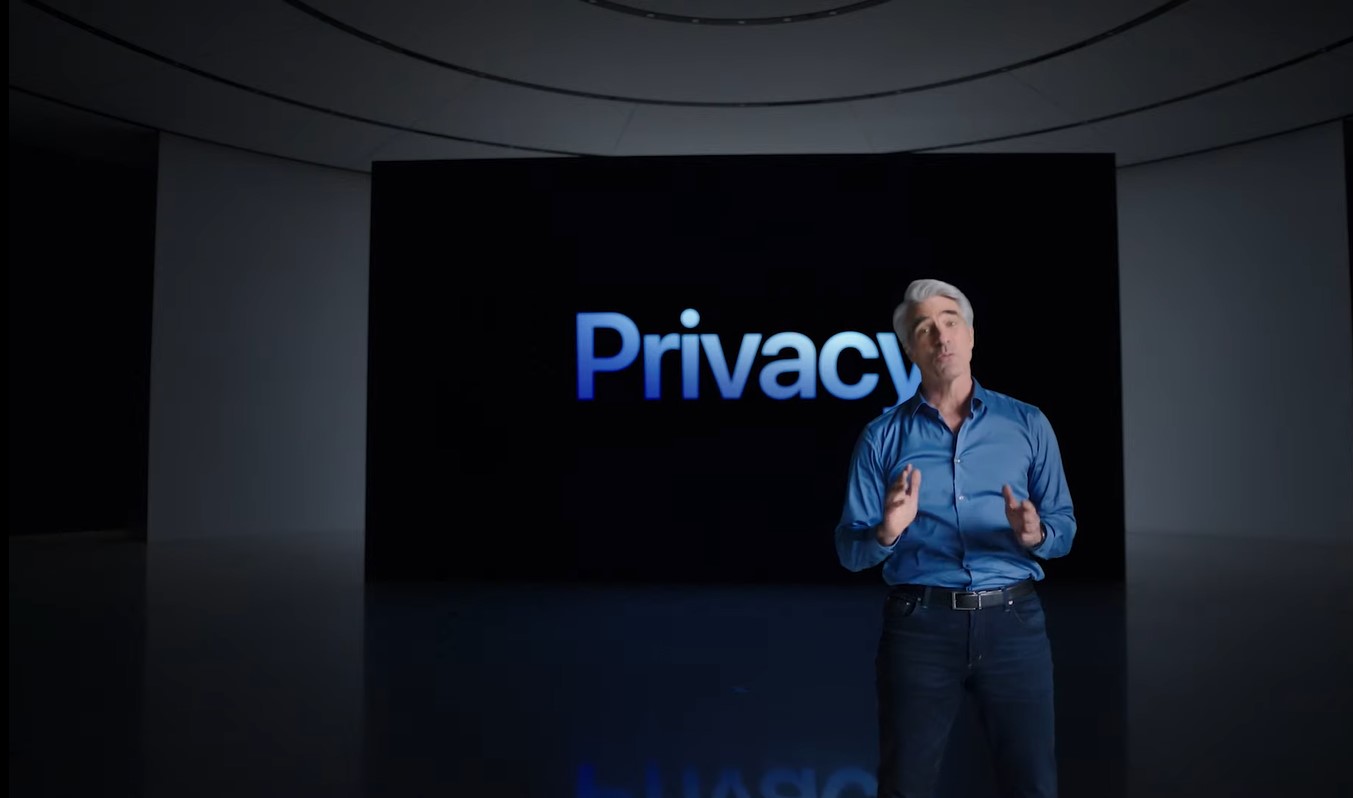 That means new ways to control your information is coming to assorted Apple apps. Mail adds a Mail Privacy Protection feature that hides your IP address so senders can't see if you open their email; it also hides your location.
An App Privacy report comes to Setting son various OSes. It will show you how often apps access location, mic and other settings in the last seven days. You can also see which sites the app is contacting to share your information with.
Siri is focusing on privacy, too, in the form of on-device speech recognition. This means your voice never leaves the device for faster requests. You can also look up information without an internet connection.
Improvements are coming to iCloud. One lets you recover your password faster, selecting friends and family to help you retrieve password information.
iCloud Plus is an upgraded paid subscription. Features include Hide My Email, which shares a unique, random email address when you need to fill out a form. (The feature sounds like it works the same way as Sign In With Apple.) HomeKit Secure video will also be offered through iCloud Plus.
The Health app gets three new features. The iPhone already captures mobility data as you walk, but Apple is adding a measurement for walking steadiness, which can help assess if you're at a risk for falling. Walking steadiness is viewable in the Health app and you can get a notification if your fall risk is increasing. There are tips for improving steadiness as well.
Detailed descriptions of lab results are coming to the Health app as well. This will help you better interpret lab results and see if your results are in the right range.
A new Trends feature will monitor progress toward meeting health goals and also give you insight into potential health issues.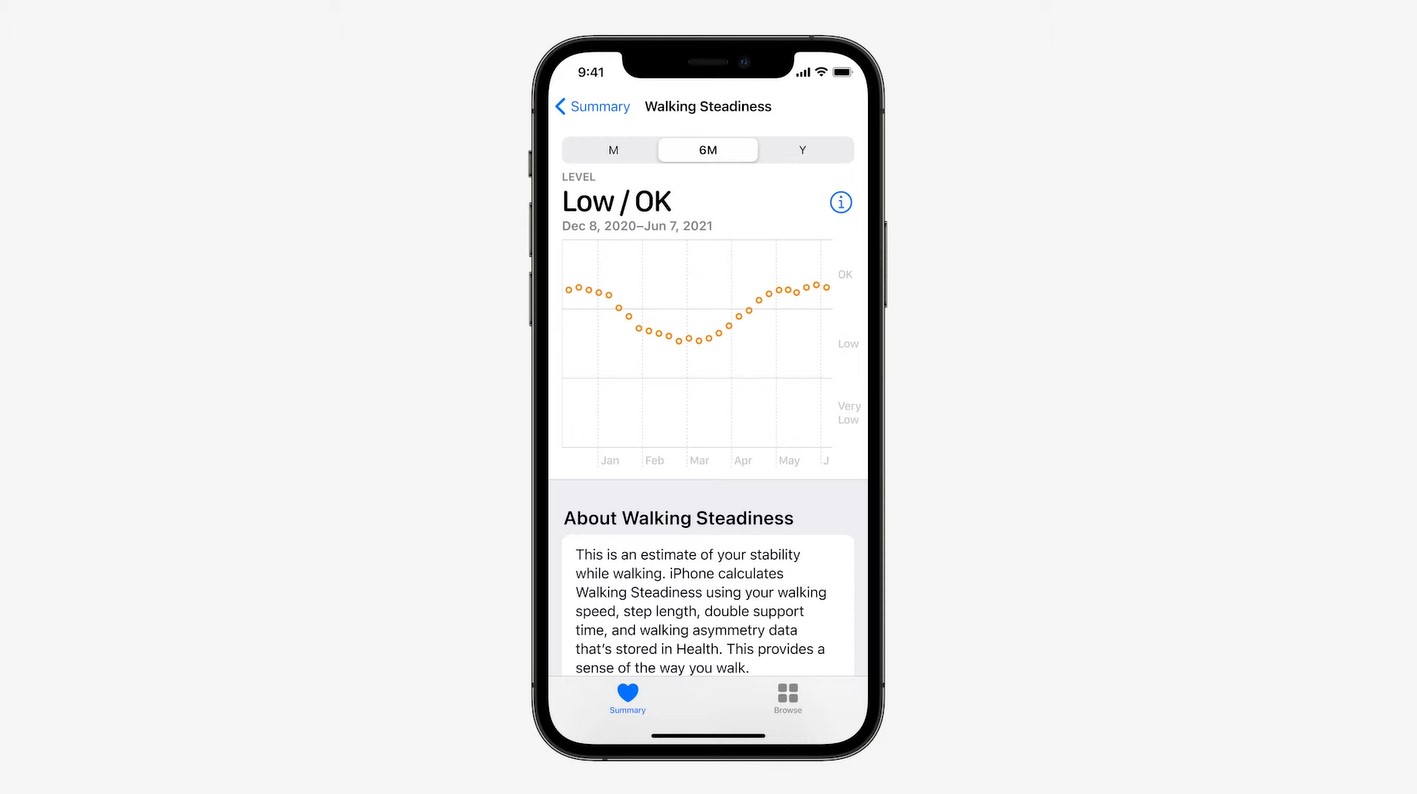 You'll be able to share data from the Health app with your health care provider in a private way. (Apple says that even it doesn't see the data you're sharing.) The idea is that your doctor can get accurate information about your activity and health to help with any diagnosis or medical advice.
Health Sharing is also coming to the Health App for sharing data securely between family members. (Think of it as a way to monitor the health of parents from afar as they age.)
Health Sharing will offer granular control over what gets shared with whom. Your data is encrypted when it's shared.
It's watchOS 8 time, featuring a new Mindfulness app that includes new breathing tools aimed at getting you to slow down and breathe. There's also a Reflect feature designed to help you be more mindful by prompting you to reflect on "mindful moments."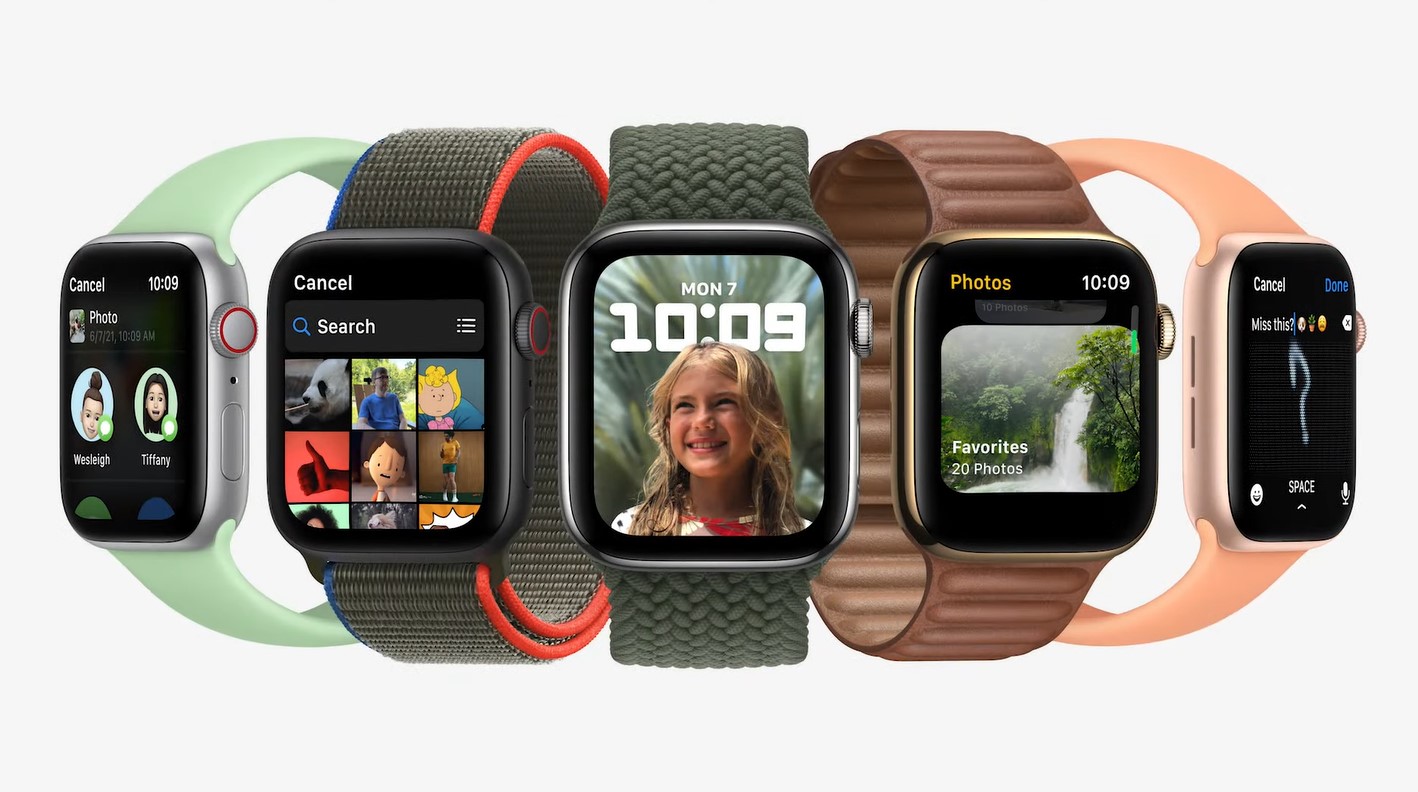 WatchOS 8 offers a new Portraits watch face that takes portrait shots from your iPhone and turns them into watch faces.
Multiple timers are coming to watchOS 8, too.
Apple is now detailing changes coming to its home products like the Apple TV and HomePod Mini. It's largely a recap of the Share TV feature from earlier, but we did find out that lossless audio in Apple Music will come to the HomePod Mini later this year.
The big announcement is likely Siri for third-party devices. Those will be coming later this year.
Apple also talked about the Home app on the Apple Watch, which will include package tracking, a voice intercom feature, and the ability to see who's at your door (if you have a video doorbell, that is).
macOS 12 will be code-named macOS Monterey. If you're not familiar with your California geography, that's just a little bit north of Big Sur, last year's update.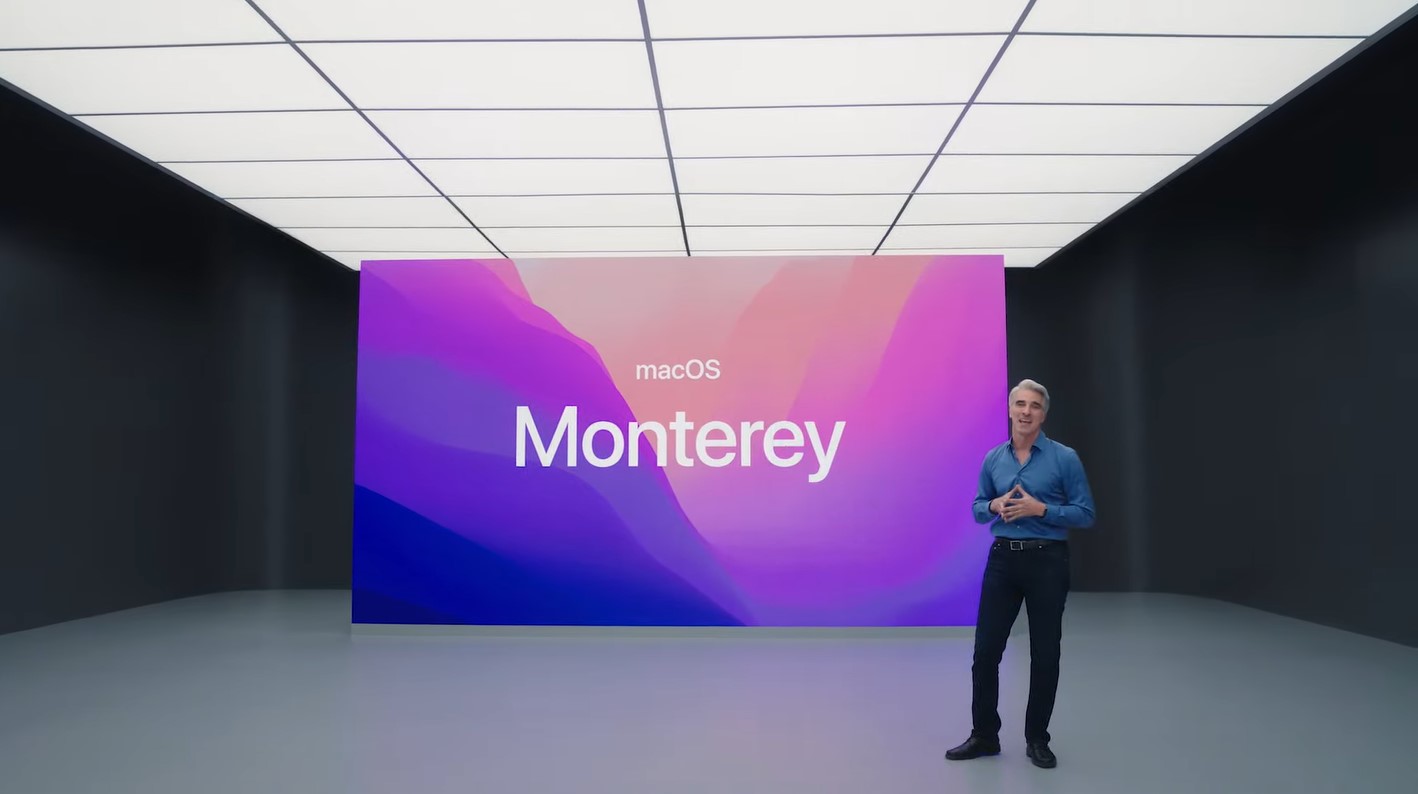 New macOS features include the aforementioned SharePlay and Focus features, plus a Universal Control for working across multiple devices — think using the trackpad on your MacBook to control the cursor on your iMac. This also enables you to use other input devices like mice with iPads. The idea is to let you move easily between your different devices.
AirPlay to Mac is a part of macOS Monterey too. That lets you share documents, music and other types of content between your Mac devices.
That Shortcuts automation tool that debuted on the iPhone a few years back is on its way to the Mac in macOS Monterey. As a reminder, Shortcuts lets you create custom routines that automates tasks across multiple apps. What of the aging Automator? You can import those routines into Shortcuts on the Mac.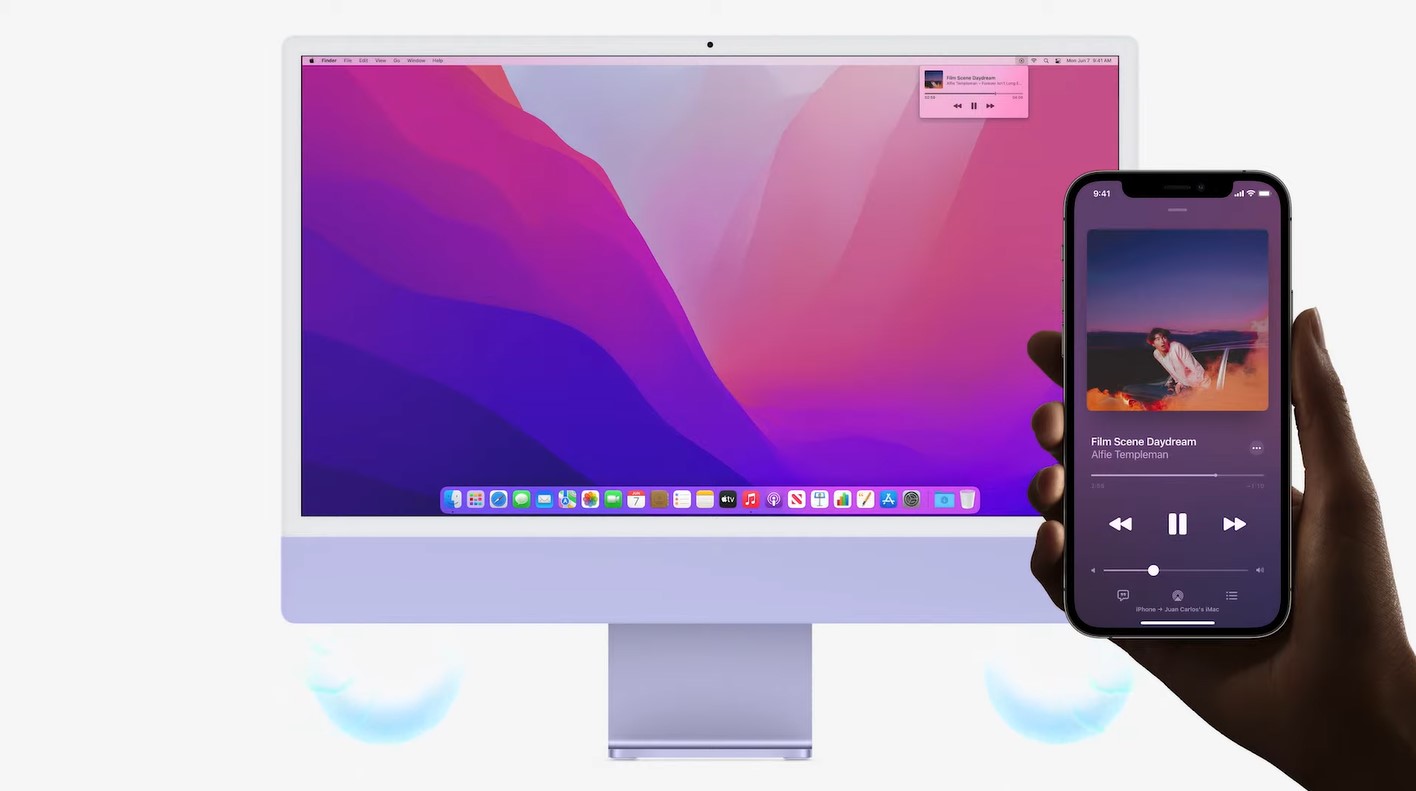 Safari gets a new look with compact tabs, a redesigned toolbar that distills the different tools down to the essentials. The search field is part of the tab bar, too, which takes on the color of the page you're on. (That makes it feel like part of the page, Apple insists.)
Tab Groups lets you save multiple tabs into one section, freeing up space on your tab bar. Tab Groups are also saved across your Apple devices.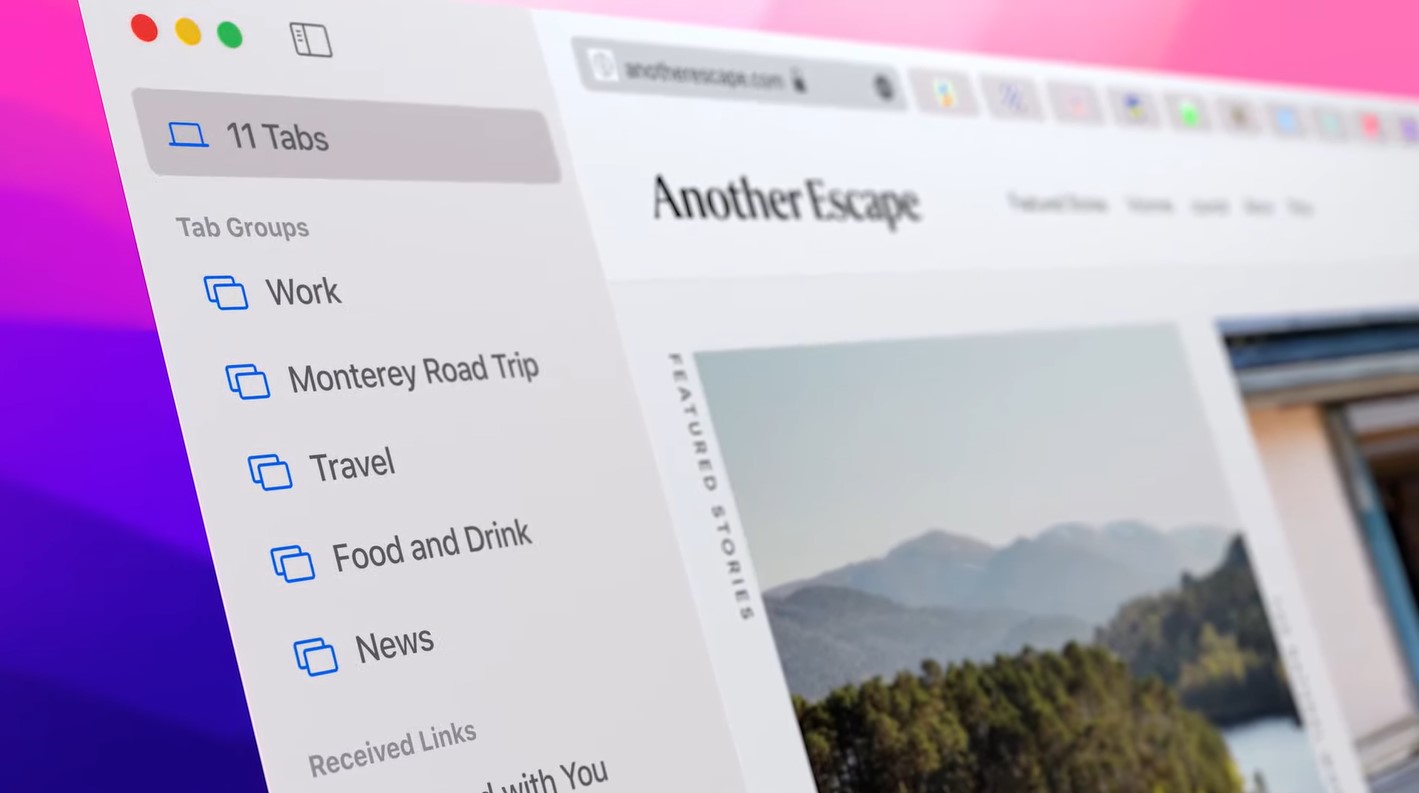 By the way, these Safari changes are coming to the iPad, too. As for the iPhone, the tab bar appears by the bottom of the screen, near your thumb. It moves out of the way as you scroll. It's a new look that optimizes Safari for the iPhone's smaller screen.
Web extensions are coming to the iPhone and iPad, allowing you to customize your Safari experience on those devices.
This is a developer conference, so Apple is now focusing on the many APIs that developers will have to work with, so they can take advantage of all the features you've just heard about. Object Capture looked particularly interesting, as it lets developers crated 3D models — we're pretty sure this will benefit AR apps, which is a big focus for Apple as of late.
Improvements are coming to Swift, Apple's app creation tool, highlighted by Concurrency. Apps will be able to take advantage of multi-core processors with Concurrency, simplifying the coding process.
Apple is talking up the merits of the App Store, likely prompted by the ongoing legal battle with Epic Software. Apple's introducing some changes like ways to promote limited-time events. (The feature's called In-App event.)
Tim Cook is back to wrap things up on a day that, frankly, featured a staggering amount of announcements.
Developer betas for everything Apple announced today are available today. The public betas are coming in July, with the full releases slated for the fall.
Stay tuned for more coverage at Tom's Guide, as we dig deeper into Apples extensive list of WWDC announcements.
Get instant access to breaking news, the hottest reviews, great deals and helpful tips.
Thank you for signing up to Tom's Guide. You will receive a verification email shortly.
There was a problem. Please refresh the page and try again.