In addition to the best laptop or best Chromebook, many kids are looking at one of the best electric scooters to get them to class on time when they go back to school this fall.
Whether it's scooting from class to class, going into town, or zipping back and forth to school, they need a dependable ride that's safe, durable, and has a long enough range that they'll make it to wherever they need to go.
But there are a ton of electric scooters on the market, so which scooter is the best for a student's needs? That's the question that one of our readers sent us.
---
Ask us anything!
Do you have any questions you'd like to ask the experts at Tom's Guide? Please email us at helpme@tomsguide.com.
"My son is going to be a freshman baseball player at the University of Maryland this fall and is already in his apartment there playing summer collegiate baseball and taking a class. All of the boys use electric scooters to get around. A friend whose son already has one strongly suggested we get a scooter with solid rubber wheels (without fillable air tubes inside), because the scooters with air filled tires puncture easily and are difficult and expensive to repair. The two we were looking into are the Segway Ninebot Max G2 ("self-healing tubeless gel tires" but has great suspension) and the new Unagi Model One Voyager (solid rubber tires with no suspension and a rougher ride).
The boys on the team have had issues with tires popping and they have had to take their scooters to a local repair shop near campus and it's cost upwards of $150 to put a new tire on.
I haven't seen any reviews about the Segway's new gel filled tires and am not sure if they will be as durable as the Unagi's solid rubber tires. I also read that Unagi's customer service is significantly better than Segway's. Which scooter would you suggest and have you learned anything about these new types of gel filled tires?"
— Alicia
---
Rubber wheels vs. inflatable wheels is definitely a big debate with electric scooters. Tubber wheels can't pop, but they offer a much rougher ride than inflatable wheels.
Let's take a look at the two models that Alicia has mentioned. Both are newer versions of some of the best electric scooters we've reviewed.
The Unagi Model One Voyager is a long-range variant of the original Unagi; the Voyager gets between 12 and 25 miles before it needs to be recharged, has dual 250W motors, and can be paired with an app that lets you lock it remotely. And, because it's made of carbon fiber, it's also very light — just 29.6 pounds, which makes it much easier to carry around, or stash in your dorm room. In my testing, I was able to get about 12 miles on a charge, and found it worked great when going up hills. However, it has hard rubber tires, which means you'll feel every bump you go over. And, it's not cheap — it costs $1,190 — and it's currently on backorder at Unagiscooters.com, the only place from which you can purchase it. (The company says it should get a new supply soon). Unagi also offers a student discount of $65 off, or 10% off the monthly rate.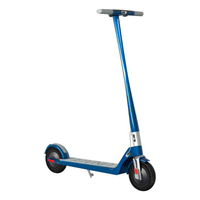 Unagi Model One Voyager: $1,190 @ Unagiscooters.com
The Model One Voyager has a range of 12-25 miles, a top speed of 20 MPH, dual 250W motors, and a 360Wh battery. It weighs 29.6 pounds. It's currently on backorder, but if you sign up for the rental option ($69/month), you can get one by the end of July.
I'm currently in the middle of testing the Segway Ninebot Kickscooter Max G2, which is the successor to the Segway Ninebot Kickscooter Max, one of the best scooters if you need to travel long distances. The G2 model so far looks to be an improvement in every way — it has a better range (up to 43 miles — expect about 20+ with typical use), dual suspension, remote lock, Apple Find My built in, and it even has turn signals built into the handlebars, so cars can see which way you're going.
However, the G2 is a heavy thing at 53.5 pounds, so it's not the kind of scooter if you have to go up stairs at all. And, as Alicia mentioned, it has air-filled tires, which help smooth out the ride tremendously. The tires are self-sealing, but only to a point - any more than 4mm (0.15 inches) and you'll be dealing with a flat. A replacement for the older model costs $60 for the front wheel, and $132 for the rear tire.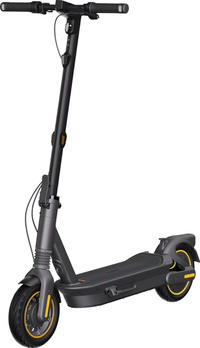 Segway Ninebot Kickscooter Max G2: $999 @ Best Buy
Segway's second-generation long-range scooter has an estimated range of 45 miles. It has a powerful 1000W rear hub motor, a top speed of 22 MPH, and 10-inch pneumatic tires. In addition, it has turn signals in the handlebars, Apple Find My, an electronic lock, and dual suspension.
One model that might give your son the best of both worlds is the Segway Ninebot KickScooter E45. This model has rubber (non-inflatable) tires, but they're relatively large at 9 inches, and the scooter has front and rear shock absorbers to help smooth the ride. It also has an advertised range of up to 28 miles, so you should get about the same endurance as the Unagi. It weighs around 36 pounds, so it's not as light as the Unagi, but not nearly as heavy as the Max G2.
The E45's 300W motor isn't as powerful, though, so don't expect to climb hills as easily. Best of all, though — the E45 costs $767, a few hundred less than the Unagi and the Kickscooter Max G2. We have yet to test this model, so we can't say how it performs in the real world. However, it has some pretty awesome LED lights along the bottom.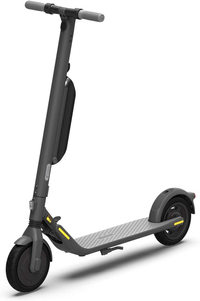 Segway Ninebot Kickscooter E45: $767 @ Amazon
The E45 has a range of between 13 and 28 miles and a top speed of 18.6 MPH. It has 9-inch rubber tires, a front shock absorber, and two batteries: one built into the downtube, and a detachable battery on the outside. It's made of aluminum and weighs 36.2 pounds.
More from Tom's Guide