Save $100, Get WiFi On Xbox 360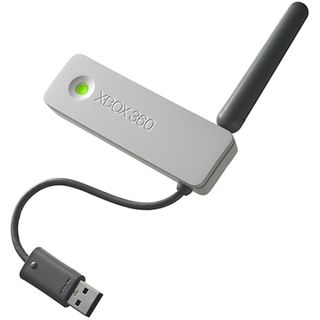 Keep Your Money
Sony's PlayStation 3 includes a wireless networking adapter, but Microsoft's Xbox 360 does not. To make matters worse, Microsoft doesn't let you buy a generic USB adapter, so you have to buy its adapter at its $100 price. Meanwhile, putting your Xbox 360 on your home network is important, that is, if you want to take advantage of the system's numerous media sharing capabilities. But unfortunately, not everybody has Ethernet cables running throughout the house or a router right next to the Xbox 360. Wireless is your best bet, but you shouldn't have to pay through the nose for it.
You probably paid less than $100 for the router that controls your entire home network, which makes $100 a steep price just to add a single component to an already expensive habit (gaming). Fortunately, several workarounds have surfaced since the Xbox 360's debut. I'll evaluate these wireless tricks based on complexity and compatibility. Of course, workarounds will not work with every system. There are simply too many routers and network setups out there to predict every variable, so your mileage may vary. But the good news here is that none of our workarounds require opening your Xbox 360 (or otherwise voiding your warranty). All you'll do is hurt Bill Gates' feelings. Consider it revenge for your most recent encounter with Windows' infamous "blue screen of death."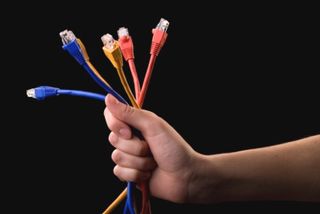 Connecting with a Wireless Laptop
If you have a laptop with both wired and wireless networking (this covers most laptops made in the last five or six years), you can use it to connect your Xbox 360 to your network. In a nutshell, you'll connect the Xbox 360 via an Ethernet cable to the laptop, and then let the laptop's wireless adaptor access your router. The laptop essentially acts as your wireless adapter.
This setup worked for me on a laptop running Windows XP, although it should also work with Vista. You'll need an Ethernet cable, which should, in theory, be a "crossover cable." Traditional Ethernet cables are wired for connections from a computer to a hub or router, while crossover Ethernet cables are wired for direct computer-to-computer connections. Although I used a crossover cable with this setup, I've read numerous reports of regular Ethernet cables working equally well.
Compare prices for Crossover Ethernet Cables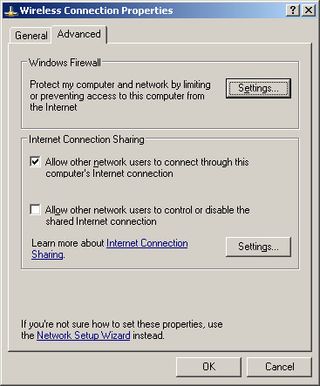 Making the Connection
Connect a crossover Ethernet Cable to your Xbox 360 and your laptop.
Click Start --> Settings --> Network Connections (or go to your Control Panel and open Network Connections), then click on the icon for your laptop's wireless connection. A dialog box will open, then click to allow Internet Connection Sharing.
Turn on your Xbox 360, and go to My Xbox --> System Settings --> Network Settings --> Test Xbox LIVE Connection.
At this point, everything should work, but read on for troubleshooting. (Note: if you have a connection but are having a problem with a moderate or strict NAT setting, I'll discuss this near the end of this article).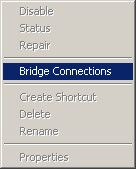 Troubleshooting The Laptop Workaround: Part 1
Of course, workarounds don't always work perfectly. For that
In some cases, you'll need to "bridge" your wireless and wired
Instead of Bridging your connections, you may have to manually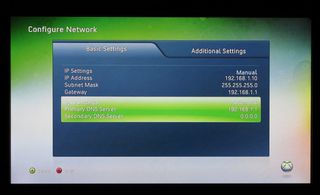 Troubleshooting The Laptop Workaround: Part 2
There are three Manual options here: IP Address, Subnet Mask, and Gateway.
Your IP address will have to be an address within your router's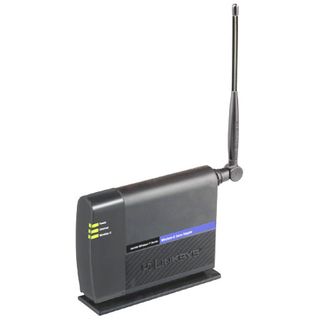 Connecting with a Wireless Network Bridge
The reason that you can't just hook up any cheap generic USB
In theory, any router with the right firmware would work, but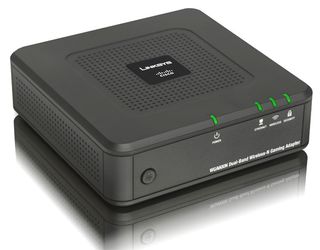 Connecting with a Wireless Network Bridge: Linksys Gaming Adapters
The Linksys WGA54G offers WEP 128-bit encryption and uses the 54 Mbps 802.11g protocol. For people looking for better security and a faster connection, Linksys sells the WGA600N. This Wireless N unit provides better speed than Microsoft's Xbox 360 Wireless adapter (which uses Wireless G). The WGA600N also provides better security, since its options include WPA2/AES, which is essentially the current standard in wireless home networking security (Microsoft's Adapter uses WEP and WPA, but not WPA2).
The selection of an adapter that fits in with your desired encryption (such as WEP or WPA) is important, since every device on your system must use the same encryption standard. So, if your network is setup for WPA2 encryption, you'd have to rollback to WPA or WEP encryption to use the Microsoft adapter.
Compare prices for Linksys WGA54G Wireless-G Game Adapter
Compare prices for Linksys WGA600N Wireless-N Game Adapter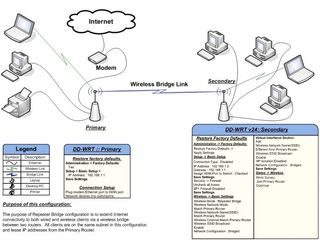 Connecting with a Wireless Network Bridge: Using a Second Router
If you have a working router that you're just not using (or don't mind buying an inexpensive router), you may be able to configure it to work in place of the Microsoft Adapter. In this situation, you'll be using this second router's radio to transmit and receive signals from your primary router. You will also use a standard Ethernet cable to connect the secondary router to your Xbox 360.
Unfortunately, this setup isn't possible with the firmware used in most home routers, but there is a solution: third-party firmware, such as DD-WRT, which is designed to expand the capabilities of your router.
There are two options available here: Client Mode, and Repeater Bridge.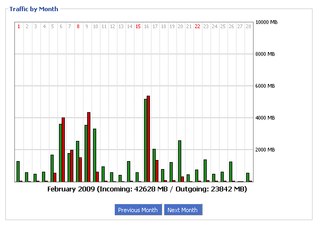 Connecting with a Wireless Network Bridge: Using a Second Router, Continued
The Client Mode option is limited to wired connections, via the
Of course, keep in mind that installing third-party firmware on your
I have DD-WRT installed on my Buffalo WHR-HP-G54 router. Installation was difficult (a Buffalo issue that DD-WRT is trying to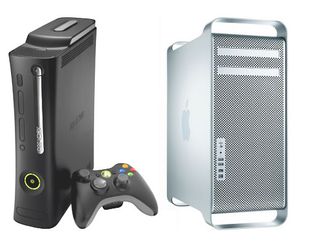 Connecting with a Mac
If you have a wireless-enabled Mac laptop or if there's a wireless-enabled Mac desktop near your Xbox 360, you can use it to wirelessly connect your Xbox to your network. Since my iMac is in the same room as my Xbox 360, this setup works for me.
In theory, this is an easy, automatic setup. But, with experimental workarounds, almost nothing works perfectly right away. You may want to turn on your Mac's Internet Sharing (explained in Step 2 below) and connect an Ethernet cable between your Mac and your Xbox 360 to give the "Automatic" method a try, but it's very unlikely to work. True to form, Apple hasn't had much to say about this issue.
So, I'll explain the manual setup, which is somewhat different than manually configuring a PC to work with your Xbox 360.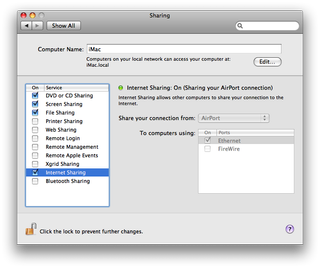 Connecting with a Mac: Manual Xbox 360 Settings
To connect your Xbox 360 to your Mac, plug an Ethernet cable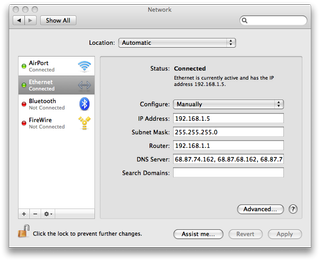 Connecting with a Mac: Manual Xbox 360 Settings, Continued
For example, my Airport card uses the address 192.168.1.2 and I gave the Ethernet port the IP Address 192.168.1.5. Enter your Subnet Mask (this will be the same for all your devices, while on a standard home network, the value is usually 255.255.255.0). Enter your Router's address (this will usually be the address you use to access your router's Web interface, such as 192.168.1.1).
There are many ways to determine your DNS Server(s) on a Mac, but none of them are especially reliable. Ideally, you'll be able to find the number(s) listed in your router's Web interface. You can also check your ISP's Web page, do a Google search, or if you have access to a Windows computer on the same network, enter IPCONFIG/ALL at a command prompt. With your Mac set up, the next task is to manually configure the Xbox 360.
Turn on your Xbox 360, and go to My Xbox --> System Settings --> Network Settings --> Configure Network --> press the "A" button --> Manual Settings. This is where most people make a critical mistake. It seems like the obvious thing to do is give the Xbox 360 an IP address in your router's IP range, but that's not the correct step. The Mac is now operating as the Xbox 360's gateway or server, so you'll have to assign an IP address within the Mac's server IP range. Macs usually serve IP numbers in the 192.168.2.x range, (not the 192.168.1.x range).
So, click on IP Address and assign the Xbox 360 an address such as 192.168.2.12. Press the "B" button, click Subnet Mask, and enter your network's Subnet Mask (this is still almost always 255.255.255.0). Press the "B" Button, and click Gateway.
This is where another critical error occurs, since the Gateway is usually your router's IP address (such as 192.168.1.1). In this case, the Mac is acting as your gateway, so assign the Mac's gateway address, which is usually 192.168.2.1. When finished, click Done.
3. Move down to DNS settings, press the "A" button, and click manual. This is the third critical error that's easy to make, since the instinctive thing to do is enter your ISP's DNS server settings. However, the Xbox 360 needs your Mac's DNS servers settings, which is the same as the Gateway (usually 192.168.2.1). You only need to enter a primary DNS server. Click "Done," and check your connection.
4. Reboot your Xbox and your Mac, and test the connection. At this point, everything should be working.

Troubleshooting NAT Issues
Sometimes, you'll get a solid Internet connection but the Xbox 360 will still report a "strict" or "moderate NAT" error. There are several things you can try to resolve this:
Access your router's Web interface and forward port 88 (UDP) and port 3074 (TCP and UDP) to your Xbox 360's IP address (see image). The exact process varies from router to router.
Use your router's Web interface to enable UPnP (Universal Plug and Play). It may be a good security precaution to enable UPnP only when gaming and then disable it when done.
Via your router's Web interface, set your Xbox 360's IP address as a DMZ (Demilitarized Zone). Since this turns off your router's firewall protection, it is another step that should be reversed when you're done gaming.