Surfing the Web with Yahoo Axis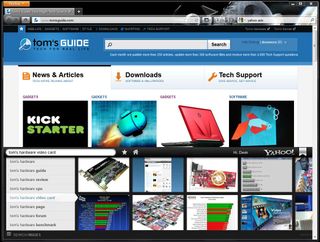 Axis: Some Good News for Yahoo Fans
Yahoo is in the news yet again, but this time it has nothing to do with layoffs or botched CEO resumes. The struggling search and services giant took the wraps off the virtually unheard-of Axis web browser yesterday, a new iOS and PC/Mac browser that has Google Chrome in the crosshairs. Modern web browsers are all about sharing bookmarks and tabs across multiple devices, and that's exactly what Axis was designed to do. Axis is available for the iPhone and iPad, as well as PC or Mac, and is 100 percent free. For PC and Mac users, you will need to pair Axis with another browser like Firefox or Safari (skip to slide 16 for more info).
I gave Axis a test drive on two devices: my iPad 3, running iOS 5.1.1, and my desktop PC, via Firefox 12.0.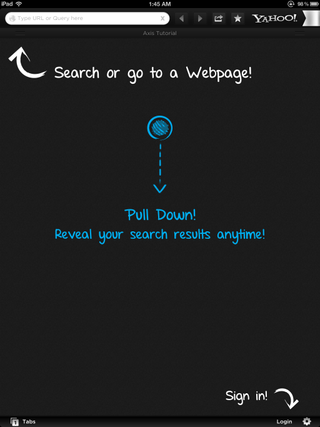 Starting with Axis
After downloading Axis from the App Store, the app goes into a tutorial mode of sorts. Basic functionality, like the apps basic gestures, are outlined. If you're a Yahoo regular, here's your first chance to sign in using your login information (you can sign in and out at your leisure without restarting the app). I've always been a Google user (Gmail, Google Docs, etc.), but I did end up creating a Yahoo account for testing purposes.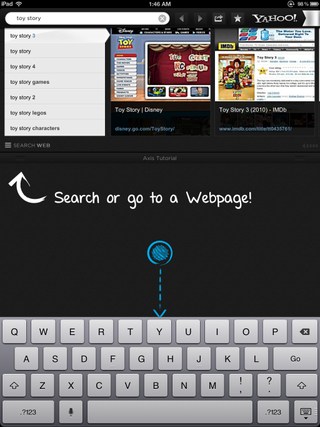 Web Search
Search in Axis is like a visual version of Google Instant. As soon as you type a word or phrase, snapshots of websites start popping up next to the address bar. You'll also see suggestions filling in under the bar to save your fingers some effort.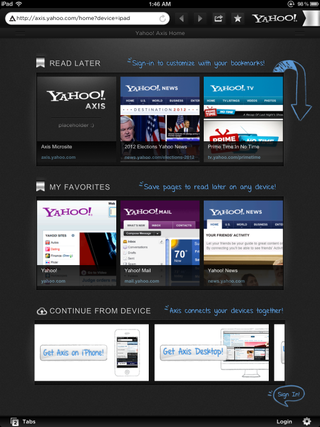 New Tab
Like any good browser, tabs in Axis allow you to flip between different websites on the fly. Once you click the new tab icon at the bottom, you can choose from your bookmarks (more on that later), or go from the address bar.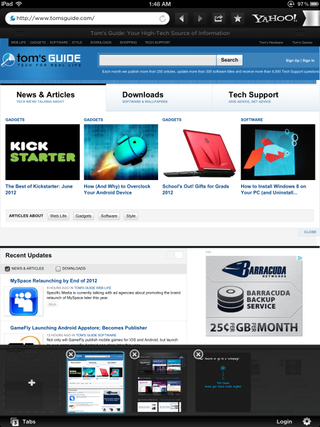 Tab Switching
Here's the view if you're switching between tabs without creating a new one. The intrusion is minimal, with the tab menu sitting pretty low on the screen.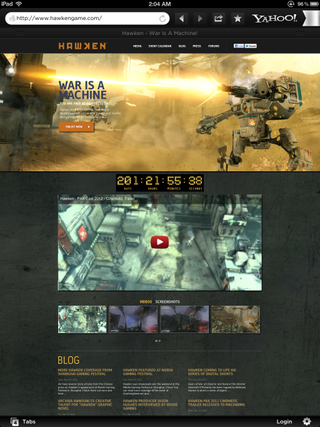 How's the Browsing?
Browsing in Axis is a pleasant experience overall; you can pinch-to-zoom, fly around the page with the swipe of a finger, and swipe down on the page to expose a bigger search menu. Safari does allow you to zoom in further, and its pinch-to-zoom is more fluid. Axis stutters a bit when zooming, which seems to be caused by the search bar expansion automatically expanding when pinching on the screen.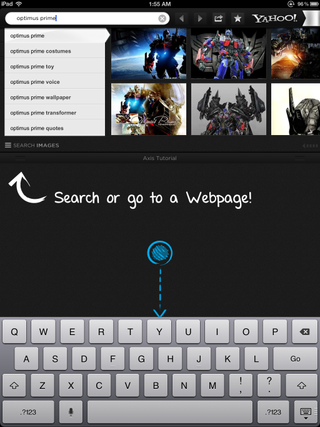 Image Search
You can also search exclusively for images. Once you choose the option, typing in the search is exactly like search the web, only the page snapshots have been replaced with image thumbnails.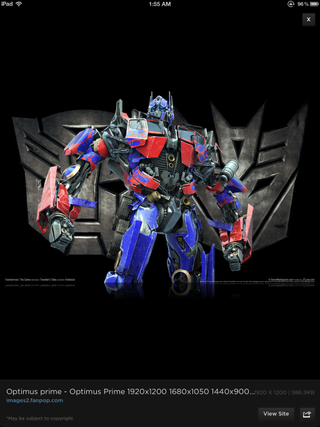 Flipping Through Images
Clicking on an image will enlarge, and you can swipe left and right to navigate the other image search results (similar to Google via Safari).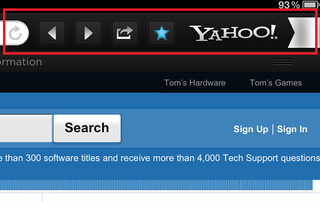 Browser Buttons
Browser buttons! From left to right: Refresh, Back, Forward, Share/Home, Add to Bookmarks, Yahoo Home, Bookmarks Menu.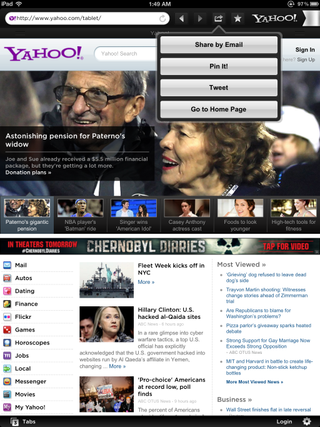 Browsing Options
The Share/Home button, aside from taking you to your homepage, allows you to tweet, pin (as in Pinterest), and email images and webpages.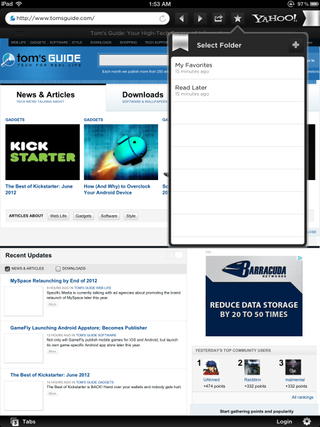 Bookmarks
Bookmarks in Axis are the same as any browser; Click the star, choose a folder (or create a new one), and you're done!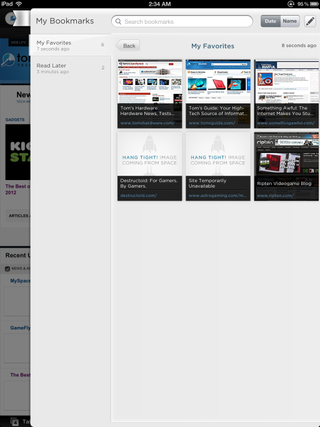 Navigating Bookmarks
Clicking the ribbon on the right side of the screen brings up the Bookmarks menu, where you can edit, create folders, and search. Axis starts you with two bookmark folders, but you can make as many as you want.Assuming you're logged into Yahoo while using Axis, your information will be shared amongst any other devices where you're actively logged in. Any bookmarks you create on Axis iPad will be waiting for you on your desktop or iPhone.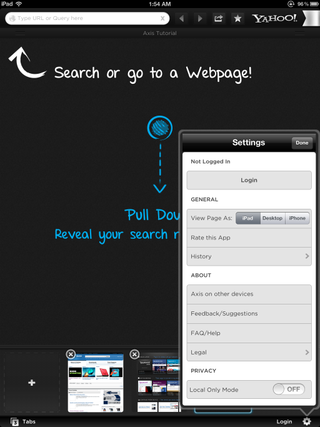 Settings and Options
Settings for Axis include log in/out, view toggling (switching between mobile and desktop versions of sites), device and legal info, and Local Mode, which keeps activity on that device instead of sharing it with your phone and PC.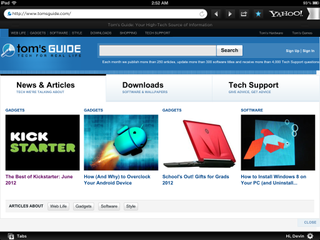 Browsing in Landscape
Browsing in landscape mode...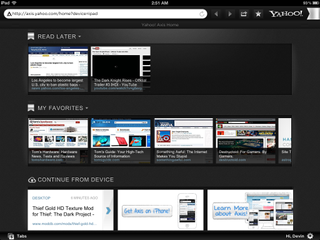 Tabs in Landscape
...and tabs/bookmarks in landscape.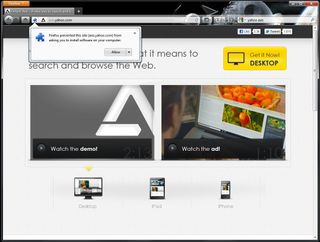 Axis and Firefox
While Axis for iPad is a slick and well-rounded offering, the desktop version leaves something to be desired. For starters, it's not even a standalone product, with Yahoo opting to make it a Firefox plugin instead. You can pair Axis Desktop with Firefox (like I did), along with Chrome, Safari or IE9.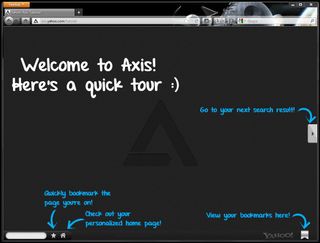 Axis on the Desktop
Installing the plugin takes a few seconds, and then you're shown a familiar tutorial page.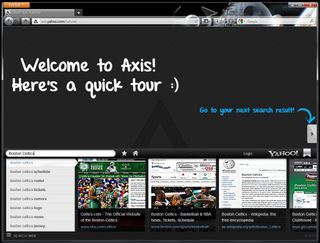 Searching on Axis Desktop
The Axis plugin is basically an overlay of sorts, with a search bar (which expands and contracts, depending on use) at the bottom of the window.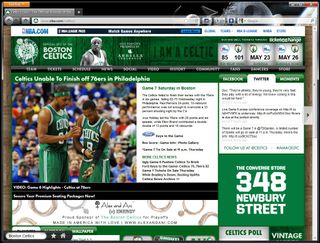 Axis Desktop Browsing
If you aren't using the Axis search bar, it shrinks into the corner. You'll notice an arrow on the right side, which allows you to click through to the next search result (an arrow appears on the left once you get past the first result).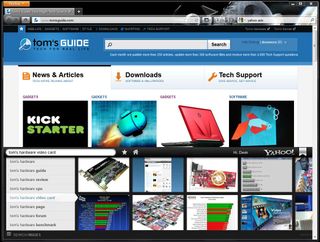 Desktop Image Search
Like the iOS version, you can search for images. Look familiar?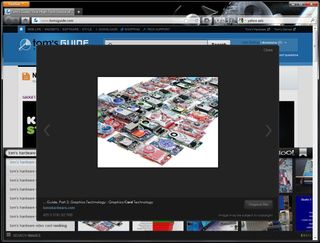 Browsing Images (Desktop)
Clicking on an image brings up a larger size, as well some options along the bottom.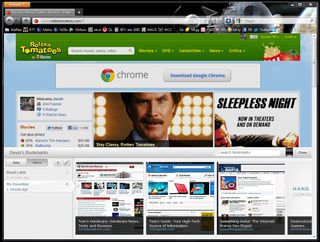 Desktop Bookmarks
The bookmark menu always sits at the bottom of the window, whether you're adding something new or editing existing lists.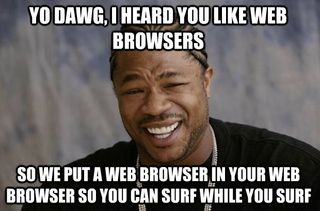 The Verdict?
Axis performs admirably on iOS, and it's a great alternative to Safari on your iPhone or iPad. It can be rough around the edges during browsing (zooming and such), but I like how the search bar works, and the Google-like image browsing works very well. Adding and organizing bookmarks in Axis is on another level when compared to Safaris efforts in that area. The Axis designers have done an excellent job in giving each feature enough space on the screen if you want to browse while fiddling with things, but said features are presented exceptionally if you bring them to the forefront.
The desktop is a different story; While using it in conjunction with Axis iOS makes sharing bookmarks and other info effortless, the lack of a standalone product is odd, especially given the browser on iOS. Aside from sharing bookmarks, there's no other sort of value add here, so why not just use plain old Firefox or Chrome? Being on Apple products will help Axis gain steam, but unless you're a dedicated Yahoo user, this might not be very appealing. This is a compelling product, but I have a hard time believing that Google/Chrome fans are going to abandon ship.
So what happens after this article goes live? I'll be disabling the Axis plugin on my desktop, but the browser survives on my iPad. Safari is a very basic iPad/iOS browser, so using Axis and it's preferable UI and feature set in the near future is the obvious choice.