14 Top Google Pixel 2 Features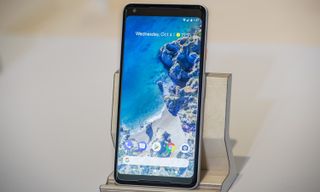 What to Expect From Google's Latest Pixel Phones
Google has fine-tuned its flagship smartphones, unveiling the new Pixel 2 and Pixel 2 XL that place as much emphasis on software and artificial intelligence as most phones do on hardware. As a result, the new Pixels sport plenty of features that Android power users should appreciate. And with little separating the $649 Pixel 2 from the $849 Pixel 2 XL, except for screen size and appearance, the vast majority of these features are available to you no matter which Pixel you buy.
Here's a closer look at the top additions and enhancements to the Pixel 2.
Image Credit: David Paul Morris/Bloomberg/Getty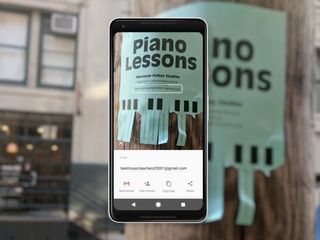 Google Lens
We've been waiting for Google Lens to arrive on a phone since the object-recognition feature appeared at Google I/O this past May, because it really showcases how machine-learning and artificial intelligence can make your life easier. Imagine tapping on a photo you've taken of a landmark to bring up more information about it, or using your camera to capture phone numbers or email addresses, saving you the trouble of having to tap them out yourself. You won't have to imagine any of that on the Pixel 2, as it will be the first phone to support Google Lens before the feature makes its way to other Android devices.
Image Credit: Google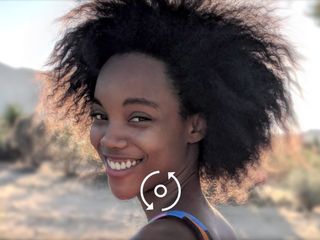 Portrait Mode with one lens (and the selfie cam, too!)
Who needs two lenses for producing those striking portrait shots with those cool blurred backgrounds? Not Google, since the lone rear camera on the Pixel 2 can produce photos in Portrait Mode. (And the results look pretty good, if I do say so myself.) Google uses software to pull of this trick, turning to computational photography. Because of that, Portrait Mode works on both the Pixel 2 and 2 XL — something iPhone 8 owners can't claim, as they enviously gaze at the dual lenses on the more expensive iPhone 8 Plus. You can even take selfies in Portrait Mode using the 8-MP front camera on either new Pixel phone.
Image Credit: Google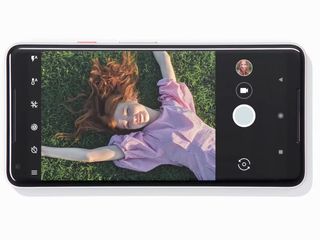 Photos look as sharp as ever
The rear camera on the original Pixel was that phone's best feature. But Google isn't resting on its laurels with this new version, which features a 12.2-megapixel lens with an f/1.8 aperture. That's a bigger aperture than last year's model, and a new autofocus mechanism should reduce blur. Google added optical-image stabilization to go with electronic-image stabilization, and fused-video stabilization on the Pixel 2's camera promises to keep the jitters out of videos you shoot with your phone.
Image Credit: Google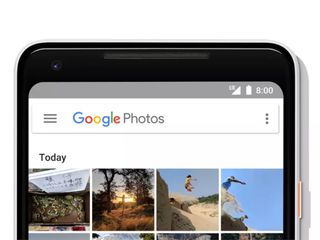 Free unlimited photo storage
Google included unlimited photo and video backups for last year's Pixel, which helped cement that device as a photographer's dream. That's continuing with the new versions of the phone: You'll be able to upload photos and videos to Google Photo at their original resolution. That includes Motion Photos, a new Live Photos-like feature that the latest Pixels support in which motion and sounded are captured along with your image.
There's some fine print to this offer of free storage at full-resolution, as it applies to photos and videos taken until 2020. After that, you can still store new photos and videos for free, but at what Google calls "high-quality" resolution.
Image Credit: Google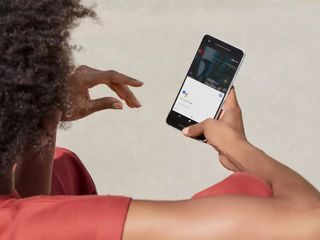 Active Edge
Even an iOS fan like myself appreciates the deep bench of knowledge that Google Assistant possesses, and the Pixel 2 makes it easier to let Google's digital assistant do its thing. Just squeeze the sides of the new Pixel, and the Google Assistant springs to life, thanks to the new Active Edge feature. There's even a little bit of haptic feedback when you squeeze to let you know that the Assistant is ready to carry out your commands.
Worried about inadvertently triggering the Assistant whenever you grab your phone? Based on my time with the Pixel 2, it takes a pretty deliberate squeeze to use Active Edge, and you can adjust the sensitivity in Settings.
Image Credit: Google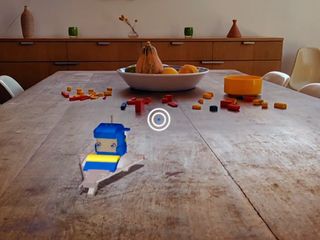 AR-Ready
Augmented-reality apps built for iOS 11 using ARKit are grabbing the headlines. But Google rolled out its own AR-friendly development tools, called ARCore, and now we know why: the cameras on the new Pixel are designed to support AR. Right now, the implementation feels more like a novelty act. Google's AR stickers let you add animated emojis to whatever you capture with the camera. (AR stickers become a little bit more exciting with creations from Google partners like Netflix and its Stranger Things series and, later this year, the new Star Wars movie.) More important, Google's promising more AR-friendly apps down the road that will let you build virtual Legos, decorate your home, play games and more.
Image Credit: Google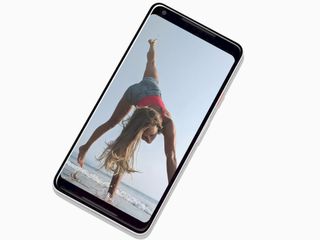 OLED screens
Apple introduces an OLED panel on just one of its new phones, and the crowd goes wild. "Big deal," Google says, "Both of our phones use OLED," as the 5-inch Pixel 2 and 6-inch Pixel 2 XL both make use of the display technology that offers better contrast and truer blacks than LCD screens. Among Google's phones, the Pixel 2 XL gets the edge here. Not only does it offer better resolution (2880 x 1440, to the Pixel 2's 1920 x 1080), but it uses a more flexible pOLED panel that adds an appealing curve to the phone's display.
Image Credit: Google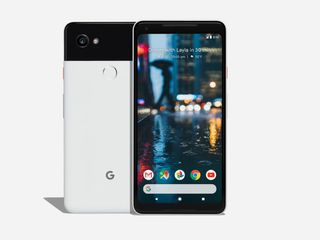 The Pixel 2 XL gets a new and improved look
Speaking of the Pixel 2 XL, while it may not be as bold as the Infinity Displays that now grace Samsung's Galaxy S8 and Note 8 devices, at least Google shrank the bezels somewhat on its larger phone. That gives the 6-inch 2 XL a more immersive 18:9 aspect ratio with more screen real estate for getting things done. Unfortunately, little has changed with the look of the 5-inch Pixel 2, so if you value more forward-looking designs, Google just made your choice of which Pixel to get a lot easier.
Image Credit: Google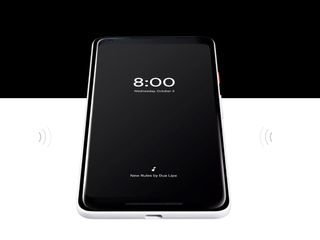 An always-on screen with a musical ear
Google's implementation of this feature adds functionality beyond just showing the date, time and notifications at a glance. If a song's playing in the background, the Pixel 2 can tell you the title and artist, all without you having to do a blessed thing. And that music identification is happening right on the phone, so nothing is being transmitted to Google's servers. You can even tap the song's name if you're interested in adding it to your library, watching its music video or finding out more about the artist.
Image Credit: Google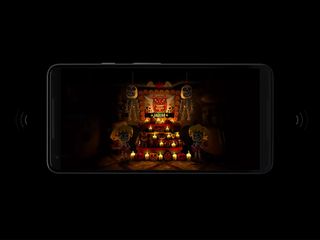 Front-facing stereo speakers
The lack of front-facing speakers was one of our big disappointments with last year's Pixel XL, so it's good to see Google take steps to remedy that with its new phones. The speakers are now front-firing; even better, both the Pixel 2 and 2 XL have stereo speakers. You're going to be able to hold the phone in any orientation while gaming or watching a video without fearing your hands will muffle the audio.
Image Credit: Google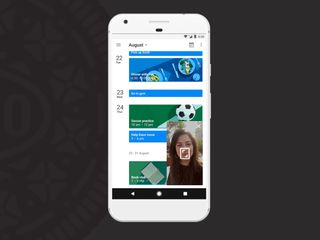 The latest Android OS, frequently updated
Get a Pixel 2, and you'll have the most up-to-date version of Android on your phone. In this case, that's Android Oreo, which delivers a number of improvements, such as support for picture-in-picture video, better notifications and password autofill capabilities.
Because this is Google's phone, you'll get a clean Android experience, withsecurity updates as soon as Google can crank them out. There's also no delay for updates to the OS itself — last year's Pixel owners are already upgrading to Oreo — and Google promises three years of security and OS support for your phone.
Image Credit: Google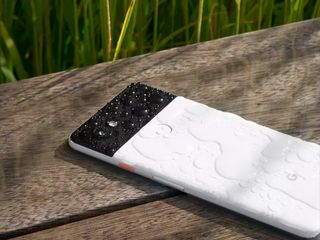 Don't worry about splashes or dunks
The original Pixel and water didn't mix, but Google improved things with its new phones. Both the Pixel 2 and Pixel 2 XL carry an IP67 rating, meaning they can survive a 30-minute dunk in 1 meter of water. Some form of water resistance should be expected of flagship- caliber phones, so it's good to see the latest Pixels meet that standard.
Image Credit: Google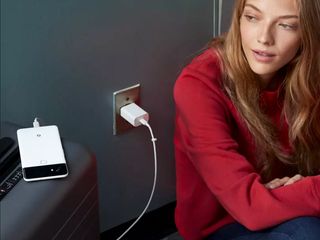 Fast charging
It's unclear just how long Google's new phones will last on a single charge. Considering the original Pixel XL remains on our list of long-lasting smartphones, and that the Snapdragon 835 is a pretty power-efficient CPU, we expect good things from the Pixel 2's battery. And when your phone is running low on juice, you should be able to power up fairly quickly. Both Pixel 2 models support fast charging, with Google claiming that 15 minutes with a charger will add 7 hours worth of battery life to its phones.
Image Credit: Google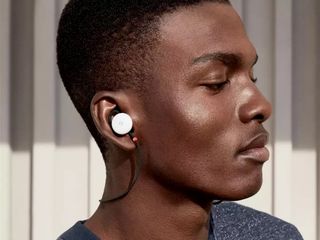 Very clever accessories
Google hopes to extend the Pixel ecosystem with a pair of accessories built with the new phones in mind. The Pixel Buds wireless headphones are garnering the buzz, thanks to their ability to interact with the Google Assistant and use tools like Google Translate. But, the Google Clips camera may prove to be the more compelling add-on. This is a $249 set-it-and-forget-it camera that uses machine-learning to know when to take a photo and who to take it of — ideal for parents who want to capture memories without always having one hand glued to their camera phone.
Image Credit: Google