HostPapa is a Canadian web hosting service that is privately owned and the company offers a wide range of web hosting services such as VPS hosting, WordPress hosting, reseller hosting and more.
However, since this web host isn't part of a massive corporation like HostGator and Bluehost which are now owned by the Endurance International Group, it is able to present itself a bit differently than the competition. For instance on its site, HostPapa highlights its support for sustainable business practices and green hosting instead of just advertising its speed and features.
So let's take a closer look at the plans, pricing, features and support offered by HostPapa to see if this web host is the right choice for your website.
Click here to go directly to HostPapa's website
Pricing
While HostPapa does offer a variety of web hosting services, in this review we'll be examining the company's shared hosting plans as they will likely appeal to a broad range of users and use cases.
HostPapa's shared hosting plans begin with its 'Starter' plan for $7.99 a month. This plan lets you create two websites and includes free domain registration, 100GB of SSD storage and unmetered bandwidth.
Next up we have HostPapa's 'Business' plan for $12.99 a month and this plan allows you to create unlimited websites. It also includes free domain registration, unlimited SSD storage and unmetered bandwidth. The Business plan includes all of the essential features from the Starter plan as well as some advanced features
Finally, we have the company's 'Business Pro' plan for $19.99 a month. This plan includes everything the Business plan does as well as performance and security enhancements.
It is worth noting that these are the regular prices for HostPapa's plans but the company often offers big discounts for new customers. A 30-day money-back guarantee is also available for any hosting fees you pay upfront which gives new users a chance to try out the service for themselves.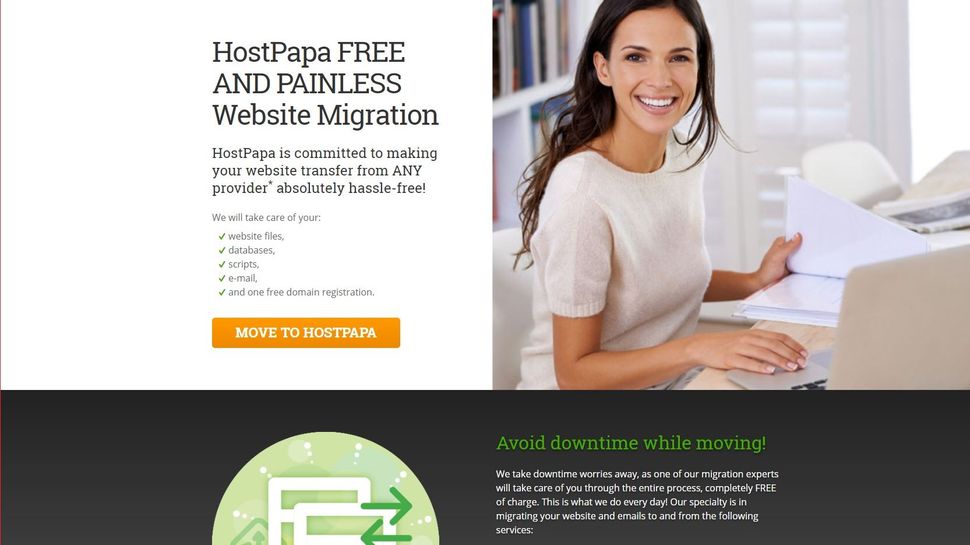 Signing up
Once you pick out your plan, HostPapa will have you review the items you've selected before completing its checkout process.
Though this may sound fairly straightforward, you need to be extra careful during this step as the company adds its SiteLock and backup extras to your shopping cart by default. If you rush through HostPapa's checkout process, you could easily miss this and as both of these add-ons cost an extra $19.95 per year, they could end up increasing the cost of your plan by a great deal if you don't uncheck them.
From here you're asked to enter a domain name for your site. HostPapa does give you one domain for free but you can also choose to use one you already own. If you do decide to use your own domain, the company defaults to a 'please transfer my domain to HostPapa' setting but you can keep your site where it already is if you prefer.
Next you have to enter your contact details including your name, email address, physical address and phone number. Finally, enter your payment details and you're all signed up and ready to get started building your site. In terms of payment options, HostPapa accepts credit cards as well as PayPal.
Creating a site
While other web hosts send you off with a getting started guide after you've completed their signup process, HostPapa simple gave us a summary of our hosting plan invoice with the option to print it.
Thankfully though, the company did send us a second 'welcome' email five minutes after our payment was processed which contained all of the essentials we would need to get started including a starter guide, some quick advice on website building, our account information, our FTP details, support links and more.
HostPapa does use cPanel as its host manager so if you used cPanel in the past, you'll be right at home. cPanel gives you everything you will need to get your site up and running with key features such as the File Manager and FTP module appearing on the first screen alongside a search box that allows you to quickly locate anything else you might need.
HostPapa's cPanel is broken down into several categories with colorful icons used to represent each item. The layout itself isn't overly crowded and the icons give you a good idea of what each menu item is for. For example, the file manager has an icon depicting a file cabinet and disk usage shows a hard drive with a green bar to indicate free space and a red bar to indicate how much disk space you have already used.
One click installs of popular web apps are handled by the Softaculous installation framework and we were able to install WordPress and get it setup in just a few minutes with no major difficulties.
HostPapa also gives you access to a drag and drop site builder with all of its plans but you can't access it from inside cPanel. Instead, it's hidden away behind a 'My Website' button. The site builder includes 120 responsive templates along with easy integration of videos, forms, maps and more. The free edition does have a page limit of three pages but we were pleased that HostPapa does include a site builder with its plans.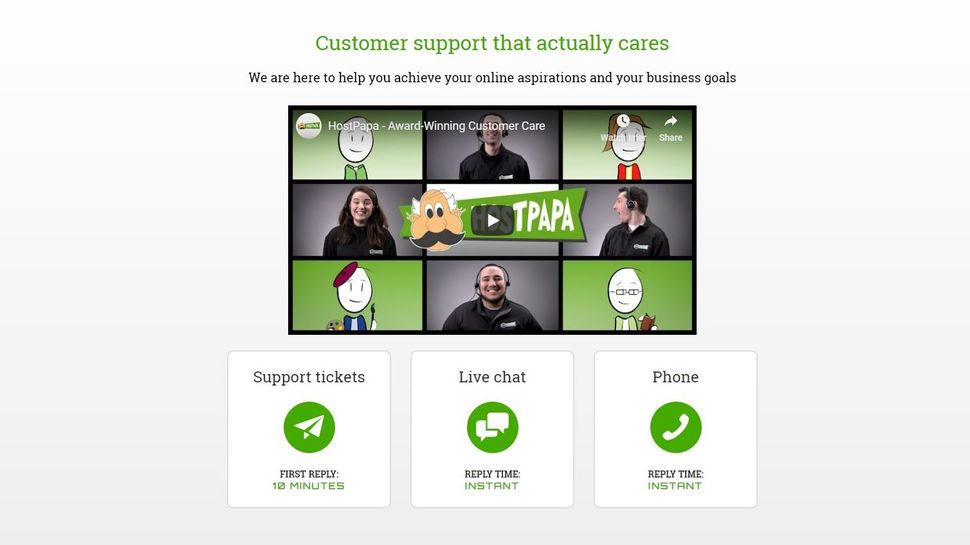 Performance
One of the first things we look at when reviewing a web host's performance are the support options on hand because even the most experienced users can run into problems when configuring their sites.
HostPapa has several support options available to its customers with the first of which being its 'Basic Training'. This is a free 30 minute 'one-on-one dedicated session with a PapaSquad Expert'. The service is mostly aimed at beginners but for those who need extra help, it could be very useful. As far as we know, HostPapa is the only web host that offers this kind of service for its users.
When it comes to customer support, the company provides support via live chat, a support ticket system and over the telephone. Support tickets usually take up to 10 minutes for the first reply while live chat and phone support are both instantaneous according to HostPapa.
The company's knowledgebase contains 2,551 articles at the time of writing that cover 75 different categories of web hosting related topics such as hosting, domains, email applications, its products and your account.
We finished up our performance test with a few simple server speed tests to measure HostPapa's performance. Our site was hosted in the US so response times were not the fastest we've seen but running connection tests from other countries showed slightly above-average performance.
Verdict and Conclusion
HostPapa uses impressive discounts and good value at signup to draw in new users but its high renewal prices could be a turn off for those in the market for multi-year hosting. However, cPanel support, the company's basic website builder and its Basic Training service do help to offset its high renewal prices though.