Having built a stellar reputation for smart science fiction-tinged TV shows thanks to the likes of Severance and For All Mankind, Apple has knocked it out of the park yet again with Silo — a new dystopian post-apocalypse drama that's proving to be a hit with critics and audiences alike.
Silo premiered on Apple TV Plus with a double episode on May 5, 2023 and currently sits at an impressive 91% on Rotten Tomatoes. Surprisingly, Silo's audience score is also 91%, marking one of the few times in recent memory where critics and fans are on exactly the same page. It also holds a very respectable score of 8.4 on IMDb.
What is Silo about?
Silo is a television adaptation of The Wool Trilogy — a series of self-published short stories and novels by best-selling author Hugh Howey. Over the course of three main entries (Wool, Shift, Dust), we follow the inhabitants of the Silo — a 144-story subterranean city which houses the last remnants of humanity on a ruined Earth.
As in all tales set within a dystopian society, the people of the Silo are governed by a ruling authority which has set a number of regulations which must be adhered to "for the sake of the greater good" — or so the argument goes.
In the case of Silo, the community is assured that the world outside is toxic and unlivable. There are, of course, those who express a desire to venture outside anyway, and those who do always end up dying.
Of course, it's only a matter of time before one of the Silo's inhabitants — in this case, an engineer named Juliette (Rebecca Ferguson) — refuses to believe what they're being told about the outside world, and sets out to discover what's really going on.
Ferguson (Mission Impossible: Rogue Nation, The White Queen) leads an exceptional cast which also includes Tim Robbins (The Shawshank Redemption), David Oyelowo (Selma), Iain Glen (Game of Thrones), Rashida Jones (Parks and Recreation), Common (John Wick: Chapter 2) and Will Patton (The Postman).
Silo reviews: What critics and audiences say
As we mentioned, Silo's first episodes have been incredibly well-received by both critics and audiences on Rotten Tomatoes, currently sitting at 91% on both sides of the table — a rare feat in the age of review-bombing.
Richard Roeper of the Chicago Sun-Times describes Silo as, "Part conspiracy thriller, part social commentary, part police procedural, the series holds our interest with intriguing characters and effective twists and turns."
Lucy Mangan of The Guardian praises Silo's "fantastically made story that embraces classic tropes and cliffhanger endings as enthusiastically as it does delicate characterisations and deferred gratifications."
Joshua Rivera of Polygon says Howey's books have "been lovingly adapted in the show's rich set design, and a cast comprised of remarkably talented actors who play everything deadly serious."
Alex Maidy of JoBlo also raves, stating that, "Silo is an expertly-crafted production with fascinating characters."
Of course, not every one is a fan of Apple's Silo — Brian Lowry of CNN says "The inherent mystery here, however, feels stretched to the point of strained, exacerbated by characters that don't consistently pop."
Watch Silo if you like...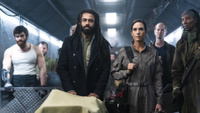 Snowpiercer
A prequel to the events which took place in Bong-Joon-ho masterful film of the same name (and the original French graphic novel 'Le Transperceneige'), the TV version of Snowpiercer explores class warfare on a perpetually-moving train that circles a frozen Earth.
Stream Snowpiercer on Netflix (UK/AU) / Spectrum On Demand (US)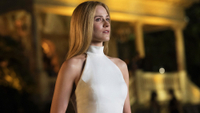 Westworld
Michael Crichton's 1973 sci-fi film Westworld is expanded upon in this series from Lisa Joy and Jonathan Nolan. Like the movie, it explores a Wild-West theme park which showcases human-like androids, and who are at the mercy of the park's guests. This allows the show to explore themes of free will amongst artificial people.
Stream Westworld on Binge (AU)
Buy / rent Westworld on iTunes (US/UK)
Season 1 of Silo is currently streaming on Apple TV Plus, with new episodes releasing on Fridays.
More from Tom's Guide