Our picks for the best streaming microphones are perfect if you want your live stream to stand out from the competition. Even those of you just streaming for fun should pick one up to avoid annoyingly poor sound quality.
Plus, these streaming mics come in a whole range of visual styles. Some impress while appearing on camera, while others have more utilitarian looks but still produce excellent sound quality. In fact, just because a mic looks flashy doesn't mean it's the best-sounding mic — our top picks often don't look the flashiest.
You can't go wrong with any of the mics we've tested, so feel free to pick the mic with the features that best suit your needs. Whether you are a professional live streamer or just hopping on Twitch for fun, read on to discover our pick of the best streaming microphones we've tested.
Top 3 best streaming microphones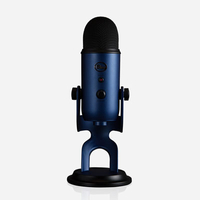 Best overall: Blue Yeti
The Blue Yeti remains one of our most versatile microphones overall. The recording quality is good enough for semi-professional recording, let alone in-game voice chat or Discord banter, but it's still as simple to set up and use as PC microphones come.
Note: Logitech is sunsetting the Blue brand, but will offer Yeti mics under its Logitech G brand once the transition is complete. You can currently still buy Blue-branded Yeti mics.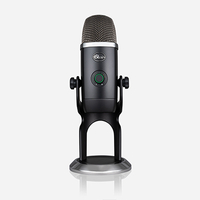 Best for features: Blue Yeti X
The upgraded Blue Yeti X version ranks highly. It doesn't provide drastically improved sound but does manage to take the Yeti's broad design and make it even easier to use, with a gain control that allows fine adjustments and an LED display that usefully shows your mic level.
Note: Logitech is sunsetting the Blue brand, but will offer Yeti mics under its Logitech G brand once the transition is complete. You can currently still buy Blue-branded Yeti mics.
The best streaming microphones to buy right now
Note: Logitech is sunsetting the Blue brand, but will offer Yeti mics under its Logitech G brand once the transition is complete. You can currently still buy Blue-branded Yeti mics.
What else but the perennially beloved Blue Yeti? Combining class-leading performance with a simple, easy-to-use design, the Yeti doesn't seem anywhere close to showing its age. It's not too expensive either, so can serve first-time microphone owners as well as it can seasoned streamers.
In addition to the cardioid mode, which is what you should use when you're only recording yourself, the Blue Yeti also offers bidirectional, omnidirectional and stereo recording patterns. That gives it a lot of extra flexibility if you live stream podcast recordings or interviews, rather than games or commentary.
Read our full Blue Yeti review.
When we say the JLab Talk is a cheaper Blue Yeti, we don't mean that as a slight. Yes, the Talk is also a fairly compact USB microphone with the same four recording patterns as the Yeti, but those are good things. And its bass-rich but detailed recording quality can definitely give that touch of professionalism to your stream.
The Talk is also impressively practical, with a light-up gain indicator, a 3.5mm jack for mic monitoring and an adjustable tripod stand. Even the best streaming microphones can be made better by adding a boom arm, but this little tripod can at least provide some high adjustment.
Read our full JLab Talk review.
Note: Logitech is sunsetting the Blue brand, but will offer Yeti mics under its Logitech G brand once the transition is complete. You can currently still buy Blue-branded Yeti mics.
If you've got a little extra cash, it can be worth stretching to the Blue Yeti X. It would make you sound drastically better than the standard Yeti, but it does at least improve on the control scheme. For instance, you can check your volume levels at a glance using the LED display, and Blue has wisely moved the gain switch to the front, so it's more easily accessible in a pinch.
Despite the extra bells and whistles, the Yeti X never forgets about the simplicity that helped make the Yeti such an enduring microphone champion. It's still plug-and-play with a PC-friendly USB connection; a complicated studio microphone this is not.
Read our full Blue Yeti X review.
The Wave: 3's party trick is how it works together with the Elgato Stream Deck. Set up both together and you can control your mic input volume, mix audio between the Wave: 3 and other sources or toggle monitoring all at the push of a button. When you're trying to focus on hosting an entertaining stream, the appeal of such a control scheme is clear.
Even without the Stream Deck, though, there's plenty about the Wave: 3 that makes it a fine microphone. Recording quality is high, with particular resistance to pops and background noise, and you can always use the onboard controls to make adjustments as well.
Read our full Elgato Wave: 3 review.
If you're going to appear on-camera for a stream, you can add some visual flair from an unlikely source: your microphone. The HyperX QuadCast S is covered in fully customizable RGB lighting, which makes it an especially good match for other light-up gaming peripherals and PCs.
Luckily, the QuadCast S isn't just for showing off. Its cardioid-pattern recording sound is clean and clear enough for serious streamers, and its built-in shock mount helps prevent awkward bumping sounds should you need to reposition it. The QuadCast S is more expensive than the RGB-less QuadCast, but in terms of illuminated options, it's one of our favorite mics.
Read our full HyperX QuadCast S review.
Not unlike the JLab Talk, Movo's UM700 seeks to undercut the Blue Yeti. On a purely mathematical basis, it succeeds — the UM700 is significantly cheaper — and that's without sacrificing much in the way of build quality. You get the full set of cardioid, bidirectional, omnidirectional and stereo recording modes as well.
Sound quality isn't quite on the Yeti's level, so stick with the latter if you want your stream to sound as professional as possible. But the UM700 still offers more-than-adequate clarity for casual or amateur streams, so it's worth considering if you just want something affordable.
Read our full Movo UM700 review.
Note: Logitech is sunsetting the Blue brand, but will offer Yeti mics under its Logitech G brand once the transition is complete. You can currently still buy Blue-branded Yeti mics.
A Blue Yeti, but smaller? It's a great idea, and the Blue Yeti Nano is a great streaming mic. As per usual for the Blue brand, it's incredibly easy to set up and use, and its tight dimensions are both more considerate of your desk space and better for packing up and traveling.
The Nano is also cheaper than the standard Blue Yeti, though the JLab Talk does sound better, should you be bargain-hunting. The Blue Yeti Nano also cuts the supported recording patterns down to just cardioid and omnidirectional, though remember that you only need cardioid if you're just recording yourself.
Read our full Blue Yeti Nano review.
The EPOS B20 is another mic that bills itself as a streaming aid specifically. But whereas the Elgato Wave: 3 fulfills its potential through added hardware, the B20 is at its best when paired with software: the EPOS Gaming Suite. This adds access to a host of audio settings that you can't control from the microphone alone.
We also love the B20's sleek aesthetic and crisp sound quality. If it were cheaper it would give the Blue Yeti a real run for its money, but even at current pricing, it could be worth splurging for if you want to fine-tune your stream audio through the companion software.
Read our full EPOS B20 review.
How to choose the best streaming microphone for you
Your foremost concern when choosing any desktop-style microphone should be sound quality. A lot of potential issues, like dull looks or poorly-adjustable stands, can be ignored or compensated for — but if a streaming microphone sounds weak or lacking in detail, your entire stream suffers. Be sure to read our full reviews linked above, where we've described how each mic sounds.
Many microphones offer different directional recording patterns: cardioid, bidirectional, omnidirectional or stereo. Bidirectional or omnidirectional modes are very useful for recording multiple speakers with a single mic, but if you're just running a gaming stream — or any kind of stream where you're the only one being recorded — then cardioid is all you need. This only records the space directly in front of the mic so is perfect for minimizing background noise.
For pricing, we think you don't need to spend more than $200, and probably shouldn't spend less than about $50. Zoom calls are one thing but for a quality stream, going too cheap will likely mean you won't get sufficient recording capability in return.
We've also stuck with USB microphones, as these are by far the easiest to get set up on a PC or laptop. You can get some consumer-friendly mics that use a professional-grade XLR connection, but these require additional (and expensive) hardware to set up. For streaming, as opposed to podcasting, that extra budget is better spent on your computer hardware.
How we test streaming microphones
When testing any kind of microphone, we'll use a combination of recordings and live, person-to-person feedback to find out how each mic sounds. For streaming microphones, how it sounds in what is essential VoIP (Voice over IP) conditions is particularly important, as local recordings alone might not capture how a microphone sounds when the sound is transmitted online.
Besides testing a microphone itself, we'll also try out any recommended or bundled software, to see if it's actually worth using in conjunction with the hardware. Ideally, a mic should work well by itself, but sometimes these apps do provide useful extras that could make your stream sound just that little bit better.
Once testing is completed, we rate the best gaming microphones based on our five-point system (1 = worst, 5 = best). Products that hit nearly every mark are awarded an Editor's Choice badge.
Next: Check out the best gaming microphones or find a versatile design with the best USB microphones for better voice and video calls. Plus, if you're hosting more than streams then check out the best podcasting microphones overall, as well as the best headphones with a mic for voice and video calls.