Best MMOs for Multiplayer Mayhem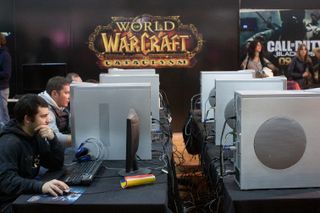 Game on!
Many of the good things in life are made better when you have your friends along for the ride, and gaming is no exception. Whether you're exploring a dank dungeon, participating in a massive combined arms battle, or carving out an interstellar empire, massively multiplayer games allow you to make gaming a cooperative and social experience, as well as a competitive one. Read on for a list of some of our favorite free to play MMOs.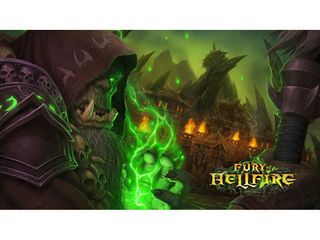 World of Warcraft
Blizzard's World of Warcraft is probably the first thing that comes to mind when somebody says the word MMO. Going strong since 2004 with millions of subscribers, World of Warcraft (aka WoW) features quest-driven gameplay, a strong player community and a massive world filled with Warcraft characters and lore to explore. While it might be starting to feel its age, and isn't quite as cutting edge as modern competitors, WoW is still an iconic MMORPG and is almost the standard by which many fantasy MMOs are measured against.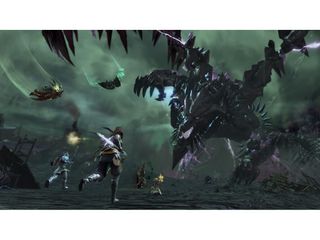 Guild Wars 2
Replacing traditional quest chains with dynamic events and branching personalized story arcs emphasizing exploration over grinding, Guild Wars 2 is one of the most enjoyable MMORPGs of its kind mostly because it ignores staid elements of MMORPGs to blaze its own trail. Best of all, it does all this without demanding a monthly fee. Previously a 'buy once, play free' game, Guild Wars 2 has since made its core game free, with paid expansions adding new content to the world of Tyria. Extremely accommodating gameplay plus great art direction make for a ridiculous bargain of an MMO.
EVE Online
EVE Online is a unique MMO experience like no other MMO out there. The game casts you as a sort of interstellar entrepreneur who must complete missions and trade goods to advance. However, stick with the game and you'll discover its true wonders as a universe with a complex economy and emergent politics based on the interaction of thousands of players across the EVE Online universe. A unique interstellar flavor and compelling interactions (both hostile and friendly) within the community make EVE Online a landmark game, even if it is a bit of an acquired taste. The game is still growing strong, with the newest update, Citadel, introducing massive space stations that players and factions can build, develop and destroy.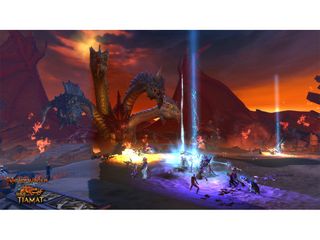 Neverwinter
Dungeons & Dragons returns to the Forgotten Realms with Neverwinter, as players defend the storied city from its many enemies. Mixing classic MMO elements with rules from D&D's 4th Edition, Neverwinter provides players with a solid mix of classic action combat and the lore rich world that the Forgotten Realms is known for. Players will battle against foes such as the Lich-Queen Valindra, thwart the summoning of the dragon godess Tiamat, and with the latest expansion, The Maze Engine, pit their might against infamous demon lords such as Orcus, Prince of Death, and Baphomet, the Lord of Beasts.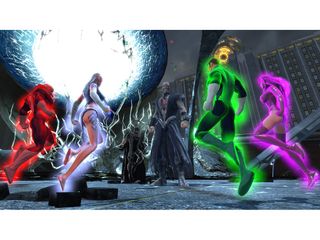 DC Universe Online
Now that City of Heroes has finally signed off, DC Universe has become the undisputed king of superhero MMOs. Action-based combat makes your heroics feel genuinely super, plus there's the unbeatable draw of a license in which you fight alongside the likes of Batman, Superman and Wonder Woman. Fun twitch combat and attractive superhero aesthetic makes this a blast to play, though parts of the game can still be a grind.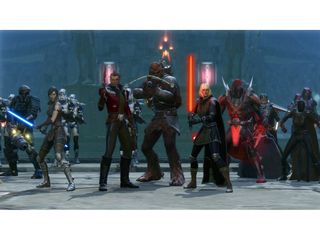 Star Wars: The Old Republic
The MMO successor to the Knights of the Old Republic series of role-playing games, SW: TOR is notable for its class storylines, which feature the same fully-voiced, choice-driven plots that are the trademark of developer BioWare. Originally released as a paid plus subscription MMO, the game eventually switched to a free-to-play model, allowing free players to go through the original class storylines, while premium content (and quality of life perks) are available to paying subscribers.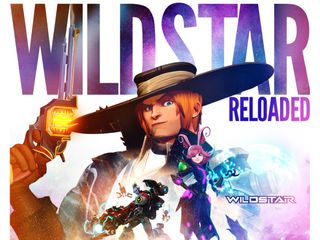 WildStar
Action MMO gameplay gets a sci-fi cartoon vibe in WildStar: Reloaded. Players fly the flag for the imperialist Dominion, or the rag-tag Exiles who oppose them as both factions explore the mysteries of the world known as Nexus. Featuring extremely mobile gameplay and telegraphed combat moves, WildStar encourages players to mix it up while battling monsters and other players, making for a frenetic combat experience. Initially a subscription-based RPG, WildStar went free-to-play with the Reloaded content update.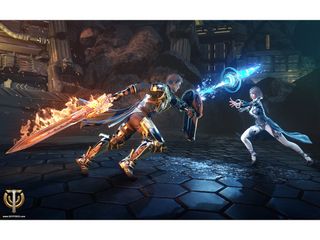 Skyforge
Why play at being mere heroes when you could be gods? That seems to be the premise behind Skyforge, a science fantasy MMORPG that has players serving as the Immortal guardians of the planet Aelion, a world under siege by hostile gods of other worlds. As players progress through the game, they can develop their immortal's personal cult and followers, until they achieve godhood and unlock more gamebreaking abilities. Action-oriented gameplay, fluid class switching and some slick graphics make it an interesting new contender in the MMO field.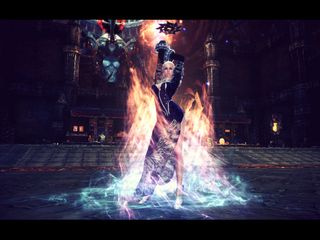 TERA Online
If you can look past the character designers' unapologetic love of female cheesecake, you'll find that TERA or 'The Exiled Realm of Arborea' does something unique: it gets rid of cooldowns for action-oriented combat designed specifically to work with fast keyboard action or an Xbox 360 controller. The result is a game that willfully tests player reflexes rather than mastery of complex systems. Combat is a thrill to play and the character designs are fun to look at, even if it does trade shamelessly on adolescent fantasy.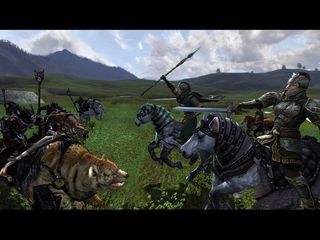 Lord of the Rings Online
Turbine's Lord of the Rings Online allows players to enter the world of JRR Tolkien's Middle Earth. While gameplay isn't particularly groundbreaking, the massive game world and rich lore, complete with cameos by many noteworthy heroes of the saga, make for a satisfying fantasy MMO experience. A generous F2P setup and microtransaction system is married to classic MMORPG gameplay that draws from the rich lore of Tolkien's literary creation.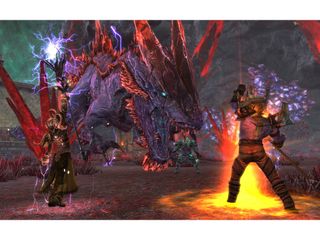 Rift
Enter the world of Telara in Trion's Rift, a fantasy MMO that has players taking on massive planar invasion forces that seek to conquer the world. As Ascended heroes of the Guardian or Defiant factions, players must fight off the servants of the great dragon gods who seek to dominate their world. Gameplay centers on the titular Rifts, which spew forth armies of the dragon gods. Players who participate in putting down the rifts can earn major rewards based on their efforts. Conversely, if rifts are left unopposed, it can have drastic effects on the open world.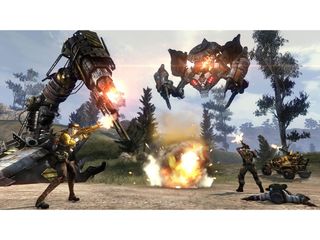 Defiance
Originally a transmedia collaboration between SyFy and Trion Worlds, Defiance was designed to run parallel as both a TV series and MMO science fiction shooter, with humans and aliens fighting over scraps of technology in a post-apocalyptic earth devastated by alien terraforming technologies. The Defiance TV series ran for three seasons before being canceled, but the shooter MMO continues on thanks to its ongoing sci-fi storyline, open world shooter gameplay and a solid player community. There's even a major new expansion, Dark Metamorphosis, that is being billed as Defiance's "season four".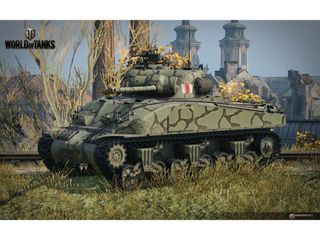 World of Tanks
Wargaming.net's World of Tanks has smashed into the online gaming world with all guns blazing. The game allows players to take part in company-scale armored warfare using a gallery of historical armored vehicles ranging from light tanks and self-propelled guns all the way up to tank destroyers and massive heavy tanks. It's been so successful that it's even launched a pair of spinoffs World of Warplanes and World of Warships. A good mix of grizzly, detailed militarism and well-paced, team-based combat make World of Tanks an excellent game for those looking for a less frenetic gaming experience.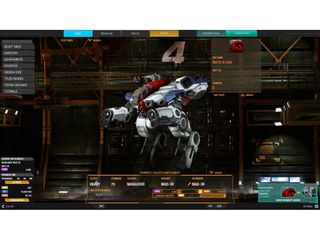 Mechwarrior Online
Mechwarrior Online brings the classic giant robot sim franchise to the modern MMO field, with players taking command of lumbering, 10-meter tall humanoid war machines out of the BattleTech science fiction franchise. A deep unit customization system allows players to tweak their machines to their personal specifications, while intense firefights will keep players coming back for more. While the game has drawn flak for its pricing of new BattleMech releases and development hiccups, the game lumbers on, with a recent revamp of its Faction Warfare gameplay modes allowing players to decide the fate of the BattleTech universe.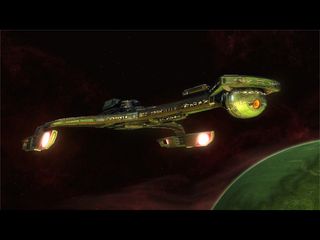 Star Trek Online
Star Trek Online is a Trekkie gamer's dream come true, an MMO where players take command of a starship and boldly go where no man, woman, or sentient organism has ever gone before. A free-to-play MMORPG featuring ground and space combat, starship and crew management, and a constant stream of expansions, Star Trek Online delivers a fun science fiction MMO experience. While Star Trek Online isn't as crazy involved or deeply player driven as EVE Online, it nevertheless delivers a neat Star Trek experience for gamers looking for their Trek fix. Ground combat is meh, but fittingly, the space combat is well done.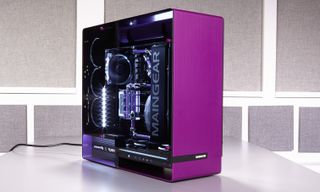 Gaming Hardware
Before you fire up that new MMO, do you have the firepower you need for that PC game? We did our testing to bring you the best gaming desktops out there. Or perhaps you're satisfied with your computer, but you need the right accessories to stay on top. Our tests revealed the best gaming keyboards and the best gaming mice that you should consider now.