The Nvidia GeForce RTX 4070 graphics card is a hotly-anticipated new $599 GPU that's expected to fill out the middle tier of Nvidia's GeForce RTX 4000 series.
Anticipation has been building ever since the Nvidia GeForce RTX 4080 and 4090 were unveiled in September 2022 during Nvidia's annual GTC keynote. While their performance is unprecedented, so are their prices, which range from $899 to $1,599.
Those prices might seem reasonable after the outrageous GPU price-gouging we saw in the wake of the COVID-19 pandemic and ensuing global supply chain shake-ups. But they're still quite expensive, and we're hoping the Nvidia GeForce RTX 4070 and other mid-range 40-series cards deliver similar performance at a much more compelling price.
With that in mind, here's what we know so far about the Nvidia GeForce RTX 4070.
Nvidia GeForce RTX 4070: Price
The Nvidia GeForce RTX 4070 was unveiled for $599 on April 12. That's not cheap, but it's certainly cheaper than its more powerful siblings.
When Nvidia initially unveiled the 4090 and 4080 they actually announced two models of GeForce RTX 4080, a $1,299 16GB model and a cheaper $899 12GB model.
Nvidia GeForce RTX 4070: Release date
The GeForce RTX 4070 went on sale April 13 for a starting price of $599. Nvidia is selling a Founder's Edition version itself through its website, and you can also expect to see third-party manufacturers like Asus, Gigabyte and PNY producing their own RTX 4070 cards.
The rest of the 40-series debuted a little late in 2022, with Nvidia putting the $1,599 4090 on sale in October 2022 and the $1,299 4080 16GB debuted in November 2022.
Nvidia GeForce RTX 4070: DLSS 3 support
One of the most exciting new features of the Nvidia 4000 series is DLSS 3, the latest version of Nvidia's DLSS (Deep Learning Super Sampling) graphics upscaling technology. It's only supported on Nvidia 40-series cards, which makes it a key selling point of the GeForce RTX 4070.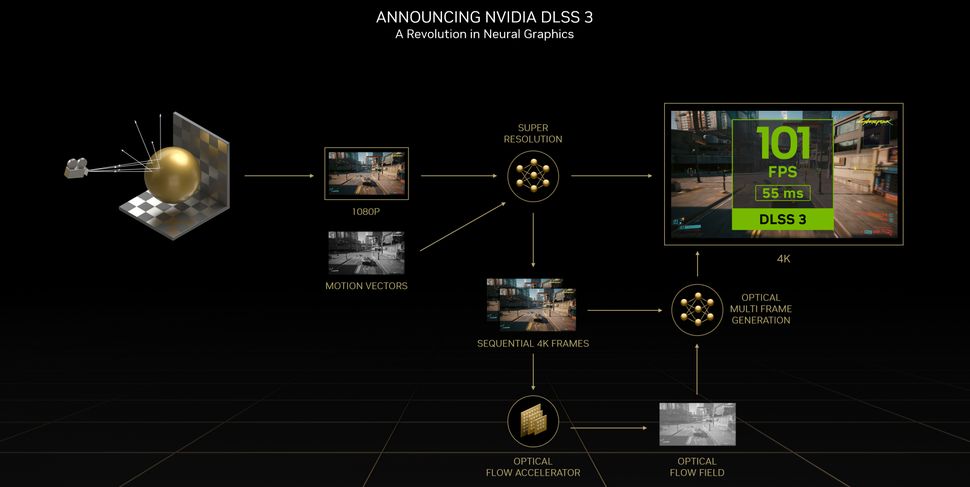 DLSS is a big deal because it uses machine learning to try and intelligently "upscale" graphics that are rendered at artificially lowered resolutions, affording you the speedy performance of gaming at a lower resolution without a big drop in graphical performance.
Nvidia pitches DLSS 3 as being leaps and bounds more effective than DLSS 2, and to use DLSS 3 you need the fourth-generation Tensor cores and new Optical Flow Accelerator tech built into Nvidia 40-series cards like the GeForce RTX 4090, 480 and (hopefully!) the 4070. The company also claims that for the first time ever, it's possible to use AI to fill in whole frames of gameplay, rather than individual pixels, with DLSS 3.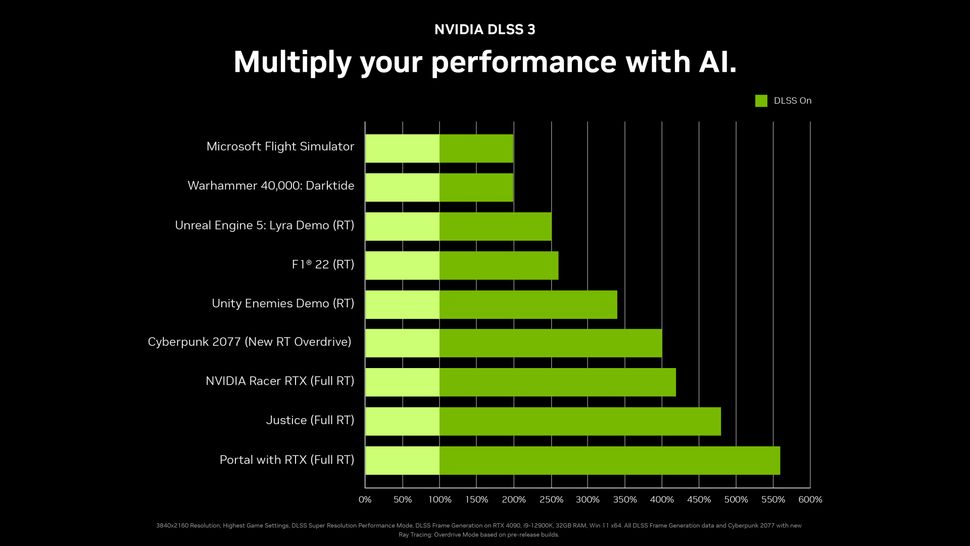 This new feature is branded Optical Multi Frame Generation, and it appears to work by using the Optical Flow Accelerator to analyze sequential frames of gameplay and interpolate new frames based on work done by a convolutional neural network. When firing on all cylinders, Nvidia claims DLSS 3 can improve game framerates by up to 4x what they are without DLSS.
Of course, we'll have to wait and see how the GeForce RTX 4070 performs while running DLSS 3 to know how much of a difference these buzzwords really make in moment-to-moment gameplay.
Nvidia GeForce RTX 4070 outlook
The Nvidia GeForce RTX 4070 is exciting because it could potentially be the sweet spot between price and performance in Nvidia's 40-series lineup, delivering more power than most GPUs on the market at a price that's a little more reasonable than the $1,299 you'll pay for a 4080.
If mid-range 40-series card like the $599 4070 can deliver a more compelling blend of price and performance than their beefier siblings, they'll cement Nvidia's success in 2023. If not, rivals like AMD and now Intel have a chance to take some market share away from Nvidia in the year ahead.