Apple Event highlights: Bold new iMac, iPad Pro M1, AirTag and all the biggest news
Apple just dropped a ton of new products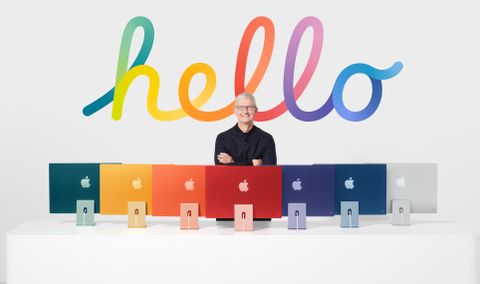 (Image: © Apple)
The Apple Spring Loaded event has come and gone, but in its wake there's a lot of new Apple products, including an iPad Pro 2021 with a mini-LED display and M1 chip.
In addition, Apple has finally unveiled the AirTag product trackers for $39, and the new iMac 2021 is coming with a powerful M1 chip and a very sleek new design available in multiple colors. Plus, there's a new Apple TV 2021 with a powerful A12 chip and new Siri remote.
Here's everything that Apple announced at the Apple event. And be sure to check out all of our guides to the new product.
Apple event new products: What was announced
New iMac 2021: Packing a powerful M1 chip in a stunningly slim design with 7 color options. 1080p webcam and improved mics and speakers. Plus, there's a Touch ID button in the keyboard for fast logins.
iPad Pro 2021: New M1 chip and mini-LED display for 12.9-inch model, plus a new White Magic Keyboard option. However the 12.9-inch iPad Pro is now $100 more.
AirTags: New product trackers with UWB technology to find your lost stuff. The Precision Finding feature supports iPhone 11 and iPhone12. It's $29 for one at $99 for a four-pack.
New Apple TV 4K: The new Apple TV 4K has A12 Bionic power and a redesigned Siri remote that looks much easier to use. Expect HDR content with fast frame rates along with better gameplay.
iPhone 12 in purple: New color. Available with iPhone 12 and iPhone 12 mini. Stay tuned for hands-on impressions.
Apple Podcast subscriptions: New premium content coming to redesigned Podcasts app.
Apple Card: Now there's family controls and you can share your card with spouses.
Apple did not announce some products that had been rumored, including the AirPods 3, an entry-level iPad or the iPad mini 6. See the full recap below of the Apple event.
Refresh
A last-minute leak says that the 12.9-inch iPad Pro will be a bit thicker than the previous model, which is fueling speculation that this high-end tablet will sport a mini-LED display. This panel is supposed to deliver a wider range of colors, a brighter picture and better contrast than LCD while being less pricey than OLED.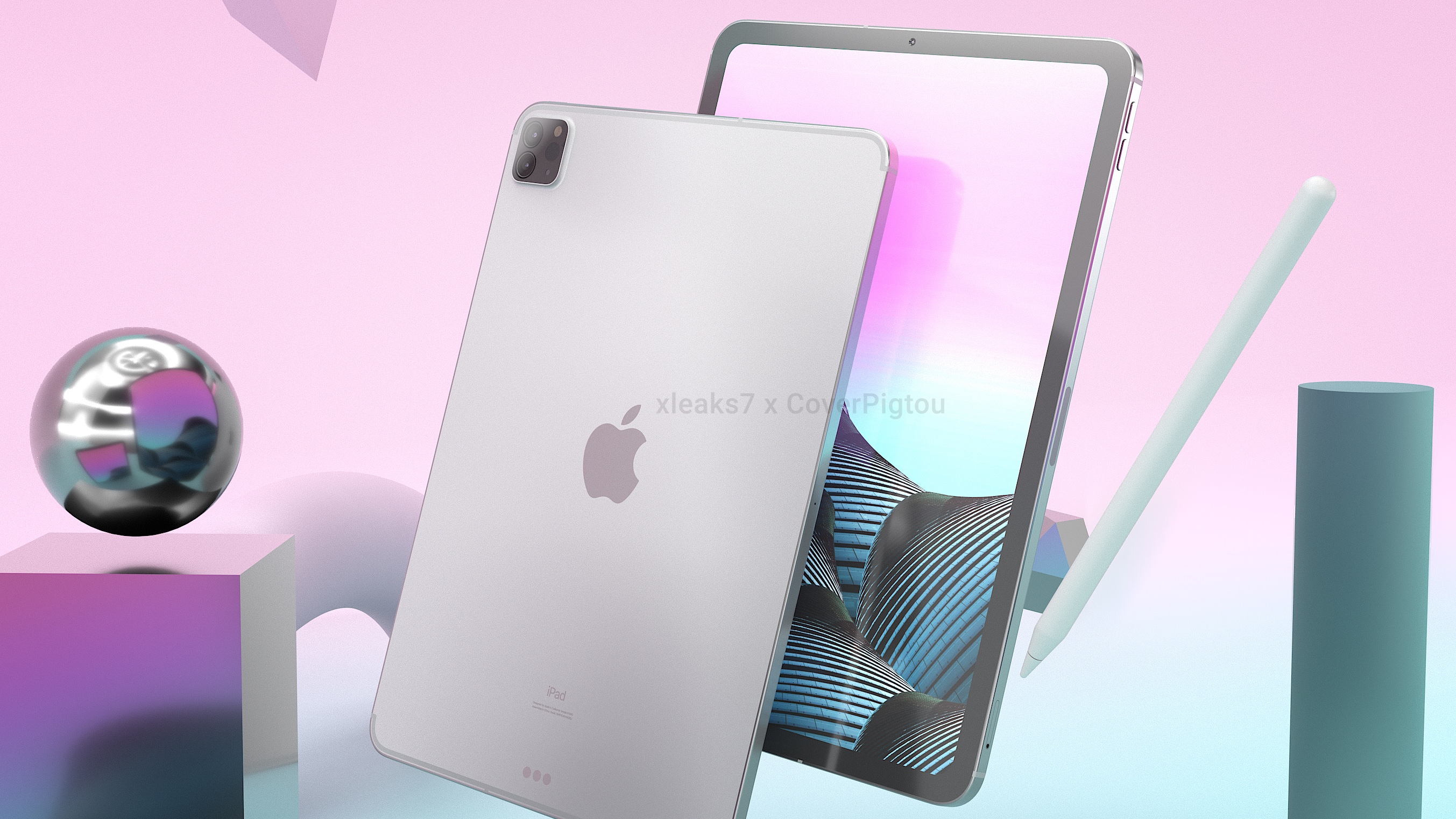 These are not official images, but a new iMac 2021 concept has brought to life all the rumors that we've seen. The still images and the source video come from ConceptsiPhone and Khahn Design.
You'll notice much thinner bezels all the way around, similar to the Pro Display XDR from Apple. The color options including Space Gray, Silver, Rose Gold, Green and Sky Blue. The new iMac should be powered by an Apple Silicon M1 chip or even more powerful M1X.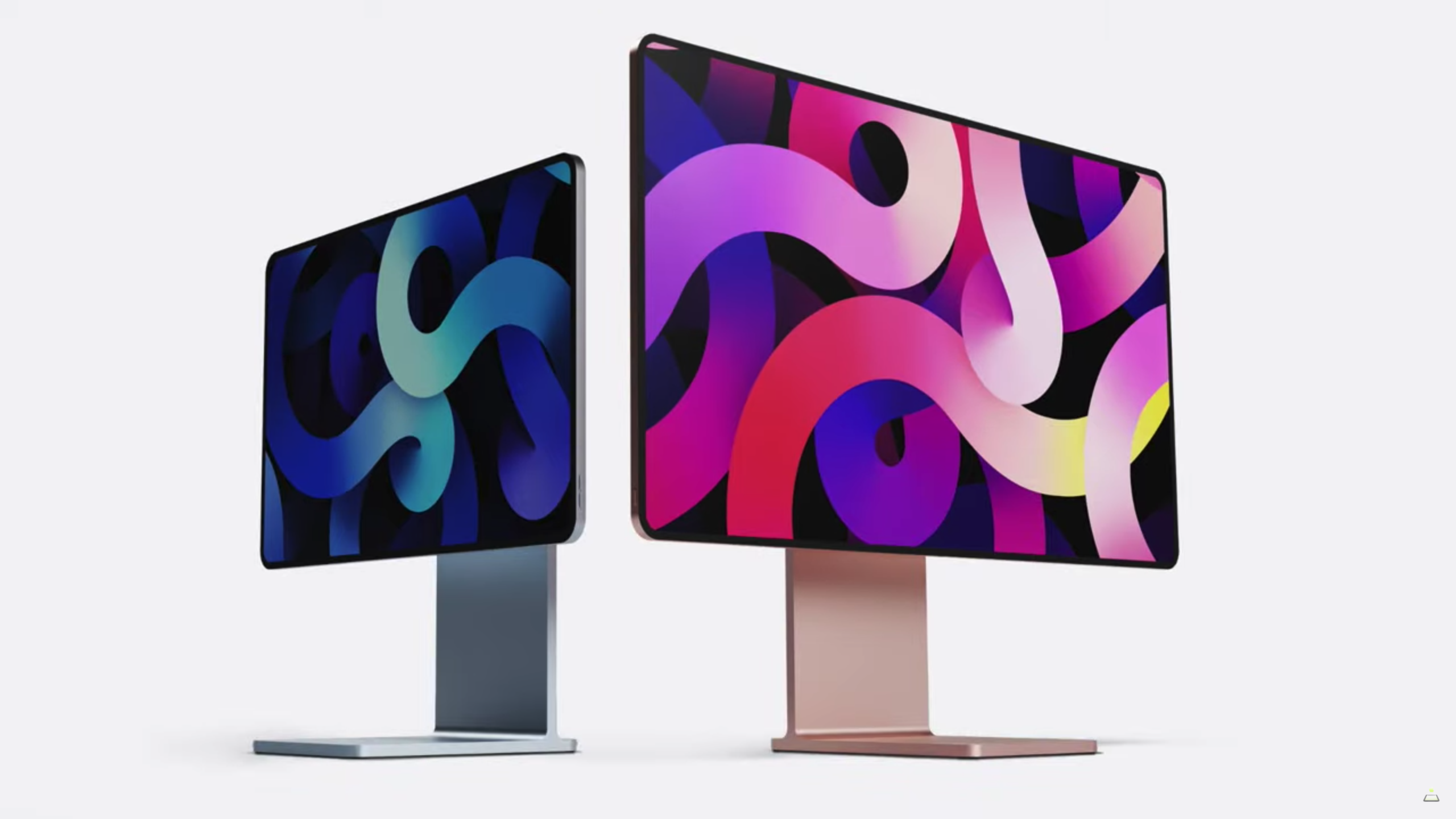 While it's not a shiny new piece of hardware, we expect to hear more today about iOS 14.5 and its release date, as its been in beta for a while. The biggest new feature is App Tracking Transparency, which will enable users to opt out of tracking in various apps.
But there's also a lot of iOS 14.5 changes coming to Apple's own apps. For example, the Podcast app is getting a redesign and the Reminders app is getting a More button that enables easier sorting. Plus, searching in the News app is about to get better.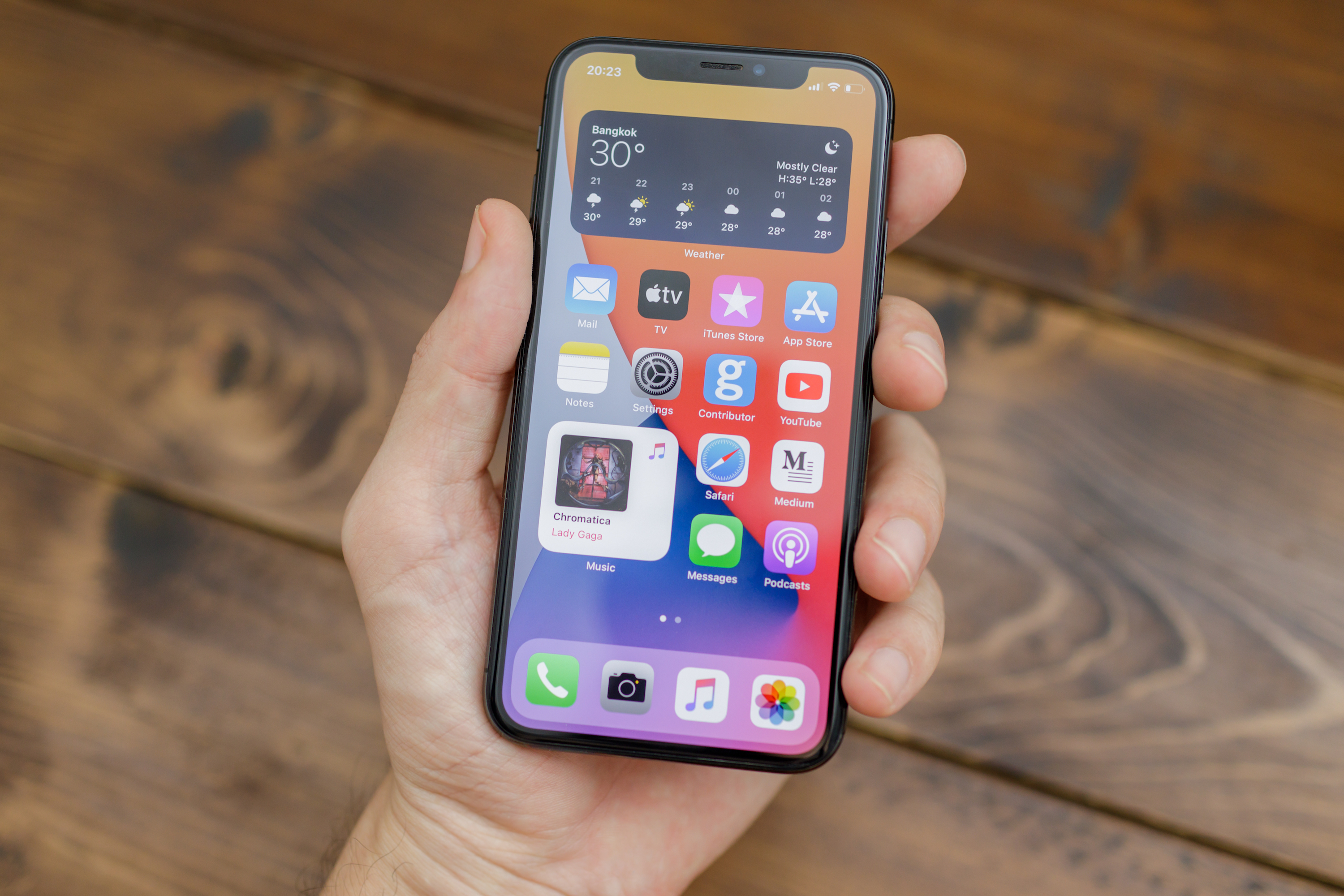 Right on cue, the Apple Store is down. The store page says "Be right back. We're making updates to the Apple Store. Check back soon."
We anticipate that the Apple Store will be down until right after the Apple event ends.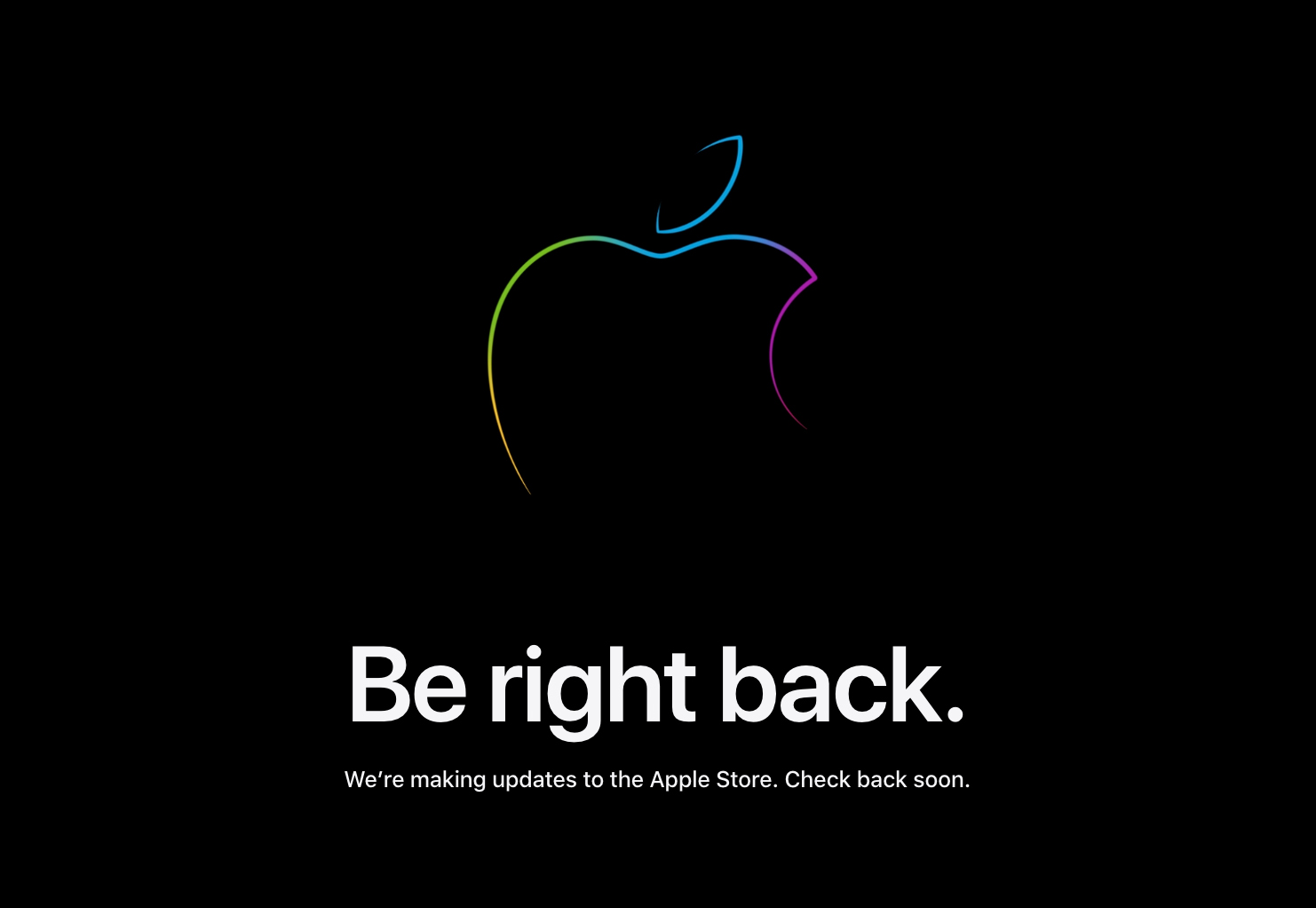 A report from Wedbush analysts (via 9to5Mac) predicts that we're going to see mutliple iPads at today's Apple event. This includes a new entry-level iPad, an iPad mini and the two iPad Pro models at 11 inches and 12.9 inches.
The iPad Pro will get the most attention, thanks to its new mini-LED display and fast A14X chip. Unfortunately, the prices for the Pro will get "modest" price increases.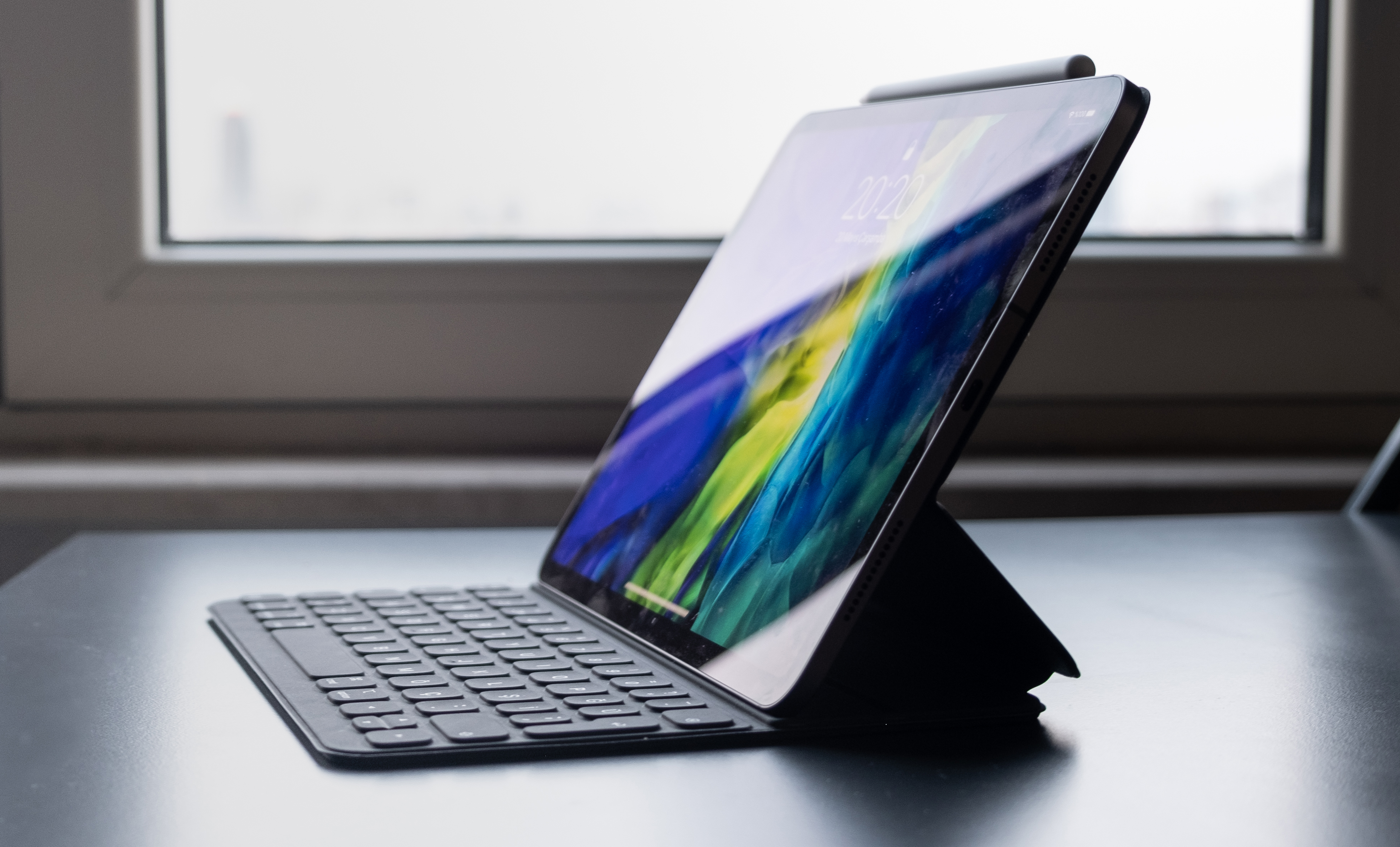 The iPad Pro 2021 could be coming with a welcome upgrade. MacRumors reports that the Apple will be adding Thunderbolt connectivity to its premium tablet, making transfer speeds up to four times faster. The current iPad Pro makes due with just USB-C.
This could open the door to making the iPad Pro 2021 compatible with a wider array of peripherals and accessories.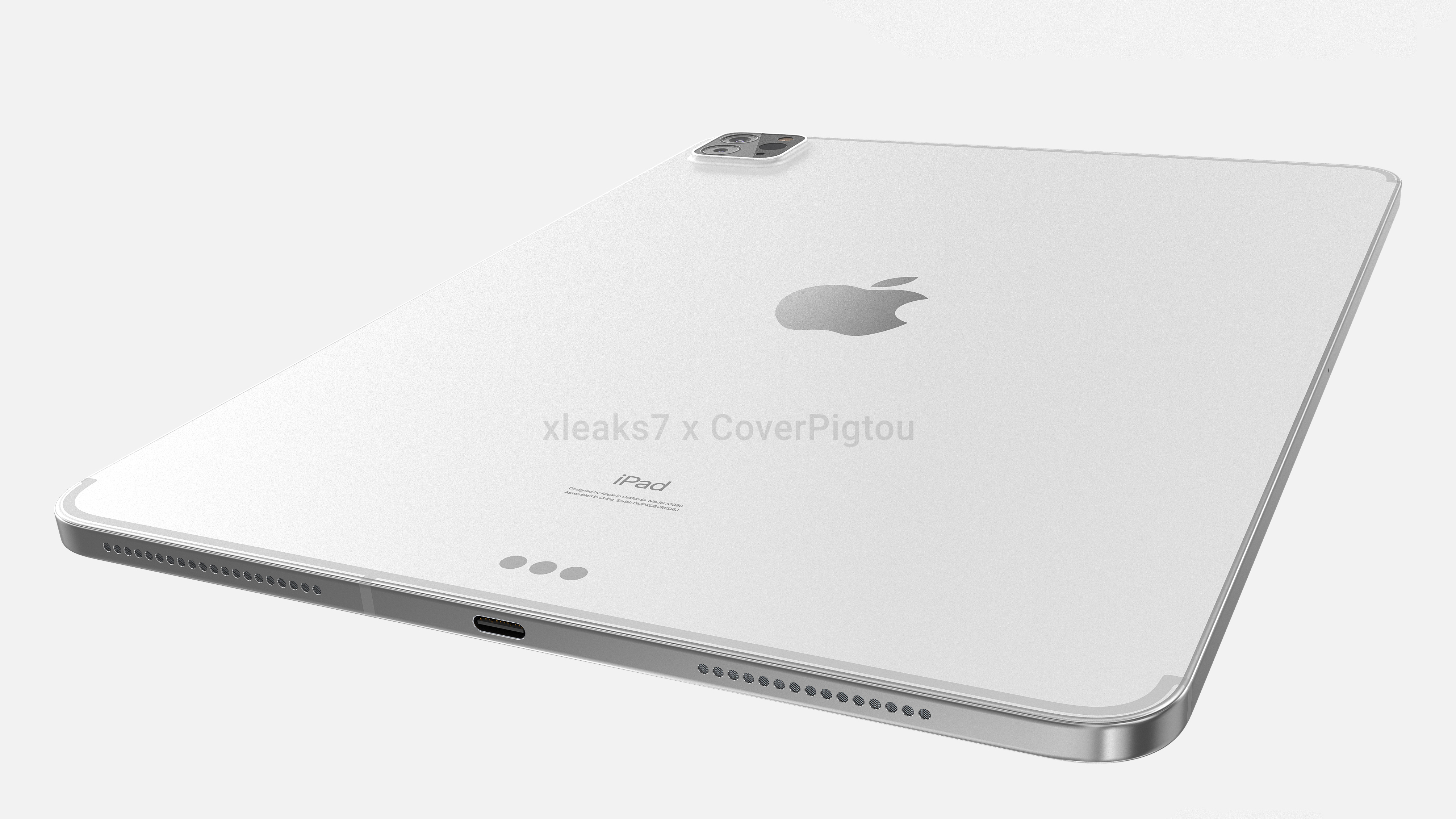 It looks like AirTags could be a lock for today, as a last-minute leak has revealed new AirTags accessories. The straps come in multiple colors and are designed to protect the AirTags; you just slip the product tracker into the circle at the bottom of the strap.
AirTags are said to be product finders that use ultra wideband (UWB) technology to help you track down lost items. You may be able to find your keys or other things via an augmented reality app.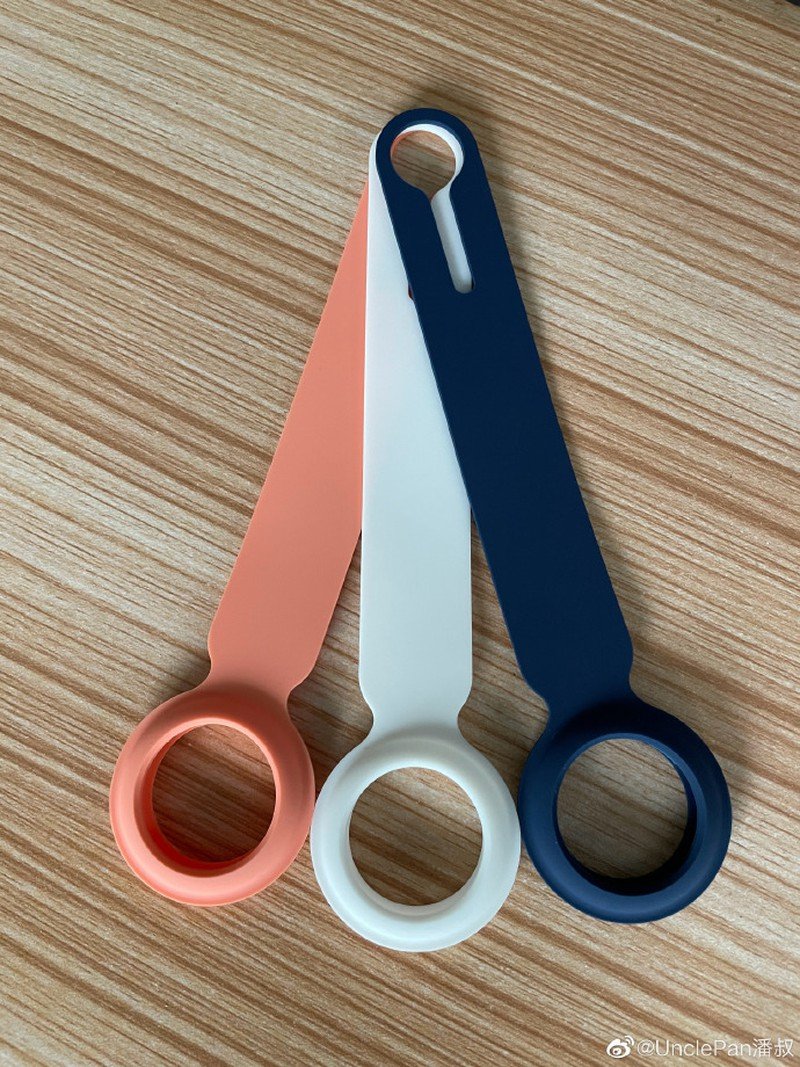 Apple CEO Tim Cook has tweeted about today's Apple event, complete with a rainbow. Perhaps this hints at a wide range of colors coming to the new iMac and other products?
It's a beautiful spring morning for an #AppleEvent! See you soon. pic.twitter.com/gdiN0QXbz5April 20, 2021
The Apple event today could easily run for 2 hours as Apple is expected to introduce a wide range of products. In fact, Marques Brownlee has tweeted that today "might be the busiest 4/20 in history."
Apple will reportedly launch a new premium podcast offering at today's Apple Event. This is according to Recode's Peter Kafka. We've already know that iOS 14.5 is bringing changes to the Apple's Podcast app, so this move makes sense as the company pushes further into premium services.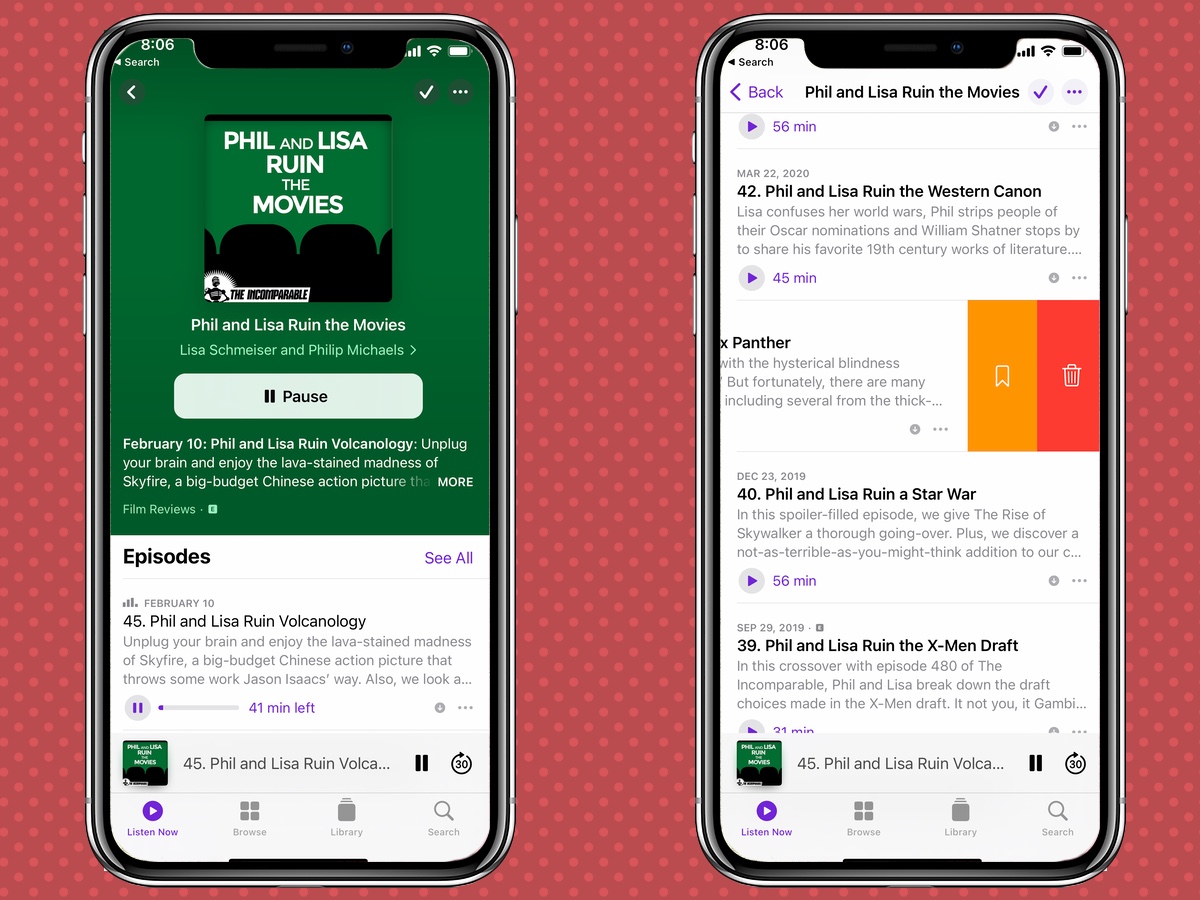 There's no way Apple will announce all of these products, but this is a fun view of what could be unveiled from @DylanMcD8.
Our money is on the new iPad Pro, iPad mini, entry-level iPad, colorful new iMac and new Apple Pencil. We're not sure about a new Apple TV and less sure about AirPods 3 and Apple Silicon MacBook.
It's time for #AppleEvent Bingo! Looking forward to this one, I think we could finally score our first "bingo."Retweets appreciated! Please don't copy/redistribute without credit. pic.twitter.com/Lkdvf1elZnApril 20, 2021
Apple's live stream page is playing mesmerizing background music while displaying animation of colorful ink being drawn. Yup, expect a new Apple Pencil with the iPad Pro 2021...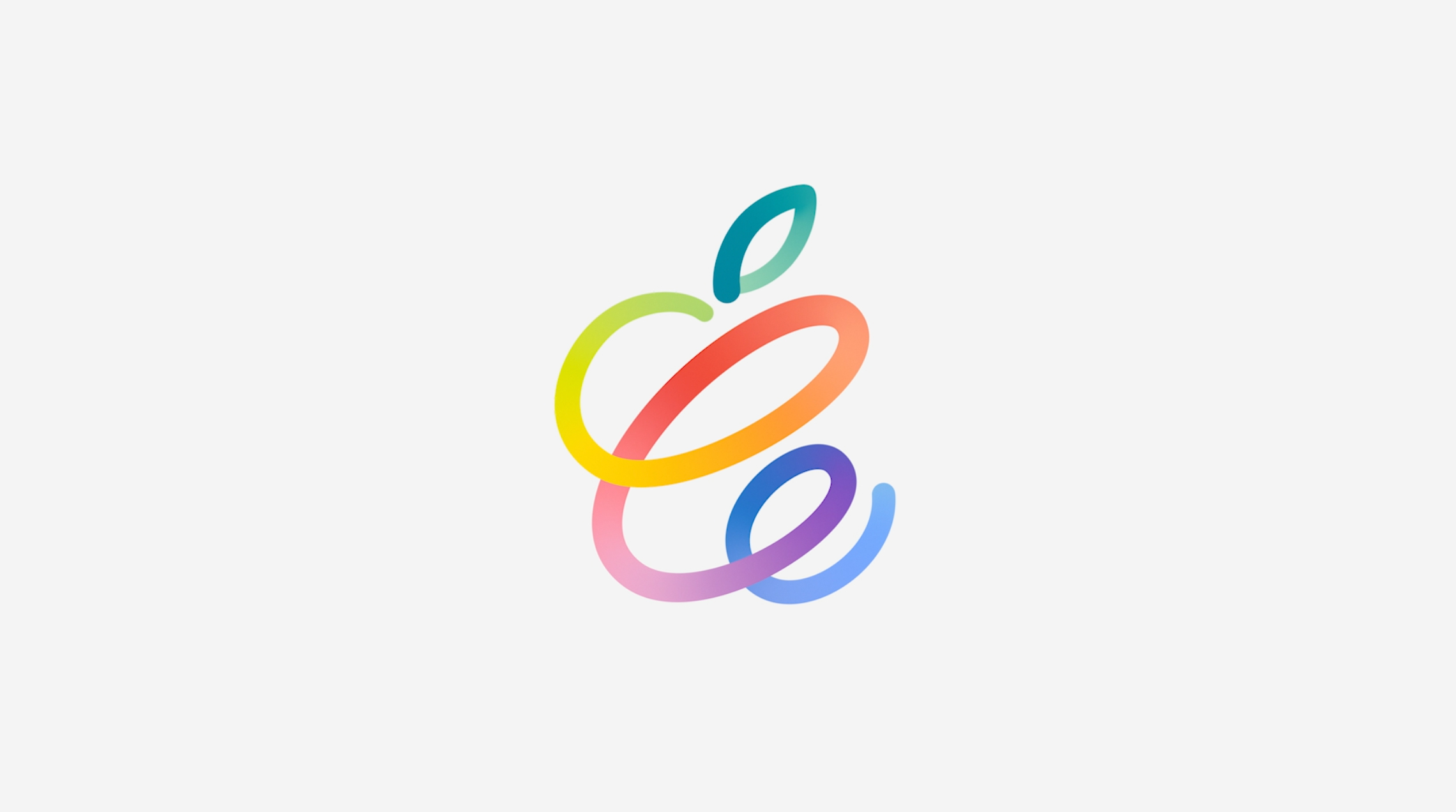 Here we go! The Apple event has begun, and it starts with a colorful rainbow and rays of digital ink zipping around the Apple campus.
CEO Tim Cook is bragging about Apple's carbon neutral stance. The company's goal is to remove 1 million tons of carbon every year.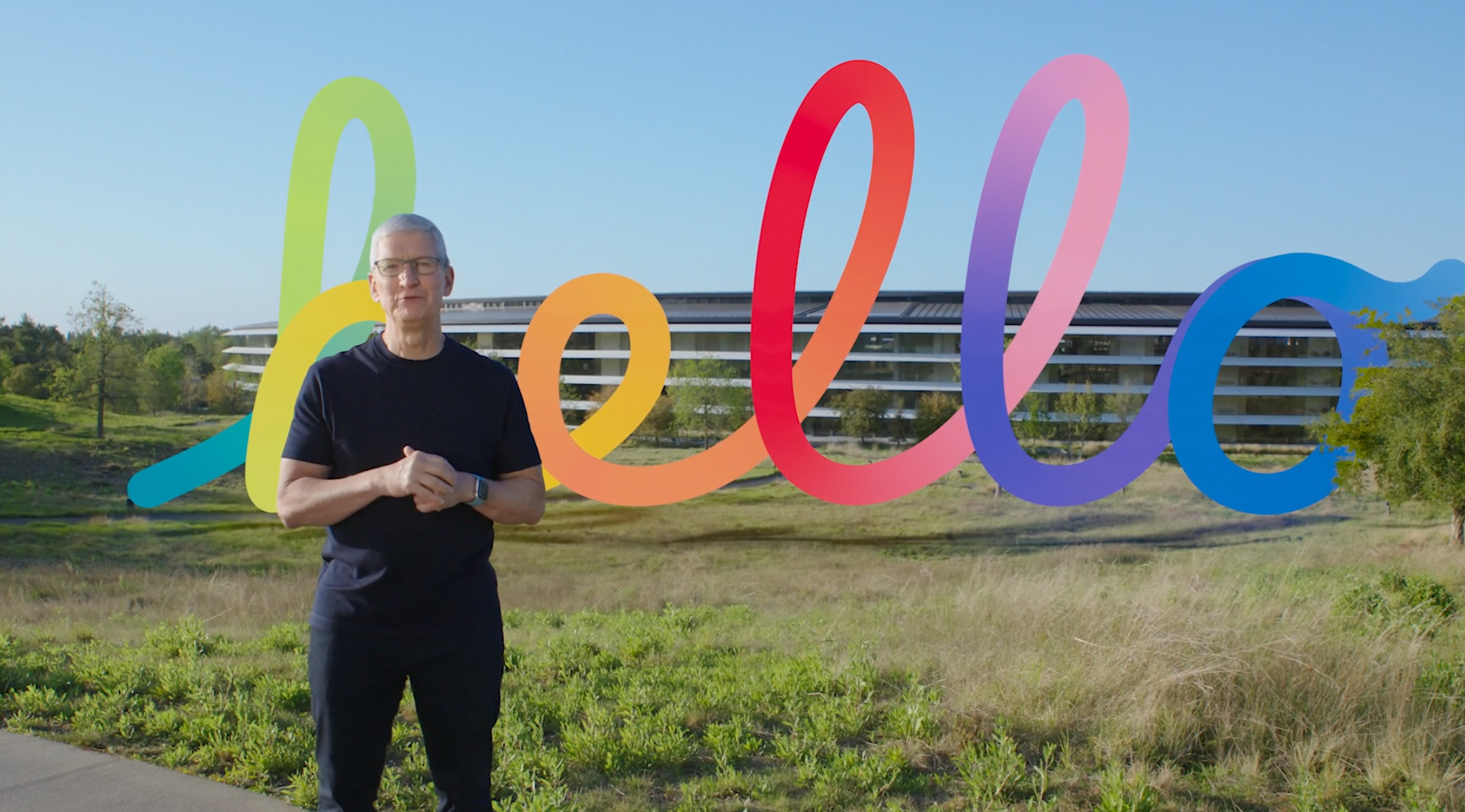 Apple is starting with updates around services. The Apple Card is up first. Apple Card can now be used by anyone in your family over 13. The set of features is called Apple Card family.
Apple Podcasts is getting a big upgrade. There's a newly designed app that's more immersive. There's also new channels for finding podcasts, and there's not podcast subscriptions for more premium content.
Apple Podcasts subscriptions launches next month.
There's a surprise new color for the iPhone 12. You can now get the handset in purple for both the iPhone 12 and iPhone 12 mini, and it joins the lineup Friday. It goes on sale April 30.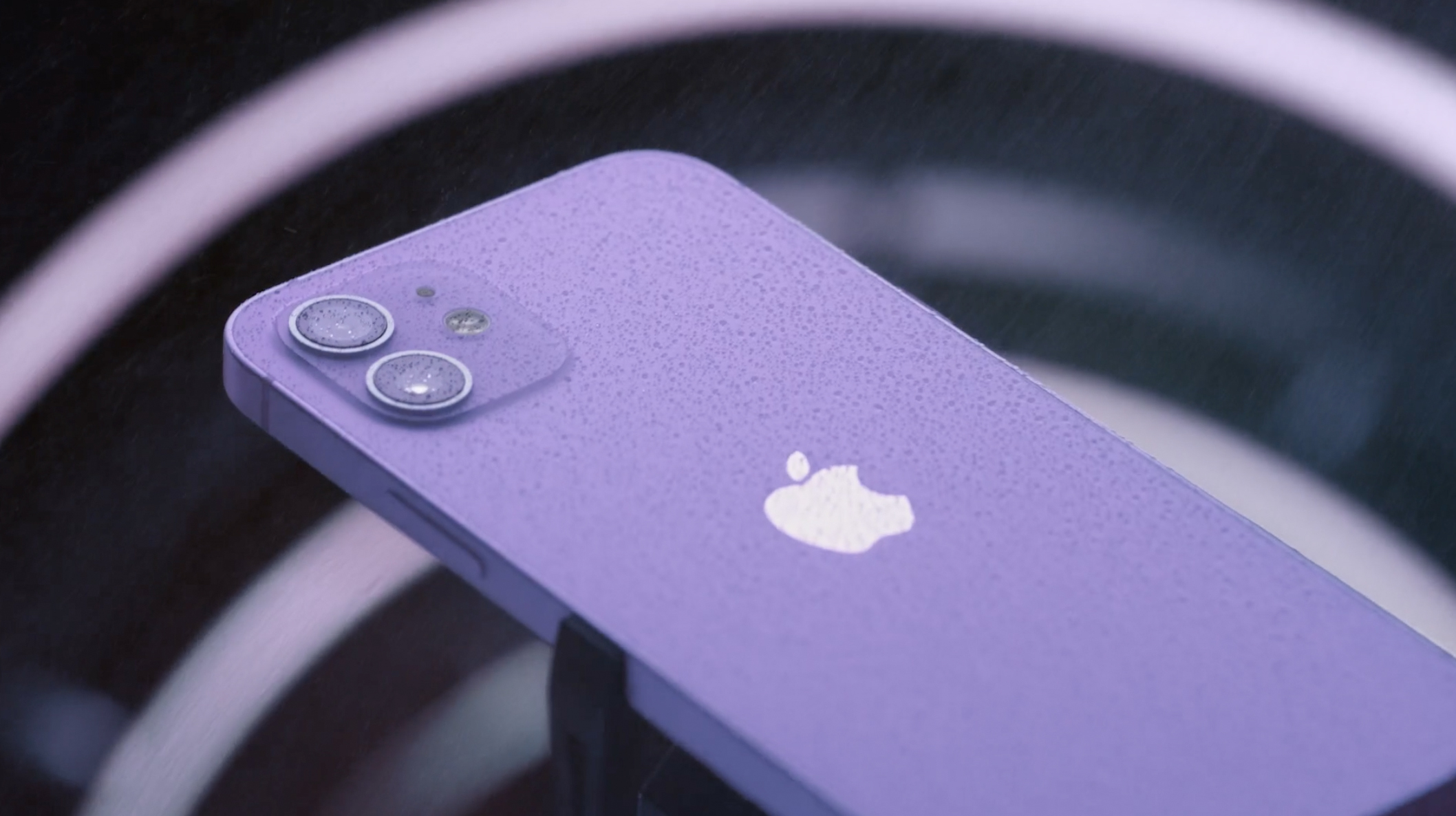 Apple is making a big change to its Find My service with the launch of AirTag. The device can be personalized with engraving, and you can keep track of things using Prevision Finding.
Leveraging UWB, you'll get directions to your lost item right on your iPhone's display. But note that your iPhone will also need UWB connectivity. The device is $29, and a four-pack is $99. Orders start this Friday and they go on sale April 30.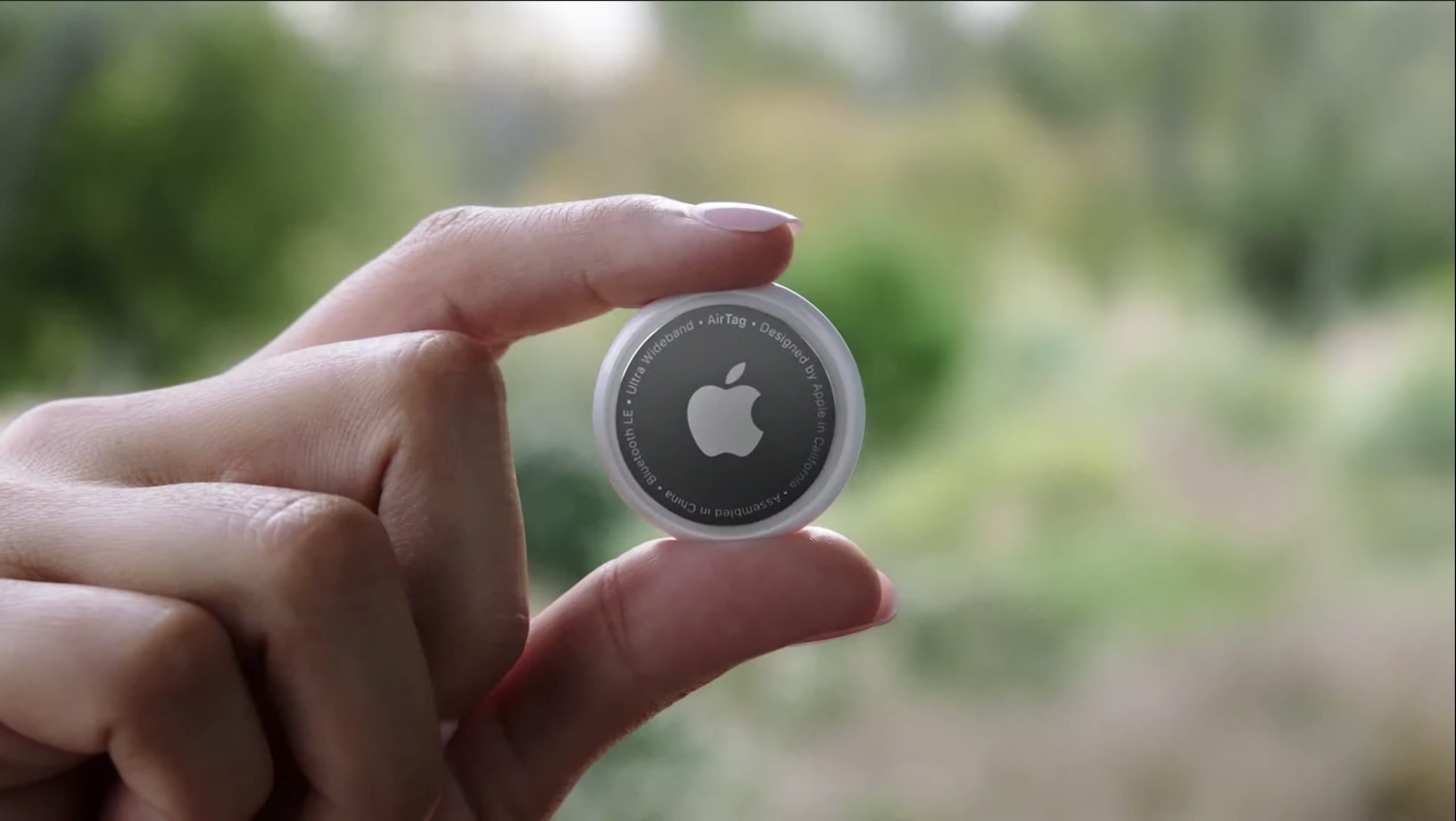 Tim Cook is now turning to Apple TV and playing up the new season of Ted Lasso. It is both cringe and charming at the same time as expected. It's coming back this July. And there's some things new with Apple TV 4K...
We're now on Apple TV 4K. There's a new generation with the A12 Bionic processor, which should deliver better performance. This means you can play HDR content in high frame rates, which is especially good for sports.
Those with the iPhone 12 Pro will appreciate that you can play back the movies you shoot in high-frame HDR on the big screen. There's also a new color balance feature that works with the light sensor in your iPhone; the Apple TV will then tailor the content with your TV's settings. We can't wait to try this out.
And, yes, there's a new Siri remote! There's a new clickpad with five-way navigation, and the outer ring serves as a control for quickly scrubbing. The Siri button has been moved to the side. The whole remote is made of recycled aluminum.
The new Apple TV will be available April 30 and available in second half of May. It starts at $179 for 32GB.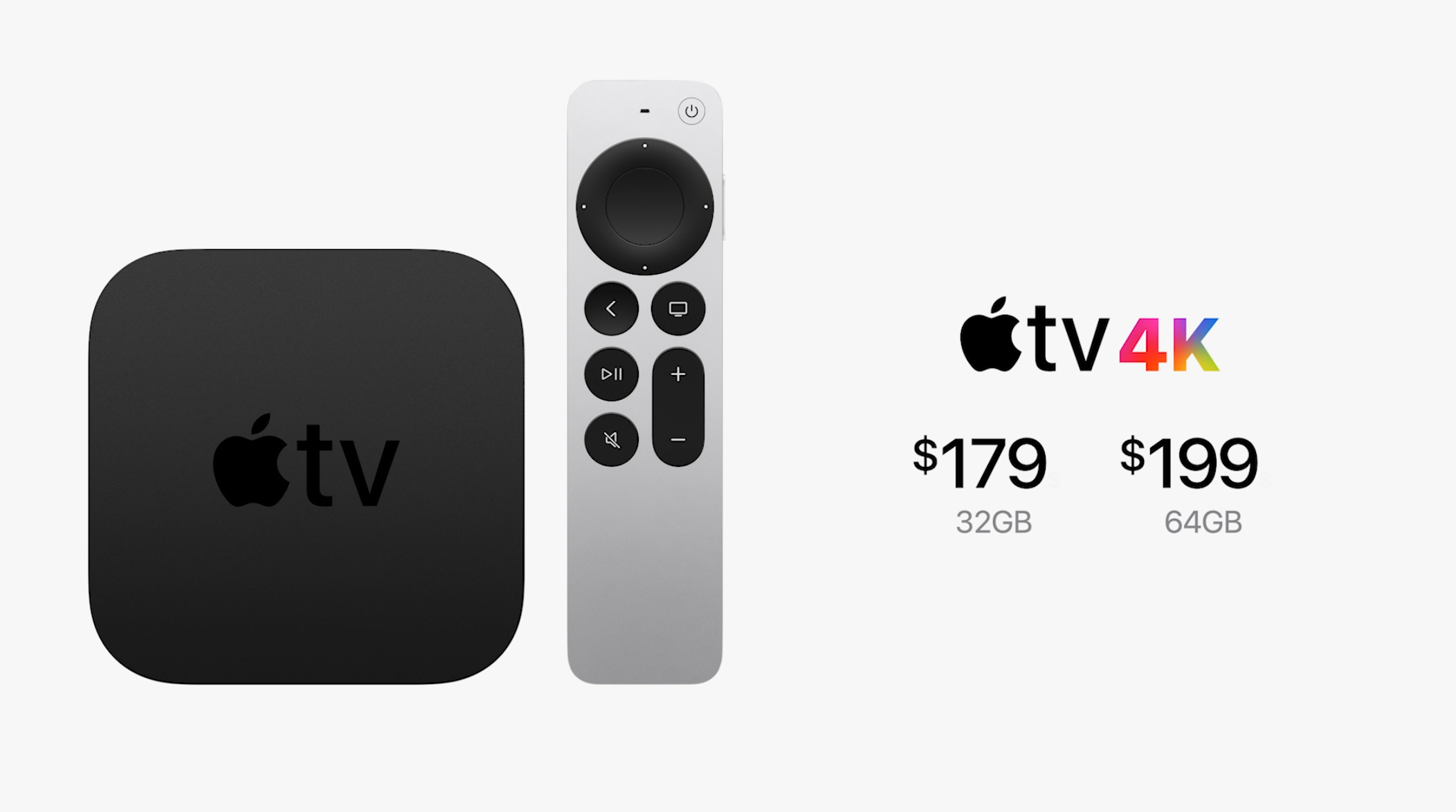 Apple is introducing a new Mac that's been rebuilt from the ground up to take advantage of its new Apple Silicon. And that's the new iMac 2021. The design is stunning with narrow borders around the display and a wide range of colors.
The thin profile is very, very thin. There are 7 colors available. A single sheet of glass covers the entire surface. The design is just 11.5 mm thin.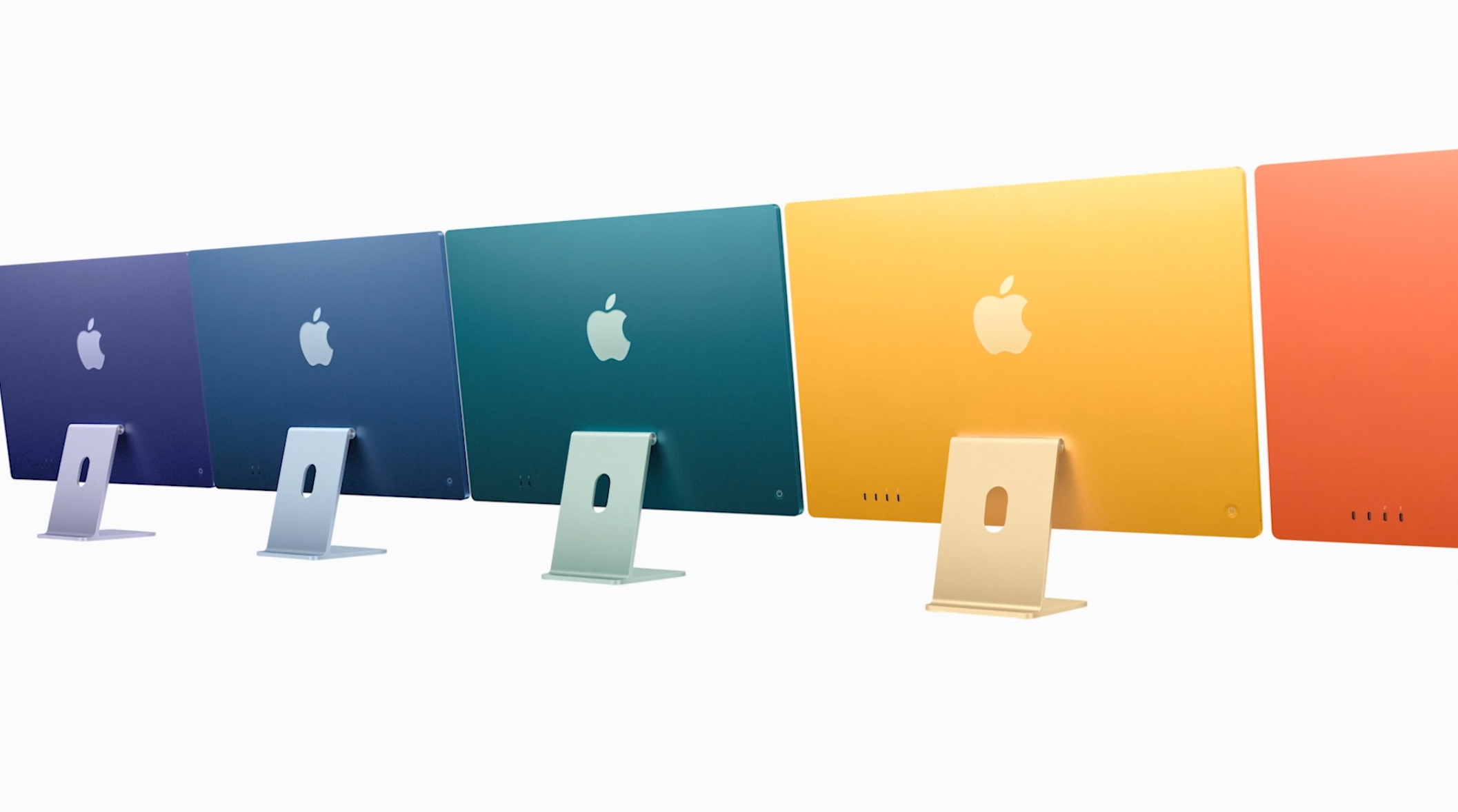 The display is 24 inches, with a 4.5K Retina display with 500 nits of brightness and True Tone technology for a more natural viewing experience.
The camera, mics and speakers are getting an upgrade as well on the iMac 2021. You get a 1080p FaceTime camera that's designed to perform well in low light. Apple's M1 chip helps with highlight details, and Apple says that it's the best camera ever in a Mac.
Apple says that the new iMac 2021 offers the best mics ever in a Mac, and the new speakers offer more power. The six-speaker system is designed to deliver better accuracy along with spatial audio support.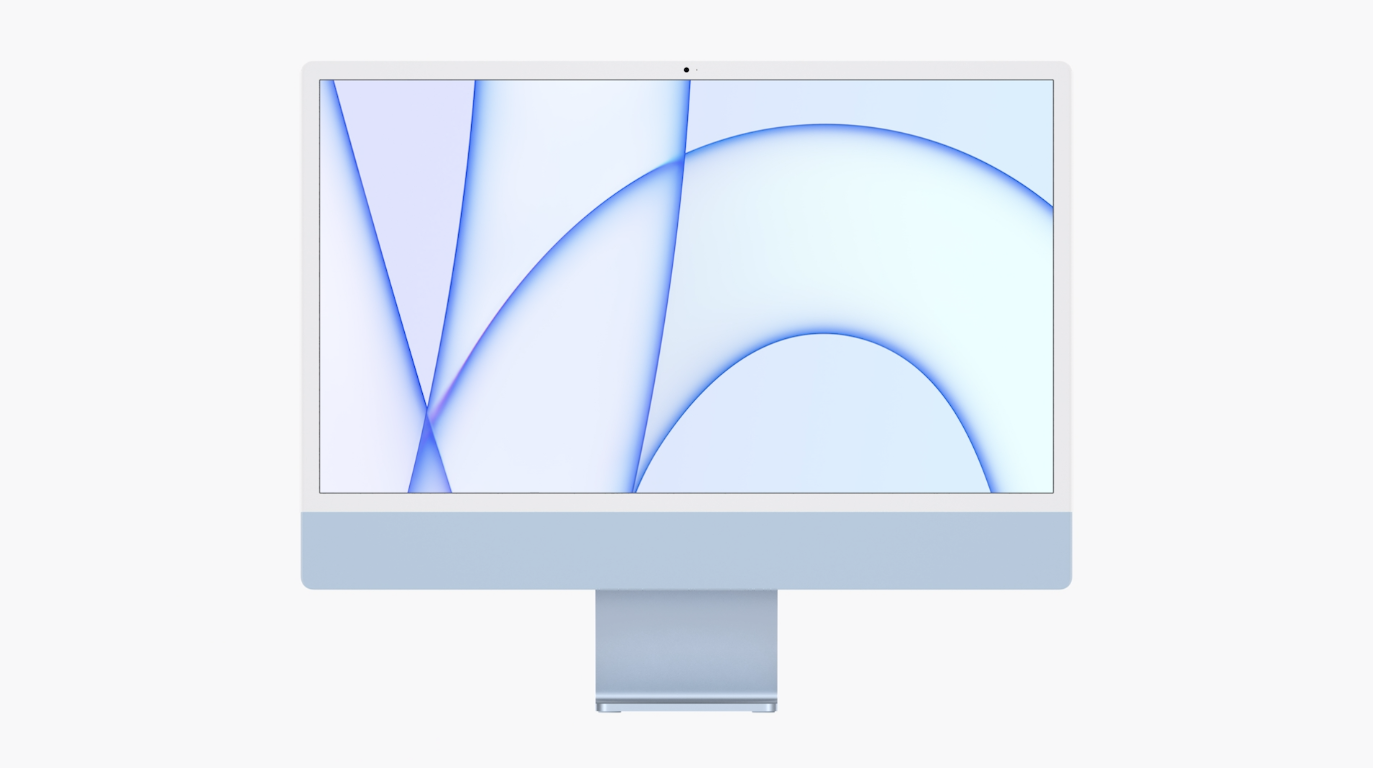 So how about the performance of the new iMac 2021? Apple says the computer launches instantly, and apps are fast and fluid thanks to the M1 chip. You can also expect great pefrormance in games like Warp Drive even while you're on a video call.
The new IMac is up to 85% faster versus the previous iMac 21-inch. And you can expect up to 2x faster graphics. This means you can render edits photos much faster and edit up to five streams of 4K footage without dropping a frame.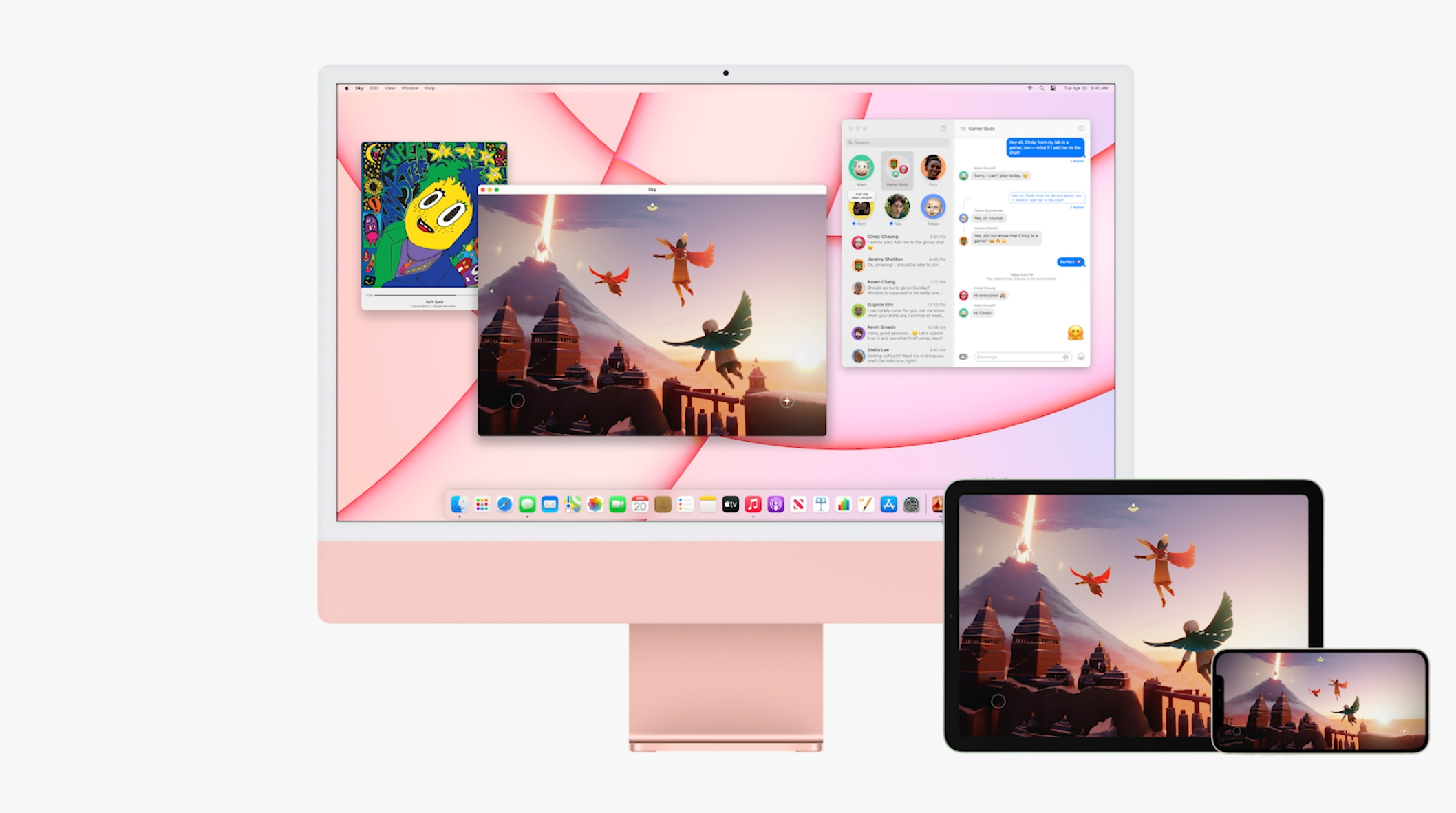 In terms of ports, there's four USB-C ports and two Thunderbolt ports, and there's a new power connector whose brick houses an Ethernet port.
The new iMac 2021 doesn't have Face ID built in, but the new Apple keyboard includes a new Touch ID button that should make logging in easier.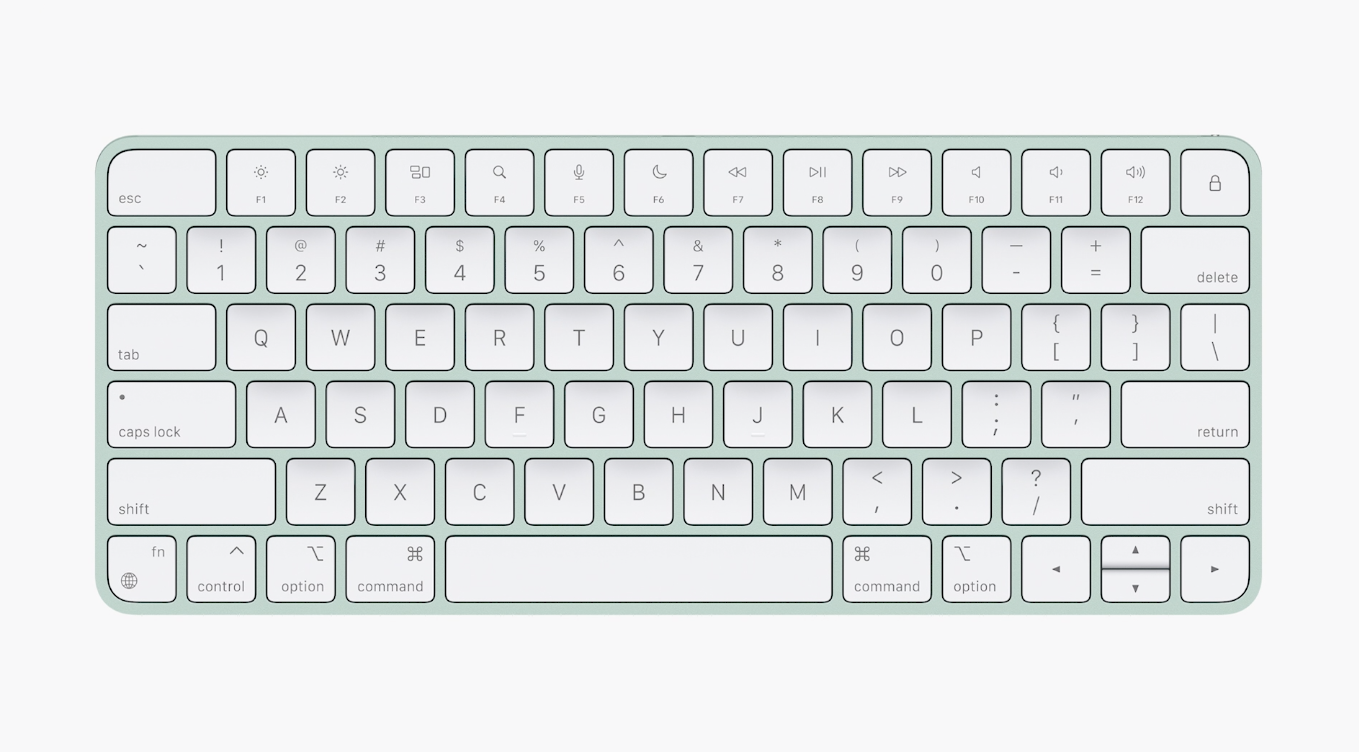 The new iMac 2021 starts at $1,299 and goes up to $1,499. The new all-in-one computer is available for pre-order April 30 and goes on sale during the second half of May.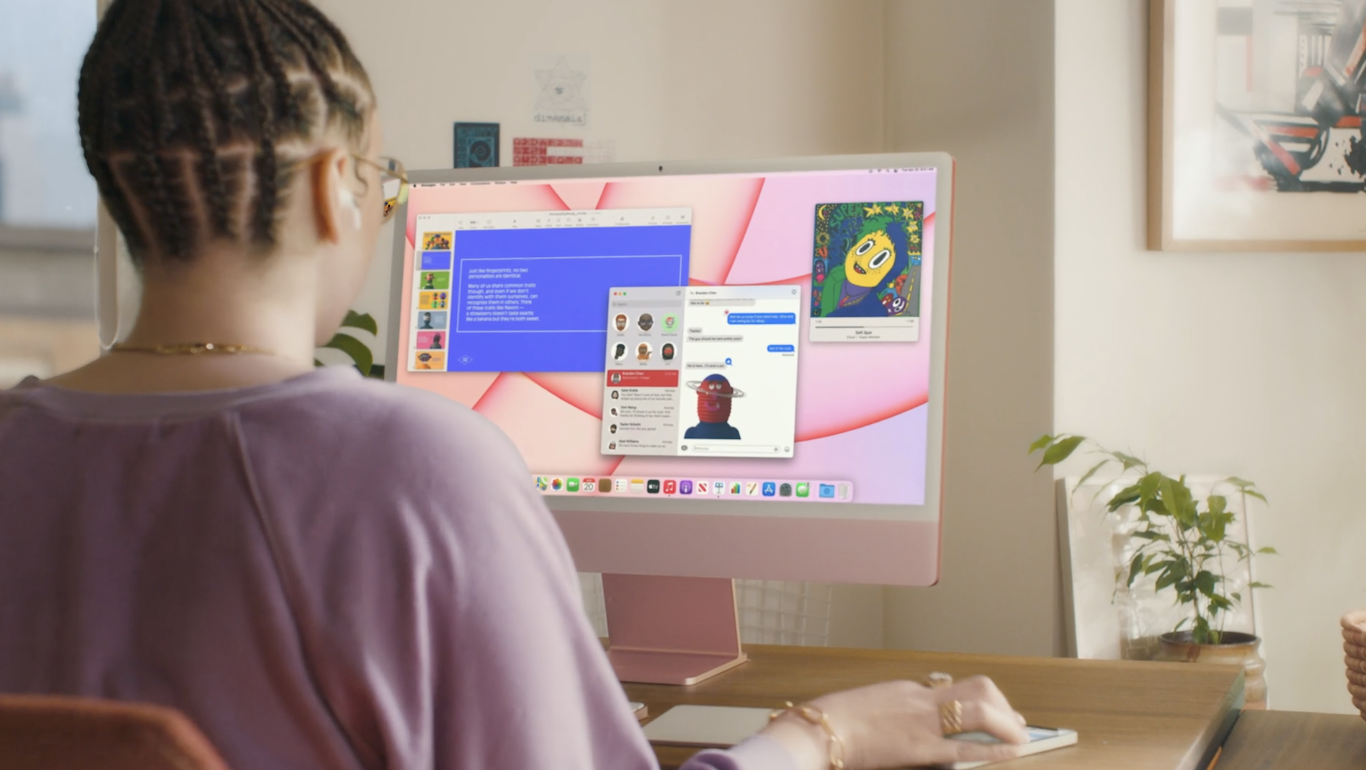 The rumors were true. The M1 chip is coming to the iPad Pro 2021. Apple says to expect next-level performance with an 8-core CPU, complete with 50% faster CPU performance.
There's also an 8-core GPU with up to 40% faster graphics performance. This allows you to paint in watercolors, work with intricate AR models and play console-quality games at the highest frame rates.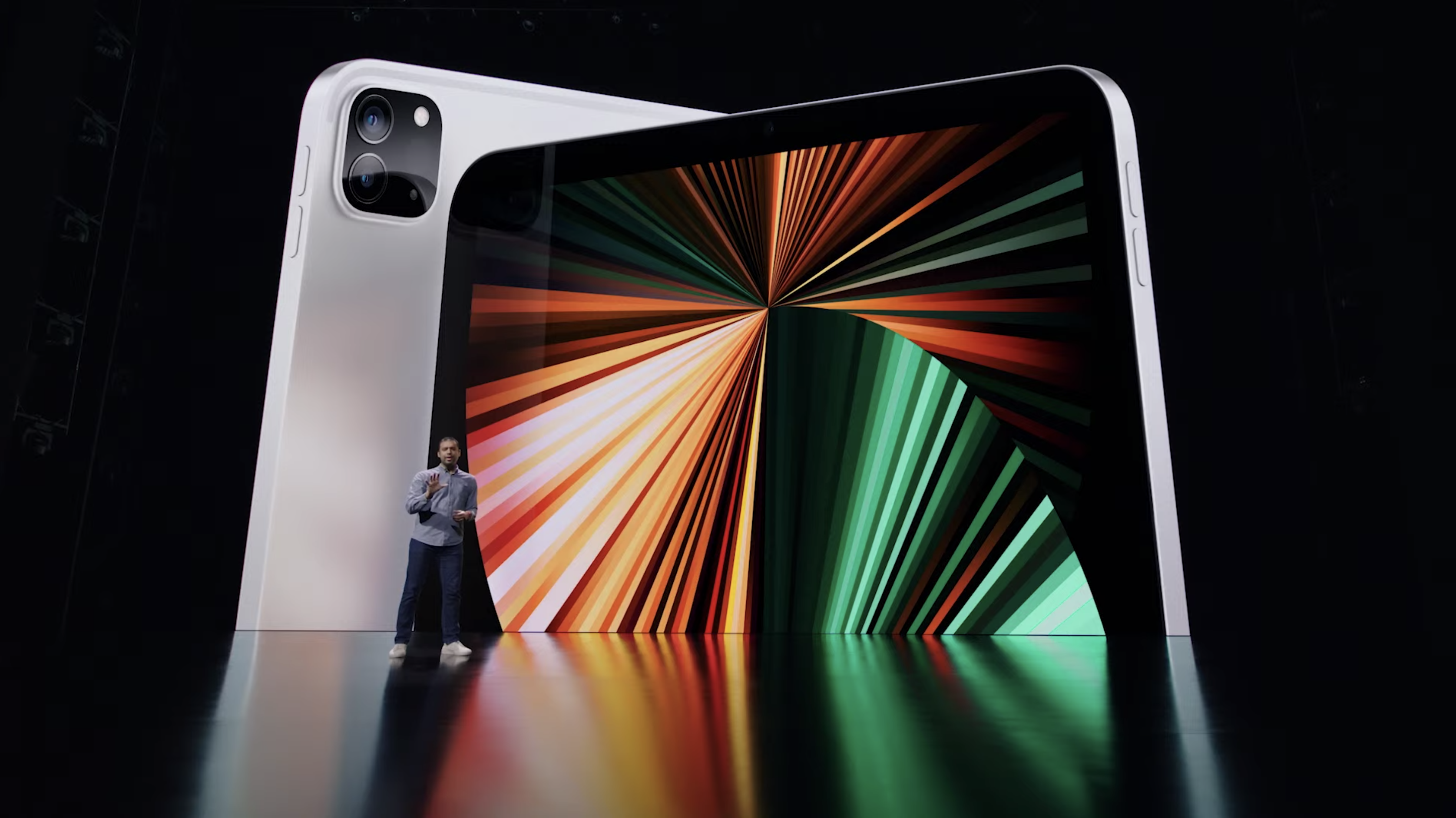 You can even play games with the new PS5 controller.
The storage in the iPad Pro 2021 is up to 2x faster, and there's a new 2TB storage option. That's a lot for a tablet.
Apple is adding Thunderbolt and USB 4 support, which means 4x more bandwidth and also support for Apple Pro XDR display support. In other words, the iPad Pro is more like a PC.
The new iPad Pro also has built-in 5G connectivity, which means you should be able to get high download speeds on the go.
The new iPad Pro 2021 offers a TrueDepth camera up front for unlocking the device and taking portrait selfies. There's also an ultra-wide camera up front for a new feature called Center Stage. This keeps you in the frame as you move around. And if someone else enters the frame, the iPad Pro 2021 will pan out automatically.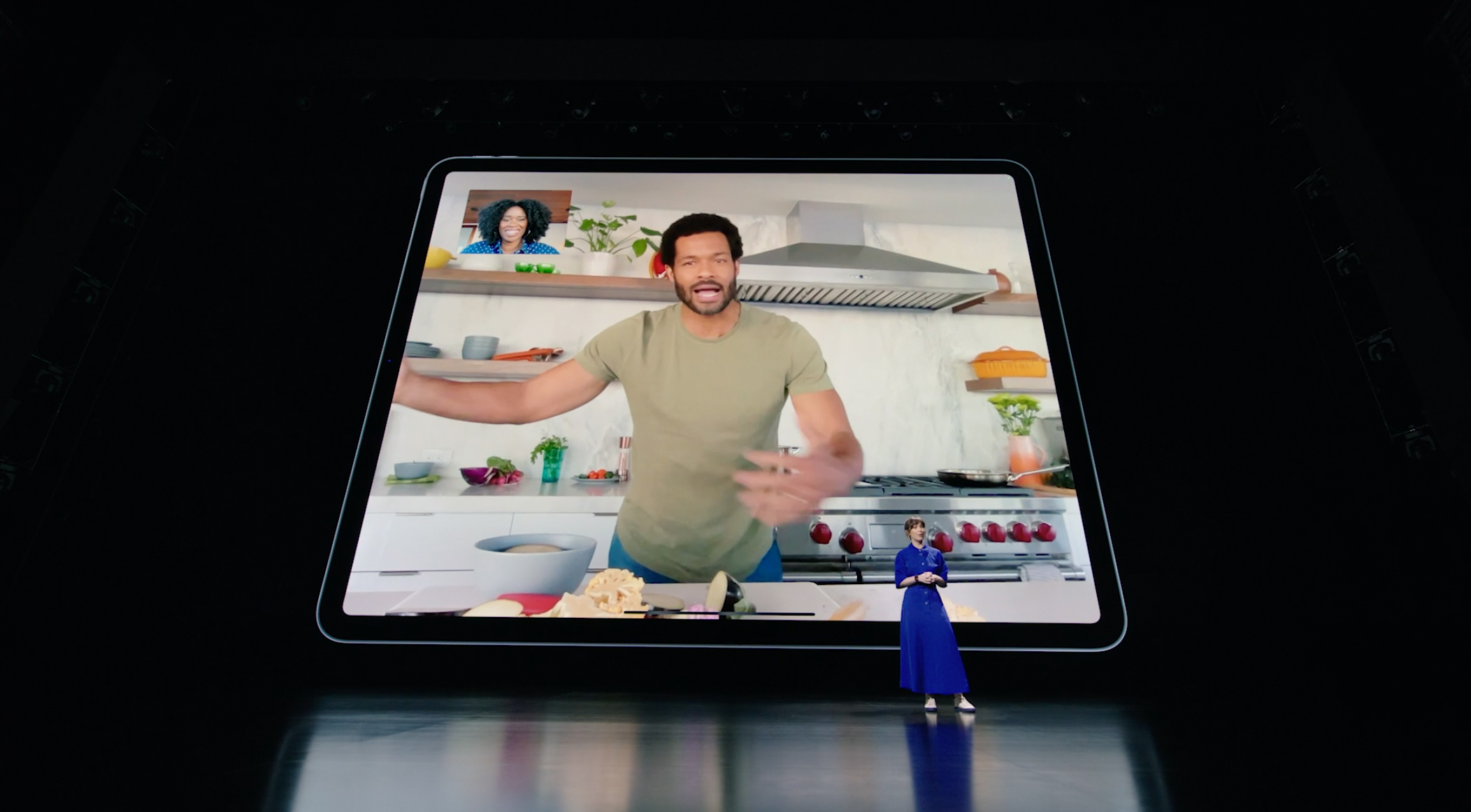 The new iPad Pro 2021 12.9-inch offers a new Liquid Retina XDR powered by 10,000 mini-LEDs. The previous iPad Pro just had 72 LED.
You get 1,000 nits of brightness, 1,600 nits of peak brightness and a whopping 1 million to 1 contrast ratio.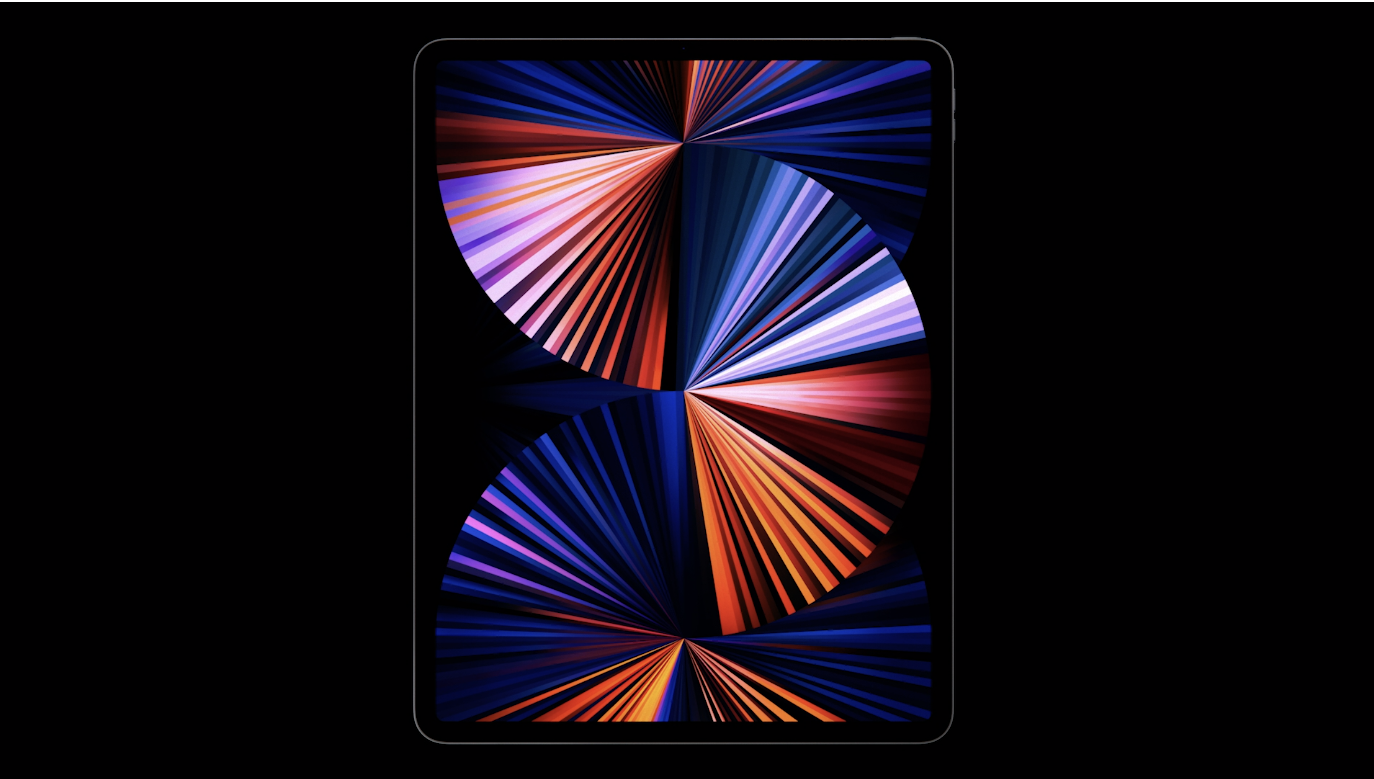 Apple developers are showing off what the new iPad Pro 2021 can do. One of the biggest benefits is faster photo imports for Pros via the Thunderbolt port, but you can also expect more immersive AR apps and better games.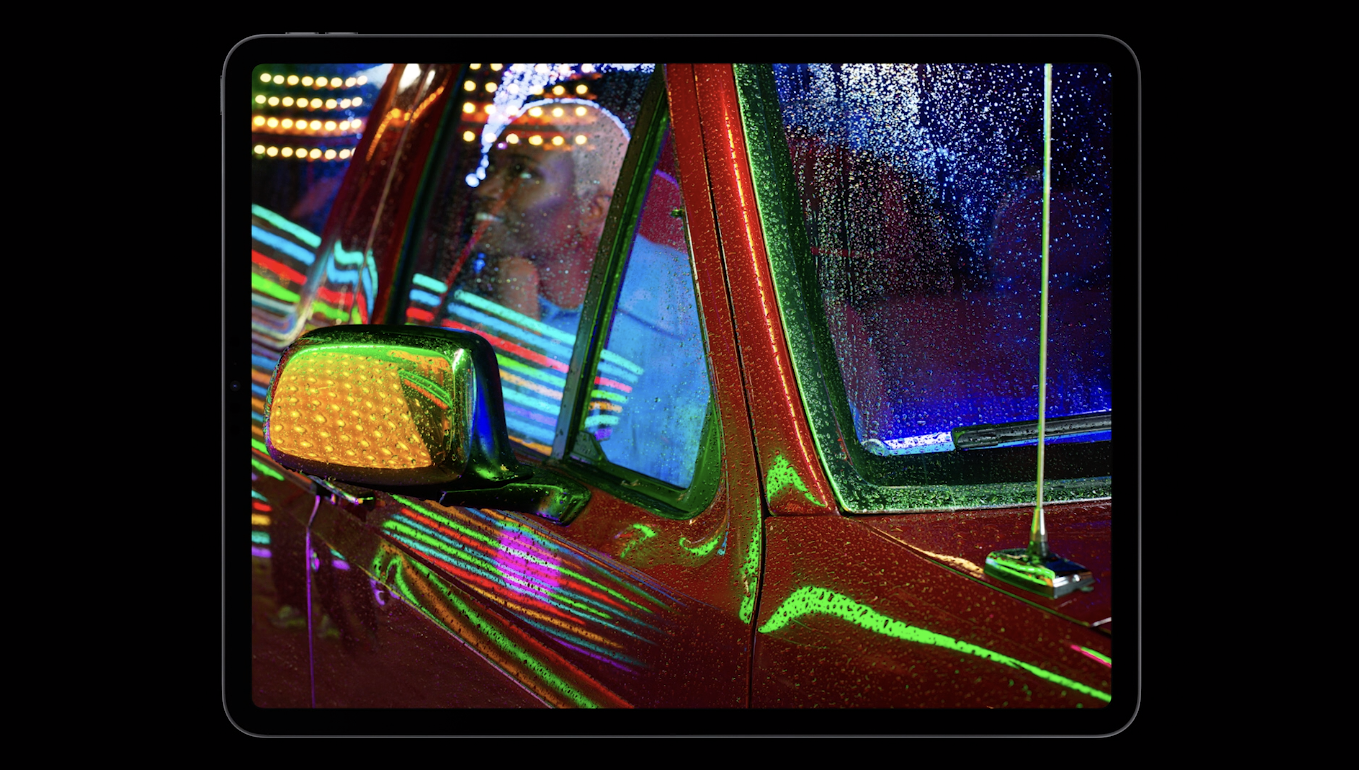 The iPad Pro with 11-inch starts at $799 and the iPad Pro 12.9-inch starts at $1,099. Orders start April 30, and they will both go on sale in mid-May.
The Apple Magic Keyboard for the new iPad Pro 2021 comes in a new white color, which looks sleek but we wonder about how clean it will keep looking. We didn't hear bout a new Apple Pencil, though.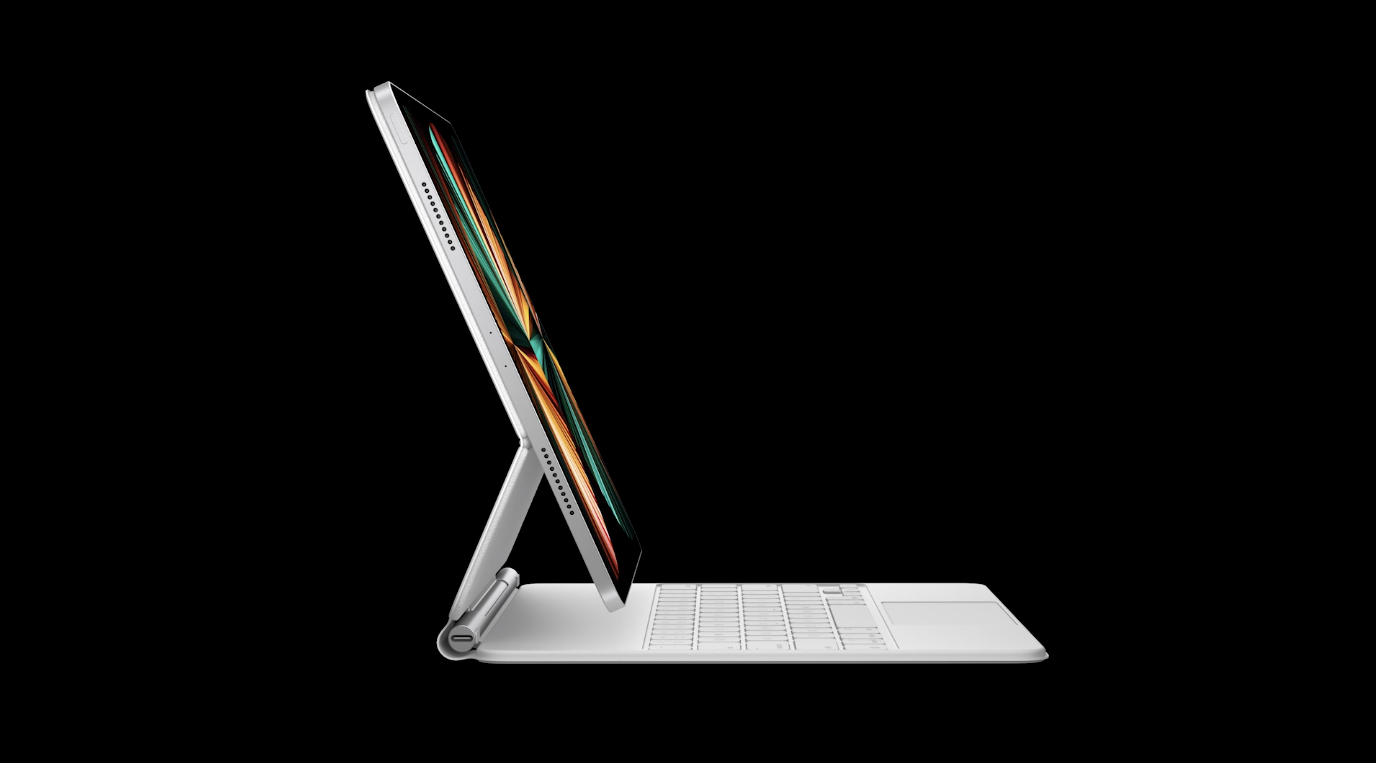 Get instant access to breaking news, the hottest reviews, great deals and helpful tips.
Thank you for signing up to Tom's Guide. You will receive a verification email shortly.
There was a problem. Please refresh the page and try again.