AMD Big Navi event recap: All the big news you missed
Say hello to the Radeon RX 6000 series — Nvidia RTX 3080 should be worried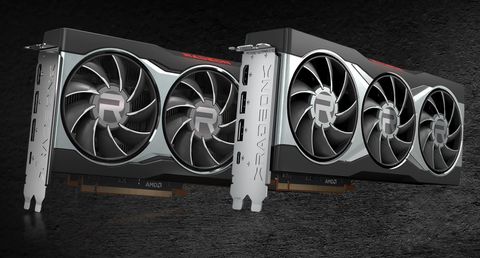 (Image: © AMD)
So AMD Big Navi has finally been revealed. And it's pretty much a trio of high-end graphics cards.
There's a brace of graphics cards to do battle with the Nvidia GeForce RTX 3080 and the Radeon RX 6900 XT will fight the GeForce RTX 3090. Here are the highlights:
Radeon RX 6900 XT: This $999 graphics card will be a 4K gaming monster designed to undercut, yet almost outperform, the RTX 3090. Just bear in mind that the RTX 3090 is mostly a pro and high-end enthusiast card, whereas the RTX 3080 is Nvidia's main 4K GPU. The Radeon powerhouse goes on sale December 8.
Radeon RX 6800 XT: Think of this as the main Big Navi GPU. It has been designed as a powerful 4K at 60 frames per second graphics card, for a price of $649; that undercuts the GeForce RTX 3080. It also beats the RTX 3080 in a suite of games at 1440p.
Radeon RX 6800: This is an odd card: it's less powerful than the XT version and will chase 4K performance by delivering more performance than the GeForce RTX 2080 Ti, according to AMD. But it costs $579, which is more expensive than the RTX 3070.
RDNA 3: The Radeon RX 6000 series is based on the RDNA 2 GPU architecture, but apparently AMD engineers are already working on RDNA 3. So that could mean new Radeon graphics cards in 2021. Exciting times for PC gamers.
Announcing the AMD Radeon RX 6800 XT. Powered by the incredibly efficient #RDNA2 architecture, paired with Infinity Cache for blazing fast memory performance, the RX 6800 XT is the winning choice in popular demanding games. #GameOnAMD pic.twitter.com/GUzXg6xhWCOctober 28, 2020
Refresh
It looks like we'll see some trailers for upcoming games like Far Cry 6 and Godfall. That's because AMD's Radeon RX account tweeted an image with some upcoming games in it, and promised to show off games from its partners that tap into the new RDNA 2 GPU architecture.
Tomorrow we'll be showcasing some incredible titles from our gaming partners, telling the story of how @AMD Radeon RX 6000 Series and the #RDNA2 architecture enabled a new level of fidelity for fans who #GameOnAMD.See you at 12PM EDT. ✌October 27, 2020
With AMD Big Navi looking like a big threat to the GeForce RTX 3080, Nvidia could be prepping a response to AMD's flagship card. Our sibling site TechRadar has reported that Nvidia could be working on a GeForce RTX 3080 Ti to hit back at Team Red.
What do you want to see from AMD's next-gen Radeon graphics cards? We're hoping for powerful GPUs at prices that undercut Nvidia's cards. But we'd love to see AMD go full throttle and create a monster graphics card that chases the frankly ridiculous Nvidia GeForce RTX 3090.
If you've not been following all the Big Navi news so far then check out our guide on everything you need to know about AMD Big Navi. That should get you up to speed.
Not long to go now! We're wondering if AMD will announce some slick streaming software to harness the power of its next-gen GPUs; guess we won't have to wait too long to find out.
If you've stumbled upon this live blog out of curiosity but have realised you don't like GPUs, then check out out hands-on with the PS5.
And we're off! With a suite of next-gen games like DiRT 5 being shown off. We can see some ray-tracing here.
And here's Dr Lisa Su, CEO of AMD and an excellent presenter of graphics card tech. The good doctor is giving us a recap of Ryzen CPUs revealed earlier this month.
2020 is apparently the 'year of the gamer.' With the PS5 and Xbox Series X, and now the Radeon RX 6000 series, we can't argue with that. And the new Radeon cards are the most powerful AMD has ever made, unsurprisingly.
So Big Navi has some 26 billion transistors. We don't know who counts all of those, but that's a heck of a lot of transistors. And that means a lot of power.
Wow, there's some serious tech talk here. But the thrust of it is RDNA 2, which AMD Big Navi is based on, will deliver a lot more power than RDNA. And there's Infinity Cache, which delivers a lot more bandwidth than other graphics cards. Basically, that all means, a 54% boost in performance over RDNA graphics cards.

Oh and there's ray-tracing!
So here's the Radeon RX 6800 XT. It's designed to be a 4K at 60 frames per second graphics card. There's 72 compute units and 16GB of GDDR6 video memory.
There's a "Rage Mode" overclocking feature, which looks like a pretty swish way to push performance in games. And there's upgraded latency reduction and dynamic resolution scaling depending on mouse and keyboard inputs via Radeon Boost.
AMD has done a fair bit of work with DirectX 12 to deliver things like ray-tracing. And we are now seeing it in action in hack and slash game Godfall. It looks pretty fantastic.
Here's Far Cry 6, or at least the game's developer, talking about how the Radeon RX 68000 XT will deliver fancy graphics and ray-tracing in the next Far Cry game. Other developers are also touting how RDNA 2 and the Radeon RX 6800 XT will make their games look amazing. We're very curious to see how this will work on the next-generation consoles.
Wow! Dr Su has just revealed the Radeon RX 6900 XT. This is going to deliver huge 4K performance. And according to AMD is beats the $1,499 GeForce RTX 3090 in most games at 4K. It will come out December 8 for $999, which is seriously compelling.
And that's it. AMD really tore through those announcements, we're almost out of breath. For those of you who missed it, the Radeon RX 6800 XT will go on sale November 18 and will cost $649, so undercutting the GeForce RTX 3080. And the less powerful Radeon 6800 will cost $579. Interestingly that means there's no direct competition for the $499 GeForce RTX 3070.
So all in all, AMD has a GeForce RTX 3090 challenger in the form of the Radeon RX 6900 XT and a GeForce RTX 3080 competitor with the Radeon RX 6800 XT. We're not sure where the Radeon RX 6800 fits yet.
But if you're thinking of getting a new PC or building a new gaming rig, things have got a lot more competitive and arguably a bit complex. We'll have to take AMD's benchmarks with a pinch of salt, though it usually tests in fairly fair conditions. But we're pretty excited at this retort AMD has thrown at the GeForce RTX 3000-series.