While the best wireless earbuds used to be built with travel and commuting in mind, the switch to working from home during the pandemic has given us plenty of new situations where a great pair of earbuds are invaluable.
From work calls and working out, to blocking out housemates and family members while you're on a Zoom call, wireless earbuds are performing many more duties these days, as well as accompanying us back on to planes and trains again.
So what should you look for in your next pair of wireless earbuds? We've pulled together our pick of the five essential features we think your next earbuds should have to ensure they can be the perfect all-rounder you need them to be.
1. Active noise cancellation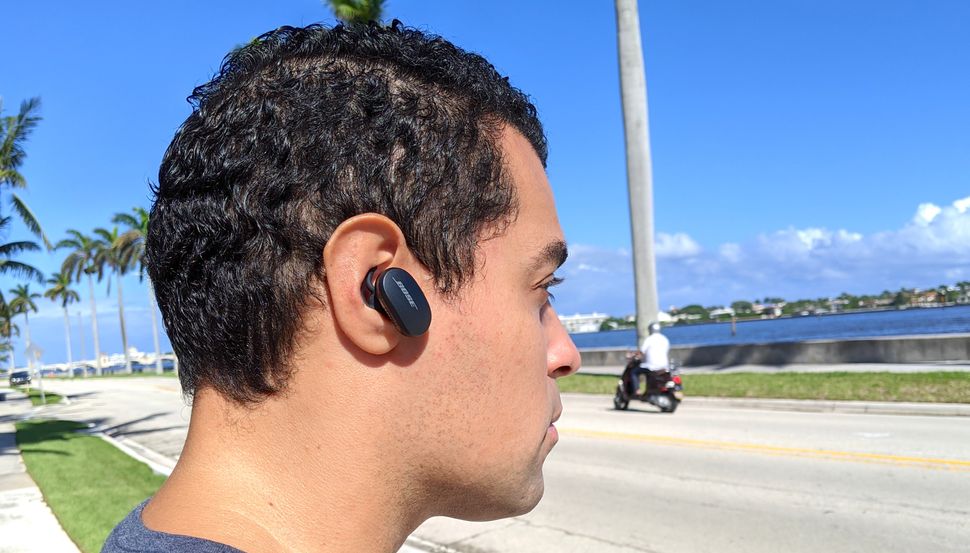 Once upon a time, active noise cancellation (ANC) was a feature reserved for bulkier over-ear cans. For those that prefer the convenient size of earbuds, or just prefer their more subtle styling, it was a case of ensuring a good fit, whacking up the volume and hoping for the best.
While fit is still a really important consideration (see our next point for more), turning up the volume to unsafe levels is not a great way to block out outside noise. Thankfully, tech has caught up and the very best earbuds now feature active noise cancellation to dampen outside noise — be that the sounds from cars or trains, kids or next door's kitchen renovation. This will usually be something you can turn on an off as you need it, and some even come with different levels of noise cancellation that you can adjust to suit your environment.
Bose headphones have traditionally offered the best noise cancelling and you'll find the Bose QuietComfort Earbuds at the top of our best noise-cancelling earbuds list. But Sony has made great strides in this area, and its Sony WF-1000XM4 earbuds are considered to be close behind, while the Jabra Elite Active 75t is a great budget option.
2. A super-comfortable design
The comfort of your in-ear buds is really important if you're wearing them a lot, but it's a factor that can be hard to get right because of how they sit in the ear.
Firstly, you'll want to look for something that's relatively lightweight — around 0.25 ounces or lower is a good place to start on each earbud — and also a design that considers air circulation and air pressure by venting them accordingly.
We'd also recommend earbuds that offer a range of tips to customize the fit and keep them stable in your ears. This will not only make them more comfortable but will also help to give you the very best in sound quality.
3. Stellar battery life
Wireless earbuds are fantastic when it comes to convenience, but they need to have a decent battery life to ensure you can get good use out of them before they require a charge.
There are a few things to consider here. First is how much battery life your earbuds will get from a single charge, second is how many charge cycles you'll get from the accompanying case and finally there the question of whether the earbuds offer any fast-charging capacity for when you really need it.
Having ANC switched on will impact battery life (sometimes considerably), as will the volume you're playing any music at, but you'll want to find headphones that offer at least 5 hours of battery with ANC switched on, and a good 3-4 full recharges from the case. Some models go further still — for instance the Master & Dynamic MW08 promises 10 hours with ANC and another 30 from the charging case. The OnePlus Buds Pro, meanwhile can juice up the charging case to 10hrs in just 10 minutes.
4. Plenty of smart features
Back when wired headphones were a thing, in-line mic controls made it nice and easy to control your music playback or incoming calls without reaching for your phone. That's not possible with wireless earbuds, but the very best have instead introduced smart controls built into the earbud design, so you can keep your phone firmly in your pocket.
On most of the best wireless earbuds, you're able to use the earbuds' outer shell to tap and gesture to make your requests known. This used to be really hit and miss in terms of how accurate it was but it's got a whole lot better and is now genuinely useful rather than just a gimmick — particularly when used with your phone's smart assistant for hands-free voice commands.
Other features to look out for include the earbud's ability tell when you've removed it, and pause and start the music accordingly. Some can even be geolocated should you ever lose them outside (or, more likely, down the couch) by playing a noise to help you locate them.
5. Great call quality
For a long time, earbuds have been largely focused on music performance, with some consideration for phone and video calls thrown in for good measure. But while they still need to do justice to your music, their ability to perform with voices is also important these days — not least due to all the remote meetings many of us are in.
That means you probably want a multi-microphone setup that will ensure your audio is picked up clearly, as well as strong connectivity features such as low-latency Bluetooth 5.2, to ensure video and audio is well-synced and fluid for every single video call.