Best Star Wars Gadgets and Toys 2018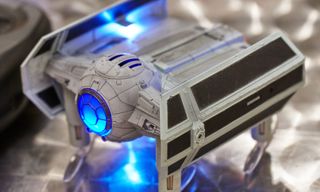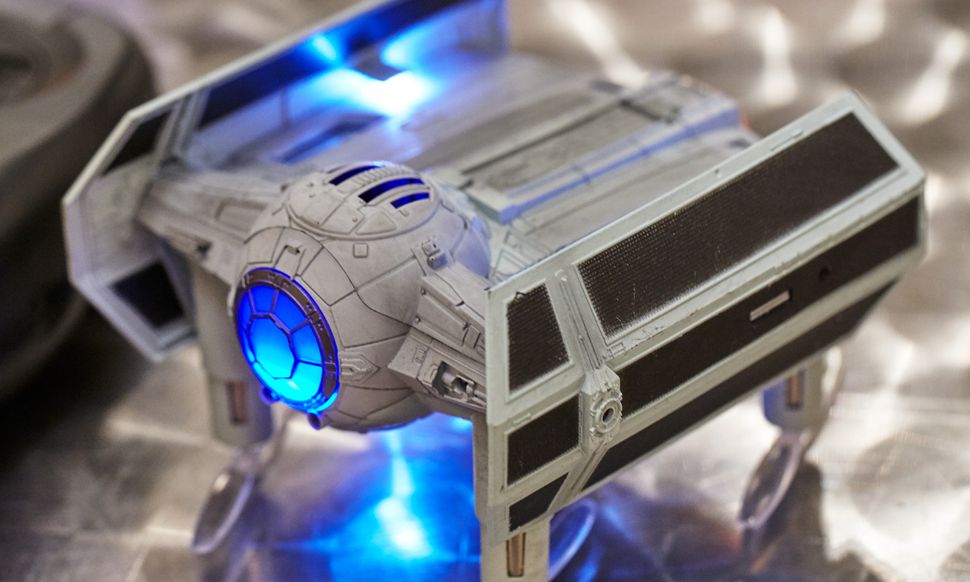 The best gadgets in the galaxy
Thanks to new Star Wars films such as The Force Awakens and The Last Jedi, there's never been a bigger abundance of cool gadgets inspired by the galaxy far, far away. You can have BB-8 roll around your living room, battle Kylo Ren in virtual reality and even pilot a drone version of Luke Skywalker's X-Wing. Whether you're shopping for a young Padawan or just want to fill your personal Cantina with fun toys, here are our favorite Star Wars gift ideas.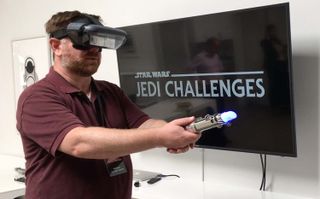 Star Wars Jedi Challenges
Lenovo and Disney have teamed up to bring the thrill of lightsaber battles right into your home using augmented reality. With a Mirage AR headset, a lightsaber-shaped controller, and a tracking beacon, you can do battle with the likes of Kylo Ren, Darth Maul and — if you're good enough — Darth Vader his own bad self. Other games modes include the Holochess game from Episode IV and a battle mode that recreates epic battles of Stars Wars right on your floor. We've had a chance to go hands-on with Jedi Challenges and found it to be just what the jedi master ordered. And in January 2018, a free software update will add content from Star Wars: The Last Jedi, including the ability to simultaneously fight two Praetorian Guards.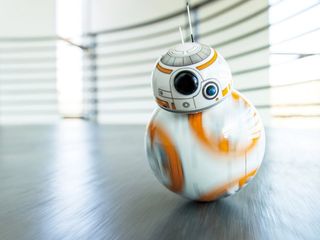 Sphero BB-8 App-Enabled Droid
Be honest: The moment you saw BB-8 rolling around in the debut trailer for The Force Awakens, you wanted one. Sphero's remote-controlled BB-8 robot makes that dream a reality, as you can guide the toy around your home via your smartphone in order to surprise your friends (or terrorize your pets). This palm-sized droid reacts when you talk to it, and lets you record holographic videos, and can even be controlled using just your hands via the optional $80 Force Band.
Image Credit: Sphero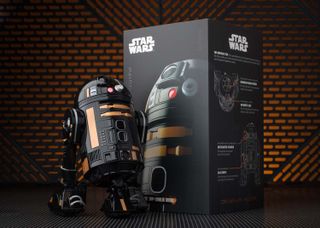 Sphero R2-D2 and R2-Q5
If BB-8 doesn't appeal to you, why not get your very own R2 unit? Sphero's take on R2-D2 rolled its way into our hearts earlier this year as part of Force Friday. The droid features a 2-3-2 setup that lets it waddle with its two outside legs while dropping down a third wheel to scoot away, should any Imperial Forces be lurking nearby. A companion app triggers animations and noises, and you haven't lived until you've heard this $179 droid recreate its scream from when the Jawas stun it during Episode IV.The black-and-chrome R2-Q5, whom you may remember from Return of the Jedi, is now at Best Buy for $199 after making its debut at New York's Comic Con this fall. Expect different sounds and animations from R2-D2 if you just can't decide which of the droids you're looking for.
Image Credit: Sphero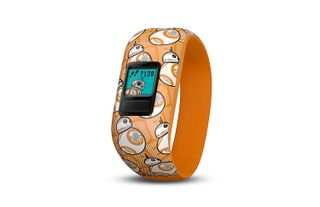 Garmin Star Wars Vivofit Jr. 2
If you want your young padawan to stay active in their training, Garmin's Star Wars-themed Vivofit Jr. 2 is exactly what they need. This kids-friendly fitness band tracks steps and sleep, and includes a special built-in adventure app that encourages your youngster to get their recommended 60 minutes of daily activity. The band is waterproof, has a 1-year battery life, and comes in BB-8, First Order and Resistance color schemes.
Image Credit: Garmin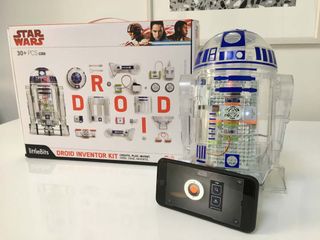 LittleBits Star Wars Droid Inventors Kit
Owning a droid is nice, but building your own is even better. LittleBits gives you all the tools you need in its Droid Inventor Kit. Color-coded electronic block teach aspiring engineers how to put an R2 unit together again, and a companion apps lets you control the finished product. You've also around 16 missions that your newly assembled droid can perform, and you experiment with household items and other components so that you have a customized droid instead of an R2-MeToo.
Image Credit: Philip Michaels/Tom's Guide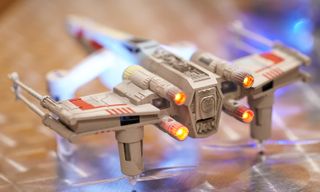 Propel Star Wars Battling Drones
Of all of the Star Wars drones out there, Propel's Star Wars Battling Drones just might be the most authentic. These quadcopters are painstakingly modeled after such iconic ships as the X-Wing, Speeder Bike, and Darth Vader's TIE Advanced X1 Starfighter, and can fly at up to 35 miles per hour. But the real kicker is each ship's interactive lasers, which allow up to 12 pilots to engage in epic multiplayer drone battles that feel ripped right out of the movies.
Image Credit: Jeremy Lips/Tom's Guide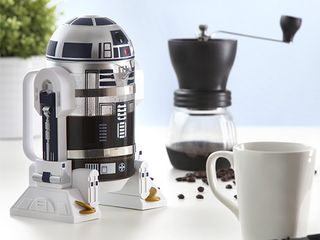 R2-D2 Coffee Press
R2-D2 isn't just a great co-pilot and master technician -- the lovable droid also makes a mean cup of joe. ThinkGeek's R2-D2 coffee press makes up to 4 cups of coffee in just a few minutes -- just add boiling water and grounds, and plunge away. It's the perfect gift for anyone who can use a few extra beeps and bloops to get them going in the morning.
Image Credit: ThinkGeek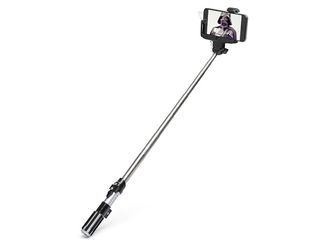 Lightsaber Selfie Stick
If you absolutely must carry a selfie stick around, you might as well make it one modeled after Darth Vader's lightsaber. Designed for a true selfie Sith, this stick can extend up to 40 inches to capture those extra-wide shots of your entire Imperial squad.
Image Credit: ThinkGeek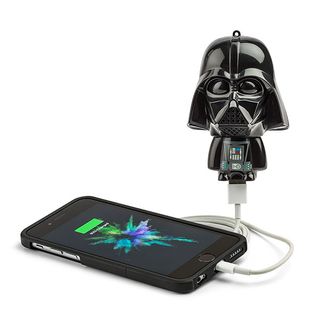 Mighty Minis Charger
There are plenty of Star Wars themed portable chargers out there, but few of them also double as adorable action figures. Available in Darth Vader, Stormtrooper and Boba Fett variations, these cute battery packs promise an extra 3 hours of battery and double as cool keychains or desk decorations.
Image Credit: ThinkGeek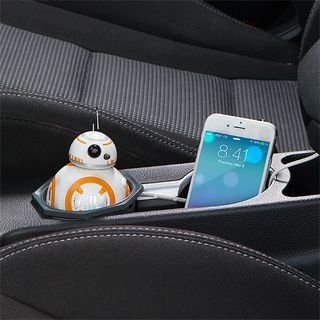 BB-8 USB Car Charger
BB-8 is an invaluable member of The Resistance, and it turns out he's a pretty useful car charger too. This miniature version of everyone's favorite rolling droid packs two USB ports that pump out 2.1 amps of energy each (which should be plenty for your phone and tablet) and can connect to your car's cigarette lighter adapter. Best of all, this BB-8 is small enough to fit in your cup holder.
Image Credit: ThinkGeek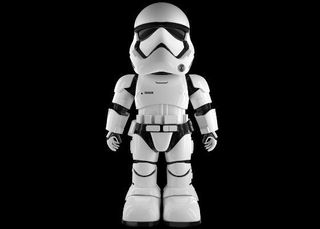 Ubtech First Order Stormtrooper
Stormtroopers have never been this high-tech — or this adorable. Ubtech's First Order Stormtrooper is an app-controlled robot that you can program to patrol your bedroom or battle the Resistance using an augmented-reality companion app. The Stormtrooper can be ordered around using voice commands, and its facial recognition capabilities allow it to recognize up to three faces and weed out any traitors.
Image Credit: Ubtech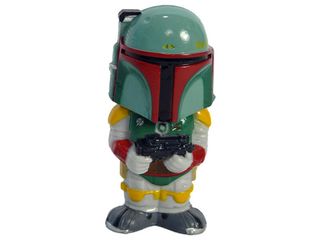 Boba Fett USB Drive
He stored Han Solo in carbonite, so why shouldn't Boba Fett hold your data for safekeeping? This 4GB USB flash drive depicts everyone's favorite bounty hunter in all his colorful, Mandalorian glory. Just remember to put the cap back on; it's no good to you dead. (Also available in Stormtrooper and Yoda variations.)
Image Credit: Amazon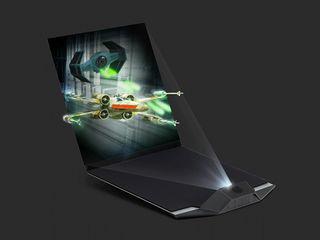 Star Wars 3D Holo Display
You don't have to live in the Star Wars universe to experience real-life holograms. The Star Wars 3D Holo Display brings some of the series' most iconic scenes and characters to life -- simply plug it in, flip the display up, and watch the magic happen. The Holo Display's $249 base model includes a hologram that recreates the famous Death Star trench run, and you can get additional holograms of R2-D2 and Kylo Ren for $125 each.
Image: ThinkGeek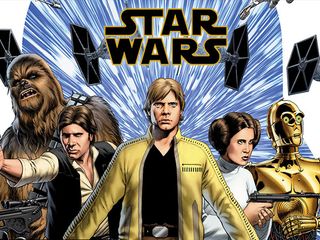 Marvel Unlimited
Marvel Unlimited lets you binge on over 17,000 digital comics for a single fee, and its vast library includes tons of Star Wars books. That includes new series that follow the adventures of such characters as Princess Leia and Darth Vader, as well as a trove of classics from the Dark Horse era that filled in the blanks between movies. Marvel Unlimited works on iOS, Android and PCs, making it the perfect gift for the Star Wars junkie on your list that loves comics.
Image Credit: Marvel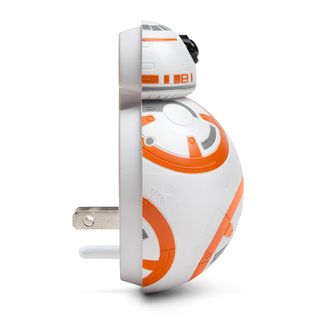 Star Wars USB Wall Charger
If you want your power bricks to be whole lot more adorable (or menacing), ThinkGeek's Star Wars USB wall chargers are a great pick. Available in BB-8, R2-D2 and Death Star variations, these wall chargers can juice up two gadgets at once while adding some subtle Star Wars flair to any room.
Image Credit: ThinkGeek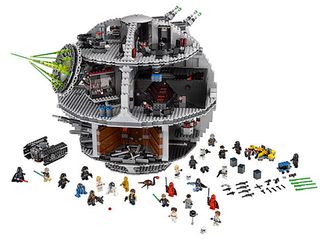 LEGO Death Star
Think the Empire could have done a better job building the Death Star? Build your own then. The Lego Death Star is the ultimate gift for Star Wars toy junkies, allowing you to assemble the ultimate superweapon with a whopping 4,000 pieces. And once your battle station is fully operational, you can recreate some of your favorite scenes using 23 minifigures including Darth Vader, Obi-Wan Kenobi, Han Solo and more Stormtroopers than you can fit in a Star Destroyer.