iOS 10: The Biggest Changes for Your iPhone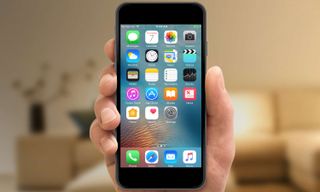 iOS 10: What's New for Your iPhone
At its Worldwide Developers Conference this June, Apple called iOS 10 "the biggest release ever for users." That may be marketing hype, but with iOS 10 now available for download, it's certainly clear that iOS brings a lot of new capabilities to your iPhone.
From Siri taking a more prominent role to substantial changes to your phone's lock screen, iOS 10 has usher in a number of noteworthy additions. Here are the standout features now available on an iPhone near you.
MORE: iOS 10 Review: A Promising Update That Needs More Apps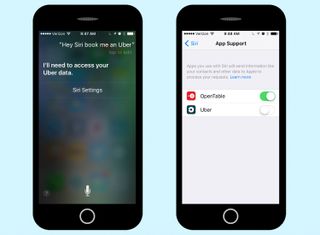 Siri Opens Up, Gains New Powers
Since its debut, Siri has been a pretty closed shop, able to interact with iOS's built-in apps but limiting most third-party integration to little more than launching apps. That's changed in iOS 10, as Apple has opened up its voice-powered personal assistant to a select group of apps, such as ride-booking, photo searching, mobile payments, voice over IP and fitness tracking. Imagine Siri letting you send messages using a third-party texting app like WeChat or summoning a car using a ride-sharing service like Uber.
The first Siri-compatible apps have started popping up on the App Store — we've spotted OpenTable and Uber among others. Just the ability to do more with your voice already positions iOS 10 as a productivity booster, even before you dig into its other time-saving features.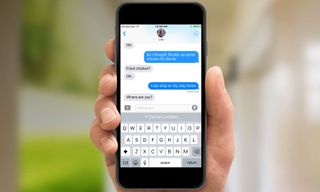 Smarter QuickType Keyboard
Siri's influence has also extended to QuickType, the predictive typing feature that suggests words as you're typing based on the context of your email or text message. QuickType now taps into Siri's intelligence to add other predictive text. If someone asks where you're at, QuickType will bring up your current location which you can add with a tap. QuickType can also bring up your email address, birthday or other information you've entered into your contacts. If you and a friend are chatting about an upcoming night on the town, Siri can pull the info out of that conversation when you go to create a calendar event, saving you a lot of tedious data entry.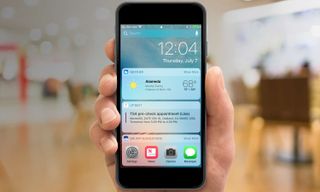 More Control from the Lock Screen
Apple has redesigned in the lock screen in iOS 10, adding rich notifications that let you quickly interact with your apps. A new raise-to-wake feature lets you see notifications on your lock screen just by lifting up your phone. There's no need to touch a button — important since iPhones equipped with TouchID can blow right past any on-screen notifications when you press the home button.The notifications on your lock screen are more actionable, too, provided you've got a device that supports Apple's 3D Touch feature for summoning up shortcuts just by pressing the screen. If you get a notification of a calendar invite, for example, you can to press on that notification to get quick commands that let you accept or decline the invite.
Apple has also redesigned iOS's control center, which you currently summon by swiping up to get quick access to controls like Airplane Mode, Wi-Fi, Bluetooth and Flashlight. In iOS 10 when you slide to the right from your phone's Lock Screen, you'll bring up the camera; sliding to the left summons up widgets like the weather, your upcoming calendar events and Siri's app suggestions. You can also tailor what appears on that Today screen, by adding apps that have been updated to create widgets for iOS 10 like sports scores with the ESPN app or transit times with Google Maps.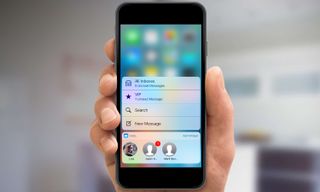 3D Touch Now Front and Center
3D Touch plays a greater role in iOS 10. You'll find new quick commands with some apps. For instance, pressing on the Mail icon will let you access new quick commands like seeing who's sent all those unread messages that have piled up in your inbox. You'll find another cool 3D Touch feature in the control center: hard-pressing the flashlight utility lets you set different levels of intensity for the light.As impressive as the 3D Touch features look, they will require newer hardware, like the iPhone 7 and 7 Plus Apple just introduced. And that's part of Apple's strategy, as the company looks to revive its slowing iPhone sales.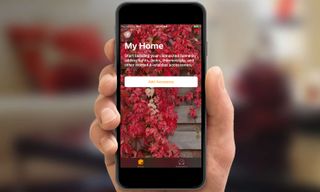 A New Home App
There's a new app on your iOS home screen, and it's one you might appreciate if you have a lot of smart devices in your home. The Home app promises one-stop access to devices that support Apple's HomeKit standard for connected devices. You'll be able to tap on menu items for each connected device in your home. Home will be folded into iOS 10's control center, giving you access to smart devices from the lock screen.You can also access what Apple calls scenarios, which are routines involving multiple devices — your lights, thermostats and smartlocks, say. Apple has worked Siri integration into the Home app, meaning that if you tell the voice assistant "Good Night," it will automatically turn off the lights, lower the thermostat and lock the doors.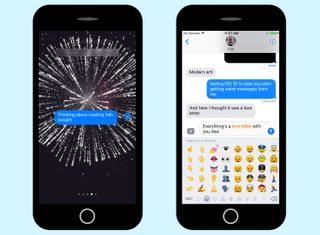 Major Messages App Revamp
With messaging apps taking the place of phone calls as the way a lot of people communicate, Apple has updated Messages with enhancements seemingly aimed at the Snapchat crowd. You like emoji? Apple has made the symbols three times larger in iOS 10, and a predictive emoji feature will highlights the words in texts that can be replaced with symbols. Bubble effects will add graphic effects to messages you send — a big explosive burst when you want to congratulate someone or smaller text for when you're tapping out an apology. You'll also have better access to your camera roll in Messages, with thumbnails of photos and videos appearing directly in the app, and you can access GIFs now, too.As with Siri, Apple plans to open up Messages to developers. Some of the possibilities touted by Apple seem frivolous, to be honest — if you're excited by the notion of adding stickers from third-party apps to your texts, then this is the release for you. Other uses sound more promising, like the ability to place group food orders from Messages or support for mobile payments.
MORE: iOS 10 Messages: All the New Features and How to Use Them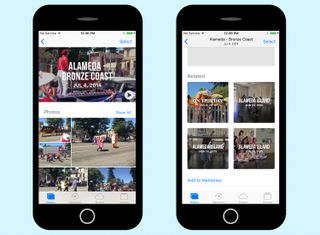 Smarter Photos
Photos has adding some smarts in the form of facial recognition features that automatically group photos of friends and family in one place. These advanced deep learning techniques will also work for objects and scenes.In fact, the marquee feature in the new version of Photos is Memories, which assembles photos and videos from a specific time and place into an automatically built album. While this sounds a lot like what Google does — Google brought facial recognition and auto-generated albums to its mobile Photos app last year — Apple is counting on special touches to set it apart. Editing auto-generated movies seems simpler in Apple's version, while a Related Memories feature summons up albums featuring the same people and places of the Memories album you're already browsing.
MORE: iOS 10 Photos: All the New Features and How to Use Them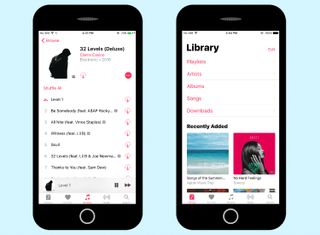 Less Clutter for Music
The redesigned Music has been simplified in iOS 10, with the central features of the app now front and center when you launch it. Text is easier to read and horizontal scrolling makes rows of albums easier to navigate. iOS 10 also adds a pair of playlists for Apple Music subscribers to the For You tab which use your listening history to grab both your favorite songs and new music you might like. Music will also add lyrics for a song — assuming that Apple has secured the rights with music publishers.
MORE: iOS 10 Music: All the New Features and How to Use Them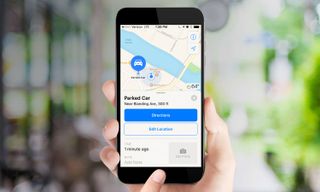 New Features for Maps
Like Music, Maps gets a new interface, making it easier to read, but the biggest additions are two features that should help you get more out of Apple's rapidly improving mapping app. The first lets you search for points of interest like restaurants and gas stations along a route, with Maps even calculating how much time the new pitstop will add to your journey. A second feature works for cars that are either equipped with the CarPlay infotainment system or can pair with your iPhone: Maps will remember where you parked and automatically put a pin on a map to help you find your car.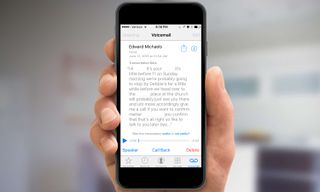 Phone App Gets Transcripts
Since the iPhone is still at its core a phone, Apple is introducing some changes to the Phone app. Particularly welcome will be voicemail transcripts — once Apple improves the voice-to-text features a little bit more — and alerts if the unrecognized phone number calling you is possibly a spammer. Apple is adding integration for third-party Voice over IP apps to its Phone app as well.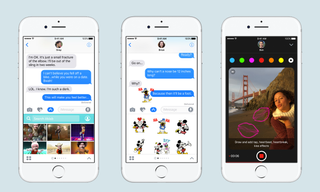 Get More on iOS 10
Go in-depth on iOS 10 by reading our review of Apple's latest mobile OS update. We also take a look at 29 overlooked iOS features that aren't getting a lot of attention.