America's Most High-Tech Gyms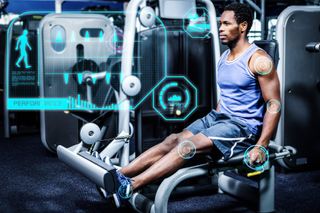 America's Most High-Tech Gyms
From wearable devices that monitor performance during an hour-long workout to projection screens that help take the monotony out of long slogs on cardio equipment, today's gyms increasingly use modern technology to enhance the exercise experience. Here's a look at America's most high-tech gym chains and the equipment, apps and Web tools that separate them from the pack.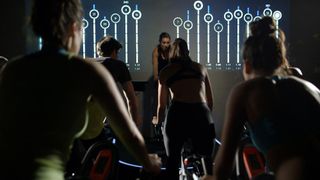 Equinox
Number of locations: More than 80 in the U.S., U.K. and Canada
Standout feature: Gamified spin classes
Many gyms have added flashing lights and loud music to spin classes in an attempt to take the monotony out of riding a stationary bike. Equinox takes this concept several steps further with the Pursuit, a concept that adds real-time data and gamification to the light show. (The Pursuit is available in more than two dozen Equinox locations in the U.S., with more being added throughout 2016.)
There are two options for the Pursuit. Burn consists of five high-intensity intervals designed to burn as many calories as possible, while Build uses three hill stages to improve endurance and increase strength. In both classes, Equinox members ride stationary bikes that display pace, power, distance and calories burned. That information also appears on a digital leaderboard at the front of the studio.
That's where the gamification comes in: Over the course of the class, members can participate in a number of individual or team challenges, such as greatest distance covered or most calories burned. One rider may be paired against a neighbor, or one side of the room may compete against the other. The digital display provides updates on each challenge throughout the class, along with a summary once the workout is done.
Through the Connected Cycling program, members can save data from their classes and view it on the Equinox website or mobile app. This lets members track their progress over time and also connect to other Equinox members taking Pursuit classes.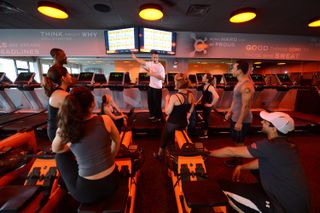 Orangetheory Fitness
Number of locations: More than 400 worldwide
Standout feature: Heart rate monitoring throughout workout
The hourlong, full-body Orangetheory Fitness workout, called the Orange 60, is high-tech itself — and it uses wearable tech to help members reach their workout goals.
Orange 60 consists of cardiovascular- and strength-training intervals using treadmills, rowing machines, TRX suspension-training units and free weights. During group workouts, each member wears a heart rate monitor called OTBeat. The device connects via Bluetooth to big-screen monitors that display everyone's heart rate data and calories burned. This helps trainers and members alike adjust their workouts to hit their goals. This technology is available to all members regardless of membership level.
The OTBeat device sends members an email summary of each workout and syncs with a mobile app so members can track their progress, set goals and record out-of-studio workouts.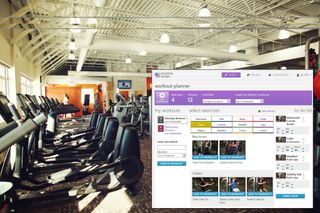 Anytime Fitness
Number of locations: More than 3,000 worldwide
Standout feature: Social network for members
Features such as 24/7 facility access, health plan discounts and private showers make Anytime Fitness appealing to anyone in the market for a gym. The company separates from the pack with its Anytime Health platform and mobile app, both of which are free to Anytime Fitness members. (Monthly costs vary by location and membership tier.) The app also comes with free 24/7 virtual coaching, a Q&A forum, a library of basic nutrition, and fitness resources and support groups on topics such as muscular fitness or exercising with a chronic condition.
The Anytime Health home page is customized based on a member's fitness goal, whether it's losing weight, running a marathon or traveling the world. There's a diet tracker with a database of 50,000 foods as well as an activity tracker. For the days at the gym, there's a workout planner complete with instructional videos — a bonus for anyone who has had to search the Internet for tips on doing crunches properly.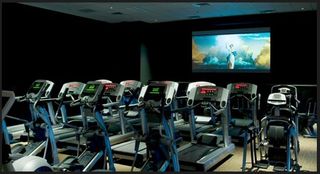 Gold's Gym
Number of locations: More than 700 worldwide
Standout feature: Customized plans also available to nonmembers
With its emphasis on weightlifting, Gold's Gym fits the definition of a traditional gym. But the company has taken recent steps to introduce innovations that appeal to a wider audience.
The myPATH mobile app is free and available to nonmembers as well as members. It lets users set workout goals, create their own fitness and nutrition plans, and view class schedules at their local Gold's Gym. The app syncs to equipment at the gym, along with Fitbit devices and apps such as MapMyFitness, which helps users track their progress and celebrate milestones. All U.S. locations support myPATH, though some features vary by gym location.
Some Gold's Gym locations also include a Cardio Cinema, which lets members watch full-length movies on a projection screen while using a treadmill or stationary bike. This beats staring at a shaky monitor, a towel or the wall for the duration of a workout.
Meanwhile, the Gold's Gym Strength Exchange website includes articles on workouts, nutrition and general wellness, along with stories from members. The site also includes free fitness tools, such as a workout builder that generates a list of exercises based on your height, weight, age, basic body dimensions and fitness goal. It's not a comprehensive program, but it's still a handy Web tool if you're looking for exercise to help you lose weight or just improve your overall health.

Marriott Hotels
Locations: More than 600 globally
Standout feature: Workout continuity on the go
Your fitness goals don't have to go on hiatus when your travel. Marriott Hotels, a separate brand that's part of the larger Marriott International, has been introducing high-tech equipment to the fitness centers at some of its flagship locations. (Hotel guests can use the gym free of charge.)
For example, Marquis Marriott locations in Miami and Washington, D.C., as well as JW Marriott locations in Houston, Miami and New York, feature Technogym equipment with Unity. This Android-based platform lets users connect to their existing fitness accounts (Garmin, MayMyFitness, Polar, RunKeeper and Strava) and recreate past outdoor workouts indoors. Frequent users can create a personal profile that links to their Facebook account and lets them bookmark their favorite apps, TV channels or websites.
Meanwhile, the Marriott Marquis fitness centers in Atlanta, Chicago and New York, along with Orlando's Marriott World Center, offer the Life Fitness Discover platform. This features Internet connectivity, Bluetooth compatibility (for headphones as well as heart rate monitors) and a set of running, hiking and biking routes from around the world. The platform also lets users connect to Android and Apple fitness apps as well as wearable devices.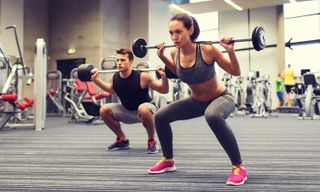 Be Your Own Gym
Don't feel like paying for a gym membership? There are plenty of other ways to get in shape yourself. Here are our favorite workout apps, the best Spotify Lists for any type of exercise, and diet and nutrition apps to make sure that you're fueling up properly.