The 10 Best Cyberpunk Games to Play Now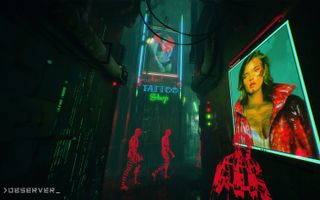 If you want your sci-fi smart, try these games
Some gamers want their sci-fi rooted in higher thinking: topical themes, such as government power abuse, individual human rights and the complexities of technology. This is the cyberpunk genre in a nutshell: a subcategory of video gaming that delves into the deeper aspects of the modern human experience through the lens of computer tech. It's not all just narrative pleasure, though — cyberpunk games also have some of the most inventive, fun sci-fi gameplay in the medium. That means these games are also great fit for anyone who just wants something that's mechanically fresh. Whatever your reason for wanting a little sci-fi spice in your gaming repertoire (perhaps you're waiting for Cyberpunk 2077?), there's bound to be something on this list that strikes your fancy.
Credit: Aspyr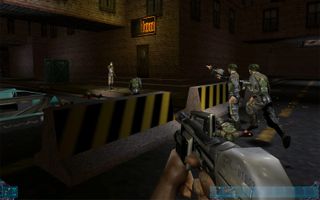 Deus Ex
If you want to experience the game that paved the way for iconic memes decades in advance, molded the modern-day conspiracy theory mindset and even predicted 9/11, then the original Deus Ex should be next on your cyberpunk bucket list. Loaded with player freedom and choice, the game encourages you to navigate its world in any way you see fit. If you think you can cheat the game, you probably can. You can sneak, fight and mingle — the whole nine yards. Be prepared, however, for the game's content to challenge your beliefs on just about everything. Is God real? Did the government put something in the water to mess with the frogs? This game from the year 2000 might not have aged well from a visual standpoint, but it's still the perfect keyhole widener for gamers who want a little more thought in their entertainment.
Credit: Square Enix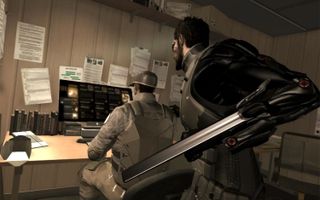 Deus Ex: Human Revolution and Deus Ex: Mankind Divided
Entrenched in the same conspiracy-laden themes and motifs of its predecessor, Human Revolution brings the Deus Ex franchise into the modern age in style with one of the best prequels of all time. HR puts you in the shoes of Adam Jensen, a half-man, half-machine with killer facial hair who never asked for this. He can shoot explosive beads out of his arms, turn invisible and survive falls from insane heights via an electromagnetic force field. Both he and the game are awesome.In the sequel, Mankind Divided, the color palette shifts from black and gold (HR's primary aesthetic) to black and blue, in a stylistic attempt to mirror the original Deus Ex. That's just one example of how Mankind Divided's overall eye for detail is second to none in the medium. Be warned, though: while the game itself is a technological tour de force and great continuation of Human Revolution on the whole, it ends on an asinine cliffhanger that completely undoes the closure of Human Revolution's excellent story.
Credit: Square Enix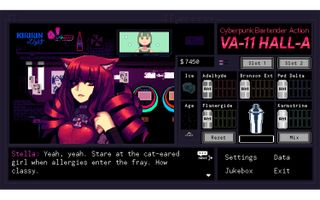 VA-11 Hall-A: Cyberpunk Bartender Action
Guard your waifus and grab your booze, 'cause VA-11 Hall-A is gunning for both. This strange cyberpunk anime experience is equal parts bartender simulator, text adventure and philosophy class. If you want a pixelated, purple-and-pink visual novel that mixes sci-fi concepts like it mixes drinks, there's no experience quite like VA-11 Hall-A. Don't expect an epic narrative with huge stakes and heartwarming closure, but do expect a unique, chiaroscuro-infused dive into the underbelly of a society that's as deeply entrenched in the cyberpunk era as one could hope. If you do pick this one up, be sure to play Perturbator's cyberpunk album "The Uncanny Valley" in the background for maximum immersion.
Credit: Ysbyrd Games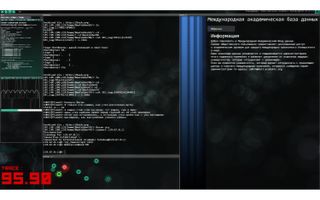 Hacknet
If you want to fight The Man™ from the comfort of your Steam account, Hacknet's the game to resist the establishment with. Just like real hacking, this game's got three things going for it: mysterious black screens, tons of repetition and more Chinese script characters than you can shake a uop cache at. Hacknet's a bit gaudy in its presentation, which undermines its attempt to capture the "subtlety" (if you can even call it that) of Hollywood-style computer hacking somewhat. But it gets close enough that you can still have fun by roleplaying a cyber sleuth with the tools the game provides. As Steam user Knightess Maratae puts it, "Best game to play in a coffee shop while wearing shades and a black hoodie." (Note: shades and hoodie sold separately.)
Credit: Surprise Attack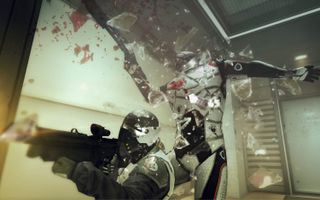 Syndicate
Syndicate is what Watch_Dogs wanted to be, years before Watch_Dogs ever came out. Developed by the stellar folks over at Starbreeze Studios, this is a cyberpunk first-person shooter with style to match its substance. The shooting is weighty and intense, and the complementary hacking mechanics set the game apart from its genre peers. You can force your enemies to turn on each other, commit suicide or cause their guns to jam by hacking their brains with the press of a button — similar to Watch_Dogs' hacking, but with a much cooler and deeper impact on moment-to-moment gameplay. Couple that with the game's incredible four-player co-op missions, which brought the single-player campaign's hacking insanity online, and Syndicate remains a package that can't be beat. Plus, it's got a soundtrack that includes original tracks from Nero, Flux Pavilion, Skrillex and other amazing artists.
Credit: Electronic Arts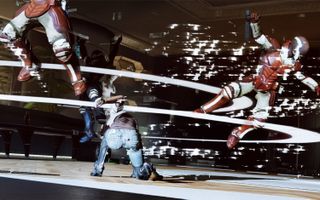 Remember Me
Remember Me is a neat game about a lady in tight jeans (seriously, what is up with that cover art?) who goes around remixing people's memories. To be fair, the bulk of the game involves you punching people, but when the memory remix sequences do come up (there are only four of them in the whole game) they're pretty darn cool, and fun to play through. But the gameplay isn't what makes this game truly special; its gorgeous depiction of 2084 Paris, its killer soundtrack and its abundance of overall style are what set this game apart from the rest of the cyberpunk pack. If you want something a little artsier and Parisian in your dystopian tech-future entertainment lineup, give Remember Me a shot.
Credit: Capcom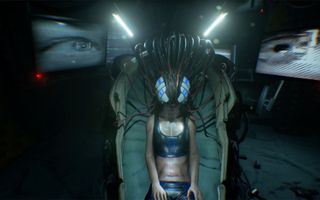 >observer_
With an aesthetic akin to Blade Runner's and a premise that's too cool for school, >observer_ is a game that strives to tell a story and sell a vibe. For this reason, it puts gameplay in the back seat and doesn't deliver much on the gameplay front. However, it does deliver an adventure worth experiencing. >observer_ puts you in the shoes of a detective who can hack criminals' minds, letting you peer directly into their madness and interact with it firsthand. The story >observer_ explores with that core mechanic makes the game a worthwhile journey, despite its bland gameplay. While you probably won't want to replay it, as a one-off interactive movie that takes the existential dread of Blade Runner and dials it up to 11, it's a hell of a trip.
Credit: Aspyr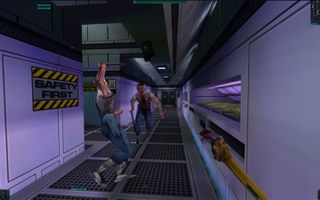 System Shock 2
Though not quite as heavy on the "punk" as it is the "cyber," System Shock 2 delivers on the core definition of cyberpunk to a T, depicting a future society dominated by technology. It's a dark, disturbing look at where the future of science will take us. There's a female supercomputer with a bad attitude (think GLaDOS, but meaner), cyber-neural implants and bioengineering gone wrong. It's nightmare fuel at its finest, even if the game's age is painfully apparent in its dated visuals. However, the game's quality outshines its antiquated technological composition. This is the 1999 FPS that inspired knockout games like BioShock and 2017's Prey. If you want to see where it all began, System Shock 2 will be waiting for you on Steam.
Credit: Nightdive Studios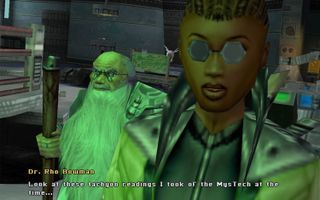 Anachronox
If you want a little magic and a little bit of The Matrix mixed into your cyberpunk binge, this is the PC game to check out. Taking the unironically serious sunglasses and trench-coat-clad atmosphere of Deus Ex, and then pushing it to the point of black comedy and morbid absurdity, Anachronox dunks on its own genre in a way that's both amusing and engaging. While there's no hiding the fact that this game is utterly appalling from a visual standpoint and riddled with bugs (especially when trying to play on modern PCs), it's got a story that just might outweigh all the cons. For those who want an RPG with a complex, often subtle and absolutely absurd cyberpunk narrative, Anachronox is worth a look.
Credit: Square Enix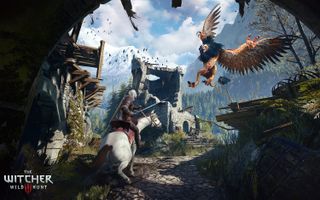 The Ultimate Cyberpunk Game
Bravo, you've seen all of our cyberpunk game recommendations. Well, almost all. There's one epic release we couldn't leave out: one so steeped in the genre's intricacies that we had to save it for the end, so that only hard-core fans would get this far and see it.The game in question is none other than The Witcher 3! Remember that one fight where Geralt's robot arms ripped a griffin's jaw open? Or that scene when Yennefer used nanotech to face off against Eredin? No? OK, well, maybe we're making parts of this up. However, The Witcher 3 does reference Cyberpunk 2077 at one point, when Ciri mentions a world of people with metal heads and flying ships. Considering both games are made by the same company, this is almost definitely a nod to CD Projekt Red's upcoming cyberpunk epic. But maybe it's also a hint at something grander! A Cyberpunk-expanded universe? Will there be Witcher crossovers? Is this all a massive tease for Half-Life 3?! All right, we'll stop.
Credit: Atari