God of War: 13 Tips for Becoming the Ultimate Godslayer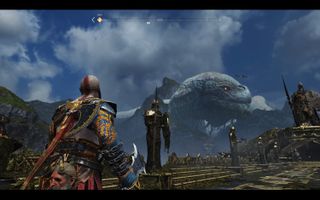 What you need to know
Kratos is back in the latest God of War, which means there's a whole new pantheon of gods to slay. But before you and your son, Atreus, lay the divine smackdown, you need to know a few things to make butt kicking go that much more smoothly. Here are 13 key tips for starting your journey.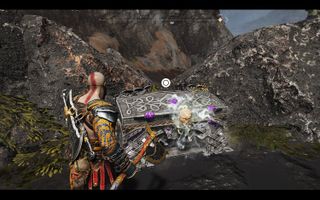 Explore Everything
This is the first God of War game that's truly open-world. And what a world it is, filled with beautiful forests and majestic mountains. Heck, there's even a giant, talking serpent. And if you get tired of Midgard, there are eight other realms to check out. While you're enjoying the sites, keep your eyes out for the various treasure chests, collectibles and power-ups along the way. Seriously, the game is chock-full of goodies.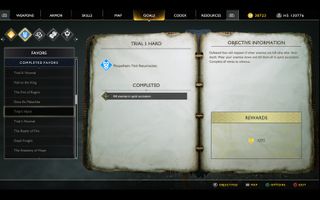 Take a Break from the Main Mission
Don't be in such a rush to blow through the main mission. In the side missions you encounter along the way, you can garner much-needed experience points and gear. And the rich dialogue and lore of the game scattered throughout the realms make for a richer experience.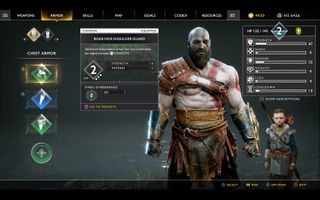 Change Armor Often
Although God of War has always given you the chance to earn some sweet mythical loot, those opportunities have never been this frequent and have never come with stats attached. The armor you find, craft or purchase can affect one of your stats (Strength, Runic, Defense, Vitality, Luck or Cooldown) positively or negatively. And in the case of Rare or Epic armor, you might get an active or passive boost.
MORE: God of War Review Roundup: A Surprisingly Touching Epic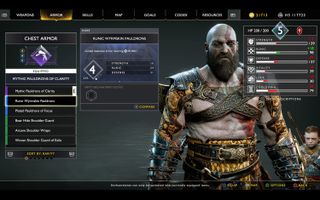 Learn to Augment Your Stats
In addition to snagging armor and weapons, you can augment your stats and attacks with talismans, runes and weapon grips. This supplementary gear can increase your attack power, vitality, runic power or cooldown time. You can place the talismans and runes in your axe or blades for access to even greater attacks.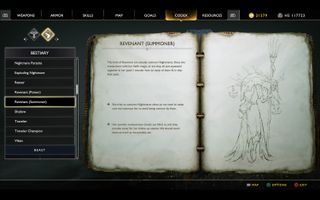 Pay Attention to the Bestiary
Every time you beat an enemy, Atreus jots down a new tip in his journal about that particular baddie. Be sure to check out those writings if you keep losing a fight. Sometimes, in the heat of battle, we forget important tactics that can help us win the day.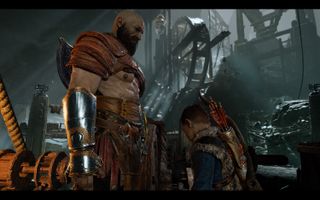 Use Atreus
He might be small, but the little demi-god can hold his own in a battle, especially once you upgrade his gear and abilities. Atreus is a godsend for crowd control, creating openings for you if a powerful enemy overwhelms you. Kratos' kid can also stun enemies, setting them up for some wicked finishers. Depending on the armor Atreus has, he can deal more damage to airborne enemies, choke certain enemies out, or throw Kratos a healing stone every now and then. Best of all, Atreus doesn't take damage or die.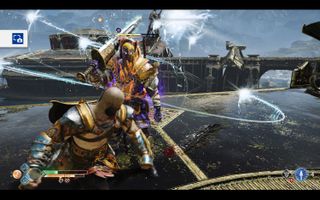 Get Your Hands Dirty
Yes, the Leviathan Axe is pretty freakin' sweet, and so are the Blades of Chaos. But don't be afraid to do some bare-knuckle brawling every now and then. Thanks to the Guardian Shield part of his skill tree, Kratos can do some serious damage with just his hands and shield. Plus, bare-handed attacks build up the stun counter faster, allowing you to set up enemies for a finisher.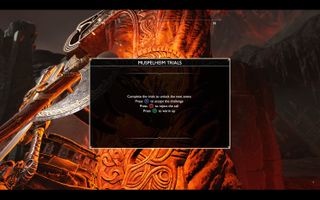 Challenge the Fire Arena
You have only one job in the fire realm of Muspelheim: Get to the top of the volcano. But to do that, you have to do battle in several arenas, each with specific requirements to fulfil and more-formidable enemies than the last. Along the way, you'll earn Smoldering Ember, which will come in handy for crafting powerful weapons and armor.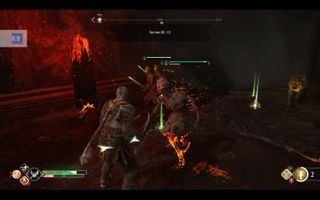 Quick Turn Is Your Friend
Nine times out of 10, you'll face off against a multitude of enemies, some of whom will mount a rear attack. Watch for the arrows that keep track of offscreen enemies; if an arrow turns red, hit the down button to quickly turn and face the threat. If you time it right, you can parry the hit, slow down time for a few seconds and get a few good hits off.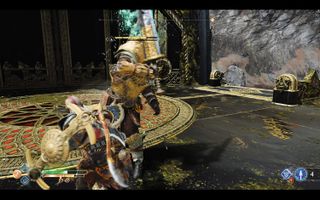 A Good Defense
Kratos' shield can stave off most attacks. And once you get the hang of the timing, a block can be used to successfully parry a hit, opening the enemy up for a counterattack. This is especially good for more-powerful enemies, whose attacks have a golden aura. However, always dodge blows that have a red aura. Even if you manage to block such a hit, it will leave you staggered and vulnerable. But more often than not, you're going to take a lot of damage or die from these attacks.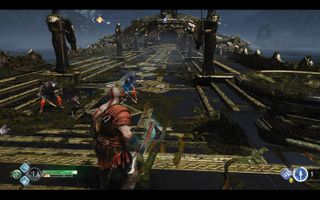 Watch the Power Levels
As you make your way through Midgard and realms beyond, you'll encounter many foes. Most of them will have yellow bars, which means you should have no problem beating them. But watch out for enemies with purple bars. That means they're a bit too powerful for you given your current stats. It's possible to whittle down their health, but you'll have to be careful, because it's typically one hit, one kill (for you) with these guys.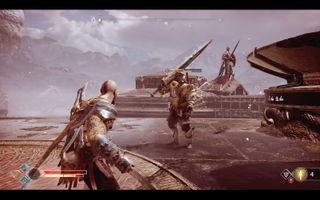 Unleash Your Rage
Once a rage monster, always a rage monster. Just like in previous God of War titles, Kratos has the Spartan Rage meter, which fills as you rain blows upon hostile forces. When it gets completely full, all the color drains from the scene and Kratos gains the ability to unleash some devastating damage upon his foes. And as the Rage meter depletes while your doling out that massive beatdown, your health meter increases. It's a good way to get some health back when your life meter is at a critical level.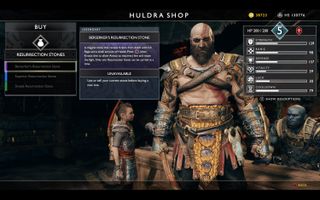 Invest in Resurrection Stones
After a certain point in the game, dwarf brothers Brok and Sentri will sell Resurrection Stones. As the name suggests, these magical stones can bring Kratos back to life with some health or a full Rage bar after he falls in battle. Unfortunately, you can carry only one of the stones at a time. I base my decision about whether to use the stone on how close I got to winning a fight that I ultimately lost. If I decide not to use it, I just don't hit the square button, and I start from where I left off.
Credit: Sony Interactive Entertainment