Best Hurricane Irma Apps: Track the Storm and Stay Safe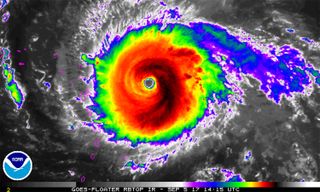 A mighty storm
Whether you're in the potential path of destruction or simply watching from afar, Hurricane Irma promises to be one for the record books. Irma is currently bearing down on southwest Florida, and it will likely hit central Florida next. An app that tracks the storm can provide up-to-the-minute coverage on Irma's potential dangers.
Check out these apps, and stand by to help out if the storm is as devastating as predicted.
Credit: NOAA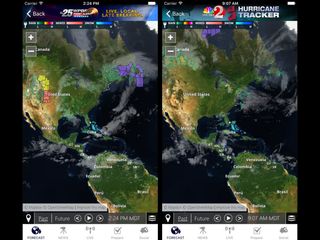 Hurricane Tracker
If you want to track a hurricane, this app does exactly what it says on the tin. The Weather Channel provides Hurricane Tracker as a stand-alone service that includes storm maps, weather conditions, future forecasts and 20 different map layers to play with. This app is particularly helpful for amateur meteorologists: It doesn't include any kind of safety information; it's just pure data about the storm and its effects. Still, its utility should be self-evident for folks in the hurricane's path.
Credit: Hurricane Tracker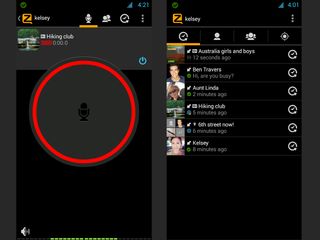 Zello
Zello is a free app that has zoomed to the top of the App Store charts because it's a free walkie-talkie app that makes it easy to stay in touch with friends and family in case of an emergency. You can also send voice messages and photos. Just note that you do need a working Internet connection, be it Wi-Fi or 4G. During Hurricane Harvey, new channels have been established on the app for groups like Texas Search and StormViewLive.MORE: What Is Zello, and How Do You Use It?
Credit: Zello, Inc.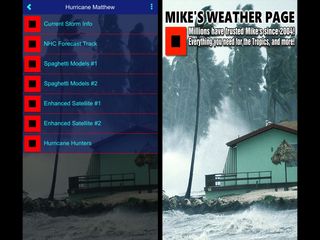 Mike's Weather Page
Do you want a ton of weather maps, both static and animated, on every meteorological topic imaginable? If so, you're probably already familiar with Mike's Weather Page (also known as Spaghetti Models). Mike is a real guy, who has devoted himself to making one of the best darn amateur weather apps in the business. The app offers all the same content as Mike's website, plus push notifications, videos, Facebook connectivity and a few other perks.
Credit: Mike's Weather Page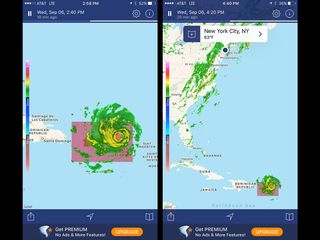 NOAA (National Oceanic and Atmospheric Administration)
The NOAA's dedicated weather app is pretty bare-bones; instead, use the agency's mobile widget. By accessing the organization's mobile site and entering a location, you can then program a widget for your home screen. This will give you up-to-the-minute information on weather conditions in your area, with data coming directly from NOAA itself. You can get temperatures, wind speeds and other general information about weather conditions. That's pretty much all it does, but for raw data, this is about as good as it gets.
Credit: NOAA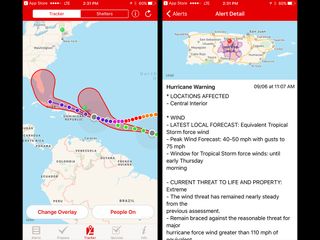 Hurricane - American Red Cross
Like a lot of storm-related apps, Hurricane from the American Red Cross gives you real-time weather alerts. Unlike other apps, however, it also provides an easy way for you to check in with loved ones. If you're in the path of the storm, you can post messages and safety statuses, and your friends and relatives can easily locate them. Sure, you could also just do this on social media, but the Hurricane app has a much smaller, more directed user base, leading to a much smaller noise-to-signal ratio.
Credit: Red Cross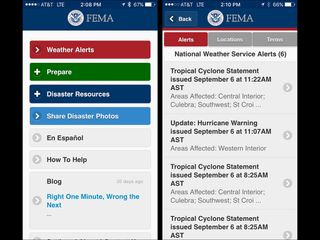 FEMA
Not only will the FEMA app connect you to weather-tracking services and provide real-time updates about dangerous conditions, but it will also help you prepare for storms, providing checklists and shelter locations. If everything goes belly-up, you can even use the app to apply for federal aid, uploading photos and communicating directly with FEMA agents.
Credit: FEMA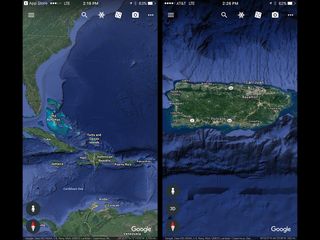 Google Earth
Sure, you can track a hurricane in a boring old 2D application — or you can see an approximation of what the storm really looks like as it swoops over the curved surface of the Earth. Google Earth incorporates hurricane data directly from NOAA, then provides simulated images of the storm's appearance and motion. To activate hurricane tracking, simply enable the Places layer, then enter the location you'd like to see. For Hurricane Irma, that will be the Caribbean and Puerto Rico, followed by (probably) Florida.
Credit: Google Earth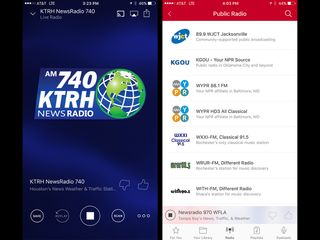 iHeartRadio
Storms have a way of messing with radio signals. There's no guarantee that your Wi-Fi or mobile data will be more reliable, but just in case, it couldn't hurt to download the iHeartRadio app. This free service connects you with radio stations from all across the country, including a healthy selection of news radio stations. Given how important radio can be in communicating timely information about safety conditions and shelters, having an app as backup makes good sense. Just be sure to set up an account beforehand.
Credit: iHeart Radio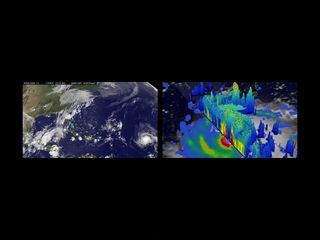 NASA
Looking at a hurricane from the ground is a recipe for disaster; looking at one from space is a majestic experience. NASA's official app tracks all sorts of terrestrial phenomena from satellites, including aberrant weather conditions. The app will show you real images of Irma as the storm develops, helping you predict its path and get a sense of the sheer scale of the thing. After the storm, you can always keep the app to get other fascinating information about the U.S. space program.
Credit: NASA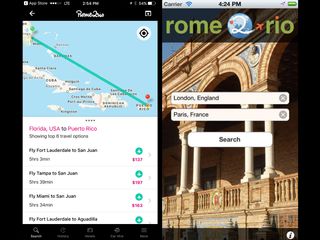 Rome2rio
If you need to evacuate because of a storm but aren't sure how to do it, Rome2rio is probably your best bet. This app will tell you how to get from any location on Earth to pretty much any other spot on the planet, whether by car, bus, train, ferry or airplane. Considering that evacuations tend to be pretty messy affairs, it couldn't hurt to know how many options you have available, especially if using a car isn't feasible.
Credit: Rome2rio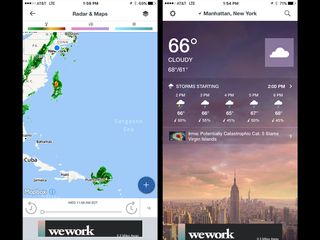 The Weather Channel
You're probably already familiar with The Weather Channel as "that thing you watch when you can't fall asleep," but we've got to give credit where it's due. The popular TV station's mobile app has tons of weather-related data and is pretty zealous (usually overzealous) about imparting real-time alerts. While the app doesn't do anything that the storm-tracking apps can't do better, it can also continue to tell your forecasts long after Irma has dissipated, so this app is probably worth keeping on your phone.
Credit: The Weather Channel