Apple Music and App Store back online after major outage — live updates
It's Apple's second outage in as many days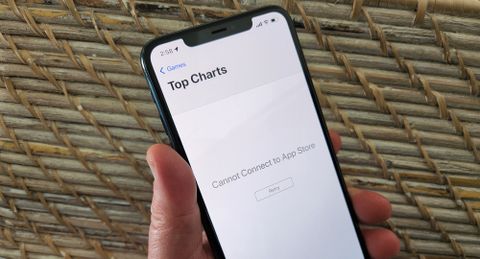 (Image: © Tom's Guide)
Update: Apple's letting app subscriptions auto-renew, even after they raise the prices. here's what you need to know

Apple online services are being hit with an outage — the second one in as many days.
The outage today (March 22) is affecting Apple Music, Apple's various app stores (both on the desktop and on its mobile devices), Apple Podcasts and Apple Books. Those services were also affected on a March 21 outage that impact more of Apple's cloud-based offerings.
Services went down just after 5 p.m. ET on Tuesday, and still remain inaccessible to some users — including Tom's Guide staff — an hour later.
You can check Apple's system status page for updates on what's out and what's back online.
This is a developing story and we'll have more information as it comes through.
Refresh
According to Apple's support page, these are the services that are currently experiencing outages:
App Store
Apple Books
Apple Music
Mac App Store
Podcasts
In the case of every outage, the service went down at 5:09 P.M. ET. In most cases users are unable to sign in to the service. In cases like the Mac App Store, they're unable to make purchases. On the App Store for iPhone, affected users can't connect to the online store.
Other services in Apple's system update are listed as experiencing issues. These include:
Apple Card
Game Center
iCloud Web Apps
Weather
In the case of Apple Card, some users are unable to use their cards for web transactions or apply for a card on Apple's website. That problem started just before 5 p.m. ET.
The other service interruptions happened at the same time. Apple is warning they may be slow or unavailable.
It's unclear if the outages above are connected to the other issues Apple is reporting.
This outage may not be a particularly long one. As of this writing, I'm able to get back on the App Store via my iPhone; I can even update and download apps at this time. The Mac App Store appears to be live, too.
Then again, Apple's system update still lists both services as suffering outages, so some users may still be affected. We'll update once Apple's website shows a green light.
If the service outage is only an hour or so, that would be an improvement from the March 21 outage, in which some web-based services were down for two hours.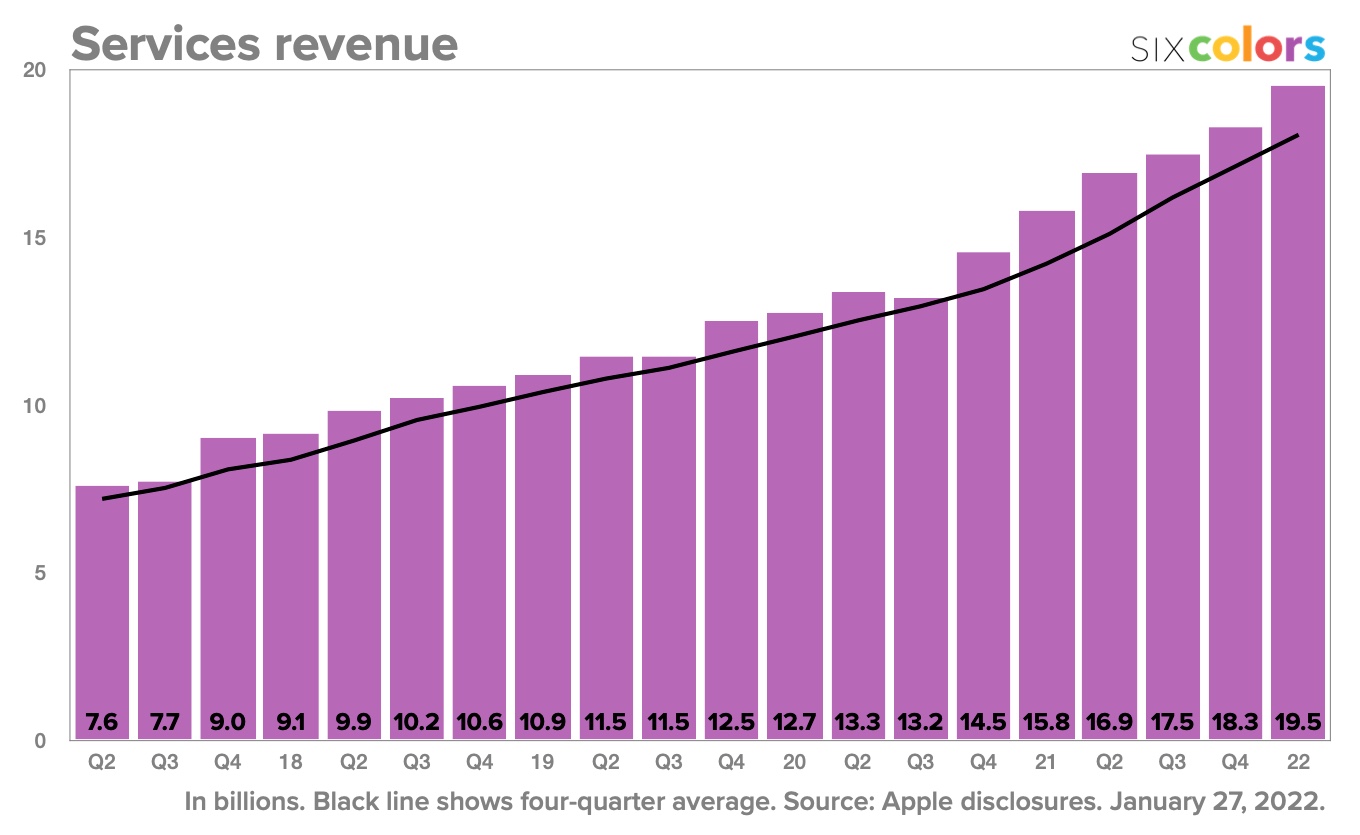 In the greater scheme of things, an outage here or there may not seem like much, but services — the things affected by the last two days of outages — are of increasing importance to Apple. It's where the company is seeing a lot of revenue growth, as it looks to reap the rewards of having a massive installed base of devices.
Just look at the chart up above which shows the quarterly revenue performance for Apple's nascent services division. (The chart comes from our friends at Six Colors, who break down Apple's earnings comprehensively every quarter.) That's $19.5 billion in sales during the holiday quarter, a 23% increase over the previous year. Services now account for 16% of Apple's revenue, the second biggest segment after the iPhone.
So yes, services matter very much to Apple, and keeping them online is a top priority.
*Apple music goes down*Spotify Users: pic.twitter.com/f551ghxCRCMarch 21, 2022
You gotta keep your humor about these things.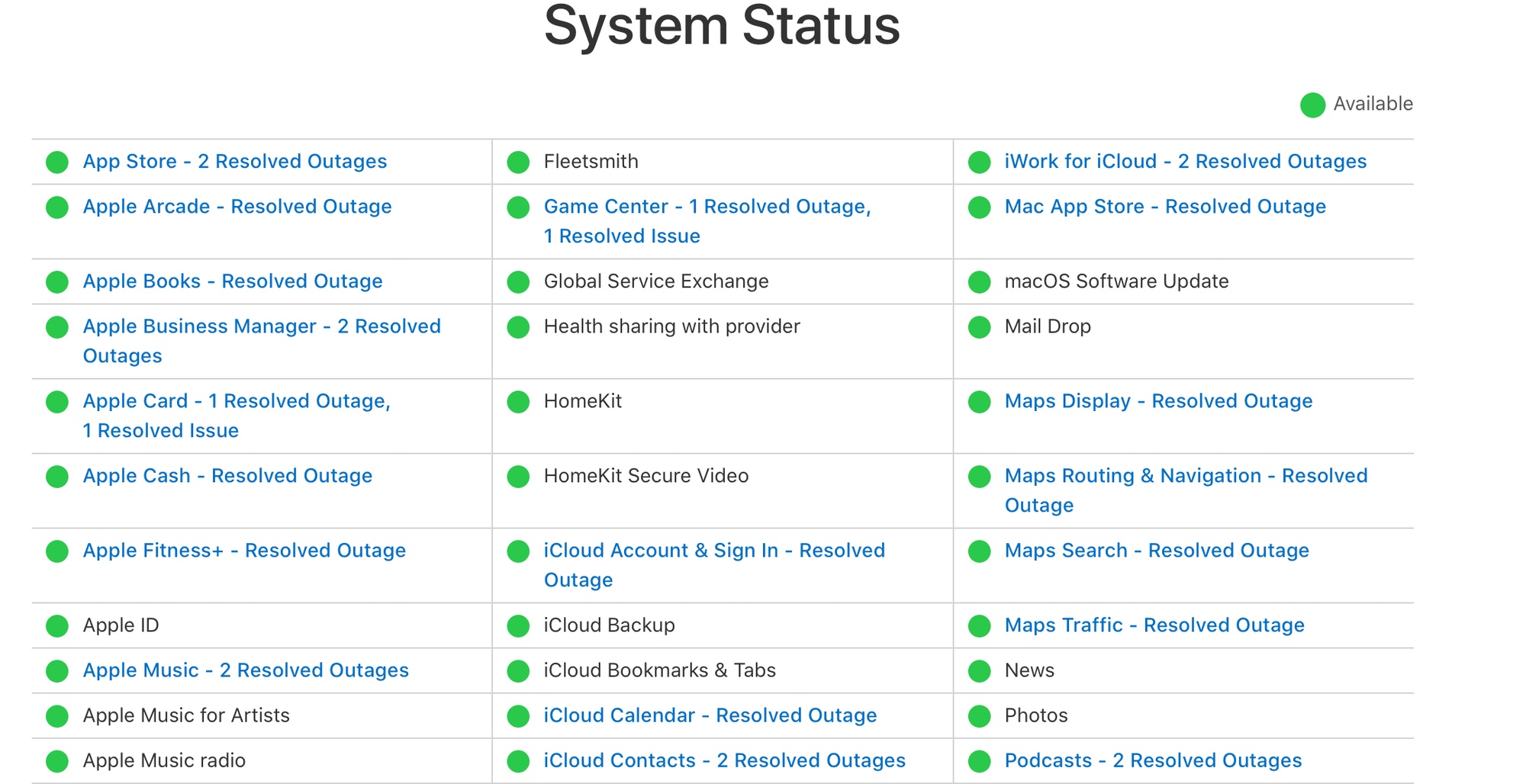 And just like that, we're back up and running. Via its system status update, Apple reports that all its cloud-based services are back online.
Officially, the outage ran from 4:45 p.m. ET to 6:09 ET on Tuesday — Apple adjusts the times of the outages — so that's roughly 90 minutes without service. On the bright side, that's an improvement from Monday's outage.
In addition to the services that were offline during that time, Apple also reports resolving problems with Apple Cards, iCloud apps, and weather services that were happening at the same time.
Get instant access to breaking news, the hottest reviews, great deals and helpful tips.
Thank you for signing up to Tom's Guide. You will receive a verification email shortly.
There was a problem. Please refresh the page and try again.