Apple will release a new Mac mini with M2 and M2 Pro chips on January 24, and when it arrives it will offer fans of Mac desktops all the power of Apple's latest bespoke silicon in a pint-sized package.
However, it will also complicate the decision you have to make when choosing which Mac desktop to buy. While the new Mac mini M2 starts at $599 and is thus even cheaper than its predecessor (which started at $699), it can be upgraded with more memory, storage and a more powerful M2 Pro chip. Once you start kitting it out, the price can easily climb past $2,000, and for that much you could also buy a new 2022 Mac Studio, a larger version of the Mac mini that can be configured with Apple's mega-powerful M1 Ultra chip.
If you need a powerful Mac for work or play, you might have a hard time deciding which is right for your needs. To give you a better sense of how they differ and which is best for what, check out our blow-by-blow breakdown of how the new Mac mini M2 stacks up against its beefy older sibling.
Mac mini M2 vs. Mac Studio: Specs
Swipe to scroll horizontally
| | Mac mini M2 (2023) | Mac Studio (2022) |
| --- | --- | --- |
| Price | $599 (starting) | $1,999 (starting) |
| CPU | M2 - M2 Pro | M1 Max - M1 Ultra |
| RAM | 8-24GB (M2), 16-32GB (M2 Pro) | 32-64GB(M1 Max), 64-128GB (M1 Ultra) |
| Storage | 256GB-2TB (M2), 512GB-8TB (M2 Pro) | 512GB-8TB |
| Ports | 2-4 Thunderbolt 4/USB4, HDMI, 2x USB-A, Ethernet (up to 10GB), 3.5mm headphone jack | 4-6 Thunderbolt 4/USB4, 2 USB-A, HDMI, 10Gb Ethernet, SDXC card reader, 3.5mm audio jack |
| Connectivity | Wi-Fi 6E, Bluetooth 5.3 | Wi-Fi 6, Bluetooth 5 |
| Dimensions | 7.7 x 7.7 x 1.4 inches | 7.7 x 7.7 x 3.7 inches |
| Weight | 2.6 pounds (M2), 2.8 pounds (M2 Pro) | 5.9 (M1 Max), 7.9 pounds (M1 Ultra) |
Mac mini M2 vs. Mac Studio: Price
The new Mac mini M2 starts at just $599, and at that price it's far cheaper than the Mac Studio. But Apple is perfectly happy to take more money if you want to spend it. If you splurge for the most capable model you can get, upgrading it with an M1 Pro chip as well as the maximum memory, storage and Ethernet speeds you can buy, that price balloons as high as $4,499 — and that's before you factor in the cost of a mouse, keyboard and other key accessories, as the only thing that comes with your new Mac is the power cord.
The Mac Studio starts at $1,999, and again that price can get much higher if you let it. Simply upgrading from the entry-level M2 Max model to the base M1 Ultra model cranks the price up to $3,999, and a fully-upgraded Mac Studio would cost you upwards of $7,999. Both Mac desktops are available for purchase right now via Apple's website.
Mac mini M2 vs. Mac Studio: Design
The Mac mini M2 and the Mac Studio share the same fundamental design. When the Mac Studio launched in 2022 I described it as a "taller, heavier Mac mini", and you can see from the measurements in the spec table above how true that is.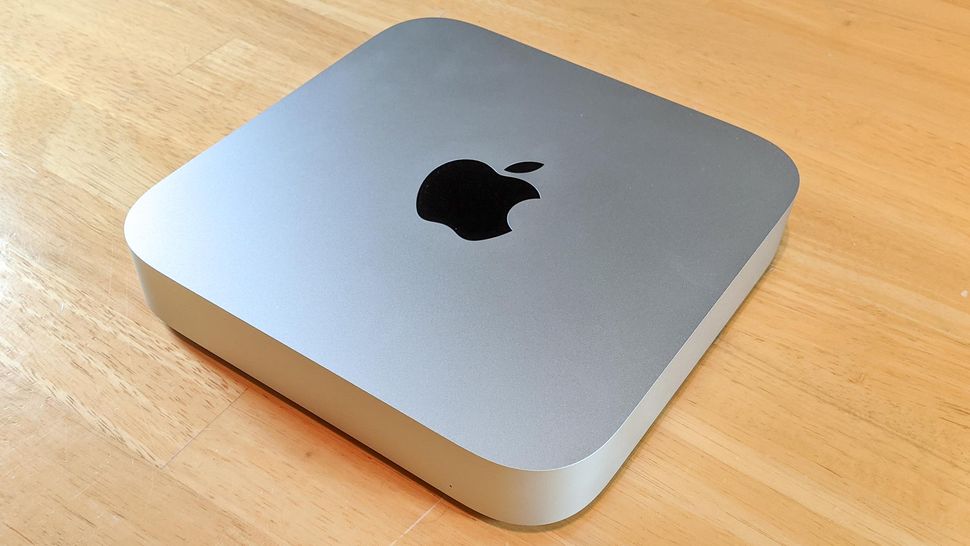 Both the Mac mini M2 and the Mac Studio look like nothing so much as blocks of brushed aluminum sitting on your desk. We've previously described the iconic look of these Macs as an Apple icon made physical, given they both sport rounded corners and a big Apple logo up top. The fact that both sit atop a circular base that tapers up gives them the illusion of floating slightly above the desk, which is a nice touch.
The only meaningful difference here is size and weight: Apple's Mac mini M2 is small enough to squeeze into more places than the Mac Studio can, and it's a few pounds lighter to boot.
Mac mini M2 vs. Mac Studio: Ports
Here's where we start to get into the meat of what separates the new Mac mini M2 from the Mac Studio. While both offer a good array of ports that should support a range of accessories, there are key differences you should know about. Both also have different capabilities depending on which Apple chips you configure them with.
The new Mac mini M2, for example, can be configured with either an M2 or M2 Pro chip inside. On the base M2 model you get 2 Thunderbolt 4/USB4 ports, 2 USB-A ports, an HDMI out, a 3.5mm headphone jack and a 1GB Ethernet port that can be upgraded to 10Gb for an additional $100.
The M2 Pro model of Mac mini offers the same basic port array, but it offers 4 Thunderbolt 4 ports instead of just 2. There's also some key differences in what kind of video it can output from said ports. The base Mac mini M2 supports up to 2 simultaneous external displays, one via Thunderbolt (at up to 6K resolution and 60Hz refresh rate) and one via Thunderbolt or HDMI (capable of up to 5K/60Hz or 4K/60Hz, respectively).
While most of us never need to worry about how many 4K external displays our Mac can support, those that do should know that upgrading the Apple silicon inside the Mac can improve its external display support. If you upgrade the Mac mini with an M2 Pro chip, for example, it comes with double the Thunderbolt 4 ports and can support up to 3 external displays: Two over Thunderbolt at up to 6K/60Hz and one over HDMI at up to 4K/60Hz. Alternatively, the Mac mini with M2 Pro can support one external display at up to 8K/60Hz or 4K/240Hz via HDMI.
The Mac Studio offers a similar array of ports and external display options. On the rear it sports 4 Thunderbolt 4 ports, 2 USB-A ports, an HDMI port, a 10Gb Ethernet port and a headphone jack. Up front it comes with an SDXC card reader and either 2 USB-C ports or an additional 2 Thunderbolt 4 ports if you upgrade it to the M1 Ultra model. The Mac Studio can simultaneously support up to five external displays: up to four 6K/60Hz displays via Thunderbolt 4 and one up to 4K/60Hz display over HDMI.
That's a lot of detail about speeds and feeds, so here's the simple explanation: The Mac mini M2 can supposedly support a higher-res external display than the Mac Studio (up to 8K, according to Apple) while the Mac Studio can support more simultaneous external displays than the new Mac mini M2. So if you want to use 4-5 displays simultaneously with your new Mac, you need a Mac Studio. Anything less, and you can probably get away with a Mac mini M2.
Mac mini M2 vs. Mac Studio: Performance
In terms of raw performance, it's tricky to say whether the Mac mini M2 or Mac Studio is clearly superior. Both are configurable with a range of chips, and while the Apple M2 and M2 Pro in the new Mac mini are newer than the M1 Max and M1 Ultra you can get in the Mac Studio, they're smaller chips that can't be configured with as many cores as the top-tier M1 chips.
In simple terms, that means the base Mac mini M2 is plenty powerful, but the Mac Studio can be far more powerful if you're willing to pay for the privilege. Unfortunately, we haven't yet had a chance to put the M2 Pro chip through its paces in our performance testing lab, so I can't give you a side-by-side comparison of how fast these two Macs are when fully upgraded.
Instead, let's look at the raw specs of what you get from each. The entry-level $599 Mac mini M2 comes with an M2 chip (8-core CPU, 10-core GPU, 16-core Neural Engine), 8GB of RAM and 256GB of storage. To fully upgrade it performance-wise, you can kit it out with an M2 Pro chip (10-core CPU, 19-core GPU) and 32GB of RAM, which will bump the price up to $1,999 and double the storage (to 512GB SSD) to boot.
For that price you can get an entry-level Mac Studio packing an M1 Max chip (10-core CPU, 24-core GPU, 16-core Neural Engine), 32GB of RAM and 512GB of storage. Already you can see that if you're willing to pay $2k or more, you can probably get better performance from a Mac Studio over a new Mac mini M2 since the Studio's older M1 Max chip matches or exceeds even the M2 Pro in core counts.
Of course, having more cores (effectively the workhorses which handle all your computing tasks) doesn't necessarily mean a chip will be faster or more effective at running your favorite apps. The M2 chips are the successors to the M1 family, and they've been improved in some meaningful ways.
When we tested the MacBook Pro 13-inch (M2, 2022) last year, for example, we saw that its M2 chip underperformed relative to the MacBook Pro 2021's M1 Pro and M1 Max chips in the Geekbench 5.4 multi-core CPU test. However, the M2 actually outperformed both the M1 Pro and M1 Max a bit in the single-core version of the same test. The difference was minor, but suggests Apple's claims that the new M2 chips have faster CPUs, GPUs and Neural Engines than the M1 chips have some merit.
Mac mini M2 vs. Mac Studio: Bottom line
So what does all this mean for you? If you're not worried about running CPU- or GPU-heavy applications (like photo/video editing software, code compilers and many modern games) the Mac mini with M2 is likely more than enough power for your needs. It's great for browsing the web, getting work done, and some light gaming.
However, if you want the most powerful Mac desktop you can buy (outside of a pro-grade Mac Pro, of course) the Mac Studio is your current best option. Though it starts at a far higher price than the Mac mini M2, it offers more power, more ports, more display options and a higher ceiling for performance — though you'll pay mightily for the privilege.
Of course, this is the beginning of the end for the M1 Max and M1 Ultra chips available in the Mac Studio. The M2 Pro and M2 Max are the top tier of the next generation, and they'll start shipping in new Mac minis and new MacBook Pros by the end of the month. If we see something equivalent to an M2 Ultra (dare to dream) before the end of the year, it will be a bit harder to justify buying a new Mac Studio with last-generation M1 chips.