Channel Your Screen: Camtasia For Mac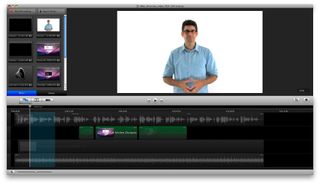 TechSmith's Camtasia for Mac
If you use a Mac, you already know that there are a variety of built-in options for taking screen shots. But what if you need more than a simple screen shot? For example, if you're demonstrating how to use a new piece of software, you may want to record a series of mouse movements and control adjustments while adding audio narration. The Mac OS offers no built-in capability to create this type of recording, so Camtasia for Mac is a useful tool for these applications.
Cross-platform users have known about Camtasia for Windows for years. Many have been asking for a Mac version of Camtasia, as I discussed in my coverage of Macworld 2008, during which TechSmith said: "You talked. We listened. Every time we go to a show, people ask: 'When are you coming out with Mac software?' The answer is, as soon as possible." TechSmith made good on this promise last week, a year and a half after discussing the possibility, with the release of the first version of Camtasia for Mac.

Basic Controls
Camtasia for Mac opens with a set of basic controls for capturing audio and camera video. Audio recording can be turned on or off, and if turned on, can be set to record from the Mac's built-in microphone or from a microphone plugged into the Mac's Input port.
You can also select to record system audio, which is audio created by the application which you're using (such as the "whoosh" sound that plays when sending an email). Using system recording requires the installation of a plug-in called Soundflower. The plug-in installs easily enough, but it does require a reboot before its first use.
By default, camera recording uses the iSight camera built into most Macs. However, this can also be set to use any external cameras that you may have connected to your Mac's ports.
Pressing the red record button on the far right of the toolbar begins a three second countdown and then starts recording. Recording can be stopped by clicking on a small icon in the Mac's Menu Bar. A new recording is started by clicking File | New Recording.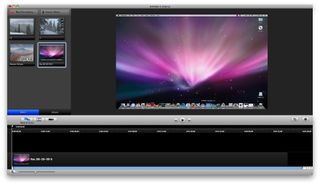 The Interface
After creating a recording, clicking the stop icon opens the Camtasia for Mac interface. By default, the interface opens in wide-screen mode. This is helpful, considering that more space is usually better when working with video editing.
The interface is divided into three major areas: the Media Bin (in the upper left), the Canvas (in the upper right), and the Timeline (which stretches out across the bottom of the screen).
The Media Bin is used to store the clip that you just recorded, along with any other media you import into your Camtasia project. It also stores Camtasia for Mac's library of text and vector shapes and video effects. The Canvas is used to preview your video, to position text and vector shapes, and to make editing changes such as cropping. The Timeline is used for combining your audio; video, text, and vector shapes; and video filters.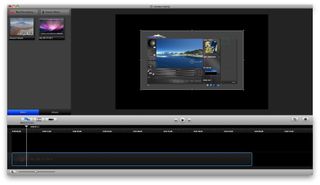 Basic Editing: Media Bin and Canvas
The clips found in the Media Bin cannot be repositioned inside the Media Bin, which I found to be a minor annoyance. However, you can scrub through the content of a clip (or preview its contents) by simply holding your mouse over the clip, which is a useful time-saving convenience.
Other Camtasia products with which I've worked allow you to capture only a predefined area of the screen or a particular window. Unfortunately, Camtasia for Mac does not have this feature. However, cropping to the desired portion of the screen is performed easily, from inside the Canvas portion of the interface. Clicking the Crop Button (located below the canvas, toward the right side of the screen), enables Crop Mode. Once in Crop mode, cropping is accomplished by simply dragging the corners or sides of the bounding box to the desired location.
I'm concerned that having all of this extra and sometimes unneeded video stored in memory could present a problem on slower Macs, but on my Mac (a September 2007 iMac with 256 MB of graphics memory), I had absolutely no problems at all.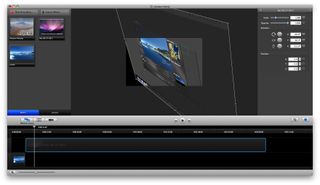 Basic Editing: Canvas Cont'd
Moving media within the Canvas doesn't require any special controls–it's a simple drag and drop operation. Media is rotated just as easily, by clicking and dragging a rotation handle. You can zoom in to a particular location in your media by clicking and dragging with Crop Mode disabled (so that you perform zooming instead of cropping).
The Canvas can also be rotated in three dimensions, to create an interesting visual effect. The easiest way to rotate the Canvas is by using Camtasia for Mac's Properties controls. To access the Properties controls, click the Properties button located on the far right of the screen, beneath the Canvas. The Z axis performs simple "flat" rotation; the Y axis performs 3D horizontal rotation; and the X axis performs 3D vertical rotation.
I found the Canvas tools in general to be very intuitive and easy to use. The rotation tools in particular seem more like what you would expect to find in a 3D modeling program than in an affordable video editor.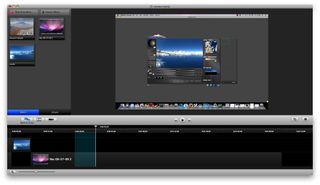 Basic Editing: Timeline
The Camtasia for Mac Timeline supports transparency, so that clips can be layered on top of one another. Editing the mark in and mark out (starting and ending points) of any clip is accomplished by simply dragging the edges of the clip to the desired time location.
When working with two clips in a video project, it's fairly common to have one clip end and another begin at exactly the same time. In Camtasia for Mac, this type of alignment does not require exact precision from the user. Two clips that are near each other's begin and end time will automatically snap together, forming a seamless transition. However, if you don't want the clips snapped, you can separate them by simply sliding one left or right on the Timeline or by clicking View | Disable Snapping.
Deleting a portion of a clip is accomplished by clicking and dragging the Playhead (time indicator) while holding down the shift key. When editing video or audio, if you delete a section of a clip (other than the beginning or ending), two clips are created from the original (with the deleted section removed). Camtasia allows you to perform a standard delete, which leaves the gap between the two deleted sections, or a ripple delete, which automatically snaps the ending of one section to the beginning of the other, leaving no gap. Ripple Delete is another nice feature in an inexpensive editor.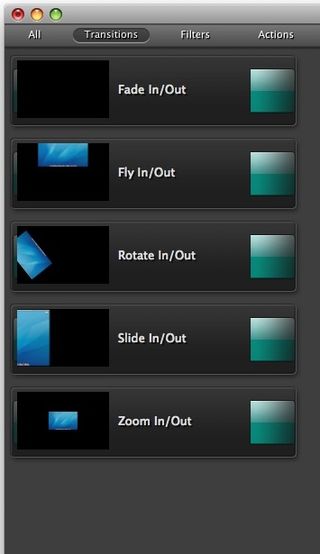 Video Effects: Transitions
Camtasia for Mac contains a variety of video effects, divided into three categories: Transitions, Filters, and Actions. I'll look first at Camtasia's five transition effects.
· Fade In/Out: This applies the traditional fade effect often used in videos.
· Fly In/Out: This starts with your presentation at a fraction of its normal size, centered at the top of the screen. The size then increases as the presentation slides into its proper position.
· Rotate In/Out: Using this effect starts your presentation on the left side of the screen. The presentation then rotates into position.
· Slide In/Out: Slides your presentation into place from the left side of the screen.
· Zoom In/Out: The conventional video zoom effect.
You can adjust the length of all of the Transitions by clicking and dragging on the Transition in the Timeline.
The Transitions work well and are definitely easy enough to use. However, Camtasia for Mac could benefit by adding a larger selection of Transitions. For example, a dissolve, in which shapes such as diamonds or rectangles slowly disappear to reveal your background layer, would be useful.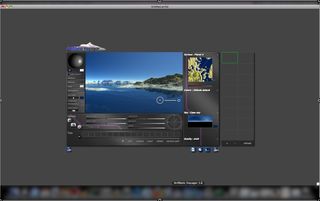 Video Effects: Filters
Video Filters are designed to display changes to your media clips, such as improving brightness. Camtasia for Mac contains a total of six video Filters:
· Color Adjustment: The Color Adjustment Filter is used to apply brightness and contrast changes to your clips. Very few of us shoot video under ideal lighting. Thus, controls to adjust brightness and contrast are among the most widely used tools in a video editor. Note that it's usually best to adjust brightness first and see if the changes you made require a contrast adjustment.
· Colorize: This filter applies a color cast to your media. For example, a sepia color cast could be used to create an aged film look.
· Drop Shadow: This filter adds a soft shadow to your media and can also be used on text to create a raised test appearance.
· Glow: While Drop Shadow usually uses a dark color and applies an effect to two sides of your media, Glow usually uses a light color and applies an effect to all four sides of your media.
· Reflection: This filter applies an Apple-styled reflection effect to your media.
· Window Spotlight: This is used to highlight the top window in your presentation, by creating a soft blur over content not in the topmost window.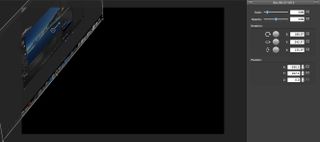 Video Effects: Filters (Cont'd) and Actions
While adequate, Camtasia for Mac's filters still leave something to be desired. For example, the Color Adjustment contains no RGB controls, which can be crucial when adjusting color. Also, the Window Spotlight intelligently guesses the location of your top window. If it guesses wrong, you cannot manually reposition the effect.
In the example above, the Window Spotlight Filter guessed incorrectly what area I wanted to highlight (the landscape and its controls near the middle of the screen).
Actions
Actions provide a unique group of effects for your media. The meaning of some actions is obvious, such as Fade In, Fade Out, Zoom In, Zoom Out, and Restore. However, I would like to take a closer look at the additional Actions:
Flip Horizontally and Flip Vertically: Flip Horizontally creates a mirrored look, while Flip Vertically creates an upside down appearance.
Spin: This action rotates your media and then stops with the media properly rotated at zero degrees.
Custom Video Action: You can customize this action each time you use it to create any effect that Camtasia can produce.
Above, a custom effect is created by rotating all three depth axes, adjusting the vertical and horizontal position axes, and reducing opacity. This media could then be adjusted over a few seconds time to its proper depth axes, position axes, and opacity to create a unique effect (for example, at the start of a video clip).

Smart Focus
Camtasia for Mac's Smart Focus is unique. Although Smart Focus is placed in the Actions category, its work actually begins long before you apply Actions.
Whenever you make a recording with Camtasia for Mac, the program monitors three activities: cursor location, menu selections, and active windows. When you finish recording, this data is silently added to the final media clip that is placed in your project.
If you then choose to add Smart Focus to your clip, Camtasia for Mac will automatically create pan and zoom effects based on the cursor location, menu selections, and active windows that it noticed while you made your recording. Since you don't need to create pans and zooms manually, this can significantly enhance productivity.
The Smart Focus action adds this effect to your entire Camtasia-created clip, while the Smart Focus at Time action adds the effect only to a period of time that you select in the Timeline.
Above, Smart Focus placed pan and zoom effects in numerous locations, as indicated by rectangles in the Timeline.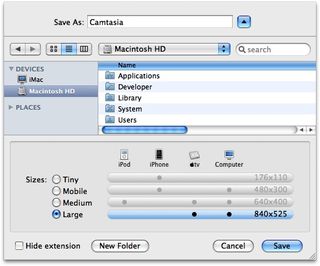 Exporting
Camtasia for Mac includes a variety of export options for sharing your video presentation with your audience. These options include:
3G: Also called 3GPP, this is the default format used by many cell phones.
QuickTime: The QuickTime format is useful for iPhones, iPods, Macs, most PCs, and the Internet.
AVI: This includes a no compression option for when you must save lossless video.
DV Stream: Makes the DV, DVCPRO, and DVCPRO50 formats available within a .DV file.
MP4: A format known for its tight compression, high quality, and ability to playback just about anywhere, including iPhones, iPods, Macs, PCs, and the Internet.
Camtasia for Mac also has the option to export your video to iTunes and to export and upload your video to YouTube and to Screencast.com. The iTunes option offers advice on size reductions, which may work best with various devices.
All of the options here work well, and the wide selection of options is a nice touch. One note: in addition to exporting video, remember to File | Save your project if you want to perform additional editing in Camtasia in the future.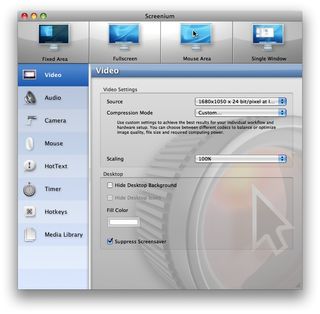 Competitor: Screenium
Synium Software's Screenium opens as a convenient tab bar controller interface. At the top of the interface, you can immediately see that Screenium offers an option that Camtasia does not have: the ability to record a fixed area of the screen, the entire screen, mouse movements, or a single window. The mouse option is particularly useful, since you predefine the dimensions and location of the recording area and the predefined area automatically moves as your mouse moves. The result is somewhat similar to Camtasia's Smart Focus option.
Screenium includes the ability to use video from your Mac's iSight camera. The transparency of the on-screen camera display is adjustable, which is a nice touch. Screenium is able to record built-in microphone audio, input audio, and your Mac's system audio sounds. You can also select the option to highlight mouse clicks with a visual effect, which can be useful when creating a product demonstration video. Screenium outputs your recording in Apple's QuickTime format.
Screenium retails for $29. As you might have guessed, a video editor is not included at this price. However, everyone does not need a video editor. If you just need the ability to capture audio and video at an affordable price, Screenium is an application that may well suit your needs.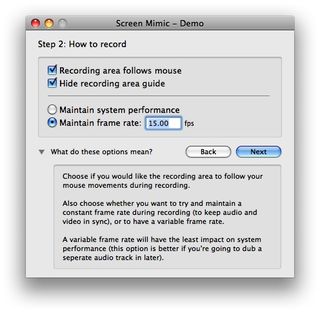 Competitor: Screen Mimic
Decimus Software's Screen Mimic enables capturing a fixed area of the screen, the entire screen, or a single window. As with Screenium, you can also opt for Screen Mimic to follow your mouse movements, and to record audio, but Screen Mimic does not have the option to record on-screen video from your iSight camera.
Screen mimic does have several other interesting options. You can choose whether it should focus on keeping up with your desired frame rate or with your Mac's system performance (see below). Compared to the "follow mouse movements" option in Screenium, Screen Mimic's "maintain frame rate" seems to allow for a smoother recording. However, if you're making a purchase decision based on this feature, I strongly urge you to try the demo versions of both programs on your own Mac before buying.
Screen Mimic outputs with Apple's QuickTime and also has the option to output Shockwave Flash (SWF) and Flash Video (FLV). As with Screenium, Screen Mimic, which retails for $65, performs well.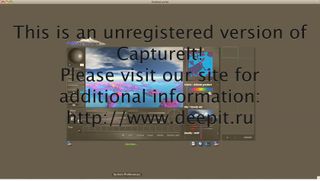 Competitor: CaptureIt
Deep IT Software's CaptureIt, which retails for $19.95, is the least expensive and least feature packed of the video-capture programs which I've looked at in this review.
CaptureIt opens by trying to anticipate what you want to capture from your mouse location. This might be a useful feature if it worked well. I found CaptureIt to be the least intuitive of the all the packages reviewed here.
Like Screenium and Screen Mimic, CaptureIt includes the ability to capture both system and microphone audio. CaptureIt can also capture iSight video. Once you figure out how to use the feature, it can capture the entire screen, a fixed region, or a window, but it cannot capture by following mouse movements.
There are preset options for exporting QuickTime video and fortunately the options can be customized. However, there are no options for exporting to other formats. Perhaps most annoying of all, the trial version intentionally fades your screen colors and places a huge text-label watermark, which makes it impossible to examine the quality of your video.
A lot of complex programming may have gone into creating this application. But the end result, and particularly the demo, show questionable implementation.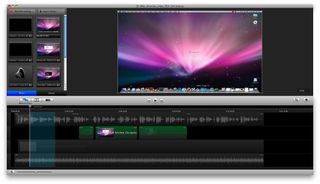 Conclusion
Camtasia for Mac needs a bit of fine tuning in the area of available features. For example, I'd very much like to see the ability to perform minor editing on a selection. Also, in addition to the Smart Focus Action's capabilities, an option to track mouse clicks was missing, as these are often an important aspect of a presentation video. And as I mentioned earlier, I'd like to see more transitions, more filters, and more powerful versions of the existing filters. Having said that, it's important to keep in mind that these are all very minor issues, particularly for the first version of a program. In the end, Camtasia is a well polished product, which Mac users should find very intuitive to learn and easy to use. Camtasia for Mac retails for $149 (but is on sale now for $99).
As for the competing products that I've reviewed here, users on a limited budget will likely find them useful. This is particularly true for Screenium, which seems to offer the best combination of useful features at the lowest price.