How To: Spybot 2 Free Step-by-Step Guide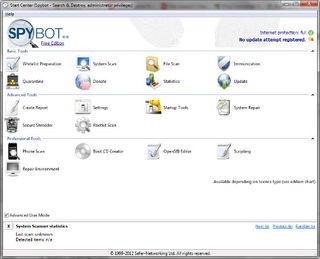 Spybot 2 Free
Spybot Search & Destroy is an old hand on the anti-malware scene, and just this November, Safer Networking Limited, the program's developers, released the newest version of the program, Spybot 2. Today, we'll take a quick tour of Spybot 2's free version, guiding you through installation and a few other salient features. The first thing you'll need to do that of course is to grab the installer through the download link above!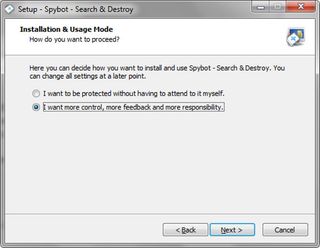 Installation & usage mode
You'll need to pay attention during installation of Spybot 2, not because the program will try to install crapware (perish the thought of an anti-spyware program bundling with extraneous rubbish), but because Spybot will immediately start asking you how you intend to use and install the program. The first option automates much of the options during installation (the defaults should be good enough for most users), while the second requires more user feedback as the software asks which modules to install, which tasks to automate, and whether Spybot should integrate with Explorer's context menus and Internet Explorer.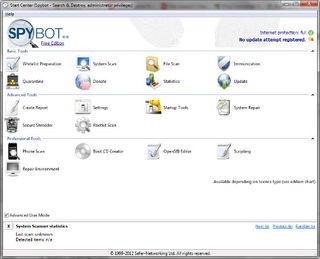 The Main Menu
Once Spybot Search & Destroy is installed, opening up the launcher should bring up this menu of tools. Basic tools cover common anti-malware tasks for just about every user, while toggling the "Advanced User Mode" checkbox will unlock more advanced tools. Finally, the lower part of the menu includes a set of "Professional Tools" that, for the most part, are only available to the paid versions of Spybot 2 (for other free applications for Windows, check out this post).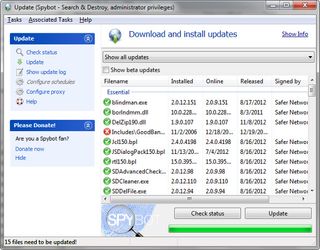 Updating Definitions
One of the hallmarks of good system protection is keeping your software fully updated. Even malware definitions that are only a week old can leave you open to new and evolving threats, so the first thing you'll want to do is to immediately run Spybot's Update tool to make sure Spybot's components and malware definitions are up to date. While Spybot should update itself automatically in the background at boot, it doesn't hurt to run a definitions update, especially right after the first installation.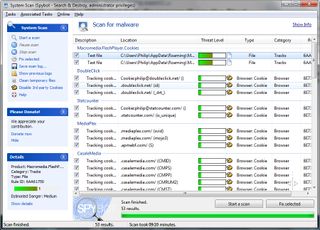 System Scan
With your definitions updated, you'll want to run the System Scan tool to actively hunt down any malware lurking in your system. Spybot 2 will recommend deleting your temporary files just before running the scan to speed things up. In general, this is a good idea. The scan can take a few minutes, so sit back, have a coffee, and let the scan run its course. Once done, Spybot will display a host of possible threats along with quick information on each and a threat rating. Select the ones that need to go, have Spybot clean them up, and off you go. If you want to be extra thorough, run another scan right after cleaning.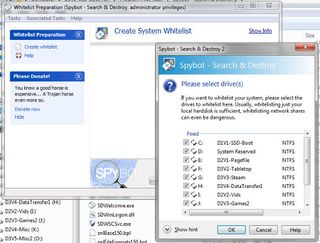 Creating A System Whitelist
With a clean bill of health for your system, you may optionally want to set up a System Whitelist, where Spybot goes through your system files and flags them as safe, in order to speed up future scans. This can make scanning quicker but creates a blind spot if an infection is already residing within your system (so be sure to have scanned first). Spybot's devs only recommend using this feature on freshly installed systems not yet connected to the internet, and have actually set it so that the System Whitelist is removed in the main menu for systems that are older than 30 days, as the likelihood of a potential threat being in the system has already increased by then. Users supremely confident in the health and security of their system may still manually create a whitelist by running "SDPrepPos.exe" in Spybot's installation directory.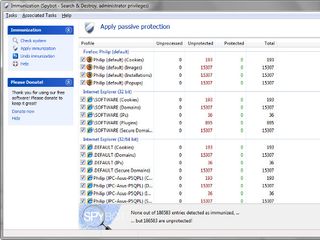 Immunizing Your Browser
Afterwards, you'll want to take the next step of using Spybot Search and Destroy to Immunize your browser from malware threats. The Immunization tool complements the on-demand scan by working with your browser, blocking access to sites known to contain malicious or unwanted software through your browser's blacklist feature. You'll need to close all open web browsers to do this, so bookmark any tabs you have open, and then run the immunizer. If you ever want to undo the changes made by the Immunization tool, simply return to it and look for the "Undo Immunization" option.
Note: Immunizing your browsers will require you to have Administrator privileges in Windows.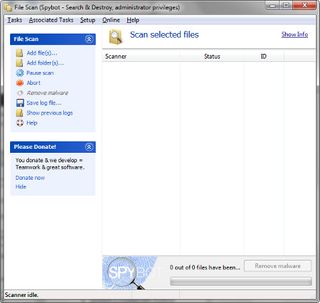 File Scan
Spybot 2 also contains an on-demand File Scan feature for scanning individual files and folders. You can drag and drop files and folders into the window or select them within Spybot's "Add Files"/"Add Folders" buttons. Additionally, if you decided to integrate Spybot with Explorer & AutoPlay, you can right click on a target file or folder, or automatically run a File Scan when plugging in media through the AutoPlay options.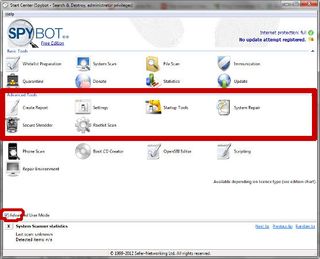 Advanced Tools: Rootkit Scan, Startup Tools, System Repair, Secure Shredder
Spybot 2 also comes with a host of Advanced Tools for the more tech savvy of users, as well as a host of configuration options. The main menu should have a small checkbox item to unlock "Advanced User Mode" that, when enabled, will display a a set of more complex toolsfor further system cleaning. These include Startup Tools (a version of Safer Networking's RunAlyzer that is used for managing programs and services that start up automatically at boot), as well as a Rootkit Scan tool for hunting down system-level malware. The System Repair tool looks through your system registry in order to find and fix damaged or corrupt registry entries, and the File Shredder tool, which is used to completely delete selected files from your drives (with an option to set multiple disk head passes in order to ensure deletion).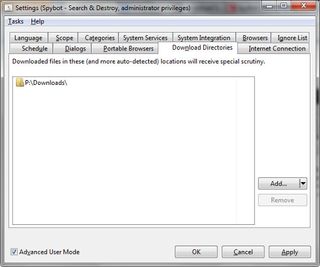 Settings: Download Directories
The "Advanced User Mode" toggle also allows users to tweak Spybot's settings, which are loaded with multiple options for setting the program's behavior, such as how verbose or minimal Spybot is with its helpful prompts and dialogues, language settings, system integration, and even an "ignore list" for malware threats/categories that you're willing to tolerate due to program requirements/compatibility. While the default settings are a good starting point, there are a few things you can tweak for additional protection. For one, you can define your Download directories, tagging all files within these folders for extra scrutiny from Spybot.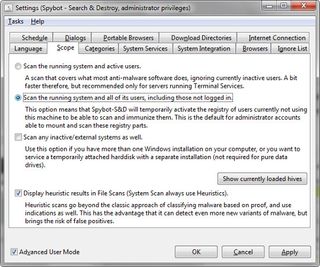 Settings: Scope
The Scope tab in settings lets users set Spybot's scanning range. By default, Spybot will only scan the running system and active user profiles, ignoring users that are logged out. You may also set Spybot to scan even inactive users, temporarily activating their registries for scanning and immunization. In addition, users with multiple bootable systems or servicing an attached hard disk with a separate installation may set Spybot to scan inactive/external systems as well. Finally, leave the last checkbox (heuristic scanning) ticked, as heuristic scans in general increase security at the cost of more false positive results.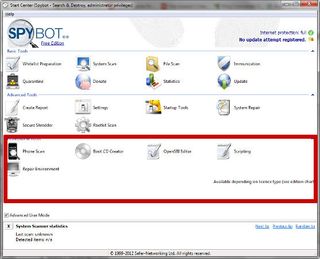 Paid Features: Protected Repair Environment, Boot CD & More
Finally, we wrap up with a few key differences between the free and paid versions of Spybot 2, mainly in the Professional Tools section. The Home version of Spybot 2 is a step up from Spybot Free, allowing users to take advantage of command line parameters when executing the program, as well as coming with a handy Task Scheduling feature for automating system scans and immunization (which are executed on-demand in Spybot Free). Spybot Professional also includes some additional handy features, such as a Boot CD tool for creating a safe backup for system restoration, as well as a Protected Repair Environment feature.