Last week blogger BirdAbroad made a huge splash with pictures of a fake Apple store in Kunming, China. However, it seems there were some unhappy customers following the revelation that the shop was a not a legitimate Apple store. Reuters reports that customers were Friday 'berating staff and demanding refunds' following the news coverage.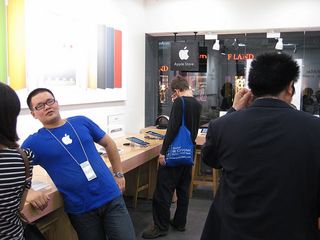 "When I heard the news I rushed here immediately to get the receipt, I am so upset," one customer told Reuters. "With a store this big, it looks so believable who would have thought it was fake?"
The customer in question was sold a 13-inch MacBook Pro and iPhone 3G by the staff at the store. However, she was never given a receipt, but told to come back and collect it later. An employee spoke to Reuters, complaining about the unfair portrayal of the store in the media.
"The media is painting us to be a fake store but we don't sell fakes, all our products are real, you can check it yourself," he said.
The Associated Press reports that Chinese authorities are investigating electronics stores in the area and have found a total of five fake Apple stores. Two of these locations have been ordered to suspend business pending an investigation. The other three remain open as no fake Apple products were found.
The owner of the store that appeared in photos on the BirdAbroad blog told the Wall Street Journal (via Washington Post) that while his storefront was unauthorized, the products were genuine Apple products. He is said to have declined to reveal his supplier but apparently hopes to become an Apple reseller soon.
"I am sure we will become their authorized reseller in the near future," the man, named only as Li, told The Wall Street Journal, "After all, we invested a lot in this store."
The investigations carried out at the stores will focus on business licenses, permits of brand use and purchasing channels for each location.
Further Reading
Reuters: Customers Angry, Staff Defiant at China's Fake Apple Store
Washington Post: Fake Apple Store Under Investigation in China
Associated Press (via Yahoo!): China Officials Find Five Fake Apple Stores in One City
Wall Street Journal (subscription required): Copycat Apple Store Prompts China Investigation