10 Google Tricks You Didn't Know About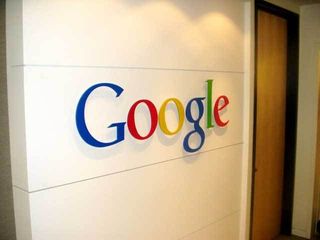 Make Google Work Harder For You
Google is one of the most pervasive forces on the Internet. Everyone uses Google at least a few times a day. Many of us have Gmail. Fewer of us use Google Docs. Regardless of what Google product you use most, there's no shortage of smart people on the Internet dreaming up hacks and tricks to make Google and its myriad products work better for you. We've compiled our favorites and we'll show you how to run a few new types of commands in the search bar, how to tweak Gmail and even a new application for Google Docs. We're pretty sure there'll be at least one trick here that you've never heard of before.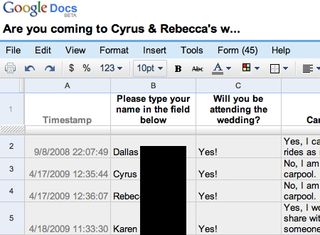 Google Docs For Simple Forms
So, I'm getting married next month (yay!). When I was setting up an online way for people to RSVP, I asked a web programmer friend what the best way to do this would be. Without hesitation, he suggested Google Docs. In under 10 minutes, I had created a web form with a few questions -- mainly: Are you coming to the wedding? -- that sends its data to a Google Doc spreadsheet. I could then embed the HTML code for that form into any web page of my choice. Plus, I can even backup the responses, but we'll get to that in Tip #9.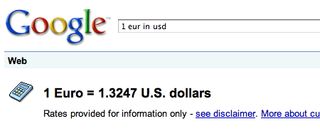 Currency Converter Via Search
I'm about to move from Europe back to California. Since I've been over here, though, I've frequently needed to check the exchange rate between euros and dollars. Fortunately for me, Google makes that insanely easy. You can type "1 dollar in euros," into Google and it will give you the most current exchange rate. If you're especially currency-savvy and you know the international three-letter codes for various currencies (USD for US dollar, EUR for euros, CHF for Swiss Francs and so forth), then you can use those codes as well. Man, I wish I was being paid in GBP!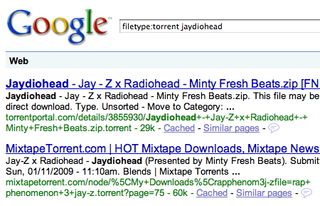 Search By Filetype
Let's say you want to search for some obscure BitTorrent file, like the new Jay-Z + Radiohead mashup album: "Jaydiohead." Sure, you could just do a regular Google search for it, but there's a faster way to filter out all the stuff that's not a .torrent file. Google allows you to search by file type, so if you type in "filetype:torrent jaydiohead" you'll be rockin' out to some minty fresh beats in no time. Use at your own risk, people!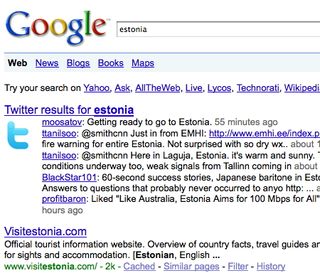 Put Twitter In Your Search Results
This hack is just so simple I'm surprised that it took until March 2009 for someone to create it. In my business (that'd be journalism), knowing what's going on is the name of the game. So that means I have to keep on top of all the latest trends, buzz and all that jazz. One of the best things about Twitter is the ability to search for what people are talking about right now, so why isn't this integrated into Google? Thanks to a Greasemonkeyscript, it is now. Twitter search results will appear at the top of your search page if you install this script.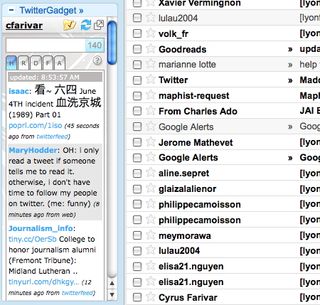 Twitter In Your Gmail
Maybe you live in Gmail. Maybe you also love Twitter and you bang your head against your keyboard and wish that you didn't have to toggle between your browser and your favorite Twitter client all day long. Forget that -- enter TwitterGadget, a mini Twitter client that lives in the left sidebar of your Gmail. Beware though, if your friends start direct messaging you in Twitter and Google Chatting with you at the same time, your brain might explode.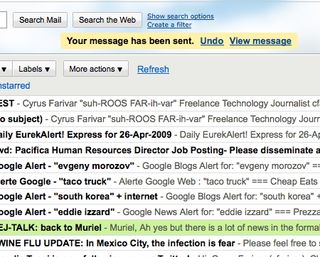 Undo Send in Gmail
Those crazy folks over at the Gmail Labs are always coming up with wacky new features to improve the entire email experience. One of the most useful ones that they've turned on recently is the Undo Send button. If you enable it in the Labs button in Gmail, once you send an email, you'll have five seconds to retract it or edit it before sending again. If you're lucky and catch a mis-directed email in time, you could save yourself a painful "d'oh!" moment.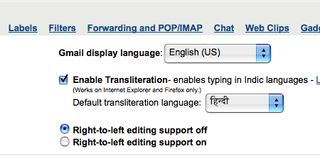 Language Support and Transliteration
While I don't speak, read or write any Indian languages like Tamil or Hindi, lots and lots of people do. So, as a way to help those people out, Google has taken it upon itself to not only support these languages when typing email messages in Gmail, but also to transliterate those languages as well. So if you type "Namaste," it will come out as नमस्ते . To enable these languages, just click "Settings" in Gmail. Then next to "Language," click "Show all language options" and check "Enable Transliteration."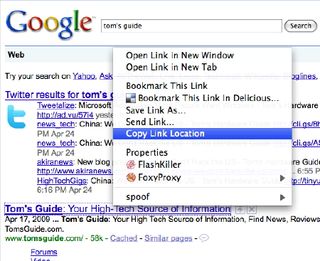 Disable Tracking Of Your Data
When you're online you probably produce more traceable data than you realize. Google thrives on this data, and uses it to figure out which links are popular and which aren't. If you don't trust Mountain View with this kind of info, or don't want them to have it in the first place, you can disable Click Tracking with this Greasemonkey script. This way, you can identify a true URL rather than copying the very long URL Google creates (including tracking codes).

Back Up Docs In Various File Formats
Now that you've created your RSVP Google Doc spreadsheet, you'll probably want to back those filled-out forms and documents up. Fortunately, there's yet another Greasemonkey script designed for this exact purpose. After installing this script, you'll be able to download your selected Google documents as Microsoft Office files, Open Offices files, PDFs, and a whole slew of other options.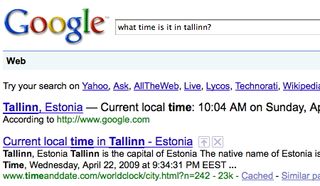 What Time Is It There?
Finally, here's a really easy Google tip to keep track of the time in various parts of the globe. Just type "what time is it in Dakar?" --or more simply-- "time dakar." However, it doesn't work for all cities. But, if you pick the biggest city in the time zone you want, you should be ok.