In Pictures: PAX East Gadgets and Gear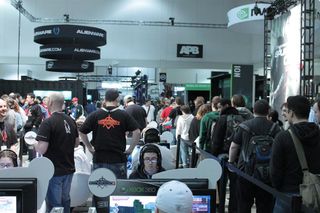 Inaugural East Coast PAX
PAX, or Penny Arcade Expo, is an annual event in Seattle every summer that brings together the best of all things geek. From video games to computer hardware and software to tabletop gaming to cosplay, PAX is one of the best events to attend as a gamer in the United States. If one PAX convention a year was great, then two is even better, and it seems as though Penny Arcade agrees. March 26-28 marked the first annual PAX East convention in Boston, and judging from the turnout, it looks as though PAX East will become an annual event as well.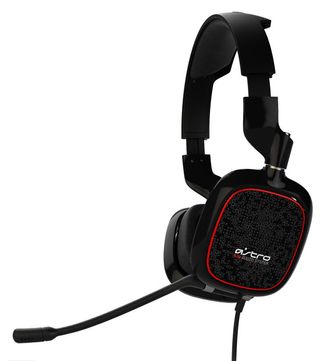 ASTRO Gaming A30
ASTRO Gaming has taken the gaming equipment segment by storm during the last few years, starting with the popular A40 Audio System. The A30 is based on the same technology found in the A40, but the former is better-equipped in terms of portability. The smaller cans, mobile cable attachment (for iPhones and iPods), and slim carrying case make the A30 a great option for the gamer on the go.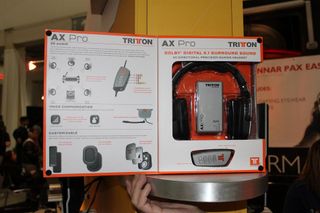 Tritton AX Pro (3rd Revision)
Tritton is another company that has shaken up the peripheral scene over the last few years. The AX 720 earned better than average marks from us last year, and the higher-end AX Pro looks to improve on every aspect. With eight dedicated speakers (four in each ear cup), compatibility with the PC, PS3 and Xbox 360 as well as Dolby Pro Logic and Dolby Digital Certifications, the AX Pro is the perfect headset for anyone needing a high-quality multi-platform audio system.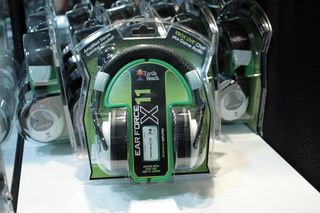 Turtle Beach X11
The X11 from Turtle Beach is the successor to the extremely popular X1. Compatible with both the Xbox 360 and PC, the X11 takes the award-winning design of the latter and adds some new features, including a new mesh ear cup material and built-in features like mic monitor and chat boost.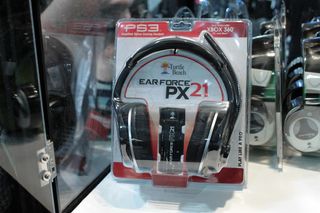 Turtle Beach PX21
While marketed as a PS3 headset, the brand new PX21 is PC- and Xbox 360-friendly, too. Beyond the PS3 functionality, the X11 and PX21 are very much alike with features including mic monitor, chat boost, lightweight design and a full suite of inline controls.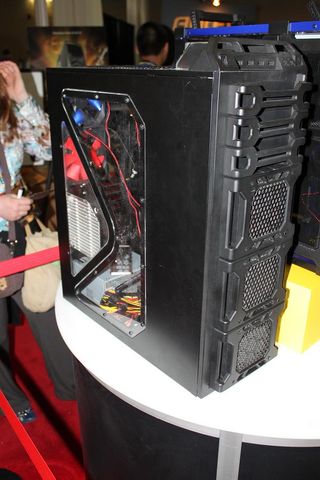 Antec Dark Fleet Case
Antec is always at the frontier when it comes to case design, so a trip to its booth at any show is a treat. The Dark Fleet series of cases, starting with the DF85, is about as modular as a desktop case can get. With nearly limitless combination of interchangeable fans, slot covers, and bungeed hard drives (it looks like they're floating on nothing), Dark Fleet offers gamers space and customization at the same time. Look for the DF line in May/June.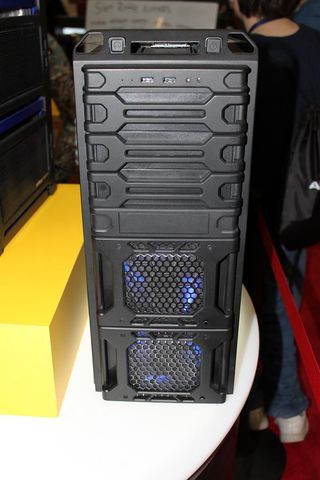 Antec LanBoy Air Case
Next from Antec is the LanBoy Air, the next iteration of the legendary LanBoy cases. This LanBoy is also modular, like the DF line, but it's shorter and lighter, good news for the constant LAN party-goer. The LanBoy Air also has built-in space on its top for a liquid-cooling radiator, making this a lightweight, silent assassin. Look for the LanBoy Air later in Q2.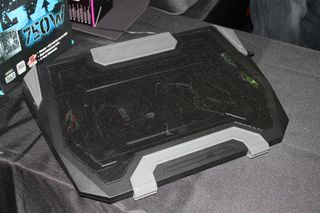 Cooler Master SF19
Finally, a laptop cooler than can handle anything! The SF19 from Cooler Master can fit a laptop up to 19-inches, perfect for any gaming machine/desktop replacement, and the fans on the underside are completely free-roaming so you can place the cooling power right under your CPU or GPU intake. The SM19 also comes with four powered USB ports on the right side, so you'll never have a shortage when it comes to plugging in peripherals. Look for the SM19 starting in June.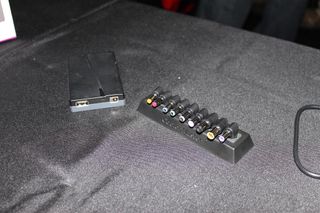 Cooler Master USNA95
Cooler Master is a company synonymous with PC cases, so its' interesting to see its PAX lineup consist primarily of gadgets and accessories. Another June product, the USNA95 is CM's newest universal laptop power adapter. With over eight different adapter tips, the USNA95 should be able to power any laptop you throw at it. Plus, the ultra-slim power brick includes a USB 2.0 port, so you can also charge any USB-powered device.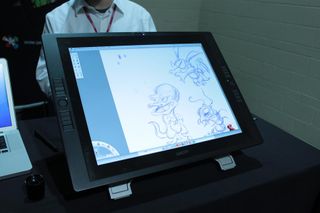 Wacom Cintiq 21UX
Wacom dominates the digital pen tablet market. The Cintiq 21UX is a perfect example. Based on a 21.3-inch, 1600x1200 pixel IPS panel, the 21UX is the ultimate digital drawing interface. From zooming to using the 21UX as a secondary desktop to the built-in accelerometer, the 21UX can handle any program, including SketchBook, Photoshop, Mudbox...the list goes on.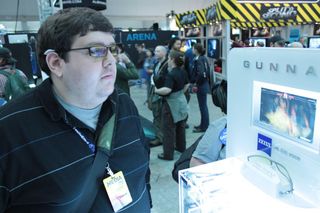 Gunnar Optiks Eyewear
Founded by Oakley veterans, Gunnar Optiks wants to change the way you look at your computer...literally. Gunnar's Digital Performance Eyewear looks to take the strain of looking at an LCD screen all day off your eyes. With over two dozen frame styles and plenty of color options to choose from, Gunnar's AMbeR-tinted lenses claim to reduce eye strain, enhance contrast and help in picking out detail in digital images. New to the Gunnar lineup is the CRYsTALLINE line of lenses, which do away with the amber tint in order to give the wearer a "crystal" clear perspective of the color spectrum while still offering enhanced contrast.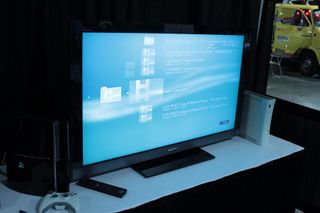 PlayOn Video Streaming
Watching video on your PS3 or Xbox 360 is limited at best, with Netflix and a watered-down version of YouTube being the exceptions. PlayOn is changing that with it's online service that pipes a plethora of online video content to the aforementioned consoles through your PC. Pay a one-time $40 license fee, and video from Netflix, Amazon, Hulu, CBS and others will stream right to your console. On the PS3, PlayOn streams video right into the XMB interface, and lists the content by provider and then alphabetically, by channel, category, etc. For Netflix, you need an account, but once you're logged in, PlayOn does a better job or organizing than the actual Netflix software, like be able to (gasp) sort your queue alphabetically! PlayOn's software is already available, and the one-time $40 fee is a bargain in our eyes.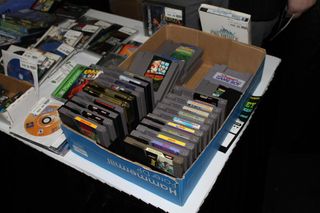 NES Games?
Conventions like PAX are usually about the latest and greatest in games and entertainment, but it's always nice to see the old school represented. GameUnderground (formerly Game Universe), is all about the old school. With locations in Framingham and Somerville, MA, GameUnderground sells new titles for the current generation of consoles, but specializes in classic consoles and games. From a brand new NES Power Glove to boxes of NES titles, we like to see the legacy consoles of yesteryear supported.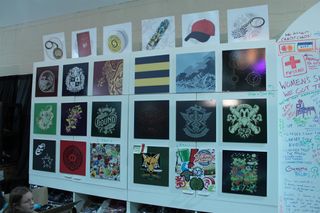 FanGamer T-Shirts
FanGamer is a recognizable name for two reasons. For starters, they did the popular English fan translation of Mother 3, the Japan-only sequel to Earthbound. That and they're also known for making some pretty sweet T-shirts. With over 10,000 orders since starting in January of 2007, FanGamer has dedicated artists on staff and also contracts fans of their site if they put up appealing artwork. It seems like most of the T-shirts are based on Nintendo franchises, but with designs including Starfox, Zelda, Mario and Earthbound characters, who's to complain?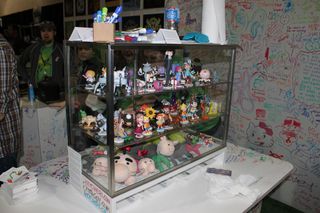 FanGamer Figurines
FanGamer T-shirts are great, but don't forget about the figurines. Based on a lot of the same Nintendo characters, they're sure to spice up any cubicle environment.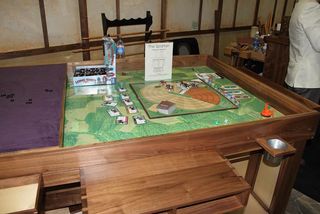 Geek Chic Gaming Tables
While you might not be a part of a weekly D&D gathering, most geeks have participated in tabletop gaming at some point in their lives. Usually, it's at someones kitchen table or in a geeked-out basement somewhere, but Geek Chic wants your 20-sided dice to have a better home. The companies gaming-centric tables, the The Spartan, have plenty of storage for dice, manuals, rulebooks, and anything else you need to play Warhammer 40k.