Best of Computex 2018: The Top New Tech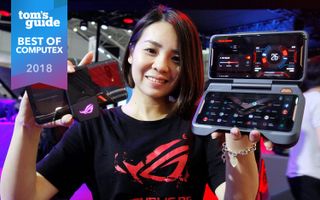 Computex 2018 was full of surprises, including a brand-new gaming phone, a future-forward laptop with dual screens and artificial intelligence, and a compact gaming PC packed to the gills with powerful components. Other products impressed by way of value, functionality and design. Check out our picks for the best products of Computex 2018.
Credit: Chiang Ying-ying/AP/Rex/Shutterstock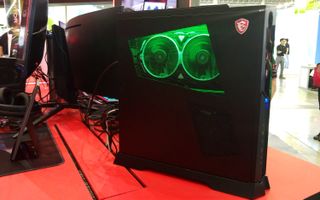 Best Desktop: MSI Trident A
The MSI Trident A desktop earned its place because of its good looks and easy upgradability. Although the Trident A is larger than previous systems, MSI has managed to keep the system relatively svelte. But despite its compact dimensions, you can really take the kitchen-sink approach to this system. The demo unit on the show floor boasted an Intel Core i7-8700 CPU, 32GB of RAM, a pair of M.2 SSDs and an Nvidia GeForce GTX 1080 Ti GPU — most of which can be accessed via the tempered glass door. And to prevent overheating, the company delegated separate cooling solutions for the CPU, GPU and power supply. It's just a heck of a lot of awesome to fit in such a confined space.
Credit: Tom's Guide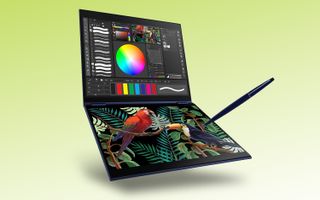 Best Laptop: Asus Project Precog
It's not that this is the first time we've seen a laptop with a dual-screen setup; it's how you'll potentially interact with Asus' ambitious Project Precog. Powered by Intel's Movidius chip, the Precog will utilize artificial intelligence to predict what you'll need from the machine. Launch a Microsoft Office app, and the system offers suggestions to enhance your experience. Unplug a physical keyboard, and it cues up a virtual one. And with the SDK open to the public, Project Precog's future is almost as bright as its glossy bluish-purple chassis.
Credit: Asus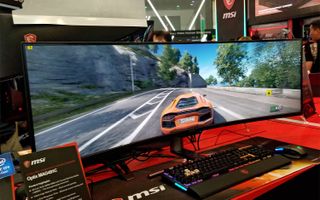 Best Monitor: MSI Optix MAG491C
At 49 inches, the MSI Optix MAG491C provides a ridiculous amount of space for playing high-end games or multitasking. Due out later this year for an estimated $999, this curved beauty can even fool your computer into thinking it's two separate displays. It refreshes at an astounding 240 Hz with an amazing 0.5-millisecond response time. To put that into perspective, most competing panels run at 144 Hz with a 3- to 5-ms response time. As if that weren't enough, it also has AMD FreeSync technology built in. In short, the Optix is large, in charge and ready to serve your gaming and multitasking needs.
Credit: Tom's Guide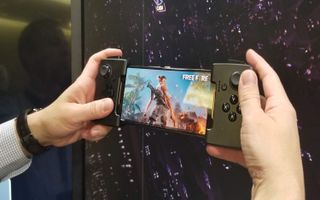 Best Innovation: Asus ROG Phone
Asus was all about making a splash at Computex 2018, and the ROG Phone helped set the pace. An overclocked mobile gaming beast, the ROG Phone was the talk of the show. Looking to get in on the immense popularity of games like PlayerUnknown's Battlegrounds and Fortnite, the company has released a phone designed to handle the rigors of playing and streaming games. For instance, to preserve as much of that precious screen real estate, haptic sensors on the top of the phone act as virtual shoulder triggers. And thanks to specialized accessories, the phone can mirror its screen to a larger panel and offer a dual-screen experience, depending on the use. The ROG Phone has captured the imagination of gamers around the world; now it's up to Asus to turn this vision into a killer final product.
Credit: Tom's Guide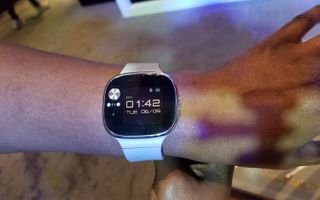 Best Smartwatch/Fitness Tracker: Asus VivoWatch BP
Half smartwatch + half fitness tracker = the future of wearable tech. Asus' VivoWatch BP is the first commercial smartwatch to feature a blood pressure monitor. It's a move that will force competitors like Apple to step up their game. Using several integrated sensors, the VivoWatch BP measures your blood pressure in 15 seconds. And despite the large sensor next to the watch face, it's still quite stylish.
Credit: Tom's Guide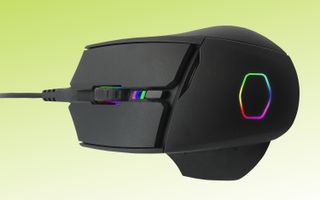 Best Mouse: Cooler Master MM830
Sometimes a little bit of innovation can go a long way. That's definitely the case with the Cooler Master MM830. This gaming mouse has a small LCD panel built into the lower-left corner that can send various notifications, including system diagnostics, with the accompanying software. The MM830 also offers 24,000 dpi, which translates to blistering-fast movement for first-person-shooter players; several programmable side buttons; and an overall comfy design.
Credit: Cooler Master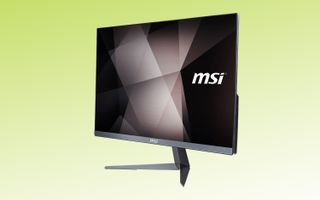 Best All-in-One: MSI Pro 24X
The company synonymous with red-and-black dragons is taking a more subdued approach to all-in-ones with the MSI Pro 24X. At its thinnest point, the system measures a scant 0.25 inches. Housed in elegant brushed aluminum, the 23.8-inch IPS display has a very slim 0.08-inch bezel. Just because the frame is subdued, don't expect the same from the screen. It's a cacophony of color that has to be seen to be believed. As for the components this all-in-one is hiding in the trunk, you can get up to an Intel Core i5-7200U processor. Unlike other all-in-ones, the Pro 24X allows you to swap out the drives, providing a small measure of upgradability for DIYers.
Credit: MSI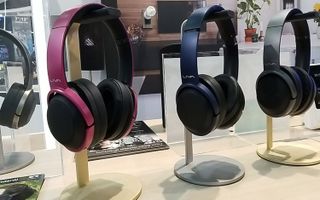 Best Headphones: Liva Aston Smart Headphones
Amazon's Alexa is everywhere, even in your headphones. But the Liva Aston Smart headphones are the only pair that can access Alexa without a smartphone. The cans use Wi-Fi to access the digital assistant whether you're at work and want to adjust the temperature before you get home or you want to listen to Spotify without picking up your phone. When you're out and about, you'll have to rely on regular old Bluetooth, but overall, it's an interesting integration of Alexa and another step into full IoT integration.
Credit: Tom's Guide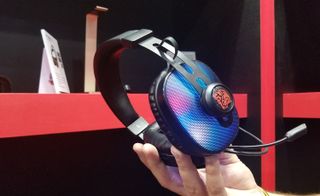 Best Gaming Headset: Thermaltake H200 Gaming Headset
Stylish, comfortable and very affordable, the ThermalTake H200 Gaming Headset is going to change your mind about budget products. The cans' barely-there weight means you can games for hours in comfort, enjoying the robust audio experience. And ThermalTake's 3D RGB Lighting is a unique look that will stand out the crowds of gaming headsets.