From the Labs: Tech to Stuff Your Future Stocking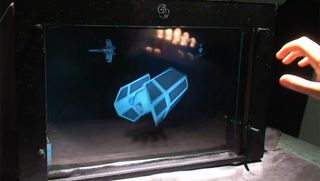 Gestural Computing
Welcome to the world of three-dimensional "gestural" computing. The new bi-directional display that MIT's Media Lab is now demonstrating is reminiscent of the giant "Minority Report" computer and is something I'd be happy to welcome under my tree in the future. Embedded optical sensors behind the display track gestural motion. The sensors "see" what you're doing as the LCD alternates rapidly between what it's displaying to the viewer and a pattern for the camera. It's different from projects like "Natal" where the camera is offset and therefore can't pick up gestures at close range. Deck the halls with immersive computing?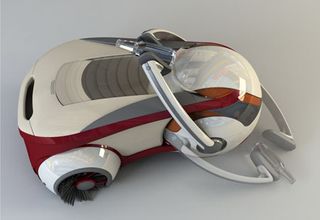 Future Street Cleaner
Forget about the Roomba–that sort of robotic house-cleaning vacuum is so 2005. Under your shiny nano-composite future tree, you might be unwrapping one of Tuvie's Robot Harvesters, which can pick up trash and litter and deposit them into the right places for some instant recycling. Okay, so it sounds like the real-life version of "Wall-E," but this shiny plastic robot has some cool features like webcams, sensors that determine the size and material of an object being scooped up, and plug-in power. It seems like there's a chance it will make people more likely to litter–or more likely, to be really lazy about cleaning their own homes.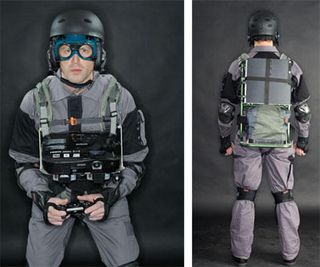 Wearable PS3 Suit
Epson wants you to join the small but hardy group of extreme gamers. Yep, this wearable getup is extreme all right—extremely silly, that is. The rig has its own power supply, a thin PS3, and an Epson projector that transforms any wall into a gaming platform. At some point, people who may have maxed out with the Nintendo PowerGlove might say something this big and bulky is too much, but hardcore fans will probably just giggle and reach for those silly-looking goggles.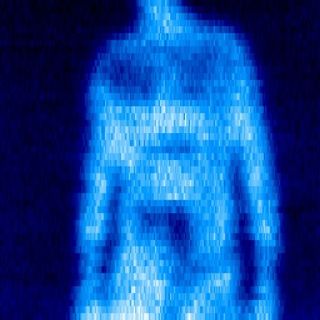 Terahertz Lasers
Holiday travel wouldn't be half as fun if it weren't for those three-ounce bottles, long scanner lines, and agents who sometimes require you to disrobe down to your skivvies. For the past three decades scientists have been trying to get on the bandwagon of terahertz radiation. Not only is this type of screening safer than x-rays are, but terahertz radiation can also see through clothing, plastic, and human tissue, thus making it a good tool for the future TSA scanners. Now, scientists at MIT have found a way to fine-tune terahertz radiation, making it easier to use and apply to new technologies. Here's hoping that we can whisk through our security check in mere femtoseconds to catch our teleportation flights in the future. While not a gift you can give, it would be a gift from TSA during hectic holiday travel.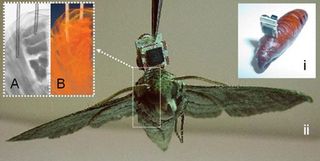 Spying Insects
It used to be that a cricket in a box was an acceptable little-kid gift. Perhaps in the future, kids will wrap up these cyborg spying insects that DARPA is developing. Researchers at Cornell University created these cybernetic flying insects that tiny embedded controls operate. They come complete with a nickel-23 radioactive-isotope battery, which doesn't emit enough radiation to harm a human but is powerful enough to fuel the on-board electronics of these arthropod cyborgs for up to 100 years. The animal-machine hybrids are designed to transmit data from mounted sensors, which might include low-grade video and microphones for surveillance or gas sensors for natural-disaster reconnaissance. Or, of course, you could use one to dive-bomb your little brother while he's trying to eat a hot dog.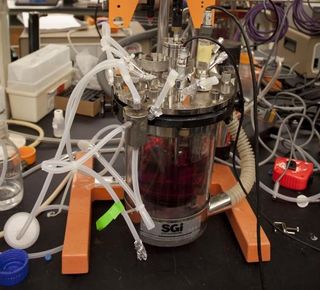 Lab-Grown Pork
Christmas ham, anyone? Scientists in the Netherlands have made a breakthrough in creative cuisine by growing the first pork in a laboratory. The scientists, who haven't actually tasted their creation yet, extracted cells from the muscle of a live pig and then incubated them in a solution containing nutrients to encourage them to multiply indefinitely.
The result was sticky muscle tissue that requires exercise, like human muscles, to turn it into a tougher steak-like consistency. The problem is that the resulting pork is rather soggy and mealy, but the researchers say they are finding ways to punch up its texture and flavor. If this little holiday piggy came from the lab instead of the farm, greenhouse gas emissions could be sliced by 18%, according to the UN. That's something to chew on.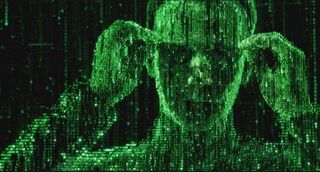 Brain Implants
Intel really wants to get inside–inside your brain, that is. Researchers at the company's lab in Pittsburgh say that within 10 years they will create brain-implantable sensors that can control computers and other devices. They say that consumers will naturally adapt to controlling gadgets with their brain waves. In addition, they are in the primary stages of developing technology that can help a person type just by thinking about different words. Of course, once scientists create computers that are controlled by brain waves, it's just one small step more towards creating entire virtual worlds tied to those brain waves. Bring on the holiday-themed avatars!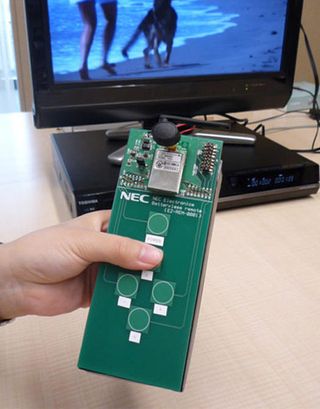 Finger-Powered Remote Control
Starting in 2011, you might be able to just forget about changing the batteries on your all-in-one universal remote-a-tron and start using the power of your own digits to charge the device. NEC and Soundpower Corp. have developed a prototype for a remote control that charges itself with energy from its buttons. The more you mash, the more juice the remote gets. They say that although they are starting out with remote controls, this type of technology could spread to other touch-enabled gadgets as well. My only question: how much energy can I generate when I throw the remote across the room?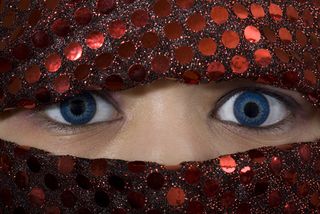 Transitions Contacts
Glasses that transition from bright light to dark have been around for nearly a decade, but contacts that can achieve the same effect may be something you'll slip into a sparkly package in the coming decade. Researchers in Singapore have developed UV-responsive, or photochromic, lenses that darken when exposed to ultraviolet light, protecting eyes against the sun's damaging rays and returning to normal in UV's absence. The tech comes from a new polymer laced with an intricate crisscross of nano-sized tunnels that can be filled with dyes. The researchers say their transition contacts perform faster than the light-sensitive sunglasses on the market do. No doubt it'll lead to contacts that can change from blue to green to brown at a moment's notice–someone should warn the authorities.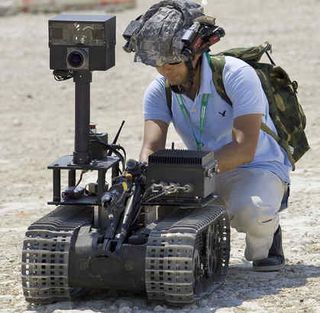 Robot Rodeo
Small towns and rodeos go together like, well, cowboys and cows. So it wasn't too surprising when the U.S. Army held a rodeo for robots in a small Texas town last September. The Army was looking for the best ways to employ driverless trucks, robots that respond to voices, and 3D sensors to gauge light and range. For your future holidays, why not set up a robot rodeo in your backyard? All you need is half-a-dozen autonomous vehicles, some remote controls, and a couple of people around to judge the action. After all, even the best cowboys sometimes get kicked in the head.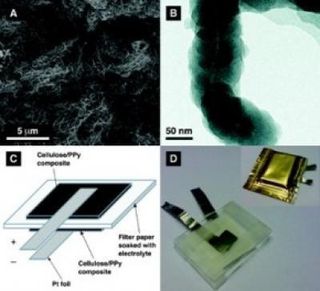 Paper Batteries
Batteries are the skeleton keys to the future of consumer tech. The better, cheaper, and lighter they are, the closer we come to reaching technological nirvana. Imagine, if you will, wrapping paper that lights up and sings you holiday tunes (perhaps "Nano-Silver Bells"?) while you tear it off your new shiny presents. That's just one of many applications for batteries made from paper. Using conductive polymers, researchers are trying to create batteries with no metal parts that are composed of cellulose–the stuff of plant matter and paper. According to the researchers, the holy trifecta of light, inexpensive, and eco-friendly is closer than ever.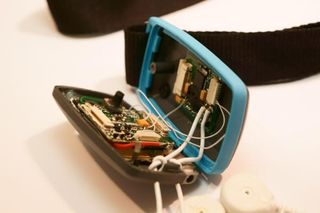 EKG Necklace
Some useful gadgets are also designed to look elegant, such as the iPhone, while others fall into the therapeutic-shoes (functional-but-ugly) category. This new heart-monitoring necklace may have all the tech to keep your ticker assessed, but it lacks bling—which will hopefully come in the next iteration of the design. Looks aside, medical technology that can monitor you while still looking sleek is something that will likely be under your holiday tree in the future. This EKG necklace holds seven days' worth of juice and can monitor people in their homes, rather than requiring people to stay in the hospital for observation. Surely a couple diamonds wouldn't hurt the EKG performance, right? Free advertising jingle idea: "Every kiss begins with cardiac arrest."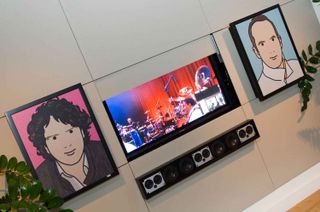 Ultra-Flat Speakers
Most speakers work through vibration–the bigger the vibration, the bigger the sound. Speakers mounted on walls or in furniture are popular for home décor, but are less able to reverberate and don't generate as great a sound. But that could change. Researchers in Germany have designed a concept for speakers that could lie completely flat yet still give booming sound as if they were resonating deeply. To make this possible, the researchers drew inspiration from the loudspeakers of premium headphones. They say that by harnessing headphone technology on a larger scale, they could create a panel loudspeaker that could inconspicuously disappear into the ambient design in the form of a picture frame or a decorative element.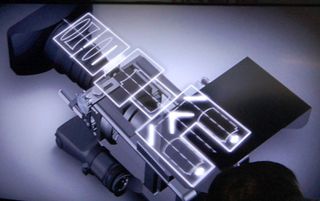 3D Camera
Cameras make great gifts, but two dimensions is so 2000. Sony recently showed off this concept camera that shoots footage in 3D through a single lens–something done before by only using two lenses. The new design works by splitting the incoming light into two beams and offsetting the images to create the three-dimensional effect. 3D cameras are all the rage in movie production (like the big-budget holiday flick "Avatar") so it's only a matter of time before the technology filters down to a consumer level. The camera also shoots just fine in 2D, so if you don't want to don the glasses to check out the third dimension, you can still follow along.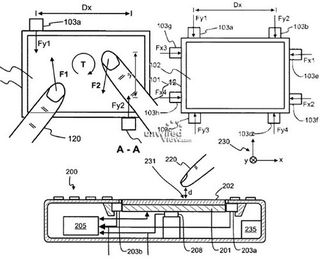 Pressure-Sensitive Touch Screens
Nokia is rethinking the touch screen in powerful ways. The company's new patent, for multi-touch technology, may bring the element of pressure into the pinch, pull, shake, and swipe actions to which we've all become accustomed. Meanwhile, Apple has applied for a similar patent, which may bring the two companies to a legal brawl over rights. Since we're all in agreement that touch screens will carry us to the next level of technology, it remains to be seen which company will get to sink its flag into the ground first. At some point, you'll probably have the pleasure of unwrapping a pressure-sensitive gadget–just try not to be too heavy-handed with it.