Mac mini M2 specs (as reviewed)
Price: $1,799
Processor: Apple M2 Pro (12-core CPU, 19-core GPU)
RAM: 16 GB
Storage: 1TB SSD
Ports: 4x Thunderbolt 4/USB4, 2x USB-A. HDMI out, Ethernet (up to 10GB), 3.5mm headphone jack
Size: 7.7 x 7.7 x 1.4 inches
Weight: 2.8 pounds
The Apple Mac mini M2 ($599) is faster and cheaper than its predecessor, sweetening what was already a pretty compelling deal on the best mini PC for most people.
You wouldn't know the difference by looking at it, since the Mac mini M2 appears almost identical to the Mac mini M1 Apple launched in 2020. But it's what's inside that counts. Like its predecessor, the Mac mini M2 is the first Apple desktop to get upgraded with Apple's latest slice of bespoke silicon: the M2 chip. And for the first time, you can choose to upgrade the Mac mini with an even more powerful version, the M2 Pro.
The M2 Pro offers better performance and more features than the M2, and both run circles around the old M1 chips. After testing and reviewing a new Mac mini M2 with M2 Pro I'm confident it's one of the best computers on the market, especially if you're looking for a pint-sized powerhouse that looks good on a desk.
Mac mini M2 review: Price and release date
The Mac mini M2 is available for order via Apple's website at a starting price of $599 (roughly £649 in the U.K. or AU $999 in Australia), and shipments start arriving January 24. The entry-level model packs an M2 chip with an 8-core CPU, a 10-core GPU, 8GB of memory and a 256GB SSD for storage.
If you want more power under the hood, you can pay extra for more memory, more storage, a faster Ethernet port or a more powerful M2 Pro chip. The Mac mini with M2 Pro has a starting price of $1,299, making the price of upgrading the chip roughly $700. Of course, you get more than just the upgrade to Pro at that price: the entry-level Mac mini with M2 Pro is not only more powerful (10-core CPU, 16-core GPU), it also has more memory and storage (16GB RAM, 512GB SSD) than the entry-level Mac mini, as well as more ports.
Swipe to scroll horizontally
| | Mac mini M2 | Mac mini M2 Pro |
| --- | --- | --- |
| Price | $599 to start | $1,299 to start |
| CPU | M2 (8-core GPU, 10-core GPU) | M2 Pro (10-core CPU, 16-core GPU - upgradable to 12-core CPU, 19-core GPU) |
| RAM | 8-24GB | 16-32GB |
| Storage | 256GB-2TB | 512GB-8TB |
| Ports | 2x Thunderbolt/USB 4, HDMI, 2x USB-A, Ethernet (up to 10GB), 3.5mm headphone jack | 4x Thunderbolt/USB 4, HDMI, 2x USB-A, Ethernet (up to 10GB), 3.5mm headphone jack |
| Connectivity | Wi-Fi 6E, Bluetooth 5.3 | Wi-Fi 6, Bluetooth 5 |
| Dimensions | 7.7 x 7.7 x 1.4 inches | 7.7 x 7.7 x 1.4 inches |
| Weight | 2.6 pounds | 2.8 pounds |
If you want to kit a new Mac mini M2 out with all the bells and whistles, you can fully upgrade it with a top-of-the-line M2 Pro chip (12-core CPU, 19-core GPU), 32GB of RAM, an 8TB SSD and a 10Gb Ethernet port instead of the standard 1Gb. However, all those upgrades raise the price to a cool $4,499.
For review purposes, Apple sent us an upgraded Mac mini M2 with an upgraded M2 Pro chip (12-core CPU, 19-core GPU), 16GB of RAM and 1TB of storage. To buy the same machine, you'd pay roughly $1,799.
Mac mini M2 review: Design
The design of the Mac mini M2 appears almost identical to that of the Mac mini M1, and that's just fine by me. At 7.7 x 7.7 x 1.4 inches and just under 3 pounds, the low-slung Mac mini M2 fits easily into all sorts of desk arrangements.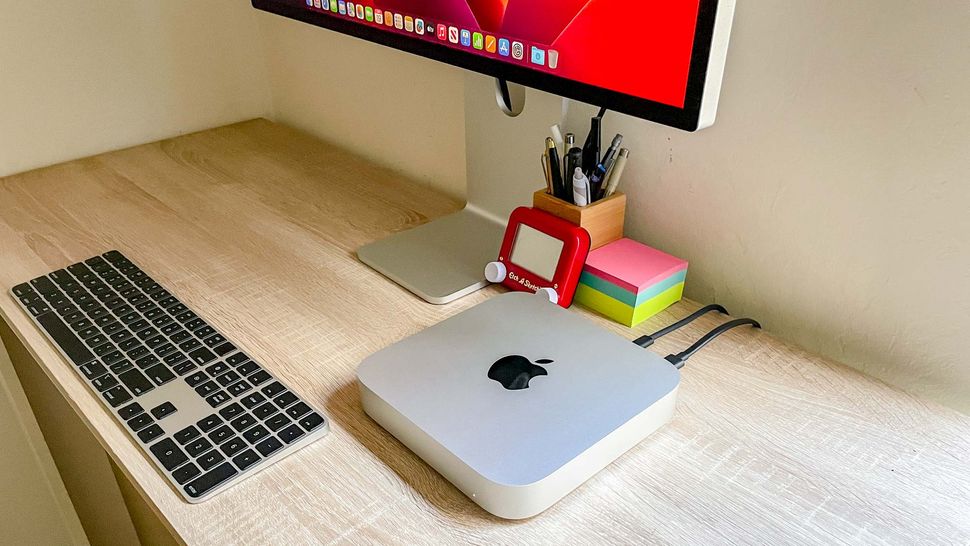 It looks good, too, with rounded corners and a silvery aluminum chassis sporting a big black Apple logo on top. It resembles nothing so much as a metallic Apple icon extruded up out of your desk, and I like it.
Just like its predecessor, the Mac mini M2 can appear as though it's floating slightly above your desk thanks to the elevated base, which tapers down from the rounded rectangular chassis to a circular black plastic disc which covers the bottom. Don't expect to be opening up the case or upgrading the internals yourself — these machines are designed to be serviced by Apple alone.
Mac mini M2 review: Ports
There's a decent array of ports on the back of the Mac mini M2, and it gets even better if you upgrade to a Mac mini M2 Pro. On the base model, you get a pair of Thunderbolt 4/USB4 ports, another pair of USB-A ports, an HDMI out, an Ethernet port and a 3.5mm audio jack.
Upgrade to the Mac mini M2 Pro and you get double the Thunderbolt 4 ports, for a total of four. You also get improved external display support thanks to the added power of the M2 Pro.
This likely won't make much difference for most, but for true multi-monitor fiends the Mac mini with M2 Pro can support up to three external displays, two via Thunderbolt (at up to 6K resolution and 60Hz refresh rate) and one via HDMI (at up to 4K/60Hz). The HDMI port is also capable of supporting one 8K display with a refresh rate of up to 60Hz or a 4K display with a refresh rate of up to 240Hz, which is remarkably high on both counts.
The entry-level Mac mini is no slouch in this department either, and it can support up to two external displays at up to the same resolutions (6K via Thunderbolt 4, 4K via HDMI). However, the entry-level Mac mini can't support an 8K or 240Hz display — only the M2 Pro model can handle that.
Mac mini M2 review: Performance
In my time using the Mac mini M2 for work and play, I've found it (and the upgraded M2 Pro chip inside) to be more than capable of handling just about anything I throw at it. I had no trouble flipping between 30+ tabs in Chrome and Safari while listening to music and playing a game in windowed mode, with apps like Lightroom opening nigh-instantaneously.
I was also surprised at how much fun I had playing games like Metro Exodus and Resident Evil Village, which run better than I expected on the upgraded M2 Pro chip. I'll talk a bit about actual performance numbers when gaming shortly, but first let's talk about the results we got from our in-house performance testing lab.
When we first tested Apple's M2 chip in the MacBook Air M2 and the 13-inch MacBook Pro M2, I was impressed but not blown away. The M2 chip proved meaningfully faster than the M1 in our performance tests, but it was an evolution rather than the revolution I was hoping for after seeing the incredible performance of the M1 Pro and M1 Max chips in Apple's 2021 MacBook Pros. Those upgraded M1 chips are absolutely beastly, and they gave me newfound respect for Apple silicon.
That's why I was so excited to hear that Apple was sending us an upgraded Mac mini with an M2 Pro chip for review — I finally get to see what an upgraded M2 can do when it's in a desktop Mac, where you don't need to worry as much about cooling and power draw.
Now that we've put the Mac mini with M2 Pro through our gauntlet of performance tests, I'm pleased to report it's more than powerful enough for just about anything save serious gaming and demanding content creation. If you just want a lightning-quick Mac for getting work done, browsing the web and playing games, the Mac mini with M2 Pro is plenty powerful for your needs.
When we put our review unit to the test using the Geekbench 5.4 multi-core CPU benchmark, it earned a score of 15,038. That's good, and better than what the M1 Pro chip earned (12,477) when we put the 2021 MacBook Pro through its paces. In fact, it's almost as good as the 17,229 earned by the 12th Gen Core i9 Intel CPU in a recent Acer Predator Orion 7000 gaming PC we tested, which shows you that Apple's latest mid-grade Mac chip is catching up to Intel's top-tier CPUs in terms of performance.
Of course, the M2 Pro in our Mac mini review unit can't keep up with the top tier of Intel's latest 13th Gen CPUs, which are just now hitting the market. I know because we recently tested a 13th Gen Core i9 CPU in an Origin PC, and it achieved a multi-core score of 24,054 in the same Geekbench 5.4 benchmark.
Still, the M2 Pro delivers remarkable performance for a Mac mini, and in my experience it can handle multitasking between as many apps and browser tabs as you care to throw at it.
Of course, we didn't stop there. When we put the Mac mini M2's SSD to the test, we discovered it's faster than just about any Mac we've tested. In the Blackmagic Disk Speed Test, the Mac mini M2 earned a write score of 6,186 and a read score of 5,057, which are way better than what we saw from the original 2020 Mac mini M1 (2,233/2,772 write/read). It's also far faster than the SSDs in the 2022 MacBook Air and Pro, though it's just a bit slower than the SSD in the new 2023 MacBook Pro M2 Pro (6,502/5,309).
If you care more about how fast you can crunch video or launch Adobe apps, I've got good news for you: the Mac mini with an M2 Pro is plenty fast enough at both. We timed how fast it took for our review unit to transcode a 4K video down to 1080p using Handbrake, and it managed the task in a speedy 4 minutes and 26 seconds. That's nearly twice as fast as the 2020 Mac mini with M1 (8:11) and just a bit faster than the 2021 MacBook Pro with M1 Pro (4:51).
To evaluate its performance in Adobe's suite of apps, we put a copy of Pugetbench on our review unit and let 'er rip. This software is designed to test a PC's performance in the most popular Adobe apps, and the Mac mini M2 put up scores that are pretty beefy for its size. Our review unit earned a score of 964 in the Pugetbench Photoshop benchmark and 847 in the Premiere Pro benchmark, which is leagues better than the Mac mini M1 (which struggled to even run the tests, though that may have something to do with the fact that it was the first time we were running them on silicon from Apple instead of Intel or AMD).
The M2 Pro chip in our Mac Mini M2 couldn't keep up with the M2 Max chip inside the 2023 MacBook Pro we tested (1,119 Photoshop/1,009 Premiere Pro), but that's to be expected given that the M2 Max is a more powerful chip and that MacBook Pro has double the memory (64GB) of our Mac mini M2.
Finally, let's talk gaming on the Mac mini M2. The top-tier M2 Pro chip Apple put in our review unit has a 12-core CPU and a 19-core GPU, and it's good enough to run many of the latest (macOS-compatible) games at solid framerates with graphics set to medium or higher.
Anecdotally, I can tell you that I was able to play older games like Counter-Strike: Global Offensive at 1080p with the graphical settings maxed out at 100+ frames per second with no trouble. I was also able to fire up Metro Exodus, a comparatively recent game that can demand a lot from your GPU, and play it at 4K on medium settings with an average framerate of 30 fps. I even managed to get it up and running at 5K on the Apple Studio Display, though even at medium settings I was unable to get more than 15-20 fps while playing at such a high resolution.
Obviously this machine isn't built for gaming, but my hands-on testing suggests you can play a lot of the latest Mac-compatible games at 1080p or higher on the Mac mini M2, and you can get decent performance from one upgraded with a maxed-out M2 Pro chip and 16GB of memory.
When we ran some our favorite Mac-compatible game benchmarks on the Mac mini M2 with M2 Pro, we saw good results that back up my own experience. When we ran the Rise of the Tomb Raider graphical benchmark, our review unit managed to achieve 53.2 fps @ 1080p resolution and just 8.7 fps @ the Studio Display's native 5K resolution. We also ran the Sid Meier's Civilization VI: Gathering Storm graphical benchmark, and the Mac mini M2 managed 50.3 fps @ 1080p and 43.6 fps @ 4K.
These aren't the latest and greatest games, but we use them to benchmark performance because they run on a wide variety of both Mac and Windows PCs. While these scores pale in comparison to the best gaming PCs, they're quite good for a desktop Mac and prove the Mac mini M2 is more than capable of playing the best Mac games, especially when fully upgraded.
Mac mini M2 review: Verdict
After spending some time testing the Mac mini M2, it's not hard to recommend. The base model is faster and cheaper than its predecessor, making it the de facto best choice for anyone in the market for a pint-sized Mac desktop.
Plus, the option to upgrade it with an M2 Pro chip is a welcome one that can turn this PC into a half-decent gaming machine. Sure, it can't compete with the best gaming PCs on the market, but it's far cheaper, smaller and quieter than they are. And really, the biggest limitation on the Mac mini M2's gaming potential isn't the hardware itself but the lack of official macOS support for many games.
While you can get better raw performance out of a Mac desktop if you splurge for a Mac Studio with M1 Ultra or an old-fashioned Mac Pro, both of those options will cost you several thousand dollars more than a fully upgraded Mac mini M2 Pro. They're great PCs for those that need (and can afford) them, but for most of us the new Mac mini M2 seems like a solid deal that delivers power and versatility at a great price.