10 Best Cars from the 2017 New York Auto Show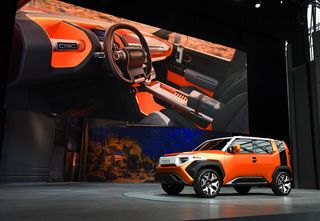 2017 New York Auto Show: Top 10 Cars
Every April, automakers roll into New York City to trot out vehicle announcements--and some futuristic concepts--before the summer and fall car buying seasons kick into gear. The New York Auto Show is where some of the first steps in autonomous vehicle technology are being revealed, as well as initiatives from several carmakers in the plug-in hybrid and fully electric car space. As a portent of things to come, from batteries and self-driving vehicles to exotic sports cars, here are the top 10 vehicles from the New York Auto Show.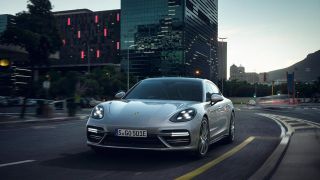 2017 Porsche Panamera Turbo S E-Hybrid
Plug-in hybrids aren't just for suburban commutes. The new 680-horsepower Panamera Turbo S E-Hybrid is the top performer in Porsche's Panamera line. It combines a 4-liter V8 with a 136-horsepower electric motor. Together, the power unit can take the E-Hybrid from 0 to 60 in 3.2 seconds, staggering acceleration for a sedan that can go up to 192 mph. For more modest commutes, this Panamera will go up to 31 miles on electric power only. Porsche tricks out the interior with a connected car system that features a gorgeous 12.4-inch screen, big enough for the driver and passenger to share. Porsche also improved the overall curb appeal of the car, with a slimmer backside and retractable aero wing. All this performance commands a steep price, starting at $184,400.
Photo Credit: Porsche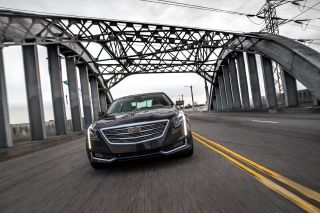 2017 Cadillac CT6
The first step toward selling autonomous cars to the public will be taken by GM with its 2017 Cadillac CT6 with Super Cruise. It will be the first vehicle designed to let you take your hands and feet off the controls and let the car do all the driving by itself--at least on highways. Every other semi-autonomous option on the street requires drivers to maintain control, and only take their hands off the wheel for a couple of seconds. Later this year, when the Super Cruise option appears, the CT6 will drive by itself on the highway for as long as you desire, with a few restrictions. It will only work on highways that GM has already mapped for the purpose and it won't change lanes for you.
Photo Credit: Cadillac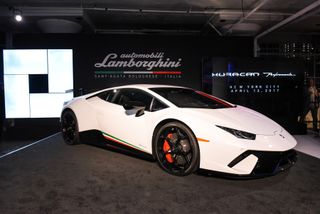 2018 Lamborghini Huracan Performante
In the frighteningly fast category, the latest iteration of the Lamborghini Huracan certainly won't disappoint. There's the brute force of the car's 5.2-liter V-10 engine with 630 horsepower, which works to give the car a sub-3 second 0-to-60 mph time. But technology called active aerodynamics is what has really helped get the Lamborghini's lap times down. By actively changing the flow of air through ducts in the back of the car and directing it over and around the rear wing, the Huracan Performante can put in more downforce for better cornering and then within milliseconds open up the airflow to reduce drag for faster straights. The result: the four-wheel-drive exotic now owns the record for the fastest lap time at the Nurburgring, besting the Porsche 918 Spyder. Oh yeah, and the Huracan is Apple CarPlay compatible.
Photo Credit: Lamborghini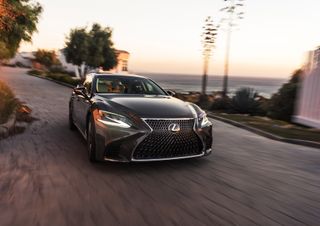 2018 Lexus LS 500 F Sport
The world debut of the Lexus LS 500 Sport represents the company's pinnacle of performance--and an audiophile-quality sound system. The sports car's twin-turbo 3.5-liter V-6 engine will generate 415 hp, utilizing a 10-speed automatic transmission. Lexus estimates it will crank the rear-wheel-drive car from 0 to 60 mph in 4.5 seconds. Fortunately, the LS 500 also includes a sophisticated array of electronics, including a sports-tuned air suspension system, to manage the handling on fast corners and in tight spaces. Commensurate with such driving performance is a top-of-the-line 3D Mark Levinson Sound system that all but puts you on stage with the performers (there are even speakers in the ceiling). A plug-in hybrid version of the LS 500 F Sport is reportedly coming, which should give it even more of a boost off the line.
Photo Credit: Lexus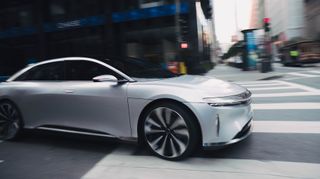 Lucid Motors Air
No auto show would be complete without an insanely futuristic debut, and this year Lucid Motors' Air took that crown. The fully electric, aerodynamically slick sedan will feature a 400-mile range and 1,000 horsepower motor that will propel the Air around a track at over 200 mph. Inside, the Lucid prototype features unique options, such as fully reclining rear seats and a touch-screen system in the dash that can be snapped out for upgrades. Lucid expects its car will receive a miles per gallon equivalent (MPGe) rating of more than 100. Craziest of all, Lucid says the base model--with just 400 horsepower and a 240-mile range--will be about $60,000. Unfortunately, you'll have to wait until 2019 for delivery.
Photo Credit: Lucid Motors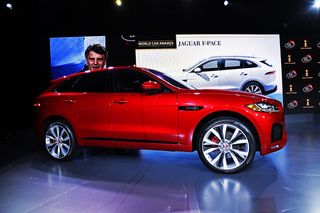 2017 Jaguar F-Pace
If it's possible to make a sexy SUV, Jaguar has done it with the F-Pace. Winner of the 2017 World Car Design of the Year award, the F-Pace is sleek and supple yet rides high enough to take care of country roads or several inches of the white stuff. With a supercharged 380-horsepower V6, it's no sports car, but it's certainly zippier than most crossovers, going from 0 to 60 mph in 5.1 seconds. For interior tech, there's an optional 10.2-inch touchscreen with a Wi-Fi hotspot and Meridian audio system boasting 825 watts of power. In front of the driver, there's a 12.3-inch virtual instrumentation LCD display. Base models start at $42,065 going up to just under $60,000.
Photo Credit: New York International Auto Show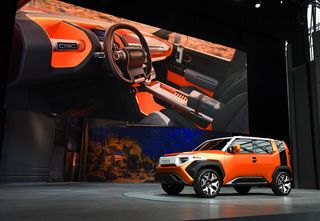 Toyota FT-4X
Automakers have been struggling to appeal to younger Generation Y drivers, but Toyota may have finally hit on something they'll love, a four-wheel drive crossover that's ready for anything. The boxy but cute FT-4X is a concept vehicle aimed at 20-somethings who combine work and play--but don't have much time to plan ahead. So the FT-4X is prepared to go from city to car camping at a moment's notice. The radio, for example, is removable so that you can use it around the camp fire or on the beach. There's no built-in nav but rather a built-in cradle for your phone. And there's a North Face sleeping bag stashed in the armrest between the seats. Pricing and availability has yet to be determined but judging from the reaction at the show, Toyota will want to get the FT-4X into production as soon as possible.
Photo Credit: New York International Auto Show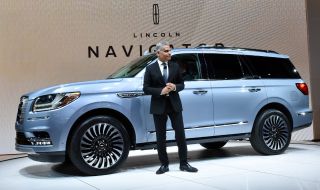 2018 Lincoln Navigator
Big is beautiful, at least that's what American buyers think based on how popular SUVs are today. So Lincoln is looking to re-establish its place in the pantheon of land yachts with the new Lincoln Navigator. It oozes luxury, with mood lights that come on automatically as you approach the car, a 12-inch instrument LCD, 6 USB ports, an available 360-degree view camera, and the option to have various streaming services beamed to big backseat screens. It has a 450 horsepower V-6 and adaptive headlights that change depending on the SUV's speed (wide at low speeds; narrow at higher speeds). The vehicle does not have the gullwing doors that Lincoln ballyhooed last year but it does boast Amazon Alexa skills so owners sitting on the couch at home can automatically send routes and even Audible books to the car for playback later.
Photo Credit: Lincoln Motor Company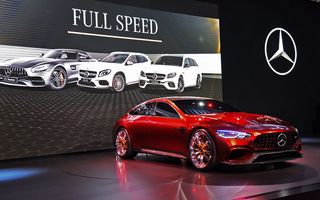 Mercedes-AMG GT Concept
Further proof that the future of super sports cars is electrification, the Mercedes-AMG GT Concept car unveiled at the show is a hybrid design based on the company's Formula 1 racing car. With an 8-cylinder engine and high-powered electric motor to assist (the battery is charged while driving), the four-door GT Concept generates over 800 horsepower and jumps to 60 mph from a standing start in less than 3 seconds. The "hypercar" also employs a rear diffuser for improved aerodynamics--another technological development lifted from Formula 1. And finally, to help it cut through the air even more smoothly, video cameras replace the bulky side mirrors (Mercedes refers to them as "mirror cams").
Photo Credit: New York International Auto Show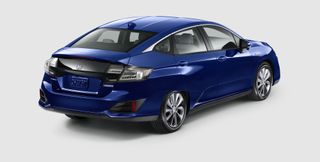 2018 Honda Clarity Plug-in Hybrid
Representing a trend among automakers to design a single chassis that can handle a variety of power units--from combustion engines to all-electric motors and even fuel cells--the Honda Clarity is a car for all seasons. The Clarity will come in electric and fuel cell versions (a few are already on the road in California), but expect the plug-in hybrid to be the real winner when it appears toward the end of the year. It will get 42 miles on battery power (that's plenty of distance for 80 percent of commuters in the U.S.) before you have to resort to the 4-cylinder gas engine: total range, 330 miles. Prices are expected to hover in the $35,000 range, before government incentives.
Photo Credit: Honda