Mobile World Congress is in full swing in Barcelona, Spain, and Samsung's two new phones are the talk of the show. The Galaxy S6 and S6 Edge are turning heads because of their all-new designs and camera enhancements -- and also because of what's missing. Meanwhile, HTC debuted a trio of devices at MWC, including its first fitness tracker i(n partnership with Under Armour) and a prototype VR headset (working with Valve). The One M9 was almost an afterthought by comparison.
From smartphones and smartwatches to other wearables and tablets -- and even furniture -- here are all the highlights of MWC Day 1.
Samsung Galaxy S6 and S6 Edge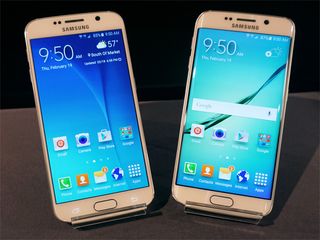 Available globally starting April 10, the Galaxy S6 and S6 Edge both sport premium glass-and-metal designs; fast, bright and smart cameras (16 MP on the back, 5 MP up front); a speedy octa-core Exynos processor (at least for the international version); and a 5.1-inch quad HD display. The S6 Edge is particularly striking because of its two curved edges. But Samsung also made some trade-offs. Get all the details.
MORE
HTC Vive Headset
HTC is entering the virtual reality race with its own gear, called the Vive Headset. Thanks to Valve SteamVR technology, this gadget promises a new level of immersive education and entertainment possibilities. HTC will be working with a variety of content partners, including HBO, Lion's Gate Entertainment and Google.
MORE: HTC Vive Headset Will Take VR Mainstream
LG Watch Urbane LTE
Who needs an Apple Watch? The LG Watch Urbane LTE is the first smartwatch to have full 4G LTE capabilities. That means you can make calls and send messages without needing a smartphone. This webOS-based watch also features a nifty walkie-talkie feature. Inside the watch is a 1.2-GHz Snapdragon 400 processor, 4GB of RAM and a 700mAh battery.
MORE: LG Watch Urbane LTE Hands-On
Wireless Charging in Ikea Furniture
Qi wireless charging is going to be available on Ikea furniture in April. The Ikea Wireless charging collection will put Qi technology into "bedside tables, floor and table lamps, as well as desks."
MORE: Qi Capabilities Invading Your Ikea Furniture
HTC Grip
HTC wants a piece of the fitness tracker market, and it's targeting serious athletes. The Grip comes in three sizes and is meant for those who rely on GPS to track their progress. With a partner like Under Armour for the app, the $199 HTC Grip looks promising.
MORE: HTC Grip Hands-On
HTC One M9
The HTC One M9 features an all-metal, unibody design and a 5-inch full HD display. It comes with 3GB of RAM and 32GB of storage that's expandable to 128GB with a microSD card. Most impressive, this upgrade to the HTC One M8 sports a 20-megapixel camera lens that's covered in scratch-resistant sapphire glass.
MORE: HTC One M9 Hands-On
HP Spectre X360
HP took the wraps off its Spectre x360, the company's latest bendable notebook. It features four use modes and is packaged in a slick aluminum design that might make MacBook Air diehards blink, especially considering the $899 price. It features an Intel Core i5 CPU, 4GM of RAM and a 128GB SSD. Plus, this 2-in-1 has a 56-Whr battery, which HP says will offer up to 12.5 hours of battery life.
MORE: HP Spectre X360 Hands-on

Lenovo's Three New Tablets
Lenovo's newly-announced Tab A10-70, Tab A8-70 and IdeaPad Miix Tablets 300 offer a bevy of premium features, including surround sound, a high-res display and full Windows for under $200.
MORE: Lenovo Launches Trio of Low-Cost Android and Windows Tablets
A Dual USB Drive
SanDisk announced its first Dual USB Drive with a Type-C connector, as well as a new 128GB iXpand Flash Drive. The super-small Type-C connectors measure 8.4 x 2.6 mm, and still support up to USB 3.1 speed at 10 Gbps.
MORE: SanDisk Unveils Dual USB Type-C Drive And iXpand 128 GB Flash Drive