We've all had that one printer – the old one we got a decade ago, maybe for free when we bought a computer. It's got about as much dust on top of it as it has ink inside of it. We're lucky if it prints out a few pages without jamming. And, we can't find drivers for it, so it only works with one device in our house over an old USB cable. That's a past that should be erased, and the HP ENVY 6000 Series printer can do the erasing.
The HP ENVY 6055 takes printing into the modern-day. It has a stylish, minimalist look with smooth faces and curved edges that fit right in with the smartphone and ultrabook aesthetics you'd find nowadays. The printer has also replaced the commonly seen LCD display with a discreet and subtle touch interface that makes for simple navigation. And, better still, there's no old USB cable necessary.
In a household full of laptops, TVs, tablets, smartphones, and even watches that can all connect to Wi-Fi, it makes sense to have a printer that connects to the Wi-Fi, too. The HP ENVY 6055 is a Wi-Fi-first device, and it supports 802.11ac dual-band wireless with HP's own Self-Healing Wi-Fi technology to ensure it stays connected. That network connection will let you print to the HP ENVY 6055 from anywhere in your home and just about anywhere in the world you can get an internet connection. It also lets you use the HP ENVY 6055 with all of your devices. And, if you want a backup for Wi-Fi, you can also connect over Bluetooth.
You can print not only from your computer or laptop, but the HP Smart app also makes it easy to print from your smartphone or tablet. You can also use Apple AirPrint for easy printing on Apple devices. Thanks to a 100-sheet paper tray, there's little intervention needed from you. And, that's just the printing. This is an all-in-one printer, after all, so you can also scan documents and have them sent directly to your devices. With the upgraded HP ENVY Pro 6455, you also get a 35-sheet auto document feeder to make scanning and copying lengthy documents a breeze.
Need a PDF copy of your driver's license on your phone? No problem. Need to print a return label from an Android tablet? Easy. Need a quality photo print of a picture you took on your iPhone? The HP ENVY 6055 can handle it. And, since the printer doesn't have to physically connect to any device to work, you have the option of hiding it away almost anywhere in your home – though its style is not going to ruin your decor as an older printer might.
So, in your multi-device household, make sure you've got an all-in-one printer that won't leave any device out in the cold.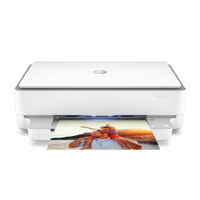 HP ENVY 6055 All-in-One Printer
The HP ENVY 6055 All-in-One can handle printing, scanning, and copying, and it'll work with your computers, phones, and tablets.
On sale on HP for $129