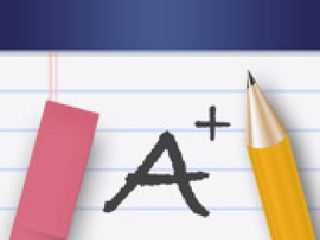 Get Schooled by the iPhone, iPod touch, or iPad
Students can benefit the most from productivity tools because they face more distractions, in the form of extracurricular activities, than most people. The following apps will help grade school and university-goers alike get the most out of their educational experiences. Most of the apps we've featured are all about the serious stuff (and in some cases, they are great for businessmen and employees as well). But several apps also cover other aspects of the student lifestyle.
Has an app proven useful for you? How has it made your school experience easier or more productive? Feel free to share your wisdom in the comments.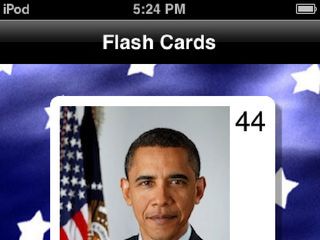 Download USA Presidents
Download USA Presidents
Quick! Name all Presidents from the 20th century! What about the party with the most presidents? USA Presidents makes a common student activity—memorizing biographical information of chief executives past and present—available on iPhones, iPod touches, and iPads. View all presidential data and test your memory with a built-in quiz function.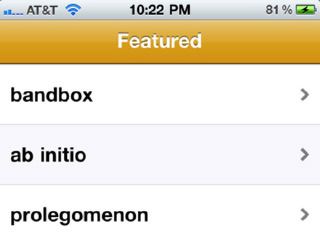 VocabDaily Free
Download VocabDaily Free
Learn about new words, what they mean, and how to use them. VocabDaily Free downloads content straight from Merriam-Webster, the company behind the dictionary. Your smarter classmates notwithstanding, developing a good vocabulary isn't just for showing off. Good communication depends on knowing which words to use, and stating your case articulately with them.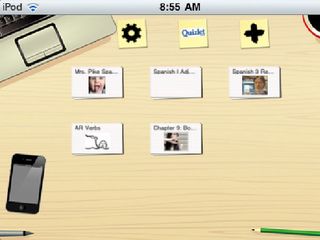 Study Fly Spanish
Download Study Fly Spanish
Need to learn Spanish? Study Fly Spanish takes a multimedia approach, presenting words as picture flashcards with corresponding speech samples. The app builds these virtual cards with information collated from the built-in dictionary, or user-added word sets. Users can also sort their cards into "decks" for easy review before an exam, and send these customized decks to friends and classmates through email.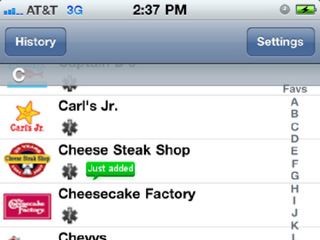 Restaurant Nutrition
Download Restaurant Nutrition
How much will eating out wreck your diet? Restaurant Nutrition helps you find out. With a database featuring over 115 establishments and 19,000 menu items, the app provides complete nutritional information for your next restaurant meal. Why opt for the salad instead of the baby back rib? Now you know. Restaurant Nutrition also lets users set dietary goals, ensuring they stay on track for health and appearance's sake.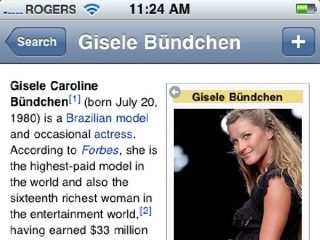 Wikipedia Mobile
Download Wikipedia Mobile
While various academic institutions question the accuracy of Wikipedia content (and with good reason), the online encyclopedia still provides a comprehensive understanding of many topics—from highly-specialized scientific concepts, to popular TV shows. Wikipedia Mobile for the iOS, due to continuous and consistent updates, is one of the more user-friendly apps available from the iTunes store. Just make sure you don't waste hours reading up on all topics that pique your interest!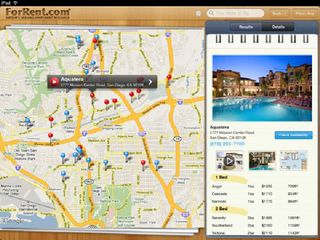 Apartments for Rent
Download Apartments for Rent
Living on-campus has its perks, but the same is true with renting an apartment out of school. Apartments For Rent helps university students—or anyone looking for a rental home for that matter—locate an apartment that meets their budget and other criteria. The app pulls information from the ForRent database, showing residential options on an easily navigated map.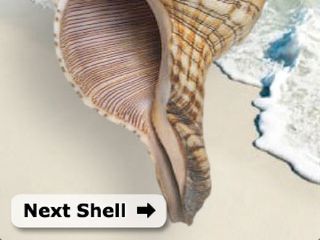 Stress Reducer
Download Stress Reducer
Like it or not, what we sense affects how we feel. Stress Reducer takes advantage of this reality, showing vistas and playing sounds of nature designed to put users at ease. Do those deadlines seem overwhelming? Stressing out over your seemingly insurmountable to-do list? The app helps you calm down and refocus, so that you can get the job done.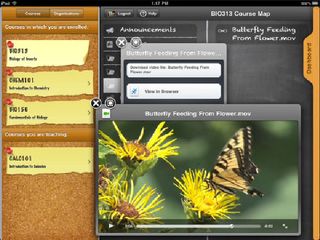 Blackboard Mobile Learn
Download Blackboard Mobile Learn
For students studying schools and institutions with the necessary support, Blackboard Mobile Learn will prove to be a great organizational tool. As long as it can connect with the school's WiFi network, the iPad app will download updated information on the student's classes, group activities, and assignments. Teachers and professors can complement their lectures with course-specific blogs, announcements, and even audio and video snippets for students to download to their iPad.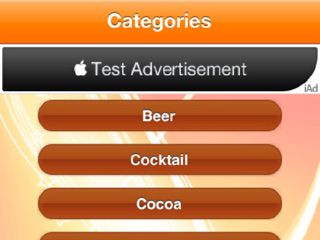 8,500+ Drink & Cocktail Recipes Free
Download 8,500+ Drink & Cocktail Recipes Free
Become the life of the party. The name 8,500+ Drink & Cocktail Recipes is pretty self-explanatory. Users can view recipe by category or name, and search for a specific mix. Adventurous drinkers can simply tap on the random button and see what the app offers. Obviously, this app—and the recipes it contains—are only for users who are old enough to drink alcohol.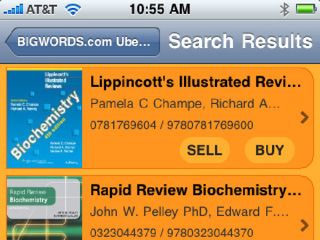 BIGWORDS.com
Download BIGWORDS.com
BIGWORDS.com is a comparison shopping app for students on the market for textbooks. It's perfect for those who need books for upcoming courses, students who want to sell them, and people who just want to rent. The app automatically searches multiple bookstores, finding the best combination that produces the lowest price for buyers. Users can also define various criteria for pinpoint searches. Are you ok with worn out, slightly used, or brand new books? BIGWORDS.com can find what you need.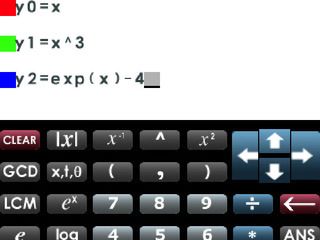 PI83 Graphing Calculator
Download PI83 Graphing Calculator
Why carry around a graphing calculator when you can turn your iPhone, iPod touch, or iPad into one? The PI83 Graphing Calculator emulates practically everything found on a Texas Instruments TI-83 series device, taking full advantage of an iOS device's screen. View larger graphs that are color-coded for maximum comprehension. It will take some practice to get the most out of this app—just like a real graphing calculator—but the results will prove very helpful for any student faced with complicated math programs.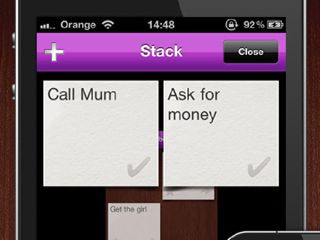 Put Things Off
Download Put Things Off
The name of this app may sound incompatible with good organization, but Put Things Off is based on a time-honored task management technique: prioritization. The app helps users figure out what needs doing now, letting them focus on more critical items. News tasks added to the inbox tray are placed into the "today" or "put off" trays, creating a straightforward sorting system that works even for the most clueless self-organizers.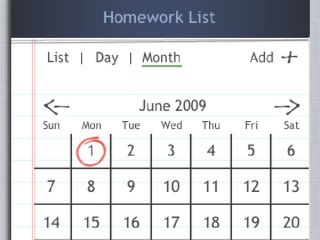 myHomework
At first glance, myHomework is a great way to keep track of assignments and other educational requirements. But it's also a good task scheduler. The app is thus great for students aiming for a 100% submission record—or even employees with deadlines to meet. View requirements by month, day, or in list format.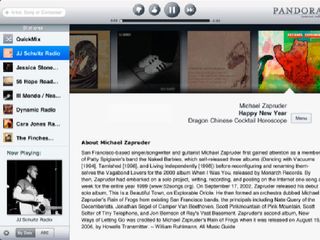 Pandora Radio
Download Pandora Radio
Pandora Radio creates custom "radio stations" based on artists or songs chosen by the listener. The app is a great way to discover more music similar to your favorites. Discover and purchase new tracks for your study or party playlists. Find out more about specific artists and their works.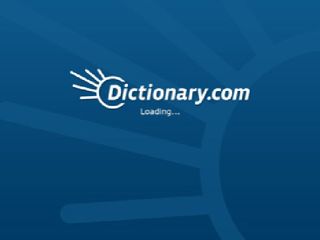 Dictionary.com
Download Dictionary.com
Find out what a word means and how to use it. This app is more or less the iOS equivalent of what you'll find on dictionary.com.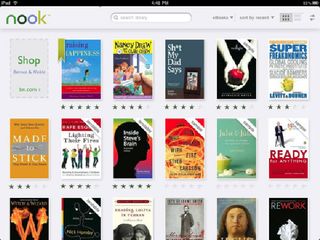 NOOK
Download NOOK
It took a while for Barnes & Noble to play catch-up with Amazon, but the book retailer also has its own extensive catalog of eBooks to choose from. NOOK lets users read books purchased and downloaded from the B&N online store con their iOS device, and includes reader-friendly features such as virtual bookmarks that let you continue where you left off.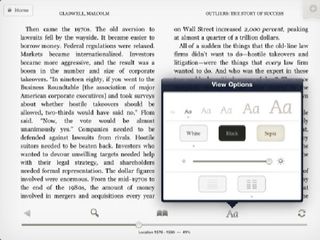 Kindle
Download Kindle
With Kindle, users can purchase and download eBooks from Amazon's online bookstore. The app is a good way to study course-related textbooks, or unwind with some personal reading. Like competitor NOOK, Kindle also allows users save their progress, search for specific text, and browse by chapter or section.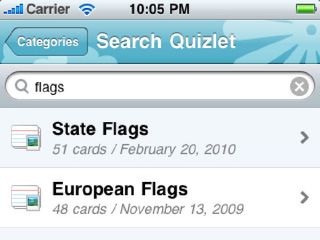 Flashcard Touch
Download Flashcard Touch
Flashcard Touch helps users remember important details through rote memorization. The app includes virtual flashcard sets covering a variety of topics, and also allows users to create their own. Topics ranging from the flags of countries to more advanced subjects such as theoretical physics can be reviewed. A quiz mode also lets the user perfect their memory for an upcoming written exam or oral recitation.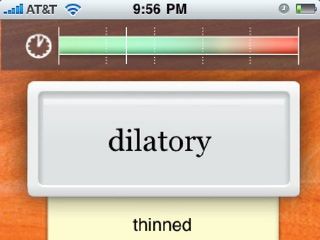 Smart Vocab SAT
Download Smart Vocab SAT
Yet another vocabulary assistance tool, Smart Vocab SAT concentrates on terms that appear on the dreaded SAT Reasoning Test (around 2000 picked by tutors from New York). A diagnostic test helps new users determine their initial vocabulary "belt", a rating that represents dictionary proficiency. A checklist tracks progress through belts, while the quiz mode lets users gauge their lexicon abilities.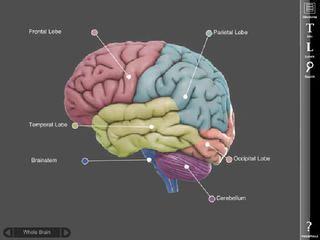 3D Brain
Download 3D Brain
View an important part of the human body at any angle. 3D Brain's touch interface lets users manipulate 29 different renderings of the brain. Discover the different parts of the nervous system's control center, find out what they're responsible for, and even discover how cerebrospinal fluid (the liquid that protects the brain against head impacts and even pathogens) circulates inside the human skull.