Blackberry PlayBook: Photos and Specs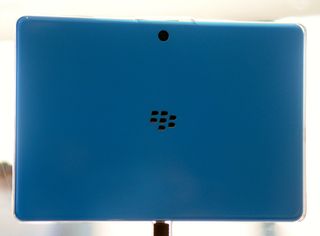 Not Just BlackBerry Black
RIM's tablet is called the PlayBook because "everybody relies on their playbook to keep them focused through the day," says RIM co-CEO Mike Laziridis. At 9.7mm thick and well under a pound, it's super thin and super light – and it won't just come in BlackBerry black. At the launch we saw a baby-blue version; we've also seen both 16 and 32GB versions. There's no price yet, because RIM always works with mobile carriers to set prices and it won't be on sale until early next year. The first version will have only Wi-Fi and Bluetooth (so you can tether it to your BlackBerry to get online) but RIM executives mentioned the potential for models with built-in 3G and 4G "in the future."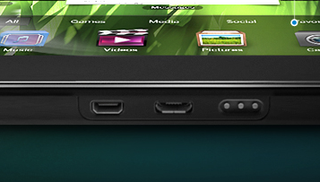 Plug in and play
RIM is talking up the micro HDMI connector on the bottom of the PlayBook, which lets you plug into a screen, TV or projector – and you don't have to see the same image on the PlayBook as you show on the external screen. The micro USB port will connect devices or charge the PlayBook. But there's also an induction charging connector on the bottom of the PlayBook which could mean docks that also charge the tablet.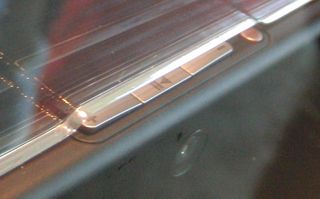 More than one button
The units RIM is showing this week are just prototypes; some have slightly different cases and we spotted this model (encased in glass), with dedicated hardware media buttons above the two video cameras. There's a combined play/pause button and physical volume controls. We're not certain about the button to the side; it could be power, or it could be the mute button that's common on BlackBerry handsets (which you can also use the lock the display)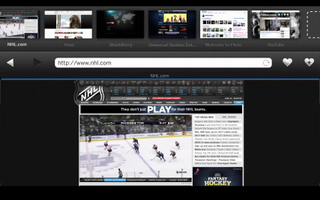 The full Web experience
BlackBerry 6 has a WebKit browser that does HTML 5 and gives you tabs for multiple pages, but with the much more powerful dual-core processor and multi-processing operating system on the PlayBook, the browser is also much more powerful. Video will be fully hardware accelerated, in a wide range of codecs. That includes WMV and DixV as well as H.264.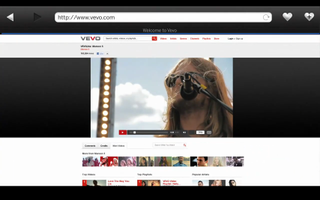 The full Flash experience
The PlayBook is the first BlackBerry device to get Flash support, although it's something RIM and Adobe has been working on for some time (and it may be that with RIM's fanatical approach to battery life that we won't see Flash on the BlackBerry handsets until it's a lot more efficient). The combination of HTML 5 and Flash means that you'll get standard Web sites, not cut-down mobile versions; whether it's a video, a game, an interface or an ad, it will look just the same on the PlayBook as on a Mac or PC. And like HTML 5 video, Flash is fully hardware accelerated, using what RIM's Dan Dodge calls a "significantly high performance processor".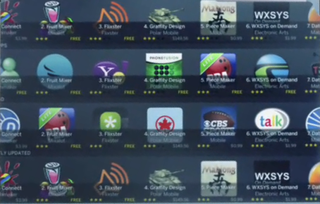 Many kinds of apps
Although the PlayBook doesn't run the standard BlackBerry OS (the BlackBerry Tablet OS is based on the QNX system RIM bought last year) it will run BlackBerry apps. If they're designed for smaller BlackBerry screens they won't look as crisp and clear, but they'll still work and the PlayBook OS will upscale them to fill the whole screen. But it will also run HTML 5 apps – which get full access to the platform for everything from using the GPS to putting notifications into your inbox – and apps written for Flash and Adobe AIR. BlackBerry App World will have all these kinds of apps, but unlike iPad you're not restricted to getting apps and content from there; you can download apps from Web pages or use other app stores.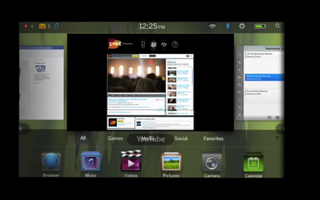 Many apps at once
The PlayBook interface isn't just the BlackBerry 6 interface stretched to fit the bigger screen, but it's obviously been inspired by it. You get the same kind of notification icons at the top of the screen and the same multiple tabs at the bottom of the interface, so you can organise icons and shortcuts. Rotate it sideways and you get a double-row of icons so you don't have to scroll too far. And like BlackBerry 6, the PlayBook is fully multi-tasking – and on the dual-core, multi-processing QNX kernel apps are going to run much faster than you're used to on a BlackBerry.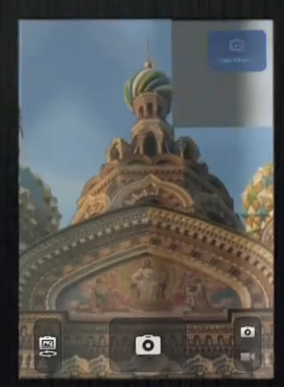 Photos, video and video conferencing
There are two HD cameras on the PlayBook; 3 megapixel resolution on the front for video conferencing, 5 megapixels on the back for recording video or taking snaps. Holding up the PlayBook is certainly going to take both hands, but the bezel around the screen is wide enough for you to do that. There's a simple new interface for taking snaps that lets you pick still or video images (and you can record video in 1080p) or choose camera settings. Tap to send photos by email or share them online; there are plenty of tools for doing that in BlackBerry 6 already.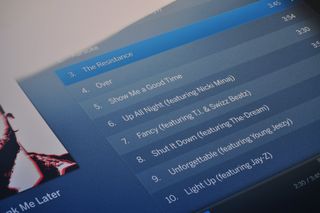 Great media interface
With its 7" screen, the PlayBook is a great portable media player with plenty of storage in its 16 and 32GB models. The media player is designed to be each to control with your fingers, with clear, well laid out views that let you browse music by artists or albums, genres or playlists (which get thumbnails made up of multiple album covers). Tap a playlist, an artist name, an album cover or a song in the listing to start playing.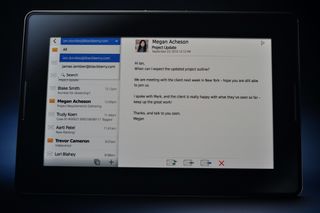 See more on screen
More screen real estate means more space for applications, and the BlackBerry PlayBook takes advantage of its 7" for the built-in applications. Email is synchronized with your BlackBerry over a secure Bluetooth connection ("why download it again?" points out RIM's Mike Laziridis), and you get a list of messages and a large clear view of the message you're reading. Finger-friendly buttons let you quickly handle replies, as well as forwarding messages – and of course deleting unwanted email. The full-width on-screen keyboard takes up nearly half of the screen vertically so the keys are large; we expect the PlayBook will have the same haptic feedback as the Storm 2 and Torch to help you type.