Roborock's robotic vacuums have caught the eyes of many with their impressive features and compelling price point. But, the company has seen another avenue to explore, and it has gone all in with the stunning Roborock H6 stick vacuum.
This new stick vacuum offers many quality-of-life features, like its battery life timer, its lock switch so you don't have to hold the trigger while vacuuming, and its easy-to-clean filters that you can simply rinse off in the sink. Those features are a nice complement to what is already a versatile array of cleaning implements. The Roborock H6 comes with some small attachments, like a a crevice tool and a dusting brush, but it also has powerful, motor-drive cleaning heads that can tackle carpets, hard floors, and furniture. And, between the extension want and the flex tube, you'll be able to clean high and low.
It wouldn't mean much if there wasn't power behind it, but the Roborock H6 features a motor that can deliver 150AW of suction power. That will pick up dirt with ease and can even pull mites loose from furniture. The Roborock H6 will help keep the air clean, too. It uses a series of filters that traps anything bigger than 0.3 microns, so you can breathe easy after cleaning.
The Roborock H6's power comes from a Lithium-Ion Polymer battery, a first for stick vacuums. With it, you'll see up to 90 minutes of power in Eco mode for extensive cleans, or you can go 10 minutes at full power for those really deep cleans. And, the battery's capacity will have minimal fade over time.
So, from the ceiling to the floor and from your indoor furniture to your car's nooks and crannies, the Roborock H6 is built to handle it all. When you're done, you can just stick it on the charging mount, and it'll be ready for your next cleaning.
The Roborock H6 will cost just $450. You can learn more about the Roborock H6 here.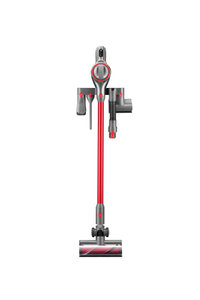 Lightweight without sacrificing power or longevity
The Roborock H6 is impossibly light for how much power is packed under the hood. With a battery that lasts 90 minutes and suction power on-par with a traditional vacuum cleaner, it's something no home can go without.