Tips and Tricks for Using GIMP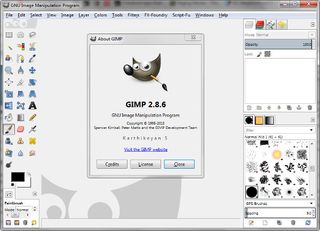 GIMP
The GNU Image Manipulation Program, more commonly known by the acronym GIMP, is a free and powerful open-source graphics manipulation tool that can be used for everything from photo manipulation and clean up to digital painting. In development since 1995, GIMP is something of an open-source darling, sometimes being called the "free Photoshop." In this case, you don't short change yourself when you decide to go free and open source. Of course, as with any powerful tool, it takes time to learn its functions, and there are a lot of extra tools you can add to make it that much more powerful. Here are a few basics to keep in mind, one or two tutorials, and a grab bag of useful GIMP plugins to enhance an already excellent program.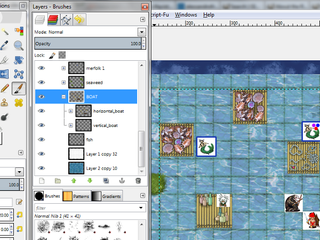 Layers
One of the fundamental concepts that a beginner needs to learn to wrap his head around with GIMP is that of Layers, a simple but powerful way of working and thinking that allows you to do non-destructive addition and subtraction of elements, effects, and edits in a particular image. Think of a layer as a transparency, much like the analog animation cells of old. You can work on a specific layer, drawing, adding special effects and colors, without tampering with layers above or below your working layer. You can even rearrange layers (a simple drag and drop), set them into groups for easy working (as of v2.8), mess with their opacity or transparency, warp and transform them, and more!
(In this case, layers were being used to create a digital map for a tabletop game)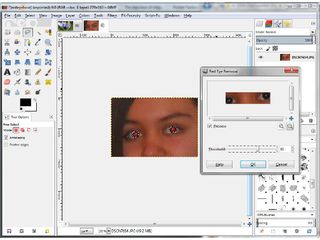 Basic Red Eye Cleanup
Red eye removal is a simple matter of proper selection and the use of the Red Eye Removal tool in GIMP's filter menu. The first thing you'll need to do is select eyes that pupils that need editing. You can do this with either with the magic wand tool, or by drawing around them with the lasso tool, whichever seems more comfortable. Once that's done, go to Filters>Enhance, select Red Eye Removal, and then you'll be given a simple threshold slider and preview pane. Slide the threshold till the offending discoloration is removed, and presto! You've got a red eye-free image.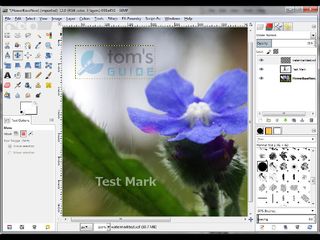 Make Your Own Watermark
Creating watermarks is simplicity itself in GIMP, whether you're dealing with simple text watermarks, or a fancier image or logo watermark. The Text tool lets you draw a quick text bar (which behaves like a mini-layer) and type in your text (setting font, size, and color as you wish). Once positioned to your liking, simply select the text layer in the Layers sidebar and then play with the Opacity slider till the watermark blends in nicely with the image (i.e., not disruptive but still irritating to edit out). With a logo type of watermark, you can go to File>Open as Layers to select your logo image which will then be added into the picture like another layer which you can resize and reposition. Once it's there to your liking, simply play with the Opacity slider in the Layers sidebar again.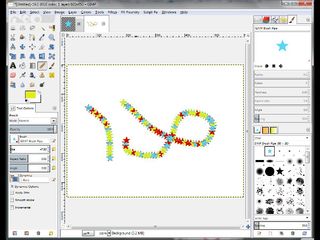 Create Custom Brushes
While GIMP already comes with a fair set of brush presets, from basic round brushes to unusual shapes and even image stamps like a green pepper, GIMP users can also create custom brushes for their own use. The Brush sidebar to the bottom left of the screen allows you to create a new brush based on geometric shapes with a simple slider-driven interface and then save it for further use. More confident users can create a greyscale image (with white treated as transparent, and black being full color) and save it as a .gbr file in C:\Users\[USERNAME]\.gimp-2.8. You can even create a colored "brush pipe" by creating a multi-layered, multi-colored image and then saving it in the same directory as a .gih file.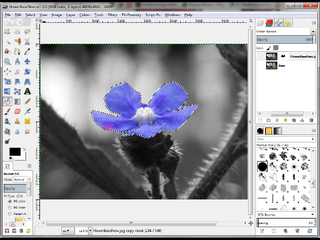 Removing Colors
A simple and striking edit that you can do is to remove all color from a picture save for a particular object, person, or area. This is done through the use of layers, greyscale, and the use of the layer mask tool. Select an image and then in the Layers sidebar, right click to create a duplicate layer. Then with the duplicate layer selected, go to the Colors menu and click on the Desaturate tool, choosing one of three methods to turn the colors of the top layer grey. This gives you a grey layer on top, with a color layer hidden underneath. Now this is where the magic begins. Right click on the grey layer in the sidebar, and select Add Layer Mask (select white for full opacity). This creates a virtual layer that controls how transparent (black on the Layer Mask) or opaque (White) a particular layer is. Now select the Layer Mask (which should appear as a box next to your grey layer), select the paint tool and the color black, and then paint over the element you want to colorize in order to reveal the color layer below!
(original stock photo "blue wildflower" by alisman)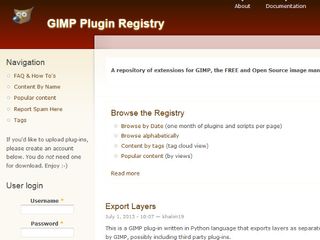 The GIMP Plugin Registry
Like many other programs, GIMP is designed to be able to accept plugins, which are program extensions that can add loads of extra functionality. The GIMP Plugin Registry is a mammoth collection of extensions such as filters, scripts, and other extensions for GIMP. Need a plugin to execute batch operations across a swathe of pictures? Looking for funky filter effects, brush variants, automated scripts, and more? The plugin registry is a good place to start.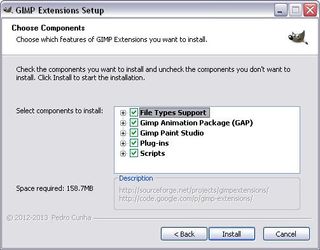 Plugins: GIMP Extensions Pack for Windows
The GIMP Plugin Registry is loaded with tons of extensions for GIMP, but it can be hard to sift through all the content to get at the best tools and examples, which is where the GIMP Extensions Pack comes in. A handy collection of plugin tools and filters, the GIMP Extension Pack puts some of the handiest and most useful plugins out there into a convenient package, such as Save to Web (a file save preview editor for tweaking files), the GIMP Animation Package, as well as more brushes, palettes, and tool presets. A neat checkbox installer lets you tag the tools you want to install, keeping installation hassle free, while letting you select just the plugins you want.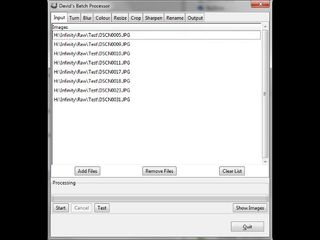 Plugins: David's Batch Processor (DBP)
While GIMP already supports batch processing of images right off the bat via command line tools, not everyone is comfortable with a text console and writing up their own automated script. Enter David's Batch Processor or DBP, an extension that lets you setup a series of batch operations from within GIMP's GUI. Download dbp.exe, copy it into C:\Program Files\GIMP 2\lib\gimp\2.0\plug-ins, restart GIMP, and then you'll find a new "Batch Process" entry in the Filters menu. Clicking this will bring up David's Batch Processor, from which you can select multiple files, as well as set up a series of operations that will be executed identically across all files.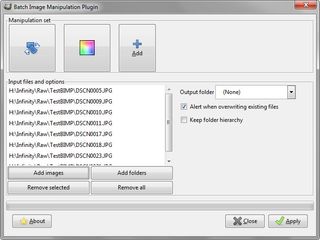 Plugins: Batch Image Manipulation Plugin (BIMP)
Another batch processing tool is Batch Image Manipulation Plugin, or BIMP. As with DBP, you download and then copy the contents of BIMP's zip file to the plugin folder, restart GIMP, and from there, you can execute batch operations. BIMP differs from DBP primarily in interface (adding operations through the Manipulation Set bar, rather than DBP's tab menu interface), though it also offers the ability to save your manipulation sets, allowing you to quickly set up a few default batch operations, and then save them for future use. We have had the occasional crash while using BIMP though, so give it a few runs before making it a workhorse.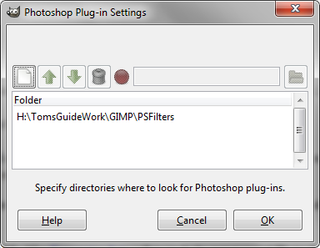 Plugins: PSPI
The PSPI plugin by Tor Lillqvist provides an interesting feature for GIMP users: the ability to use third party Photoshop plugin filters within GIMP on Windows and Linux. Ever gotten your hands on handy Photoshop plugins or filters (whether online or as magazine freebies) that you always wanted to apply to GIMP? Now's your chance! The results aren't always perfect, and some plugins aren't quite compatible, so it's best to test them out on an individual basis. Nevertheless, PSPI is a free tool that allows you to do that much more with an already excellent graphics program.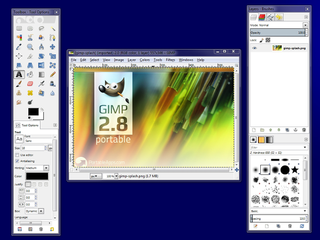 Extra Resources: GIMP Portable
Users on the go might find GIMP Portable to be a worthwhile addition to their portable software suite. An install-less, portable version of GIMP, GIMP Portable is perfect for use in a USB key or passport style drive, letting you carry a hefty image editor within an easily portable package. You can even keep your favorite plugins and brushes with this package in order to have your entire working suite of image manipulation tools with you.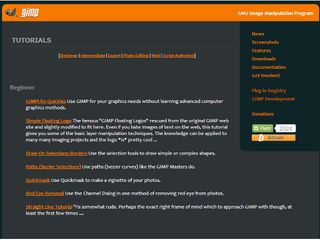 Extra Resources: Tutorials
GIMP is a powerful, feature-laden, and expandable piece of software, and there's far too many add-ons, extras, and tips to cover in a single, quick overview. The best way to really develop your proficiency and skill with it is to read up on more tutorials, tips, and tricks on websites like the tutorials repository in the official GIMP site, Gimped!, and Gimpology. Surf the web, ask around in forums, and get your hands dirty with a lot of first-hand action. You'll get the hang of GIMP in no time!
Do you have any favorite GIMP tips and tricks? Particular tutorials that you found really helpful? Clever plugins, filters and extensions that you've found indispensable while working with the software? Feel free to share them with your fellow readers in the comments section below!