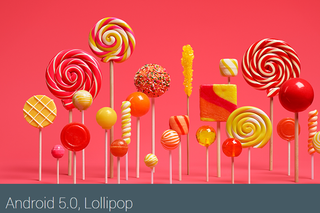 Ever since Google announced Android L a few months ago, we have speculated about what the L stood for: licorice, lemon drop or even lemon meringue pie. This week, Google answered that question when it unveiled Android 5.0 Lollipop, along with the first three Nexus devices to use it.
With Android 5.0, Google is promising a sweet new take on its mobile OS. Lollipop will be available first on the new Nexus 6 and 9 in early November, followed by older Nexus and Google Play Edition devices later that month. Android 5.0 looks to be a bigger leap forward than the jump from Jellybean (Android 4.3) to Kit Kat (Android 4.4), featuring improvements to the overall design, battery life, and more.
MORE: Nexus 6 vs. iPhone 6 vs. Samsung Galaxy S5
Material Design
One of the most recognizable changes with Android 5.0 is a complete overhaul of Google's design philosophy. Android 5.0 features what Google is calling Material design that will shift away from skeuomorphism to a flat look for its UI and icons. Menus will also respond more intuitively, including context sensitive behavior so you can do more with fewer motions.
Better Notifications
Lollipop will improve the way you receive new information. You can choose what messages are most important, hide sensitive content, and even select people that receive special priority. Calls will no longer interrupt movies or games, and you will even be able to see all your notifications in the same place by simply tapping the top of the screen.
Increased Battery Life
Even on the same device, Google claims that by upgrading to Android 5.0, battery life can be extended by up to 90 minutes. While this seems like a lot, Ars Technica did some preliminary testing using a preview version of Android L and saw a more than 30 percent increase in battery life on a test phone. More battery life is always a good thing, and if a free upgrade to Android 5.0 can make it happen, it's a win for the millions of Android users across the globe.
New Quick Settings
Google is hoping to cut down on the number of swipes needed to access important functions with new on/off toggles for Wi-Fi, Bluetooth and location. It is also including built-in tools for flashlight, hotspot and screen cast controls, so you can do away with many of the third party apps that you had to rely on before.
Performance Boost
Aside from the aesthetic and UI improvements, Android 5.0 is also enables extra horsepower hidden under the hood. ART is a new Android runtime environment that promises up to four times the performance, better support for 64-bit devices, and "desktop level" graphics performance. This looks to be featured heavily on the new Nexus Player streaming device available with an optional $39 dollar game controller.
Souped-up Search
Finding things will be even easier with improved search indexing. Search results will be saved across different apps and devices, so if you look up a song in Chrome, you can open it up in Google Music without needing to copy and paste.
Improved Security
Android 5.0 makes it easier to unlock your phone without the need to enter a PIN or trace a pattern. You can now use an Android watch to unlock your phone through proximity. Lollipop also comes with the option to have your data automatically encrypted, and SELinux enforcement means better protection against viruses and malware. There will even be a new guest user mode allowing you to create multiple accounts on one device.
Sam Rutherford is a Staff Writer at Tom's Guide. Follow him @SamRutherford on Twitter and Google+. Follow us @Tom's Guide on Facebook and Google+