Before we start, fair warning: this content deals with themes of online child abuse and trauma. We're aware that it's an uncomfortable topic. But if we're talking about online safety, it's one that needs to be discussed.
Especially with COVID-19 still rampaging throughout the world, the Internet is everything. It's become foundational to how we shop, how we work, how we learn, and even how we socialize. These days, an Internet connection is almost as essential as electricity and running water.
Perhaps even more so, with everyone stuck at home.
Unfortunately, as you're no doubt well aware, the Internet isn't always a safe place. And with how much time everyone is spending online, it's arguably more dangerous than ever. It's become a playground for cybercriminals,
If you've been following the series up to this point, you already know how to take care of yourself. You understand how to spot the red flags of scams and fraud, you know the importance of mindfulness, and you've locked down your network and devices where possible. But do your children possess that same knowledge?
See, where your kids are concerned, there's more to worry about than hackers and malware — though those are personally both concerned. As reported by The Houston Chronicle, digital predators are more active than ever amidst the pandemic. The fact that everyone is stuck at home has created a perfect storm for them.
They have more time to stalk the web because they're either unemployed or telecommuting. Children and teens are spending more time online out of necessity. And if you think this is something that can't (or won't) happen to you, you simply haven't been paying attention.
Per research collected by URL filtering service Puresight, one in five U.S teens has received unwanted advances online. Worse still, 75 percent of children are willing to share personal information about themselves and their family in exchange for goods or services. Concerning statistics, right?
But what can you do about this, exactly? If you overreact and go full helicopter parent, you're likely going to have the opposite effect of what you're trying to achieve. Your kid might stop trusting you, try to find ways to circumvent your rules, or even resent you.
We're not saying you can't keep your kids safe online, of course — just that it requires a lighter touch.
First, talk to them
Be open, honest, and authentic with your kids about what kind of content (and what kind of people) they might encounter online. Coach them on the importance of mindfulness, and on how to recognize potential fraud.
In other words, teach them the exact same things you've learned through this series. But you should also take things one step further. Have a serious talk with them about the importance of setting healthy boundaries with their friends and acquaintances both online and off.
And talk them through the red flags of predatory online behavior:
Don't dumb things down when you have this conversation with your kid/kids. Treat them with dignity and respect. Don't just explain what they should look for and what they should do, but why.
"Because I said so" isn't a reason.
Avoid looming
It can be tempting, in light of all the bad actors online, to track and monitor every single thing your child does on the web. For younger children, this may be an acceptable approach. But as your kids get older, they'll notice you constantly looking over their shoulders.
They'll notice that they have no freedom or privacy. And they'll try to find ways to escape your prying eyes. In other words, by trying to keep a log of everything they do, you'll ultimately end up doing the opposite of protecting them.
Instead of trying to control what they do online, spend time with them. Walk them through the steps in locking down their social media privacy settings. Find games you can play together or shows you can watch together.
But most importantly, give them time to explore and be themselves online, without your influence. This level of freedom means that rather than being afraid to speak to you about things that trouble them, they'll be more willing to approach you. That might seem counterintuitive, but ask yourself who you'd trust more.
Easy answer, right?
Don't set unnecessary rules
Plenty of parenting blogs go into great detail about how you should regulate and control your children's screen time, setting a strict framework in place in terms of when and how they're allowed to be online. Especially right now, this is a recipe for absolute disaster. .
It's one thing to say your kid can't play video games until they're finished with their homework. It's another thing altogether to set a regimented schedule for device use. Again, the keyword here is freedom.
Show that you trust your kid to be accountable while they're online, and understand that strict rules around screentime are not the correct course right now.
Protect them with technology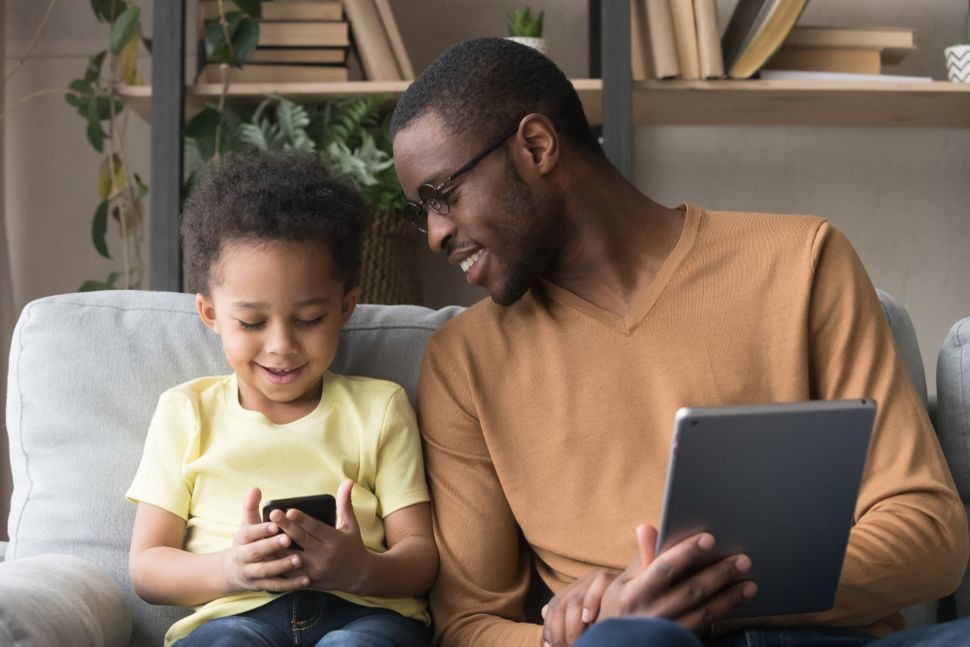 Wait, what? Didn't we just spend this piece saying you shouldn't monitor your kid's behavior and activity when they're on the web? Haven't we spent a ton of time explaining the importance of online privacy?
Yes. But there are limits in that regard. If your kids are teens or tweens, leave them to their own devices when they're on the web. Have the talk with them, and trust that they'll use their best judgment.
And where their judgment fails, trust that you've installed good antivirus software to keep their data and devices safe.
As for younger children, parental controls are your friend. The ability to filter out objectionable or dangerous content is an important component of online safety. And while we'd not recommend going too overboard, occasional monitoring of younger children while they're on the web isn't a bad thing, either.
Here's where Bitdefender comes in. With Bitdefender Total Security 2020, you have access to a complete suite of antimalware, threat detection, threat prevention, and digital privacy tools. Via the platform's parental controls, you can offer extra online safety to children by blocking inappropriate content and keeping a watchful eye for potential predators.
If you purchase the Bitdefender Family Pack, you can actively protect up to 15 devices per household, ensuring that whatever threats your family encounters online, you're equipped to deal with it. Better yet, Bitdefender's currently running a huge sale on this package, offering 63 percent off for the first year.
And with that, we've at long last reached the end of our series. It's been a wild ride, hasn't it? Hopefully, by now, you understand more about the web, and about how to keep yourself and your family safe. Take care, and we'll see you in the New Year.